How to be a portrait artist!
For a successful career as a portrait artist you will need: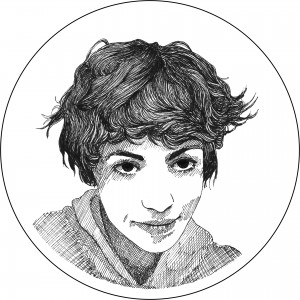 To make a decision. Do you want to be a street based artist or work exclusively online through a website? You could even do both, you just must make sure that if you are going to be a street artist you're allowed to be there! Check carefully for any trading licenses that may be needed in each destination.
An aptitude for drawing/painting is rather essential for the successful portrait artist, obviously  there are ways to improve an existing talent but it will be an awful lot easier if you have some natural skill!
Previous work to show off your skills. An existing portfolio of work is an ideal way to attract potential new clients, these can be portraits of friends, family members or basically anyone you happen to have a picture of.
Exposure! To become a successful portrait artist people are first going to have to notice your work, network if possible, go to art exhibitions and galleries to meet people who are interested in buying art.
Practice, there is no better way to improve at something than by practicing!
Training/qualifications
To become a successful portrait artist there are no minimum qualifications required other than, as mentioned, a talent for drawing/painting. Obviously there are several further education options open to the aspiring portrait artist such as a degree in fine art or design.
Should further education not be a viable option for you there are many other ways to gain experience and refine your talent, local painting classes or life modelling sessions are a great way to experiment with new techniques and receive guided guided feedback from tutors or fellow artists.
Hardware/software
Pen, pad, paintbrush, pant, easel! They're probably the minimum requirements you're going to need to start your new career, obviously alot of the equipment your going to need is going to be based on the particular style you will mainly be working in, if you intend to do mainly charcoal work it may not be the best idea to overstock on the water colours! A large bag would be a good idea as well as a large artist's folder to safely carry your portfolio around – although maybe not too large if you're moving location frequently.
Where to find work online?
Finding work as a portrait artist online can be tough, but although there are not as many websites devoted to finding work for portrait artists as there are for other professions, it is by no means an impossible task. A good place to start is on social media, Facebook, twitter and various other sites are an ideal way to advertise yourself basically for free, to potentially thousands of people. Once you have a sizable portfolio you could look at setting up your own website, there are many companies which offer website hosting at affordable prices and many come with a walk through guide on how to set up a portfolio site.
How much can I earn?
Realistically what you can earn is upto you, as long as the demand is there you can charge as much as you think people will be willing to pay. As a beginner to the business you may be willing to charge less than you intend to as this gives you a great chance to gain experience and hopefully positive feedback. Building up a strong fan base is a great way of drumming up potential business and profits.
If you are looking to travel as a portrait artist and work in countries, cities and towns around the world it would be a good idea to research in advance, firstly any licences you may need, and if possible, the going rate for any work of this sort available. Street portrait artistry is a popular business, you want to make sure that you're neither over-pricing yourself nor selling yourself short.
How well does it suit the digital nomad lifestyle?
Very well indeed, what could be better than travelling the world whilst doing the thing you're most passionate about!? Portrait artistry is a great way to travel/work around the worldduring the tourist seasons, as long as you have checked that you are allowed to be working there really is nothing stopping you!
Other useful stuff
Art supplies websites
(USA) www.dickblick.com
(USA) www.rexart.com
(UK) www.greatart.co.uk
Tutorials
www.youtube.com – has many tutorials however I can not comment on how useful or useless they are!