Note: This post may contain affiliate links which means if you click on a link and purchase an item, we will receive an affiliate commission at no extra cost to you.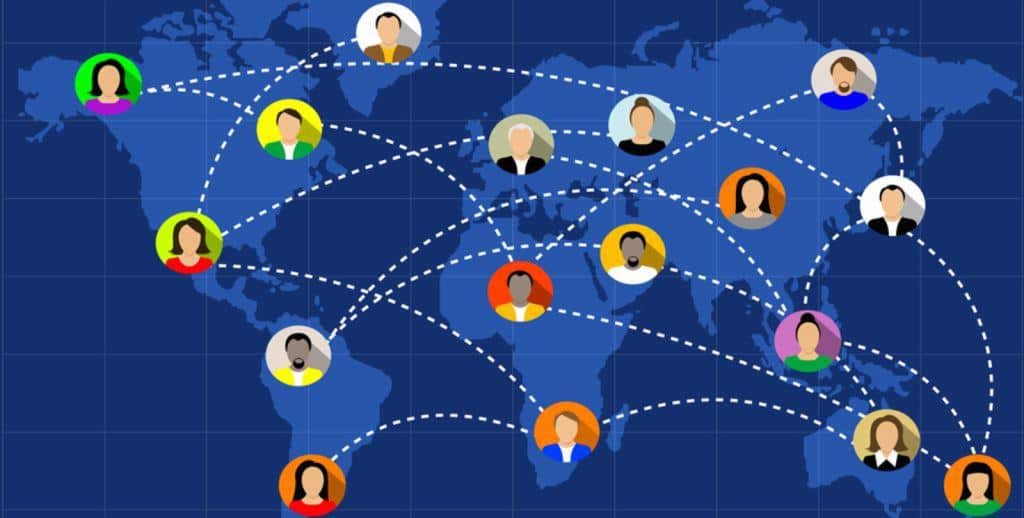 Over the last few years, I've worked with 70+ contractors across more than 30 countries.
Here are my most valuable lessons!
Related Post: The Best Guides To Outsourcing, Virtual Assistants & Freelancers
1. If you aren't hiring a global, remote workforce, you're at a major disadvantage
Why? If you're building global teams, you're able to access a talent pool that's ~1,000x bigger than just hiring in your city.
The access to global talent (via Upwork, LinkedIn, and other resources) and the ability to remotely collaborate (via Slack, Trello, Asana, Zoom, etc.) are both at all-time highs.
Given the continued innovation in the remote work space, the competitive advantage (from both a quality and price perspective) of building a remote team will only continue to increase.
For my social media agency, FanBump, the main reason we were able to deliver a phenomenal service was our ability to hire exceptional workers.
My business partner was based in Serbia and the rest of our team was spread out across North America, South America, Europe, and Asia.
If we had been forced to hire locally, we would've had to sacrifice on service quality and we wouldn't have been able to price our service competitively.
I believe that by 2030, fast-growing non-remote companies will be close to extinct. The time to join the remote movement is now!
2. Hire before you're ready (a lesson from Tim Ferriss)
The best way to learn something new is by doing it. So if you know that you should be outsourcing or that you'll need to start soon, start now!
Why? Because your first couple of hires are learning opportunities so that you can start to understand the process. The sooner you start, the sooner you'll learn and improve.
3. Recorded screen recording/video training is the best way to train new workers
I do almost all of my training as pre-recorded screen share recordings using Screencastify (I record myself doing what I want a contractor to do while explaining the process out loud).
Video recordings allow you to show exactly how you want things to be done while giving the new contractor a live feed of what you're thinking about while you're doing the task. It's far superior to written only training.
I use written resources but these are secondary and are used to re-enforce key principles covered in the video training.
By recording the training instead of doing 1:1 live training, it enables you to re-use the training on new hires if you need to hire more people or if the first hire doesn't work out.
Video-first training has dramatically decreased training time and increased results.
4. How to hire on Upwork
Upwork is the largest freelancer marketplace and it's the main site that I use for hiring.
Getting setup and posting jobs might feel complicated but it's simple.
This is my basic process:
Post a job

Make it very clear what you're looking for

Ideally, you have 1-2 questions that will enable you to weed out candidates

Wait 24-48 hours for applicants to come pouring in

You'll likely be shocked at the quality of talent that responds to your posting

Search for and invite 5-10 good candidates to the job posting while you're waiting

Ask a follow-up question to the 4-8 best candidates

Pay close attention to how quickly they respond and every minor detail (this is a preview of what working with them will be like)

Hire the best 3-5 candidates for a 1-2 hour paid test that simulates the exact job that they'll be doing

Hire the candidate that tested the best and get started!

If the first hire doesn't work out, then hire the next best candidate or start the hiring process over.

Repeat until you find the right hire.
Some people prefer to do video calls but unless the role involves speaking or is highly dynamic, I only do written interviews. But obviously do whatever is best for you!
For more information on Upwork hiring, read this post.
5. The clearer your communication and training, the better the results
The title of this lesson says it all. It's easy to forget that the person you're hiring doesn't have the pre-existing knowledge that you have.
I recently had an issue where I needed to hire someone for a complex and rapidly changing customer service role.
It took hiring five different contractors (who all failed at the role 🤦) for me to realize that the role and training was the issue, not the contractors.
I spent an extra ~15 hours re-defining the role and training, and I was able to successfully re-hire one of the contractors who had previously failed in the role.
The lesson is that it's frequently the training, not the contractor, that leads to failure.
It's critical to over-explain when training someone new and to not leave out any details.
Bonus: I compiled the best guides to outsourcing and remote work to save you a lot of time as you embark on your journey!
The Best Guides To Outsourcing, Virtual Assistants & Freelancers and The Best Guides To Hiring & Managing Remote Teams.
If you have any questions or want specific tips, please reach out! You can click the chat button in the bottom right to start a conversation with me :).