Note: This post may contain affiliate links which means if you click on a link and purchase an item, we will receive an affiliate commission at no extra cost to you.
This is the latest interview in a series featuring digital nomads talking about their lives and lessons (click here if you want to be interviewed). The goal is to help demystify the process of making money online, wandering the world, and living an unconventional life!
Samantha runs the Mytanfeet blog from Costa Rica with her boyfriend. The two saw a need for more information about the country when they moved there over five years ago.
Thanks for being here, Samantha!
Introduce yourself! 🙂 Who are you? What do you do for work? And what is your nomadic story?
Hi! My name is Samantha, I'm an Asian-American originally from the USA. I grew up in Washington state and am currently in Costa Rica where I moved to in 2012. I began working online in 2013 and have traveled and worked around the world since then while basing myself in Costa Rica.
I run a travel website with my husband called Mytanfeet that is all about Costa Rica. My husband is Costa Rican and we have been traveling together in Costa Rica and around the world for over ten years. We currently live in Tamarindo on the North Pacific coast of Costa Rica and work full time on our website to help others plan their perfect trip to Costa Rica by sharing our adventures, tips, stories and experiences.
I'm also a dog lover, photographer, bookworm, science nerd and surf enthusiast.
What inspired you to start nomading? And how has nomading changed your perspective on life?
I first began traveling during college when I met in Yeison. Although we met in Nicaragua, Yeison is from Costa Rica so we would travel around the world to see each other as we were long distance for two years (me in the US and him in Costa Rica) before I moved to Costa Rica. Without travel, we would have never stayed together!
After I moved to Costa Rica, we still continued to travel internationally together. We of course love Costa Rica but we got addicted to traveling abroad thanks to our long distance time and we wanted to keep exploring new countries together.
I never really traveled that much before I met Yeison since during college, I was studying to be a doctor. So meeting him definitely made me become a travel addict. And the more we visited new places, the more I wanted to keep doing it. Since we prefer slow travel, I love the feeling of being in a strange place that slowly starts to feel familiar. 
Learning about different cultures has been the biggest lesson travel taught me. Before, I grew up in a very intense US bubble and now my perspective on life has greatly changed after meeting all sorts of interesting people from different walks of life.
Traveling has made me be less judgmental and become more understanding. I personally think a lot of humanity's issues come from not making the effort to understand other cultures and the intolerance of the foreign. Traveling has encouraged me to experience the unknown and helped me to understand that not everything is what it seems from first glance.
Please tell us the detailed story of how you started your business. 
I run a travel consulting company and a Costa Rica travel blog (Mytanfeet) with my husband.
The idea came when I first moved to Costa Rica as a 23 year old. Back in 2012 when I moved to Costa Rica, I didn't find many websites (barely any at all) that talked about moving and living in Costa Rica as a young adult, it was all about retiring in Costa Rica.
So I started a website that started off as just like a journal of my new life in Costa Rica to share with family and friends and it grew tremendously from that as there weren't really any other websites writing about what I was posting.
Then I met someone from Italy in Costa Rica who made a living off the Internet by blogging and running websites and that really inspired me and my husband to turn the site into something more than just a journal, especially since we saw a huge opportunity to fill a gap on the Internet.
Additionally, we had just gotten a good chunk of money from a project that allowed us to work on the site for 1 year to see if we could make any income from it. So we spent the next year learning everything we could about the Internet, travel blogging, websites, consulting, writing, SEO and social media and threw all our time and energy into it. 
We dabbled in a little bit of everything before we narrowed down our market and audience. Back then, social media influencers weren't really a thing at all (Instagram was still fairly unknown and even showing posts in chronological order still) so we tried all sorts of ways to make money: copywriting, transcribing, social media managers, content creation, affiliate marketing, internet marketing, etc.
It took a while to figure out what worked best for us but we're now an official travel company in Costa Rica recognized by the Costa Rican tourism board and Ministry of Tourism. We also opened a company in the US.
Our blog is still our main business but we also have a Youtube channel, Instagram account and Facebook page to supplement our site which is now completely dedicated to traveling in Costa Rica and helping others plan their trip with our personal stories, experiences and recommendations. 
What are the 2-3 favorite places where you've lived/traveled to and why?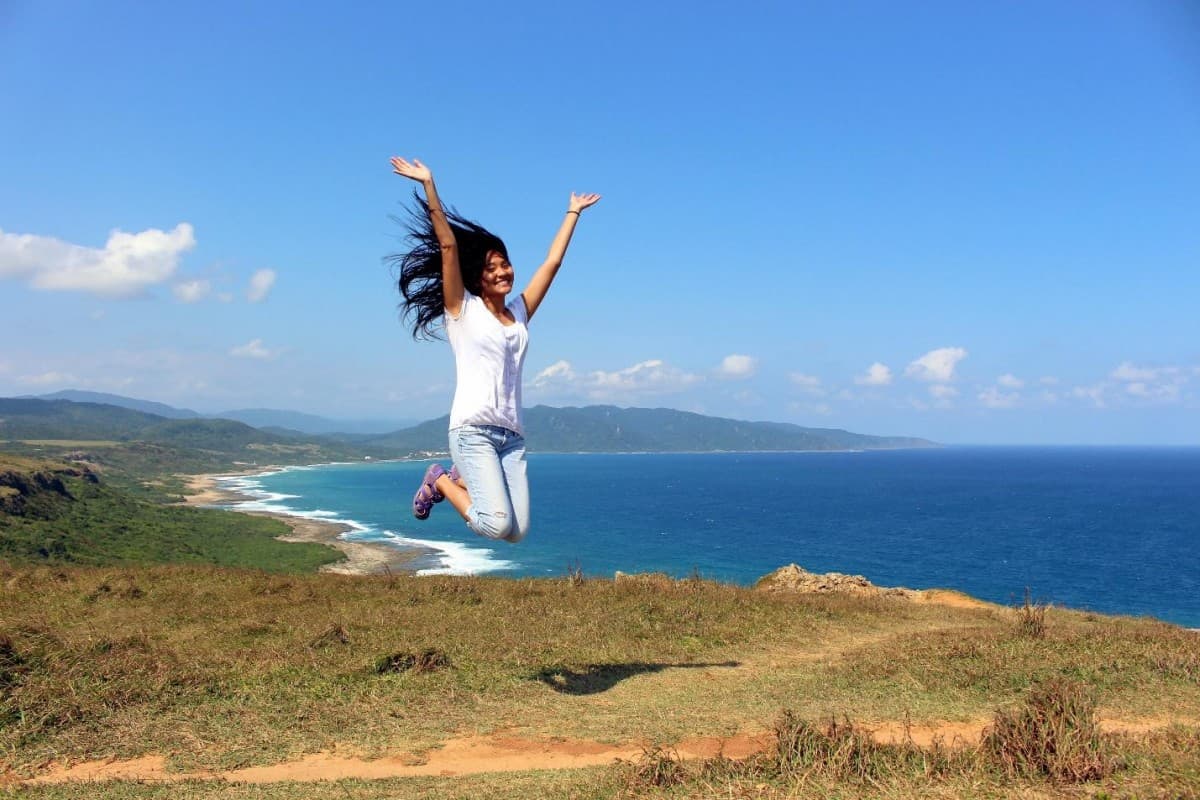 Taiwan (photo above): This is kind of a cheat answer since my family is originally from Taiwan but this country is sooo underrated. It has fantastic food (some of the best food in the world), super nice people, excellent infrastructure and a wonderful mix of city and nature. I will always go back to Taiwan in a heartbeat to visit family and get in touch with my roots. I've visited off and on since 2007 and Yeison and I stayed there for 3 months in 2014.
Iceland: Don't need to elaborate too much on this one but this country is like another planet! Waterfalls, glaciers, ponies, blue rivers, Northern Lights, what more can you ask for? And had great internet everywhere we went on the Ring Road so it was easy to work while traveling when we were there.
Ireland: Dublin is a cute city but I fell in love with the Irish outdoors. I spent a few weeks up in the incredible County Donegal to explore its wild beaches, stunning cliffs, rich history and beautiful nature. 
What advice would you give to someone who's thinking about nomading?
Do your research! Research where you want to move to, try to talk to others who lived/live there and can give you first hand tips and if it's your first time, try to find a destination that is popular with other digital nomads so it'll be easier to meet people. 
I've met many people who blindly moved to a destination they never been to before and realized that it's not exactly what they thought. Thanks to social media, digital nomading and living abroad is extremely glamorized but there are a lot of obstacles and things to figure out before your office for the day is at the beach with a piña colada. 
You need to do your research to find a place that has good and stable Internet, that is safe, has good infrastructure, and that fulfills your other requirements that will allow you to work efficiently while you're abroad.
Also try not to have extreme expectations. Moving and living abroad, whether it's to a country that speaks the same language as you or to a completely foreign country is an adjustment. Don't expect yourself to settle in immediately. Give yourself time to adjust and it may be more time than you realize. You may have lonely or rough days and that's OK! Not every day is going to be amazing.
Your problems won't go away just because you moved to a new place. Life is life, wherever you are in the world and it's all about new experiences, making the best of new adventures and having a fun time.
A huge problem of mine when I first moved abroad was meeting people. I'm very introverted and I moved to a town in Costa Rica called Playas del Coco with mostly North American retirees when I was 23 so that didn't really help much. I think that is one of the reasons why it took me a bit longer to adjust.
Here are a few things that helped:
I started working on the blog so I made friends online with other travel bloggers and internet marketers. That helped me online.

I was able to make one really good friend in our neighborhood and just making one good friend helped me feel more comfortable and settled in, I didn't need to know a ton of people or have a bunch of friends so just having that one good girl friend helped tremendously.

I focused really hard on learning Spanish during my first 6 months in Costa Rica so that I could get to know more locals and not get stuck in the hole of just interacting with expats or people who spoke English. This opened up a huge door for me once I was able to converse in Spanish comfortably because I was able to communicate with more people.

We moved away from that town. We realized that town was not for us so we decided to try living in the area we are now and fell in love with it. We met a lot of other people like us (entrepreneurs, digital nomads, people with an active lifestyle) and got into surfing so we are very happy here.
Since launching, what has been most effective to acquire/retain customers and scale your business?
Organic traffic. Since our main thing is publishing blog posts, we work really hard on SEO and copywriting to rank our articles high on Google. The Internet changes all the time and Google changes rules all the time so we're constantly optimizing and working on the SEO of the site to make sure it's in tip top shape. It's a lot of work! 
We also of course utilize social media. 
We've also spoke at a few travel conferences and attended local travel conferences in Costa Rica.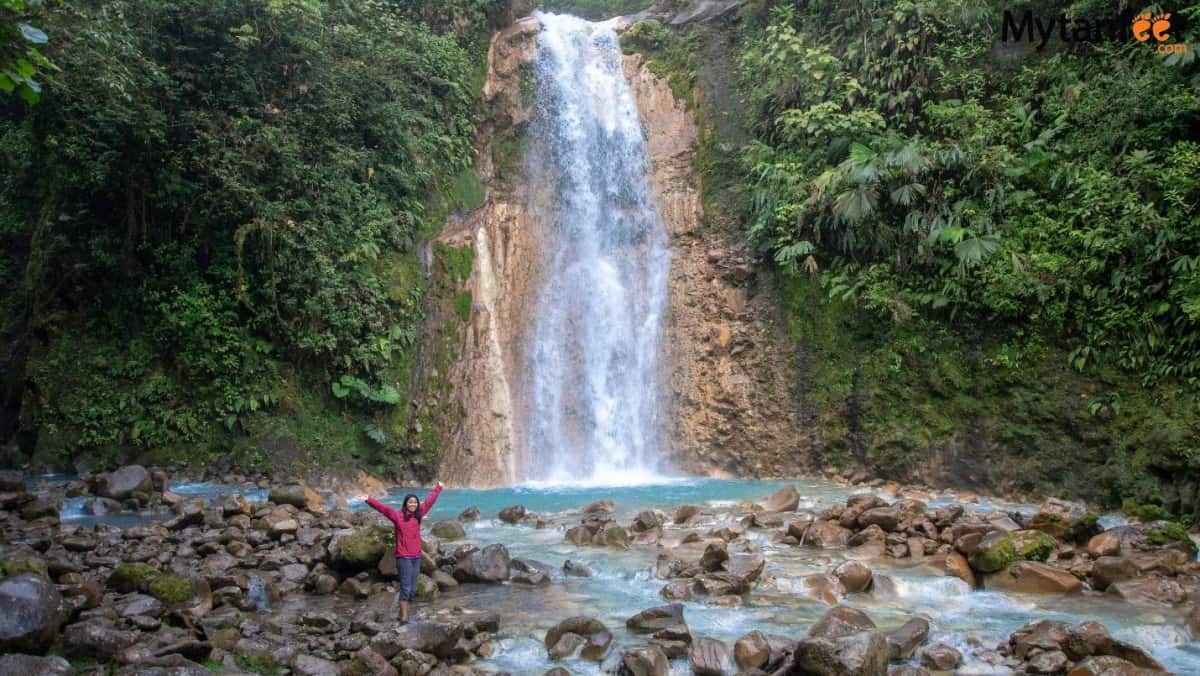 What digital tools do you use for your work/business?
Ahrefs, Tailwind, Ejunkie, Google (like Gmail, Drive, Google Analytics and G Suite). Then we utilize several plugins on the website such as Gravity Forms. For email marketing, we use Aweber. Another important tool is Excel for us.
What scale is your business at today and what are your future goals?
Our business has grown to allow us to purchase two properties in Costa Rica by the beach, build a house and office and travel the world without any debt and without taking any loans. 
Our future goals is to keep growing the business, especially as travel recovers from the pandemic. We also began working on two other tourism side businesses and plan to expand those as well.
What small change has made a big difference in your life?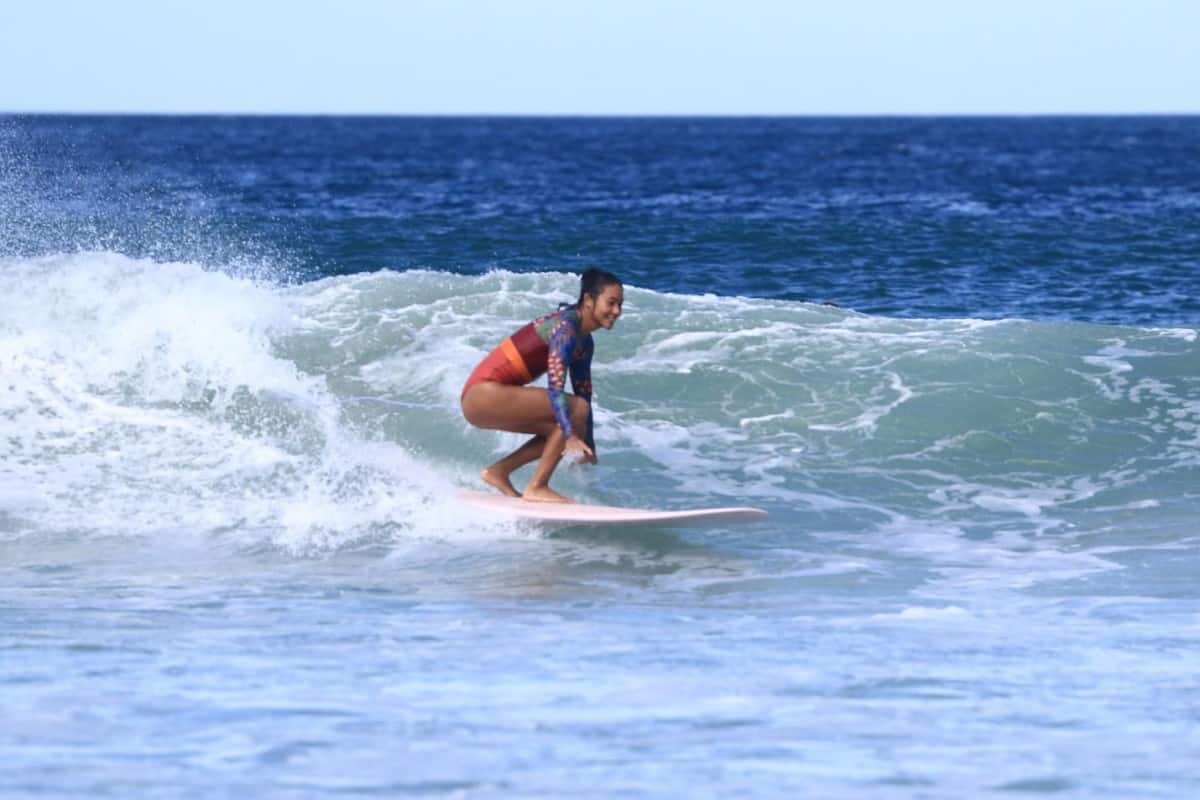 Taking at least an hour every day to disconnect from the computer and phone. We manage to do this by surfing because when you're in the ocean, you can't be checking your phone or thinking about emails. I love to exercise and I used to be a runner but it's very hot where I live (average 90-95 F for most of the year) and I still think about work and emails when I run. So I started surfing as exercise and it has been life changing. For 1-2 hours every day, I disconnect from the Internet to focus on the ocean, have fun and connect with nature while surfing.
For someone interested in becoming an entrepreneur in your field, what's the best advice that you would give? And what books, podcasts, thought leaders or other learning resources do you recommend?
My first advice would be to find a mentor. Having a mentor when we first started was what I truly believe really kickstarted our business. They took us under their wing and taught us so much when it came to figuring out our business goals and philosophy, the Internet, etc. It can be extremely difficult to just dive in headfirst on your own without any direction and having a mentor will help you stay on path.
Starting your own business is not an easy feat and it's so easy to get distracted, frustrated and lost, especially when starting an online business!
I would start researching those who are already established in the niche you're interested in and analyze what they're doing. You don't necessarily need to reach out to them but you can learn a lot just by analyzing someone's website or social media and utilizing any free resources they offered.
Since we wanted to learn more about internet marketing and SEO, we began following Neil Patel years ago when we first started and still do. He has super useful videos and tutorials and even his own software anyone can use.
I also like to follow inspirational speakers because owning your own businesses comes with a ton of ups and downs. I don't have any friends who own their own business meaning I didn't have anyone to talk to that understood how I was feeling. 
So whenever I was going through a rough patch, I would read inspirational posts from other motivational speakers like Gary Vee to help me get inspired again. I don't have the thickest skin so it was very easy for me to get sensitive and emotional and in business, you have to learn how to separate your personal life from your business life. That is something everyone needs to know about owning your own business, but it is a lot harder to implement than it seems so it is a process.
Then something else I recommend is not skipping steps. Don't cheat because it'll come back and bite you hard very soon after. You can try to take shortcuts but it'll only work in the short run, not the long run. It takes longer but we grow our traffic organically since we are looking for a quality audience.
Tell us about your content creation journey and share some of your favorite content that people should check out!
As a blogger, I had to learn 3 fields very quickly: copywriting, photography and social media. I knew absolutely nothing about them and I had to learn FAST since travel is such a visual concept and we wanted to publish high-quality content. 
A lot of times, my husband and I joke that we went to YT University when people asked us where we learned how to blog or take photos/videos because we literally learned nearly everything via Youtube! We watched videos about WordPress, Photoshop, Lightroom, Adobe Premiere, SEO, and everything about blogging. 
You can purchase courses but there is SO much free information out there on the Internet, make sure to take advantage of them!
When we purchased our first DSLR camera, I think I watched every YouTube video tutorial about the Canon 5d Mark III. I never paid for a course, everything I learned was from free YouTube videos.
As for social media, it changes ALL the time and it's been a lot of work to keep up with them. Especially nowadays as everyone wants to be an Instagram influencer or a Youtuber, so it pushes us to create even better content to make sure we stay on top of the game as social media "micro-influencers" (we don't have millions of followers but we have established an engaged and loyal audience).
To be honest, social media is a love-hate relationship at times but it has definitely given us more of a stronger presence on the Internet. 
We have started publishing weekly Youtube videos, all focused on traveling in Costa Rica.
If you only had a few minutes to live, what are the most important life lessons that you would share with the world?
Take care of your health and spend your time wisely. Life flies by so do things you love and spend time with people you love. Time is one thing you will NEVER get back so make it worth it!
Also know that as much as you plan, life will take you on crazy, unexpected adventures. Embrace them and make the best out of every situation.
What do you travel with that you couldn't imagine traveling without?
My laptop because I need it for work. Then my sound cancelling headphones because even after so many flights, I have a fear of flying and the sound canceling headphones helps to relieve my anxiety.
What's your favorite book and why?
Walk Two Moons. I read it as a child and I still love it as an adult today. There are many life lessons in that book that I have carried over from my childhood to adulthood.
How can people learn more about you and your work?
Our main accounts are Instagram, Facebook and Youtube. Our blog is Mytanfeet.