Note: This post may contain affiliate links which means if you click on a link and purchase an item, we will receive an affiliate commission at no extra cost to you.
This is the latest interview in a series featuring digital nomads talking about their lives and lessons (click here if you want to be interviewed). The goal is to help demystify the process of making money online, wandering the world, and living an unconventional life!
Abi, like all of us, likes free sandwiches! Except in her case, going after a free sandwich changed the course of her career. We especially love her advice to those thinking about nomading, so be sure to read up on that!
Thanks for being here and sharing your story, Abi!
Introduce yourself! 🙂 Who are you? What do you do for work? And what is your nomadic story?
Hello! I'm a copywriter and freelance SEO content writer from the seaside town of Brighton in the UK. I've had itchy feet for as long as I can remember but back when I was in school, I had no idea that traveling and writing would be a viable career choice for me.
Five years ago, I applied for an internship in South China via the university I was studying at. To my disbelief, I was offered an internship as an editor at South China's largest media platform. I lived and worked in China for the whole summer, and at the end, I met with the founder of the company and told him I wanted to keep writing for the platform from England.
They had never thought about hiring freelancers before, but they were willing to try it out. Not only did it mean that I could continue writing for a platform I loved, but it gave me a taste of working remotely. 
Once it became clear to me that remote work was possible, I started searching for other platforms to write for and reaching out to them directly. By the time I graduated, I had enough consistent freelance work coming in that I didn't need to get another job. Writing was suddenly a viable career option, and I could do it from anywhere in the world.
Since then, I've spent more than six months traveling Southeast Asia, including two months in Bali. I've spent months at a time traveling Europe, and I've spent three full summers living in Montreal. During that time, I traveled around the south of Canada and spent several weeks in New York. 
During Covid, I've been back in Brighton, and it's been nice to take a breather and reconnect with my hometown. Other than that, it's been a non-stop vacation.
Please tell us the detailed story of how you started your freelancing business.
After getting a remote job at the media company in China, I played around with the freelancing platform Upwork for a while. It was good for a short time, but ultimately, I think freelance platforms hold you back. 
Sites like Upwork get you into the habit of pricing yourself per word. This makes no sense because the goal of copy is to convey maximum meaning in the fewest amount of words. I spend half my writing time trying to get my word count down, whereas Upwork encourages you to bump it up. More importantly, building a website and marketing your business is an irresistible opportunity to show off what you do and establish your own brand. 
It took me a year or two to figure this out, but once I did, I built a website and started marketing myself independently via Facebook groups and SEO content. By that point, I already had a portfolio. Being a copywriter, my pitch is my opportunity to show off my powers of persuasion. 
For the first few years, I took on every copywriting job I could get. I wrote lead magnets, web copy, Facebook ads, blog content, press releases, direct sales… you name it, I wrote it. During this process, I learned a lot and organically found my niche. I learned faster by pairing what I was learning through courses with actually doing.
Now, I primarily focus on sales pages, blog content, and web copy. I am confident in my price points because I have proof that I get results for my clients. If you're just starting out, don't be afraid to put your prices up as you get more confident. People hire you because they can't do what you do. It's important to remember that.
What inspired you to start nomading? And how has nomading changed your perspective on life?
As I said, I've had itchy feet for as long as I can remember. As a teenager, I used to gaze out of the window during class and fantasize about disappearing to a remote island somewhere. At the time, the grownups in my life would tell me to enjoy school because I'd look back at it as the best time of my life. They said they'd take a day of learning overworking a job they hated any day.
I had a miserable time at school for various reasons, and I used to find this thought depressing. Was this really as good as it was going to get?
When I was 18, I left school and hitchhiked across California. During this time, I met all kinds of people who were doing all different things with their life. It showed me that working a job I hated was an option, not an inevitability. I was free to carve out my own life.
It was during my time in China that nomading presented itself to me. I've learned a lot, but the biggest lesson I've taken for myself is that there's no "right" way of doing things. 
I've struggled with chronic anxiety for a long time, and this lesson has been HUGE for me. For example, right before my graduation ceremony, I felt a big panic attack coming along. Instead of sitting through three hours of an anxiety-inducing graduation ceremony out of tradition, I ran around Brighton in my gown and graduation cap taking funny photos. My parents didn't go to their graduation ceremony either, so I took photos of them on the beach in my gown and cap too. It was brilliant.
I grew up with the message that hard work and hating your job is just part of the package. If I'm not happy with my situation, my first thought is to always think about how I can change it. I had heard this message before, but now I truly feel it.
To anyone who says, "your work isn't supposed to make you happy," my question to them is… why not?
I'd also never tell a child or teenager that they will look back at school as their best time of their life. Who knows what their future holds? 
What are the 2-3 favorite places where you've lived/traveled to and why?
I can honestly say that I've enjoyed and gained so much from every single place I have visited. If I had to pick out a couple, I'd say that Montreal is my favorite place I have lived. 
In summer, the city transforms into a city-wide festival. After the long winter and the huge build-up, there's a real "lust for life" atmosphere all summer long. 
The city itself is beautiful, and there is so much to do, especially if you are on a budget. I am drawn to Quebec culture, and the people I have met have been so friendly. The first time I arrived in Montreal, it was raining, and I was lost. Within two minutes, a lady asked me if I needed help and then walked me to where I was going. 
That summer, I met a violinist busking on the street. I told him that I played guitar, and we ended up becoming friends and busking together. I returned the year after, and we played music on the street all summer while I crashed on his sofa. Now, I rent my own apartment and run my business when I visit, but I look back at those first summers busking in Montreal so fondly.
I also love the Philippines. The local people have such warmth, and they are always singing and dancing. I am deeply drawn to cultures where there is a big emphasis on joy and gratitude.
What advice would you give to someone who's thinking about nomading?
Be brave and trust yourself. Other people will tell you that it's not sensible or that you need to plan ahead. When I first went to the US, I was broke, so I had to couch surf and volunteer in exchange for places to stay. People questioned my decision, but I knew that I wanted to see more of the world, and at the time, it felt right. Traveling in this way birthed a deep love of adventure, and now that I work online, I still often choose to stay in areas where I will meet lots of backpackers.
I am 5ft tall, and I've always looked very young. My mother has always been protective, and she used to (and still does!) worry about me a lot. I asked why she didn't trust me, and she would say, "it's not you I don't trust. It's the rest of the world."
This came from a place of love, but it made me see myself as a victim for a long time. My experience has been that things are just as likely to happen at home as they are abroad. Traveling has given me courage, and when things do happen, I'm not the one having a panic attack anymore. I've become a person that others can rely on in a time of crisis.
I could say, "it's not really as scary out there as you think," and that's true. But to me, the lesson of trusting yourself and building your courage is even more valuable. 
My other advice would be to go solo. Traveling with a friend or partner is great, but you won't meet as many people. I rarely plan ahead when I travel because you'll learn more about the area from a local you've met in a bar than something you've read online. 
What is unique about the way you travel, and what advice do you have for someone that wants to travel with a similar style?
As a copywriter, I have a comfortable income, but I still travel in a similar way to when I was broke and fresh out of school. I prefer to have my own room rather than stay in a hostel these days, but luxury isn't something I particularly seek when I travel. I'm more interested in meeting people and having a rich cultural experience.
This means that I've actually managed to save a fair bit of money over the last few years. It's crazy to think I spent a December working in a private villa in Bali and actually came home with more savings than I left with. 
The downside of traveling like this is that it involves living out of a backpack a lot of the time. I don't always have a base, and I don't have a bedroom at my mum's place, even though I'm always welcome there.
My advice would be to not overestimate the importance of comfort. Once you start recognizing home comforts as luxuries rather than necessities, you open yourself up to adventure.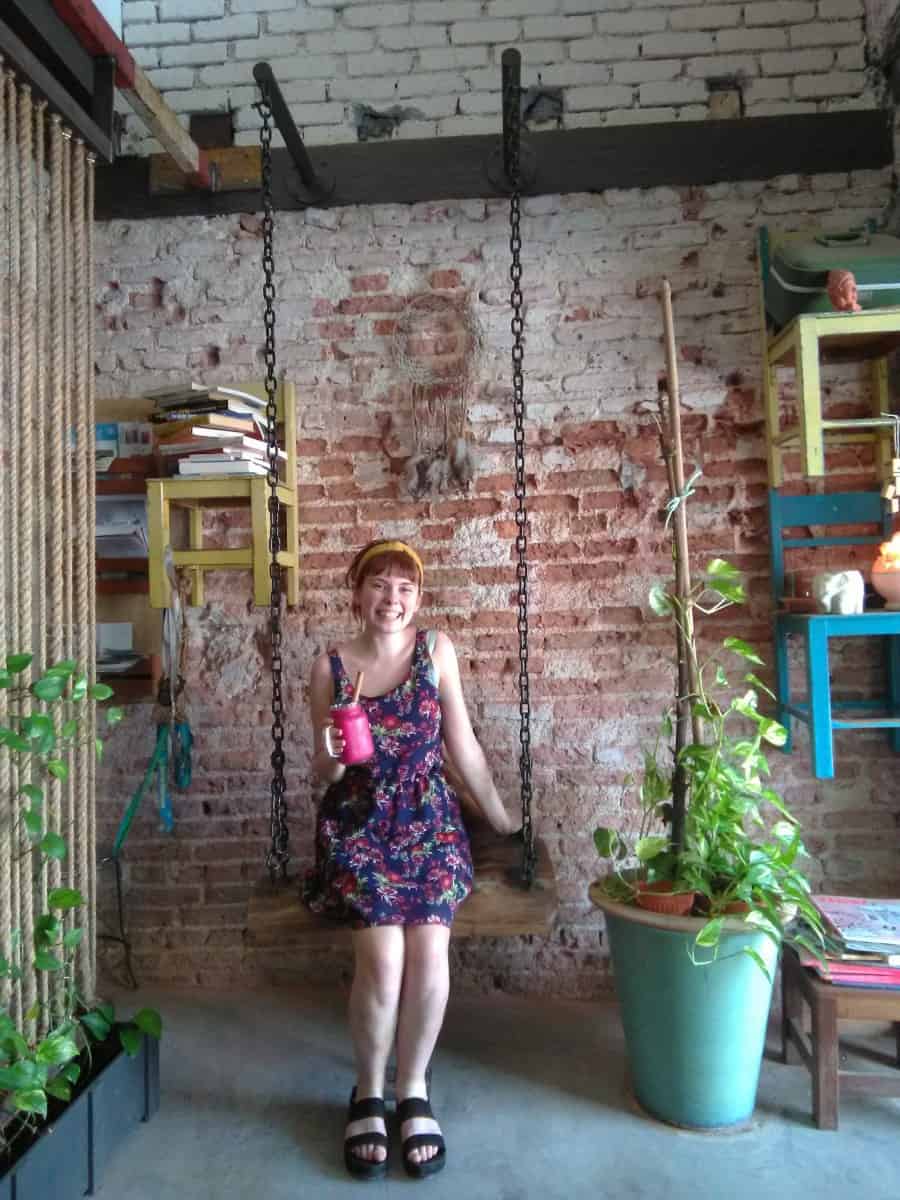 What scale is your business at today, and what are your future goals?
I have proven that my business model works, and I am now in the process of scaling my business. I only need to work 20 hours a week to earn $3-5K per month, but now, I want to scale to six figures.
I launched my travel blog two months ago, and I already have 1,000 site visitors a month. I've done this through Instagram and SEO strategy. SEO takes time to work, so I'm predicting 10x growth by the end of summer.
At the moment, I have eight clients. I have three clients that I work with on a retainer, and I have 20 hours a week blocked out for them. Any work I do on top of that is with clients that have approached me to write their sales pages, ad copy, or SEO content. 
10 clients a month at $1-2 each. That's my next goal.
Since launching, what has been most effective to acquire/retain clients?
For me, the most effective way to acquire clients is to build authentic connections with other entrepreneurs. I'm a member of a dozen different Facebook groups, and I often see people dive straight in with a pitch. This has never worked for me.
Instead, I focus on providing value to the group by answering questions and giving people a hand when they need it. I once reviewed a lady's website for free, and she has since referred me to three major clients who have paid me to write and optimize all their web copy. 
In my mind, putting time into meaningful mutual support will get you further than frantic pitching ever will.
For someone interested in becoming a freelancer in your field, what's the best advice you would give? And what books, podcasts, thought leaders, or other learning resources do you recommend?
If you want to get into copywriting, go check out Copyhackers. Subscribe to the mailing list, follow them on Instagram, sign up for every free masterclass. You'll get so much amazing advice on how to write good copy and how to attract new clients. I also highly recommend The Sales Letter by Dan Kennedy. Also, don't write from scratch. Swipe templates from marketing giants like Traffic & Funnels. You'll have more room to inject personality and behavior-driving emotion when you work from a template.
For SEO, I've learned a lot from Neil Patel. I've also learned a lot from trial and error. When you build your own website, you have space to experiment with different strategies and see what works. If you can make it work for you, you can replicate it and make it work for your clients.
I offer a bunch of free resources on my digital marketing blog, including lists of free SEO resources. You're also welcome to reach out to me at any time if you'd like support in growing your business. I love helping other freelancers succeed.
What digital tools do you use for your work/business?
I use pretty much everything *laughs*. Every client I work with seems to have their own system. I'm on Asana, Trello, Lano, Monday, and Slack. I use Zoom for client meetings and Google Meet for consultations. This is connected up to Calendly, so leads can easily book in with me. Making it easy for clients to connect with you is super important.
I use Ahrefs and Surfer SEO for keyword research and content optimization for the SEO side of my business. If you are a content writer, investing in SEO tools will help you offer more value to your clients and subsequently charge more for your services. 
What small change has made a big difference in your life?
All the biggest changes seem to have come from small decisions. That internship I did in China was a huge life-changing decision, but the only reason I heard about it was because I went to a talk at my university for first-generation scholars. I would never have heard about it otherwise.
And I only went to that talk because I heard there would be free food! I wonder where I'd be today if I wasn't such a stickler for a free sandwich?
What is your philosophy on being happy and/or finding meaning/purpose in life? And any recommended resources for people navigating this journey?
For me, being happy starts with changing your idea of what happiness is. I think we often define happiness as something that is just out of reach, e.g., "Once I have this, I'll be happy" or "I'll be happy when I achieve this." 
Once we start asking ourselves the ways we are happy right now, we begin to appreciate how much we have to be grateful for. My experience of happiness is that when I see it as something that is always immediately accessible rather than something to attain, moments of joy can be found everywhere.
If you only had a few minutes to live, what are the most important life lessons you would share with the world?
I've thought long and hard about this, and if I'm honest, I don't have a message I'd like to share with the world. I could say things like "be kind" or "love yourself" or any other cliché, but people have probably read the same quotes on Instagram this morning.
I'd much rather use these final minutes to speak to the people I love and care about the most. I'd tell them to look after themselves, to follow their dreams – all the same clichés that suddenly become so much more meaningful when a loved one says them. 
At the end of the day, I'm not a super-influencer or super-genius. But I am highly conscious of the impact I have on my friends and family, and I always strive to bring light, positivity, and care. 
So, I guess that's my answer. I'd spend ten seconds telling the world to go and tell the people they love how much they mean to them. And then I'd spend the rest of the time taking my own advice and doing the same. 
(PS: I love you, mum. You are strong… you are beautiful… and you can do anything!)
What do you travel with that you couldn't imagine traveling without?
My laptop! Without my laptop, I couldn't work, and without my work, I couldn't travel. Everything else is optional. I once lost my entire suitcase with all my clothes on a flight to Mexico. As long as I have my laptop and passport, I have the ability to make money, which means I'll be OK.
What's your favorite book and why?
I love The Waves by Virginia Woolf, Murphy by Samuel Beckett, and Flowers For Algernon by Daniel Keyes. I love them all for different reasons, and they are all quite personal.
I also love The Tao of Pooh by Benjamin Hoff. It's a lesson about Taoism and the path of "just being" told through Winnie The Pooh. When I travel, I often meet people who are stressed out with their work and tell me they are jealous of my lifestyle. 
A few years ago, I started bringing spare copies with me on my trips so I could pass them along to people who were seeking a mindset or lifestyle shift. They loved it.
Tell us about a deep passion of yours! What has your journey been like, and what advice/resources would you recommend for someone interested in learning more about this topic?
I'm a passionate chess player. My mother taught me when I was a child, and I took to it pretty quickly. I was only 7-years-old when I joined the school team and went on to play for my county and at a national level. I spent years playing chess competitively until I eventually gave it up because I was more interested in socializing on the weekends than playing competitive chess. 
When I started traveling, I fell back in love with the game. To me, chess is an amazing way to communicate with people that I have never met and probably have very little in common with. I once spent an entire evening in a bar playing chess with a seventy-year-old Spanish man who was half-deaf and didn't speak a word of English. We had nothing to say to each other, but when we played chess, it was like a dance. It's communication, and I think it's beautiful.
Since then, I've clocked over a thousand games on chess.com. It's the best platform if you want to play chess with people from around the world and improve your game.
How can people learn more about you and your work?
If you'd like to learn more about my travels, head over to APT Travel (www.apttravel.net). I share travel guides, stories, and interviews with people I have met on the road. You can also follow me on Instagram @apttravelblog for daily updates and travel photos.  
If you want to learn more about my copywriting and SEO content marketing, you can visit APT Content (www.aptcontent.net).