Note: This post may contain affiliate links which means if you click on a link and purchase an item, we will receive an affiliate commission at no extra cost to you.
As much as we wish traveling internationally with a dog was as easy as buying an additional plane ticket, the process proves to be a little more involved.
If you're considering either getting a dog as a digital nomad or considering long-term travel with an existing pet, we gathered some insights for you from real digital nomads, so you know what to expect (or if it's even possible).
1. CDC regulations for dogs: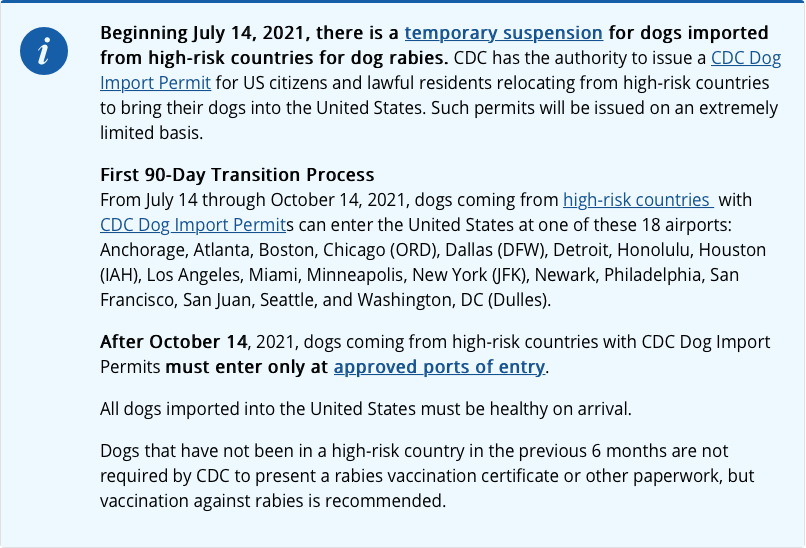 "CDC has now a new Dog Rule! There is a list of countries that are marked as high rabies locations. If you travel from them to the US you have to request a permit to fly in your dog. They are not all being granted. I would check that list and stay out of those places."
2. CDC high risk rabies countries:
"Make sure you read up well on the ban the US just put in place on July 14, 2021, banning the importation of animals when entering back into the US from any of the 100 countries they list. I know for a fact Belize is on the list because I live here and a bunch of Expats were freaking out in early July frantically dropping everything to get their fur babies back to the US before the ban."
3. Traveling with a large dog internationally is not feasible:
"Moving to a place with a large dog is doable but moving around to different cities with a large dog is not, it would be very stressful and expensive. We brought our small dog from California to Spain and the process was very stressful for both. Even though she had a great life in ONE stable place here, she eventually got sick and passed away in March 2020. My advice to you is to travel solo, try it out, see if you like the lifestyle, can handle the costs, fully understand visa and tax laws. Leave your dog safe and well cared for with somebody you trust. If you find a place to live that you like then bring her."
4. Quarantining dogs after international travel:
"One issue might be getting her back into the US. I've heard animals coming from other countries have to quarantine for like six weeks which can be quite traumatic for the dog. Look into regulations on bringing animals back and make sure it's worth it."
5. Hiring a house sitter long-term:
"I've been a full-time nomad for 5 years and a housesitter /pet care provider for 15+ years. I do many long-term sits for DN's who want to travel for months at a time. But, you would need to keep your home for someone to stay in it and care for your loved one. I have met folks who travel with their pets, but it's very complicated and expensive. You may be limited to where you can travel. And of course, will your dog enjoy this travel? Or be traumatized by it?"
6. Locations to avoid with dogs:
"I travel with my dog. At first, it was really difficult. Then, it became only challenging. I became aware of which situations work for her and which don't. She has equal part in our travel plans. So, I basically only take her with me wherever it is safe for her. If it isn't safe for her, I don't go for more than 2 weeks out of every six months. Luckily, we both enjoy hiking and being outside of big cities the most. Personally, I would never take my dog to most of South or Central America, and also nowhere in Asia. (She's from India. We have done that. Not fun.) Actually, a large part of the world I would not take her. Why? Because of diseases and parasites and wild animals and insects which could hurt her. Secondly, and probably a much larger factor is stray dogs. They're in packs and territorial and will literally try to destroy you and your dog simply for existing in their territory."
7. Taking the Queen Mary 2 to Europe for:
"Depending on your finances, you can travel with your dog on the Queen Mary 2. We looked into it while
considering living in Spain for a bit. For sure when we head to Europe with our van that's how we will get him there, barring that we wouldn't go. Not flying him in cargo and not ever leaving him home. Too much of my heart."
8. Living options are limited with a large dog:
"I can only speak for Germany, but a HUGE percentage of living options are immediately eliminated if you have a dog. My estimate is about 90% of Airbnbs here. And for anything long-term, you'll go to the bottom of the list in an INCREDIBLY competitive rental market. We left our dog (it was hard) with my parents back in the states. He's MUCH happier there."
9. Training for international travel:
"The real question is how well trained is she? She needs to be flawless around crowds and other dogs/animals. She needs to listen and obey. If she doesn't it's just going to cause major issues that can be a lot trickier to navigate than they might be at home."
10. Driving whenever possible:
"Driving will be better. And driving around Europe is not hard at all. I plan to settle in Italy and travel around one country at a time. Right now I'm settled in Egypt but later I'll fly my doggo ( a retriever) to Italy and stay for maybe a year or two while going around. Flying is stressful for them so I don't consider getting him on a plane for less than a 6-12 months stay… Other than that, I'm considering sitters and hotels for dogs. Europe has also very strict passports for dogs rules and they can take time so look into that."
11. No problem with slow travel:
"We have been slow traveling with our small dog for two years in Europe and it has been great. She is 14 but flying in the hold has been no problem at all for her."
12. Consider extra cost of traveling with a large dog:
"It's a pain in the ass to travel with a large dog. It's enjoyable but comes with additional costs (dog fees, limited housing, negotiating with transportation, and dog boarding when you decide to go somewhere a little more remote like a jungle/sacred land. I would only suggest it if you plan to live in one place for 2 – 6 months. — Signed someone who has traveled to four countries with her large dog in one year."
13. Boarding dogs with trusted family or friends while you're away:
"Consider boarding your dog either with family, friends or a great boarder who can provide a good lifestyle for them while you're away."
14. Get a petsitter to give your dog structure and repetition:
"Very stressful for an animal to fly on a plane, change surroundings, etc. Dogs are dogs, not humans, and animals prefer their own environment, structure, repetition…leaving an animal with a good pet sitter or happy family member is probably a very thoughtful thing to do. Once sure of your location and settled again and with a place for a dog, to then transport a dog, sure."
15. It can get expensive fast:

"I traveled in Costa Rica for a few weeks with my service dog- a golden mix- the cities were busy and the beaches were too hot for her- the mountains were amazing though! One big thing to keep in mind- street dogs- they were everywhere- mostly friendly but not always, and my girl was stressed by their presence for the first while. Not everywhere was accommodating -private rooms in hostels only- and traveling between locations required the purchase of two seats, so money adds up pretty quickly. Personally, I would not recommend taking a dog to Costa Rica."
16. It's easier than you think:
"Traveling with a dog or cat is totally feasible and doesn't take much. I've been doing it for over 5 years now, and surprise, surprise we are still fine and alive. How magical. I've lived in Ireland, Hungary and now in Italy with my dog and we've traveled together to many other places for holidays and somehow it never was a problem. You only need to arrange a pet's passport with the vet and also ask for the proper medicine depending on the destination country and buy a ticket for them. Bigger airline companies charge 50-80 euros usually in Europe. Before you change countries, you just need to see a vet, tell them what's your next destination and they will give your dog the medicine/vaccine that's needed for that country. Usually, just a pill if you stay on the mainland, or a vaccine only if you go to an island country. If you don't want to leave the dog behind, just don't."
17. Vets and airbnbs add up:
We travel with our dog, but she is tiny and we can bring her into the cabin with us perhaps on 50% of the airlines. Every time you change countries, you need to get a veterinarian certificate, usually within 5 days of changing countries. And, of course, only about 25% of AirBnbs and hotels will take the dog. Even then, many of them have a 25 pound limit. Also, the ones that take pets tend to cost more. We are spending August in Tirana, Albania and we are paying 1,000 USD when we would pay about 700 USD for the same quality home without the dog. We generally say 'in country' for the full 90 days that are typically allowed. If we were moving every couple of weeks or even a month, the hassle of getting set up to travel and to have a place to stay would be very, very tiring. I wouldn't try it, but, then, I'm kind of cautious.
18. You can do it, but it's expensive:
"Can you travel with pets? Absolutely. Can you travel across borders with them frequently without great expense? No. Consider making your nomadic journey more meandering with six month-one year in each place. It costs anywhere from 600-5000 each time you travel depending on how you go about it.
19. Use a pet relocation service and specialists:
"I just relocated with my dog to Costa Rica. I used a pet relocation service. They are called Pet Lounge. It was great. Very grateful to have my dog here with me!"
20. Advice from a travel agent for travel with dog:
"I'm a pet owner and a travel agent. I fly with my dog. We actually have a flight book for next week. You have to make sure the vaccines are up to date (the ones required to enter the country you will be visiting) and get the veterinary certificate as well as other paperwork to clear agriculture and animal imports. You also need to verify the heat embargo as well as for the cold season. Some destinations have an embargo and dogs can only fly in cargo at a certain time of year. Flying is stressful for the dog and also adds extra stress for you, on top of all you have to organize for the trip. You will also have to do the same process again when you fly back home or wherever you are going next. I would recommend flying with your dog only if you are going to stay a long period in one place (3 months or more). Airlines (mostly veterinarians) can refuse to sign the health certificate if the dog is older so it could be a problem to return home. The one problem I encountered is that it could be difficult to find a veterinarian that will be available to accept new patients and also know the process and requirements to enter the country. Make sure to find a vet in the country you will visit, that will accept to do the exam and paperwork. It's a big mess now with the pandemic. Many clinics don't accept visiting patients. And some of them don't know what they're doing and will try to administrate vaccines that may not be needed or microchip (not all countries require them)."
Final thoughts:
If you want your dog to join your nomadic adventures, you will face some expected costs for transport, vet bills and lodging. It's not impossible but it's recommended to stay in one place longer if traveling with a dog.