Note: This post may contain affiliate links which means if you click on a link and purchase an item, we will receive an affiliate commission at no extra cost to you.
Lightweight laptops with long battery life and powerful processors are the favorite tool of many remote workers and digital nomads. However, some of these nomad-friendly devices that you can easily fit in any carry-on luggage can be on the expensive side. In this blog post, I will write about the best "Nomad Approved" portable laptops under $1200.
Things to Keep in Mind When Buying a Laptop for Digital Nomading
Easy to Carry
If you wish to use your laptop for remote work, the device should be easy to carry. I always recommend thin laptops, ultrabooks, 2-in-1 laptops, and Chromebooks with a lightweight design and a 12 to 14-inch display. So, what are the best lightweight laptops on the market nowadays?
Acer Swift 7: 1.179 kg (2.6 pounds)
Apple MacBook Air: 1.29 kg (2.8 pounds)
Dell XPS 13: 1.2 kg (2.6 pounds)
Long Battery Life
If your laptop doesn't have a decent battery life, working on trains, buses, and long flights can be a real nightmare. Therefore, it is advisable to look for a device with long battery life. For instance, Acer Aspire 5 has a battery that lasts nearly 9 hours on a charge, while the Apple MacBook Air comes with a battery life of up to 18 hours.
Easy to Maintain and Repair
There is always a chance that your laptop suddenly stops working while you are on the road. Choose a recognized brand that is easy to maintain and repair. It is also advisable to purchase a device with a strong metal body when traveling abroad.
Popular Nomad-Friendly Laptops under $1200 (What Fellow Digital Nomads Have to Say)
In a Digital Nomad Reddit thread, digital nomads and freelancers shared their thoughts on what is the best reasonably priced laptop that you can buy for traveling and working abroad. Many of them recommend today's Chromebooks. 
They are lightweight, fast, and usually have long battery life. If you are not planning to use Windows or Apple-specific programs, you should consider getting a Chromebook. 
The good news is that lots of different manufacturers are making them nowadays. To help you find a reliable Chromebook, check out the "Best Chromebook in 2021" article from Laptop Magazine.
Other digital nomads recommend a base version of the Apple MacBook Air with an M1 chip. Other options include Dell (Inspiron, Latitude, and Precision), Lenovo ThinkPad, and Asus Zenbook.
Best Laptops for Digital Nomading Under $1200 
To sum it all up, this is my list of the best five nomad-friendly laptops under $1,200.
Like I mentioned before, the Apple MacBook Air is a favorite among digital nomads. With a whopping 18 hours of battery life, Apple's custom Magic Keyboard, HD camera for video calls, and Touch ID, this extraordinary lightweight device is truly one of the best laptops for digital nomads. Apple MacBook Air is convenient to transport and has its own CPU chip, the Apple M1. 
Thanks to its Quad-Core processor, 15.6-inch, full HD NanoEdge bezel, and a built-in fingerprint sensor on the touchpad, ASUS Vivobook is one of the best laptops for remote workers. It is perfectly capable of moderate work, doesn't cost too much, and features ample space to store all your files, programs, and photos.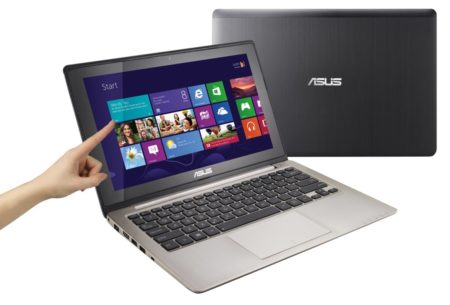 Digital nomads who wish to get the best bang for their buck should consider getting the Acer Spin 3. This convertible 2-in-1 device allows you to use the laptop as a tablet, like a regular laptop, and in tent mode for media viewing. You will also get the WiFi 6 chipset and a USB-C port with Thunderbolt 3 functionality. I like the fast i5 processor, 8GB of RAM, and 256 GB of SSD storage space configuration of Acer Spin 3 that you can get for just under $700.
One of the cheapest laptops on the market, Lenovo Chromebook Duet is a laptop-and-tablet hybrid with a detachable keyboard and a powerful 7,000mAh battery that lasts for about 12 hours. Made from aluminum alloy, this Chromebook is also well-known for its sharp resolution and strong color output.
At 2.7 pounds (1.23kg), Dell XPS 13 is one of the lightest travel laptops on the market today. Believe it or not, the basic configuration for this professional travel laptop starts at about $1000. Whether you use 3D applications, wish to do video and photo editing, or enjoy (light) gaming, Dell XPS 13 can handle many tasks. Although it depends on which apps you use, the battery life of the Dell XPS 13 can be up to 12 hours.
Want to know how to become a digital nomad and travel the world? Check out this ultimate guide to digital nomading and location independence.