Note: This post may contain affiliate links which means if you click on a link and purchase an item, we will receive an affiliate commission at no extra cost to you.
This is the latest interview in a series featuring digital nomads talking about their lives and lessons (click here if you want to be interviewed). The goal is to help demystify the process of making money online, wandering the world, and living an unconventional life!
Arestia was well into a successful career when she took a chance, packed her bag, and took off on Remote Year. Countless countries later, she's running her own business from her home in California.
Welcome, Arestia!
Introduce yourself! 🙂 Who are you? What do you do for work? And what is your nomadic story?
Hey, I'm Arestia Rosenberg! I'm originally from Laguna Beach, CA and Las Vegas, NV and I now live in Santa Monica, CA. 
I'm a freelance creative consultant and my work consists of working with brands to figure out how to tell their stories and producing content to bring that story to life. Depending on what's needed, I do everything from editorial strategy to directing and producing to writing. My clients consist of agencies, brands, and production companies. I also direct short documentaries. 
My background was in film and television production, working on major motion pictures and docuseries television. I transitioned into brand strategy when I was hired at an agency (Hill Holliday in Boston) to be a producer for the "content" team. This was almost 10 years ago when content wasn't a well-known word, but they needed an experienced filmmaker, they had budgets, and it was an exciting new world and smart team.
After a few years, I realized I couldn't see myself moving into a traditional creative director role at an agency. I really loved storytelling and the agency had dissolved the content department and everyone in it moved into more traditional advertising roles (a mistake, in my opinion and if you asked them now, I think they'd agree).
I wasn't a traditional agency producer, so while they kept me on, I knew it was time to go. I moved to New York to work at The Daily Beast as the Creative Director of Brand Strategy. I was excited to work on the media side and learn another side of the storytelling industry.
I am proud of the team I built and the work I did while I was there, but still, it didn't seem like it was a good fit…
Tell us your detailed story of how you became a digital nomad!
Around this time (now ~5 years ago), I had read an article about a program called Remote Year. They had just started and were taking a group of ~75 people around the world to live and work for one year, one new country a month. Everyone had their own jobs, but they provided the travel, apartments, coworking space, and community for a monthly fee that was less than my rent was in New York. They were calling for applicants for the second group. I applied not really thinking anything would come of it, but I got in.
Let me back track for a second. When I graduated college, I vowed to go to one new country a year, and I had kept that promise. I was raised to be mindful that there was a great big world out there and I wanted to explore it. I had always wanted to live abroad, and Remote Year seemed like a great way to experience that. The other big thing that stuck out to me was back when I was working at the ad agency in Boston, my father was turning 60 one weekend and my brother was getting married the following weekend, both in CA.
I petitioned my supervisors to let me work remotely for the week so I wouldn't have to buy two cross country plane tickets for two epic flights two weekends in a row, nor take off vacation time, and they let me. I attended all my meetings via dial in and kept east coast hours. And honestly? I got so much more long term-thinking, creative work done that week. It was like busting out of the day-in-and-day out made me more efficient and gave me space to do real work.
Kismet-ly, I saw a video that week about a coworking space in Bali called Ubud. I thought, "how great work it be to maybe go work remotely for a month somewhere? What great creative could come from that…?"
All this to say, Remote Year seemed like a dream. So I applied…and got in. I talked to The Daily Beast to see if I could keep working there but remotely. I must say, I think I gave a pretty good pitch for it, but ultimately, they said no. So I made the tough decision to quit, go freelance, and do it anyway. 
I want to be clear – I know traveling the world for a year seems like it would have been an easy decision, but it was not. I was 31 at the time and had worked really hard to get to where I was in my career. I worried I was throwing that all away. Ultimately, I decided if I didn't do it now, I wasn't sure I would ever get the chance and I knew I would regret it. So I went for it. 
I emailed my entire network to let them know I was freelancing and bought my ticket to Argentina where I met the rest of my Remote Year crew. I was lucky that we started in South America as it was very cheaply for me to live there. I used that to my advantage to build up my book of business. The Daily Beast kept me on as a consultant for a few months until they found my replacement and I slowly built my clients up. I've been freelance ever since. 
Remote Year (plenty of stories in there) as in the name lasted a year, and then I kept up with my nomadic lifestyle for another year. Right after Remote Year ended, I went to Bali, and I'll never forget walking into Ubud, that coworking space I imagined working in all those years ago. I never saw then how I could make that work for me, but I did. It brought me to tears. It still makes me teary. 
After over two years of digital nomadism, I was ready for a place to call home and to move on with the next part of my life, so I settled down in Los Angeles. My work still allows me to work remotely and go on nomadic sprints here and there, but I have a permanent address once again. 
Now, I still love making my own hours, surf whenever I can sneak it in, and love building my community here while being close to my family. I have fantastic clients and space to pursue my own creative projects. 
How has nomading changed your perspective on life?
Nomading made me realize I controlled my destiny. When I first thought about it, I didn't see how my work and my life would ever lend me to make it happen. But as soon as I got there, I was really proud of myself. I had found a way. And I was living a dream so many people merely wished and hoped for. 
On the other side, I also realized after two years that nomading was preventing me from growing. It's easy to make anything a routine, even traveling to new countries. I was living in my own world, even though I was traveling around the world, and knew I needed to change my lifestyle. It had become comfortable, even easy. 
Even though I live in one place now, I try to keep that nomadic spirit alive. I try to approach each day as if I was visiting or living somewhere new – talking to strangers, delighting in the small things, looking for places to discover. I think approaching the world like that keeps the whimsy alive. 
What does a day in your work life look like? Paint a picture for us :).
It's important to me to work in blocks as you can't really start and stop creative work. So I schedule all my calls for the morning and then none after 2pm so I can do the work. I try to only work 30 hours a week, but I've had lighter times and heavier times.
I try to take at least one half day off a week, if not a whole. I find I'm more efficient with my time that way and I don't get burned out. That's the thing with nomading–you don't feel like you need to take a vacation as much because you're more in control of your life when you don't "need" to be anywhere.
My business line is also actually a Skype number, so even if I'm in another country, my clients can call me on a US number. Most of the time, they don't even know where I am! 
What advice would you give to someone who's thinking about nomading?
My biggest piece of advice for someone who starts out nomading is to throw away all your expectations. I think some people struggle is because they have this idea on what it's going to be like and that never matches up. Just let it happen. 
While I was very ready to strike out on my own after Remote Year, I was worried about getting lonely. Let me tell you right now–loneliness happens. But it doesn't last. I will say, being a single woman, often eating alone at a bar, I would get approached a lot–not just getting hit on, but I think you're just a lot more approachable. But I also made an effort to talk to people. A little vulnerability goes a long way.
I remember once being in a bar in Paris, and there was a girl there that seemed American and she was with a lot of French people. I went up to her and introduced myself and told her I had just arrived and didn't know anyone. Her face lit up and she introduced me around and we started chatting. She took me out the next several nights. I'm still friends with her on Facebook.
The point is, don't be afraid to step out of your comfort zone a bit. Also, stay at hostels! It's not the most authentic experience, but you will always meet other travelers that want to explore and you'll end up forming little "travel families" along the way (plus, if you're single, other sexy single people always also stay at hostels).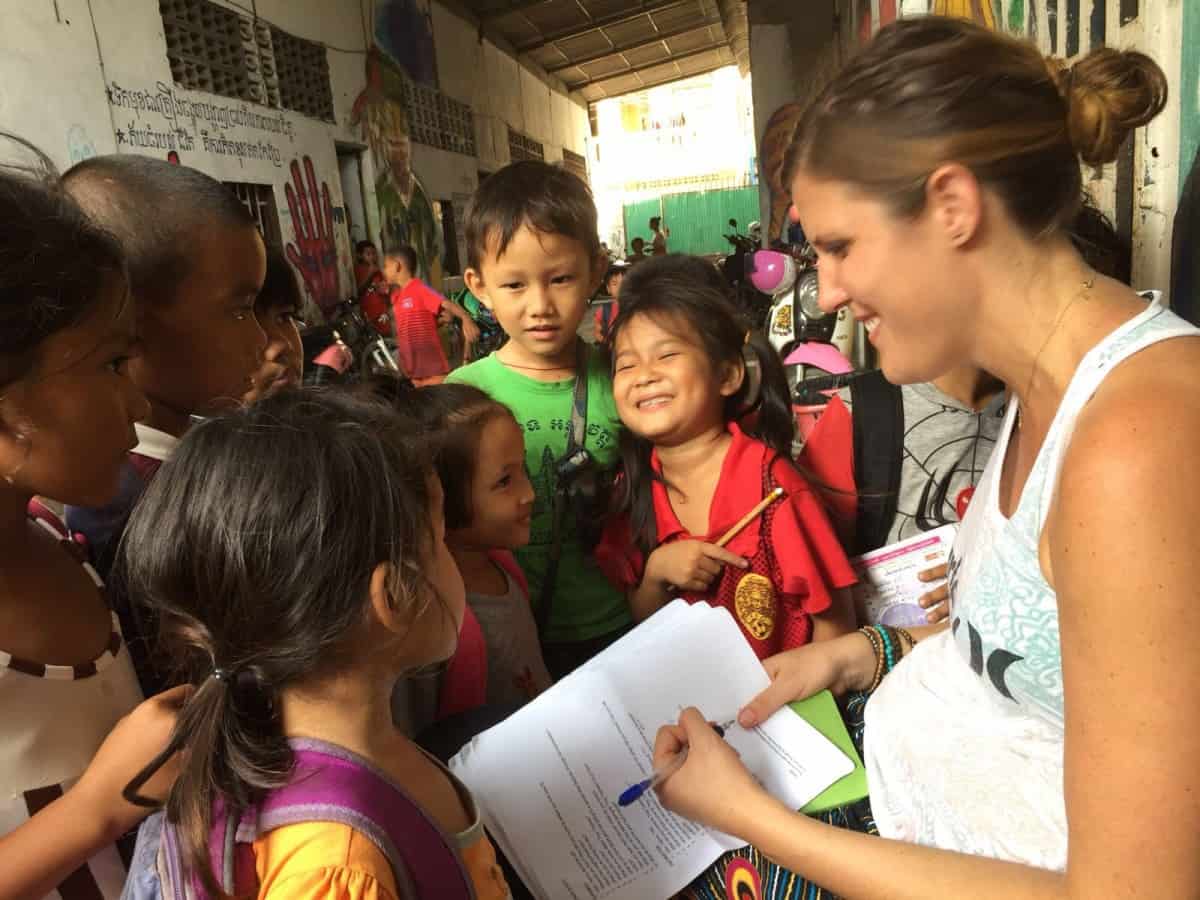 If Airbnbs are your thing, that's cool–and you'll get very good at spotting the good ones from the ones that just have good lighting in your photos–but look up the local coworking space. The good ones will have events for you to meet other digital nomads. 
Also, always carry a portable charger. This is the most essential item for digital nomads! 
For someone interested in getting into your field of work, what's the best advice that you would give? And what books, podcasts, thought leaders or other learning resources do you recommend?
If you're looking to go freelance from full time, I tell people to try and make your old job your first client. If they're happy with you and your work and you're just looking to make a change for yourself and not because you're unhappy there, why not try to work out a way to become a contractor? 
My friend Katherine Conaway wrote a guide to becoming a digital nomad and I recommend it to anyone about to or thinking about going into the digital nomad lifestyle. 
What are the 2-3 favorite places where you've lived/traveled to and why?
It's hard to pick, truly. I will say, my most memorable was Bolivia. It's not an easy place to get to or live in. You need to get a yellow fever shot and a visa to even enter the country, and then once you get there, it's one of the highest places in the world. I never stopped huffing and puffing for the five weeks I lived in La Paz. It's not comfortable – there aren't resorts or beaches. But man, is it a special world. I think the fact that it's so challenging is what keeps it unique. Women dress like they did 100 years ago (called "cholitas"), the nature is amazing, from the impressive mountains to the awe-inducing salt flats, to the Amazon pampas. When landing in Bolivia, I remember, "this is why I'm doing this–to experience something I never would have otherwise." 
Southeast Asia is up there too – Vietnam, Thailand, Myanmar and Cambodia specifically. Friendly people, amazing food, beautiful places. 
But Spain has my heart as I went to live there the summer after my junior year in high school and I fell absolutely in love with the culture, people, and food. I've traveled all over from Madrid to Barcelona to San Sebastian to Granada. 
What is one of your favorite travel stories/experiences?
I learned how to ride a scooter as it was essential in Bali but it came in handy in other places too. I traveled to the Azores alone and rented a scooter there and traveled all over São Miguel island. It is one of the most beautiful places I have ever been to and I will never forget it. 
But for those days, there are the others… when I was in Koh Rong (an island in Cambodia), I was staying at this beach camp and got raging bed bugs. I'm talking COVERED in small little bites. It was so awful and uncomfortable and a pain in the ass. But those kinds of things will happen and you just have to remember it's part of the lifestyle. 
What digital tools do you use for your work?
My most essential tool is Google docs. Since I'm writing or working on brand language, it's so much easier to have my clients collaborate with me on one document versus passing versions back and forth. I have various content management systems depending on the client, like Trello and Monday.
I'm on Slack for a couple clients (and with the Remote Year Nation community!) and I have Zoom which is great, but if I can help it, I prefer to just call my clients (Zoom fatigue is real). And Spotify keeps me in flow. 
If you're a content creator (podcaster, YouTuber, blogger etc.), tell us about your content creation journey and share some of your favorite content that people should check out!
The thing that's great about making your own hours is that it lends itself to creative work. While in Remote Year, I was inspired by the founder of a hip hop and breakdancing school for impoverished youth in Phnom Penh, Cambodia. So much so that a year later, I shot a short documentary about it. You can watch a trailer about it here. 
If you only had a few minutes to live, what are the most important life lessons that you would share with the world?
Regret only comes from not doing or trying. As Hunter S. Thompson says in my favorite quote, "Buy the ticket. Take the ride." 
What do you travel with that you couldn't imagine traveling without?
A portable battery, two bathing suits (putting on a wet one is the worst), Kindle, travel pouches to hold my stuff, Pepto and Excedrin, water bottle, a daypack that folds into a little pouch, a sarong (that doubles as my plane/train blanket), memory foam neck pillow, and Bose headphones.
What's your favorite book and why?
Anything by Ann Patchett – she's the most beautiful writer. Radical Acceptance by Tara Brach probably changed my life the most. 
Tell us about a deep passion of yours! What has your journey been like and what advice/resources would you recommend for someone interested in learning more about this topic?
I love surfing. It makes me happy, keeps me calm, and is so much fun. I even wrote about some of my favorite surf spots around the world. Take a lesson, get the basics, and just practice practice practice. There are always new levels. 
How can people learn more about you and your work?
You can find out more about me, see my work, and sign up for my storytelling newsletter on my website: https://www.arestiarosenberg.com/