Note: This post may contain affiliate links which means if you click on a link and purchase an item, we will receive an affiliate commission at no extra cost to you.
This is the third interview in a series featuring digital nomads talking about their lives and lessons (click here if you want to be interviewed). The goal is to help demystify the process of making money online, wandering the world, and living an unconventional life!
Gian and I met in mid-2017 when we were both living in Chiang Mai, Thailand! He's an entrepreneur from Costa Rica who has been wandering the world since 2016.
Lots of great lessons in this interview! I especially love his story of working as a banana picker in Australia in order to keep his travels going when he was running out of money. Hard work, commitment, and determination will take you a long way in life and Gian is a great example of that!
Where are you originally from, when did you start nomading and what inspired you to start traveling the world?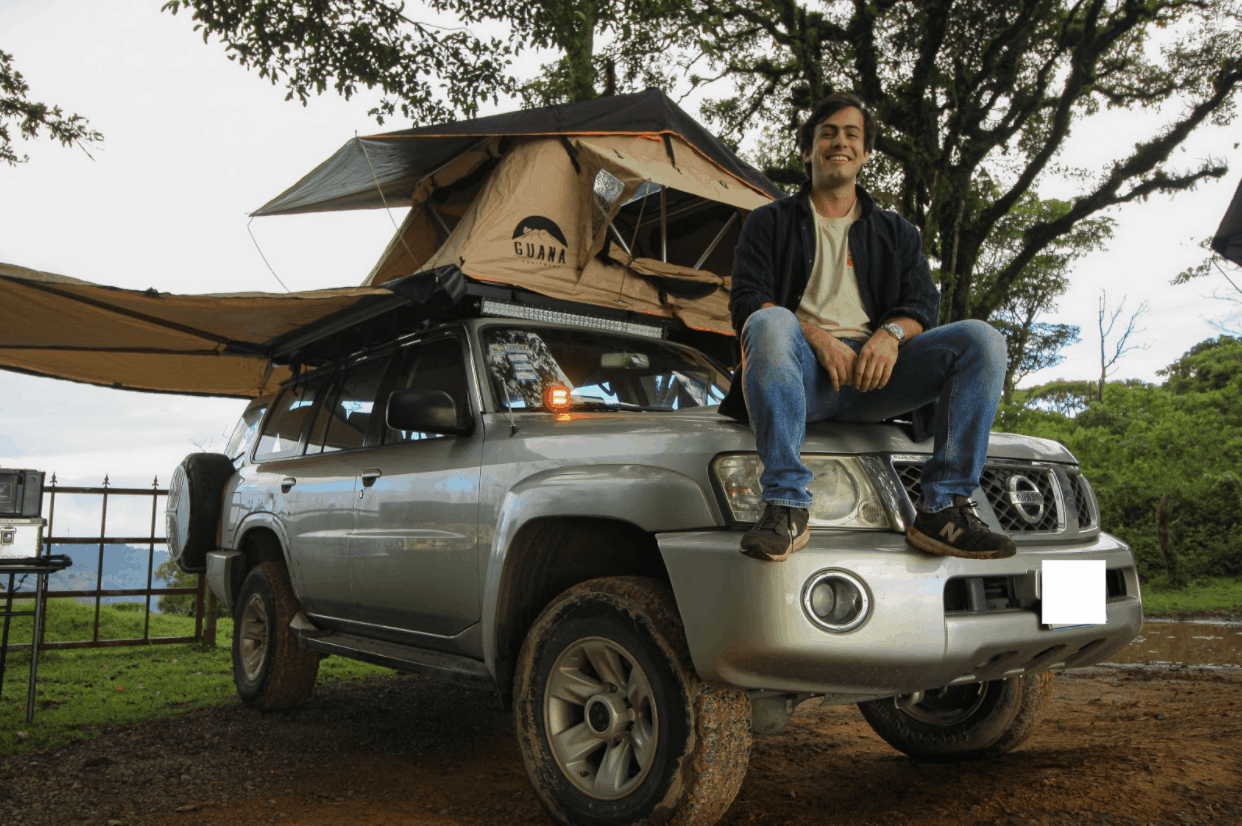 I'm originally from Costa Rica, I started nomading back in 2016, although not exactly working remotely on my laptop, but rather getting jobs in the different countries I visited.
What inspired me to start traveling was my family. Both my parents, as well as my grandparents, had studied abroad and always spoke about their time away from home as "the golden days". It stuck with me and I wanted to try it.
What is your background and what do you do for work?
My background is in journalism as that's what I studied in university and it was my first job. However, things took a funny turn and I now run a camping/off-road equipment retailer called Guana Equipment.
4 years ago I started off by working as a freelance writer for a few different websites and with my best friend and now business partner we decided to try out a business related to the outdoors and traveling. We had been camping and hiking together in plenty of different countries, and one time when we were traveling Australia and New Zealand, we tried out rooftop tents and loved them. Eventually, we started thinking about how to get this going. 
4 years later we are selling rooftop tents, and other camping/off-road equipment or how it's popularly known: overlanding equipment. Our company is called Guana Equipment (www.guanaequipment.com on IG we are @guanaequipment). We sell our products in Costa Rica, the USA, Canada, and Australia. 
We run it as both a physical and an e-commerce business. That means, we stock our products in different countries, and we use local partners that can install them on our customers' vehicles. In Costa Rica, we install them ourselves and offer all the support in person.
Plus, we of course have to take care of all the marketing side of the business: ads, email marketing, phone and email, and chat sales, etc. Most of our international customers, or the operations in other countries such as USA and Australia rely heavily on our marketing and quick and reliable customer service. Then, the quality of our products does the trick in bringing them back and getting really positive feedback!
To summarize, a normal day at the office involves answering to emails and phone calls for sales, leads, or support. Tweaking ads and preparing email campaigns. Going over social media strategies, overviewing the logistics side of the operation in different countries, and installing products for our customers. A little bit of everything!
How has traveling the world changed your life?
It has made me much more mature and open-minded. I've learnt many tough lessons at earlier stages than if I would've stayed home. I've had to deal with these tough situations mostly on my own, and that has helped me grow as a person.
Resilience and patience have been two great virtues of this growth.
And then, I've learnt to keep an open mind with anyone and any situation, good or bad. You need to be prepared for literally anything.
How has nomading changed your views on conformity, societal pressures, and building a custom life path?
This is a great question. Long ago I completely gave up on comfort. There was a point in my life in which I decided I wanted to "invest" or spend my money on more traveling/adventures and experiences with people in different places. That meant giving up on new clothes or gadgets, fancier accommodations, so on and so forth.
There was even a point in which comfort meant traveling light, so everything in my life had to fit in a 60 liter rucksack. I only had one pair of shoes, and I learnt to stop buying things I didn't need.
Traveling changed my perspective on societal pressure as well because it alienates you from the society and people you grew up with. You open your mind and realize that many judgments or concepts you had are wrong, useless, or limiting. I gave up on a lot of that.
Building a custom life path kind of came hand in hand with the latter two points. I decided I wanted to visit places and meet people because it was fun, challenging, and inspiring. I wouldn't pick a spot or group of people based on the opinion of others. Instead I did what I wanted, and sometimes that gives you tougher lessons, but you grow and learn, and it helps life be better.
Where are you currently living and would you recommend it to other people working online & traveling? Why/why not?
I'm back home in Costa Rica, riding out the pandemic. I've been here for 8 months. I'd certainly recommend it for work, although there are cheaper places. The country itself is beautiful and marvelous, a gem. Traveling inside of it can be a bit of a pain in the ass, as public transportation isn't the best, but overall it's safe, beautiful and easy to adapt to.
The real problems come with transportation, it's better if you manage to rent a car to move around, or buy one. The other problem is that compared to destinations in South East Asia or a few Eastern European countries, it is more expensive.
What is one of your favorite travel stories/experiences?
I guess this differs a lot with what "digital nomading" means, as it was at a time and place in my life before I started my business. But I got a working holiday visa to live in Australia back in 2015. I had worked for a marketing agency for a while, saved up and traveled in a van with a friend across the country. At one point I was running out of money and needed a job to keep going, so I landed one as a "banana humper."
That meant working from 6 am to 4 pm under the melting hot sun of North Queensland, carrying banana bunches (or so they call them there) on my shoulders. Each weighed on average 60 kg, and we carried around 80 per day per worker. It was 6 of us, and that was the toughest thing I've done in my life. It was like a jungle out there, muddy, humid, wet, with slippery terrains, plants, snakes and frogs. We had to carry these huge things for around 10 meters to palace them carefully on a truck.
It taught me that I could pretty much do anything I put my mind to, that I could work really hard and take on a lot of pressure, heat, and complicated situations. Pretty much taught me to work hard, and taught me that life isn't easy and I had been lucky my entire life.
What are your 2-3 favorite places where you've lived/traveled to and why?
Australia comes first. I loved it there. Great country, great people, amazing scenery and I never ran out of things to do.
Thailand comes second, I was already working as a "digital nomad" over there and it was perfectly suited for it. Cheaper than most places, great cities and beautiful places. A lot to do. But most importantly, a GREAT community of other nomads/freelancers that made it easy to adapt, connect and have great stories and experiences.
South Africa comes third. What a beautiful place that is. It has something in the air that makes you feel excitement around every corner. Might not be as safe as other countries, but it's part of that adventurous aura. Plus all the outdoors, hiking and animals are something you won't see anywhere else in the world. At least I haven't.
What were your biggest concerns right before you started traveling? And how were those concerns appeased or not appeased when you started traveling?
My biggest concern was actually "making it." Being able to sustain myself and not have to return home. Hard work was the answer to being able to find a job or build a business so i could keep going.
Then came motivation. Was it going to be too hard? Complicated? Would I find myself in a position where I had to give up? I hate giving up, but I also need some fuel to keep going, so finding that was a big "if". Fortunately, motivation came with many things: patience, support from friends and family, exercise, and simply discovering the beauty in simpler things.
Four of the biggest barriers to people nomading are debt/student loans, owning a pet, having an apartment lease, or owning a home: if you had any of these when you started traveling, how did you address or think about these issues and what advice would you give to other people with a similar situation?
I didn't have any of these, luckily. However, I did find trouble in starting out WITHOUT a job and little savings, which meant adapting and taking on weird jobs as working on banana farms or a construction labourer in a construction site. After saving up a bit I managed to have a cushion to start out the business.
The advice in my case would be to take a risk, but a calculated one. Want to start a business by working remotely? Have a small financial cushion and a good idea of what you want to build. Believe in it, and work VERY hard.
What is your nomadic traveling style and how/why has it evolved since you started traveling?
I started out living literally with as little as I could and saving up as much as I could to keep investing in myself and my business. I also like staying for longer periods of time in the places I go to, at least 6 months. That way I get a good feel of the place I am in and the people in it. I'm not saying you can't do that in a few weeks, but I do have a 9-5 job, so I need my time to connect with people and friendships, and to visit different places.
Now it has evolved a bit, and I allow myself some more comfort, as it does increase my quality of work if I sleep better at a nicer place 😀
What advice would you give to someone who's thinking about digital nomading or who's about to digital nomad?
My advice would be to be ready to take risks, be open-minded, and leave your comfort zone. Things can get weird to begin with, they will NOT be comfortable and you'll need to learn to do new things, new experiences and adapt.
Any tips for other nomads on how to best meet people while traveling?
Go to many events. I always start out at a good hostel, one with comments and reviews that say there are people that stay there long term. It allows me to meet people that either visit that city a lot, or even live at the hostel for a while. I meet them, they become "stable friendships", and then I start going to events mentioned on Facebook groups. Nomad events and such.
After a while, I like to rent, hopefully in a building or even shared apartment with someone that's NOT a nomad, that way I have my options such as nomads or locals. And finally, I sign up to sport activities like football, hiking, etc. You meet great people there.
If you stay for a while, work at the same cafe or co-working space and you are easy-going, you will meet tons of people.
What's the best advice that you would give to potential entrepreneurs?
I'd say resilience and patience. You'll meet other nomads that are way more advanced or experienced than you, already making more money or established. Don't let that discourage you, but rather encourage you to work harder and eventually make it under your own terms.
What are some of your biggest recent business learnings that other people can learn from?
Talk to peers in your field. You learn A LOT. And by peers it might even be that you are a digital marketing specialist, but you sell a very specific product, say wood. Start talking to wood experts, it'll make you better at your craft.
I sell off-road equipment, and although I feel I know quite a bit, when I go to shows or conventions, I talk to others, we share opinions, knowledge, experiences, and that's helped me learn A LOT, about everything, from product design, to quality control or even sales.
What small change has made a big difference in your life?
Learning to make sacrifices. Don't be afraid to say no, or miss out on a certain event. You are on your own path, and if you choose to leave one place for another, you'll have to understand you won't be able to attend to all the things you'd like to. But life is great and so is your path if you choose.
What's the best purchase you've made under $100 in the last 12 months?
A journal. Writing everyday has literally changed my life. Any journal. It's helped me concentrate, focus, meditate, reflect on lessons, and even release stress.
What's your favorite book and why?
La Ciudad Y Los Perros by Mario Vargas Llosa. It's one heck of a novel about life, growth, changes, and the unexpected.
If you only had a few minutes to live, what are the most important life lessons that you would share with the world?
Patience, resilience, love. Do what YOU want, take your time, do it with those who you really love, and get back up every time you fall down.
What's your philosophy about finding meaning and purpose in life?
I think it's difficult to find one meaning to life. I think in our lives we live many different lives or stages. One day what gives you meaning is your job or company, then you might find that love or family is what drives you, or perhaps a goal or a dream.
I think, my goal in life is to make it interesting, feel like I lived it to the fullest. I want to grow old and look back and say: "I'd do it all over again, the good and the bad because it took me here and it was one hell of a journey."
And I want others to be able to live a life where they can feel some happiness. You won't be happy all the time, that's for sure, but I hate when people are in a dark place, and if somehow I can help with some light or advice, then that adds purpose to my life too.
How can people learn more about you and your work?
Well, if you are into 4×4, off road cars and the outdoors: www.guanaequipment.com
IG: @guanaequipment
Facebook: https://www.facebook.com/GuanaEquipment/
YouTube: https://www.youtube.com/channel/UChpXDj2h3ynkvgUZzAkvyTw 
TikTok: guanaequipment