Note: This post may contain affiliate links which means if you click on a link and purchase an item, we will receive an affiliate commission at no extra cost to you.
"Our souls are not hungry for fame, comfort, wealth, or power. Our souls are hungry for meaning, for the sense that we have figured out how to live so that our lives matter." -Harold S. Kushner
It took me a decade of searching to find my purpose in life and in an effort to help you accelerate your journey, here's a collection of the best resources that I've come across.
Use This As A Roadmap To Find Your Answer
It's critical to note that because we're all unique and finding purpose/meaning is different for every individual, it means that these resources should be used as a helpful roadmap but they won't give you a definitive answer. Only you know (or will figure out) what will bring purpose to you.
No amount of reading or information can replace your journey of reflection, experimentation, and discovery that you will have to do on your own. I spent a decade relentlessly trying new things and working in different fields to find my path.
With these resources, your journey should be much shorter than mine, but embrace that this may not happen overnight and may take you years to figure out.
1. The Meaning of Life in One Simple Venn Diagram (Ikigai)
While it can be challenging to figure out how to spend your time in a meaningful way, it isn't hard to evaluate whether your life currently has meaning. Here's the evaluation criteria.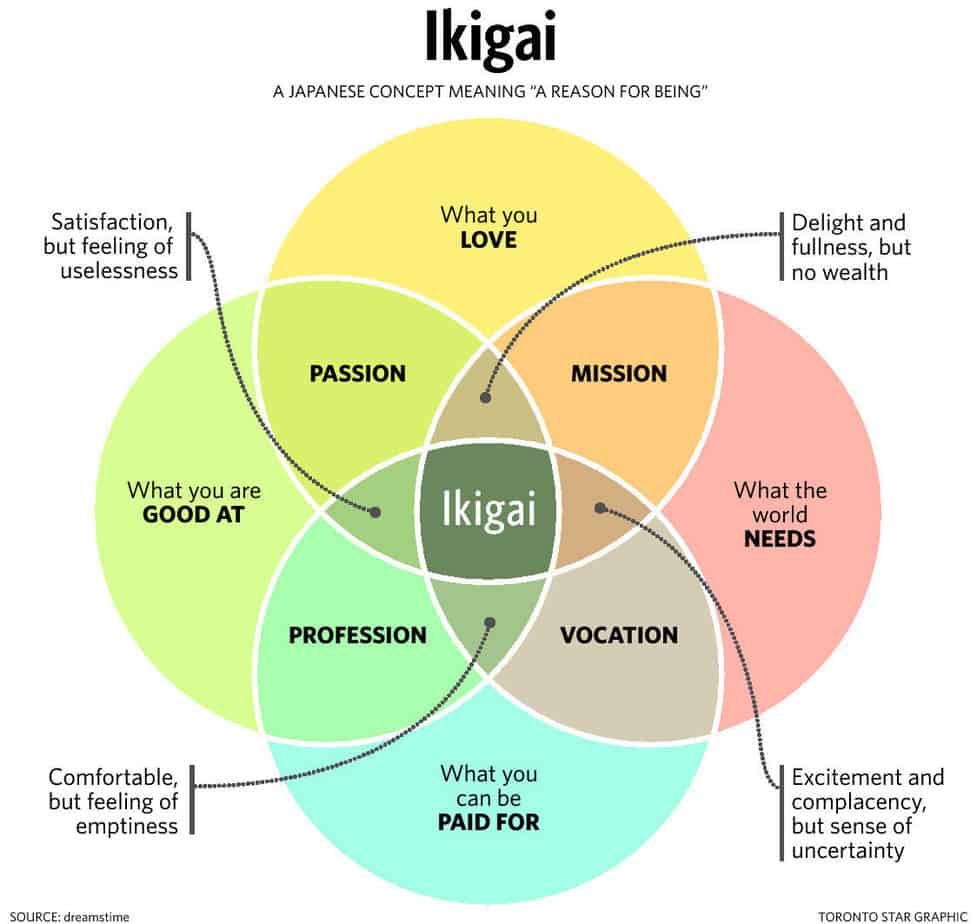 2. Question: "If You Died Today, Why Would Your Life Matter?"
This is the question that I use to self-evaluate whether I'm living my life in a meaningful way. If your answer is no, figure out what would make your answer a yes and spend your time doing that.
3. Purpose 101 by Brian Johnson (Lesson 1 & Lesson 2)
Brian Johnson is my favorite life philosopher by far. These two videos (totaling a little over an hour) get my strongest possible recommendation because they helped me to find my purpose.
Mission vs. Purpose: "We all have specific missions in life: where we're going to use our greatest strengths in greatest service to the world. And the fact is we're all going to have different missions at different moments in our lives…But I want to distinguish our missions from our purpose. We all have the same exact purpose…to fully express the highest version of ourselves moment to moment to moment."
If you're looking for more information about finding your meaning, this is a great post from the author of the bestselling book, The Subtle Art of Not Giving A F*ck.
I hope this is helpful to you on your journey!