Note: This post may contain affiliate links which means if you click on a link and purchase an item, we will receive an affiliate commission at no extra cost to you.
This is the latest interview in a series featuring digital nomads talking about their lives and lessons (click here if you want to be interviewed). The goal is to help demystify the process of making money online, wandering the world, and living an unconventional life!
From a young age, Kelly knew a 9-5 desk job wasn't right for her. Today, she's staying in an reviewing hostels, which we think is truly a dream gig. We love Kelly's emphasis on happiness and life and how she's used that to drive her choices.
Thanks for hanging out with Freedom Is Everything, Kelly!
Introduce yourself! 🙂 Who are you? What do you do for work? And what is your nomadic story?
Hello, my name is Kelly! I was born in England in a small town not too far from London. As I moved around the country a lot as a child, itchy feet seemed to stick with me as I grew older, and soon enough, I hit the road at 17 to explore the wilds of Botswana, Africa. That experience opened my eyes to the big wide world. I became fascinated in nature, culture & simple living; I wanted to travel, travel, travel and had no interest in a conventional lifestyle of 9-5, mortgage, marriage, and kids.
I've "officially" been nomading for three years. I say officially because before I became a content creator at Hostelgeeks, I worked all sorts of crazy jobs that enabled me to travel. From organizing treks in the Dolomites to teaching English in Beijing, I've worked and lived in many countries, including Italy, China, Australia, Norway, and NZ.
My work with Hostelgeeks – an independent travel brand & community of 5-star hostels worldwide – focuses on creating content to highlight the "Best Hostels in…" major cities & countries around the world. I also write a lot of detailed city guides focusing on free and fun things to do, with insider tips from my own experience of the city.
For example, when I spent an unexpected five months living in Norway, I wrote a big guide to fun things to do in Bergen.
Right now, I am based in the far (winterless) north of New Zealand, and this is the first time in 10+ years of travel that I've felt settled.
What inspired you to start nomading? And how has nomading changed your perspective on life?
Honestly, it was mostly looking around at other humans and seeing a lot of unhappiness in the conventional way of life. None of my teachers at school ever inspired me, my parents didn't enjoy their work, and I had no burning drive to take on a career or let money control my life.
However, it wasn't until one year into my Conservation Biology degree that all of this became apparent. I made a huge decision to quit my course, realizing the main reason I was doing it was to fulfill an imagined future goal of happiness (while spending the present pretty miserable) and because it was the "right" and expected thing to do. Admitting to myself that university wasn't for me, I pursued travel first and foremost, and everything else just fell into place along the way.
Nomading has shown me that the more I flow with life, the more pleasant life is. Seriously! Years of travel and change and uprooting has been challenging. Yet, it has shown me time and again that no matter what happens, as long as I'm following what's right for me – instead of the expectations of others, society, culture, etc. – life has a wonderful ease about it.
I've also seen for myself that travel is just as much an education as completing a university degree!
What are the 2-3 favorite places where you've lived/traveled to and why?
New Zealand is definitely my favorite place to live. There's just so much space here, and the natural world is jaw-dropping. It's not unusual to go for long walks and not see another person! Before covid hit, I was lucky enough to travel the length of the country in search of the best hostels in New Zealand – what a way to get to know the country!
Iceland is a fantastic island, too. I spent four weeks cycle-touring there, wild camping along the way, and fell in love with the harsh environment.
India was just as crazy as you'd expect. It was a love/hate relationship, and I can't wait to go back.
As for the best country to travel as a nomad, I'd have to say Australia. One of the perks of reviewing hostels is getting a few night's stay in return. In a country that has a higher price tag for accommodation, this saved me a lot of money! It also meant I could discover awesome hostels in Australia – and people! – that I would have missed by sleeping in my car.
What advice would you give to someone who's thinking about nomading?
I think one of the main fears around nomading is that it will be difficult to meet people, or that you won't be able to make close friends because you're always on the move. How happy I was to discover this just isn't the case!
My biggest piece of advice; stay in hostels! These days it's pretty incredible what hostels offer – nothing like the old bedbug and rundown building stories you've heard. Well, never say never because bad hostels do still exist! I've always loved hostels. Meeting people is super easy thanks to hostel events, and I was surprised how quickly strong friendships form because of the nature of travel. Hostels are safe, and they offer the best of both worlds so you can be social or enjoy time to yourself.
Another tip: pack light and do laundry often. Perhaps this becomes more evident with experience, but trust me, packing a huge rucksack with copious amounts of pants and god knows what else becomes a hindrance in the long run. Part of the nomading lifestyle is learning to live with less.
What is one of your favorite travel stories/experiences?
Checking in to the coolest hostel in Alice Springs for three nights, Australia, and ending up living and volunteering there for almost a year! Within a week, I had met my partner, who I'm still with four years later, and over time I was offered a temporary management position at the hostel while the owners went on holiday. So not only was I earning money as a digital nomad, but I got to live in paradise for free, meet endless cool travelers and pick up new management skills along the way! It's such a wonderful example of being open to unforeseen opportunities – something that is so much more possible when you're a nomad with few commitments and more wiggle room.
Please tell us the detailed story of how you started your freelancing business.
Well, like many digital nomads have said before, it all started by accident!
I had been writing my own travel blog since my early 20's but never considered making money from it because it was more of just a hobby. So when I came across an advert from Hostelgeeks.com seeking fun, short travel stories, I jumped at the chance and began sending in stories from my own travels. This then gradually turned into doing the odd proofreading and article editing while I worked a full-time job. I basically got to the point of "enough is enough" working stupid hours for a job I didn't enjoy, so I reached out to Hostelgeeks explaining my situation and asked if there was a chance for more steady hours. They said yes and welcomed me into the team!
I'm so grateful for the support I've received with them over the years. Thanks to my hard work and reliability, and their trust and openness, I've developed many great skills alongside content creating, including Search Engine Optimisation (SEO), content optimization, affiliate linking, and strategic PR.
Since launching, what has been most effective to acquire/retain clients?
It was through Twitter that I first linked up with Hostelgeeks, which was a brand new website at the time. It was as simple as taking the time to get to know the website before sending a personalized message to connect. 
Expanding clients isn't necessary for me as I enjoy and strive for a higher life-to-work ratio. I'd much rather have one or two strong clients than take on too many. This also ensures I work hard and hold strong communication with existing clients, which is essential if I want to enjoy a long, committed work relationship with them. Plus, this way, it's easier to schedule time off and dedicate essential 'me time' so that when I am working, it's at full capacity.
Working location independent means collaboration is mainly done via email and the odd Skype call. It's important to communicate often, keep an eye on tasks and develop that level of trust with honestly logging working hours. Also, the little things, like remembering to let my colleagues know when I plan to be offline for a week! Performance is paramount.
What digital tools do you use for your work/business?
Keysearch is definitely the most useful tool when it comes to content and search engine optimization. Ahrefs is also a great tool, especially the backlink checker, which notifies me of new backlinks to our website. Sometimes there are spelling errors or a broken link, so I can use this to contact the website directly to fix these problems.
Seeing as all of my work is carried out on my laptop, I've got endless excel spreadsheets to help me stay organized, plus the awesome tool Trello which our team uses to communicate important tasks, what's currently underway, useful links, etc.
What scale is your business at today, and what are your future goals?
Unfortunately, the business has taken a huge hit due to the pandemic, and as a team, we all took a step back payment-wise to let the business breathe. It has been a tough time, losing 90% of our income because, as you can imagine, the hostel world has slowed right down due to travel restrictions!
However, our team is highly positive, and we're doing all we can to use this downtime as a means of improving the website, our guides, etc., so that we're even more useful for travelers and the community once the world opens up again.
Traffic-wise, we have around 250.000 users per month.
For someone interested in becoming a freelancer in your field, what's the best advice you would give? And what books, podcasts, thought leaders, or other learning resources do you recommend?
Based on my own experience, I'd say that it's a good idea to take advantage of social media like Twitter, Instagram, and Facebook and use these as a way of researching and finding blogs & websites that suit your niche. 
So, for example, if travel writing is your thing, it's not a bad idea to find popular travel blogs, follow and connect. Check their site and see if they have written any guides about places you've visited. Perhaps the guide is out of date, or it's missed a crucial sight/activity you did when you were there, and you can offer your skills to update it or better their overall website SEO.
Many travel websites have a 'Write For Us' section offering a one-time payment. While this can be slow at first, it's a great way of getting your foot in the door and gaining backlinks to your social media or website. In fact, it's a good idea to create your own platform as an example of your skills and past assignments to show to potential clients.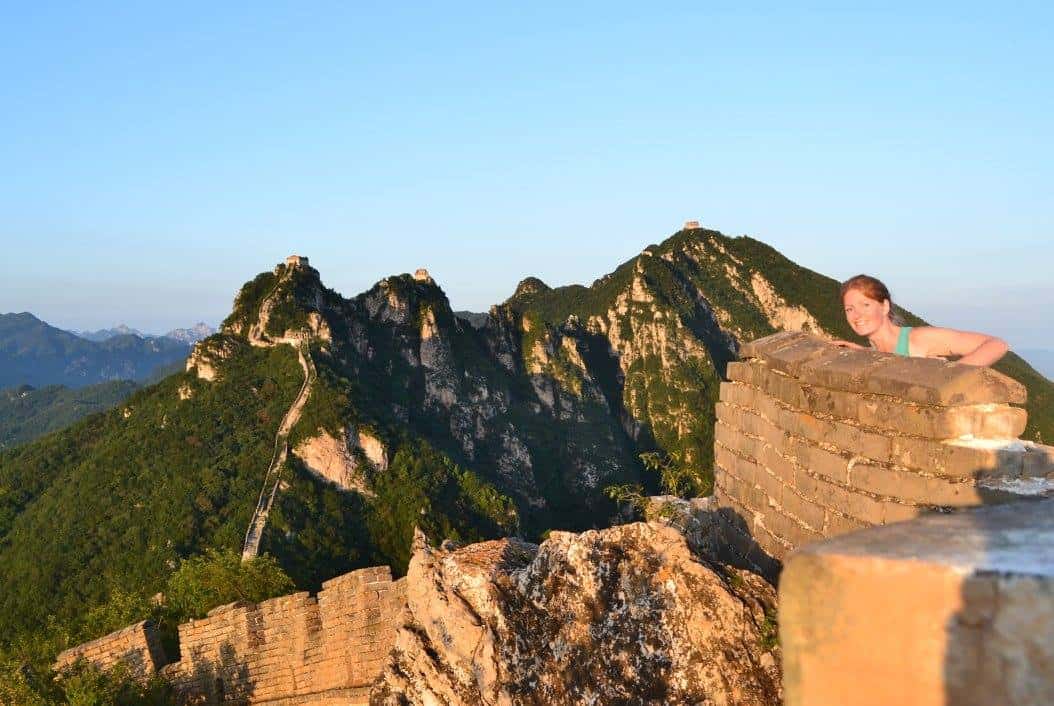 If you only had a few minutes to live, what are the most important life lessons you would share with the world?
What is pretty relevant for me at the moment is that everything is impermanent. The challenging times and the blissful moments when everything is going swimmingly – all of it will change because that is the nature of all thoughts, sensations, and feelings. So! Don't get attached. Enjoy every moment fully for what it is, be grateful for every experience, "good" or "bad," and let it go as you rest in knowing that this too shall change.
This has certainly helped me to be a lot less reactive!
What do you travel with that you couldn't imagine traveling without?
My journal! I love reading back about old travel memories and can clearly see the changes happening within my writing style and what I choose to write down at the time.
Having said that, I don't think that lacking any particular possession that could hinder my travels, not really. What I do know is that too much time in front of a screen will!
Back when I first started traveling, and I had a lot of material things filling my bedroom, I really appreciated a helpful packing list to make hostel life easier (and less embarrassing). 
What's your favorite book and why?
The first one that came to mind is The Power of Now by Eckhart Tolle. This book blew my mind, and I've read it a few times since. It's a book about Spiritual Enlightenment and how our thoughts stand in the way of moment-to-moment peace and happiness because we identify with the energy of the thoughts. And how enlightenment is to be had only in the present moment when one is resting in the pure awareness state. It certainly puts into question everything we've been taught about what it means to be human… and happy!
What small change has made a big difference in your life?
Becoming interested in self-understanding and developing the ability (and want) to observe my thoughts and reactions so that I have a better chance of self-regulating rather than allowing external circumstances or people to determine my mental/psychic/physiological state.
What is your philosophy on being happy and/or finding meaning/purpose in life? And any recommended resources for people navigating this journey?
Since arriving in New Zealand, I stumbled across a Hermitage hidden away in a small valley, put there by a living Spiritual Master. Before this, I thought Gurus could only be found in India, and I was skeptical.
Now I'm beginning to see, thanks to his discourses, that there is no meaning or purpose to be found, and it is this precise mental need to "work things out" that works as an obstacle to the natural state of happiness which is already there and always has been. Rather than search outside of myself for some thing or person to make me happy, I've completely flipped my approach by observing all of the tendencies and beliefs that prevent me from being happy right now. It's quite a liberating process to begin to see that I'm already ok and my search has been the only thing keeping me from my own happiness!
Some great spiritual teachers who have helped me navigate this journey include Eckhart Tolle, Ramana Maharshi, Ram Dass, Osho, and Anthony de Mello, all of which have written great books and have endless videos on Youtube.
How can people learn more about you and your work?
You can find out more about Hostelgeeks and the 5-Star Hostels here:
Website: https://hostelgeeks.com
Instagram: https://www.instagram.com/hostelgeeks/
Facebook: https://www.facebook.com/Hostelgeeks/