Note: This post may contain affiliate links which means if you click on a link and purchase an item, we will receive an affiliate commission at no extra cost to you.
This is the latest interview in a series featuring digital nomads talking about their lives and lessons (click here if you want to be interviewed). The goal is to help demystify the process of making money online, wandering the world, and living an unconventional life!
Shawn Hill and his wife are full-time digital nomads with their 8 kids. Traveling as a party of 10 comes with its fair share of logistics that Shawn and his wife have masterfully negotiated.
We love Shawn's attitude on life and how he's exploring the country with his family.
Take it away, Shawn!
Introduce yourself! 🙂 Who are you? What do you do for work? And what is your nomadic story?
Hey there! I'm Shawn. I am a husband, a dad of 8 kids, and a digital nomad. 
You read that right…8 kids. 
My wife and I have four biological boys, and we've adopted four girls. We're as happy as we are crazy!
Because we have such a big family, we're often asked how in the world we're able to travel so much. Although that answer will be answered throughout this post, the simple answer is we took big risks and got big rewards. 
We've been digital nomads for right at one year, and we'll likely continue to travel for quite a while. However, we have plans to have a remote cabin as a home base within the next year or so. The timing of the cabin depends on how many more National Parks we can mark off of our list. This summer should mark off the remaining ones we want to see, but we may expand that list to visit all 62 National Parks.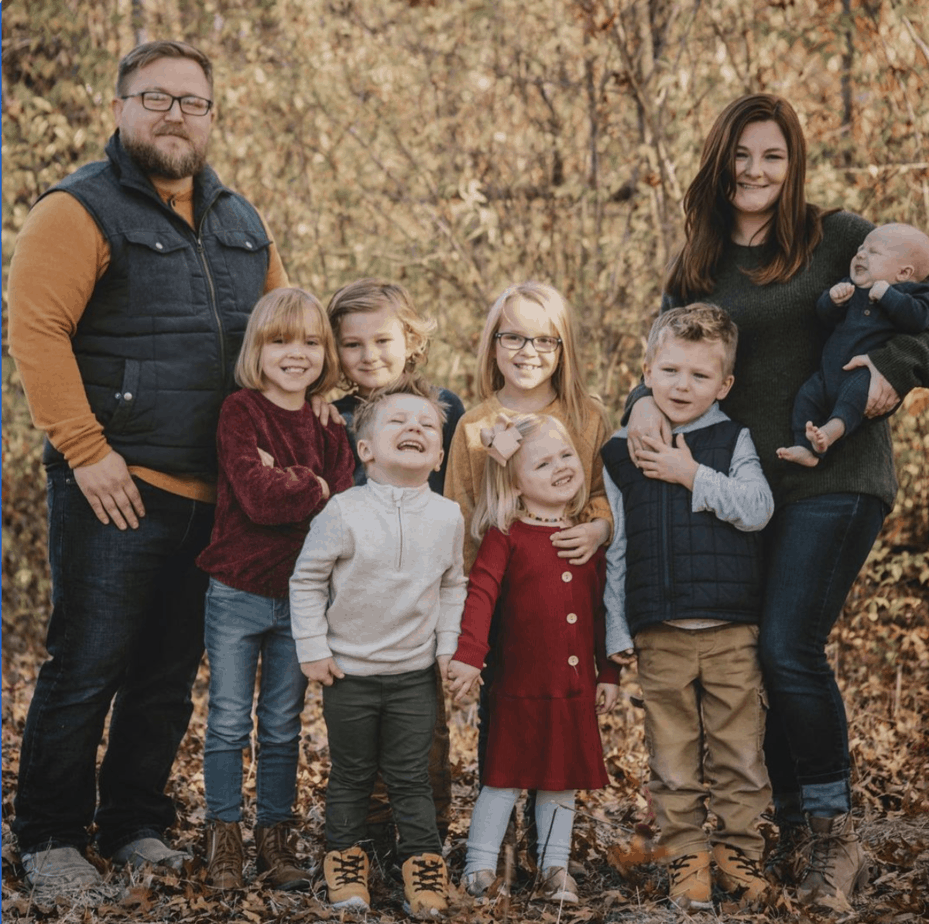 What inspired you to start nomading? And how has nomading changed your perspective on life?
We started down this nomadic lifestyle after a simple text from me to my wife. 
"What if I quit my job and we travel the country instead?"
Although it was supposed to be a joke, it made us start looking into it. Then we saw so many others doing it and decided that's what we wanted to do. 
I quit my job working at a publicly-traded company and started doing SEO and SMM for local businesses. From there, it's expanded into affiliate marketing as well (like my newest site – https://thegrillingdad.com ) 
I was worn out and tired of missing all of the milestones my kids were hitting while I was away. Even though it was "normal" according to societal standards, I just couldn't be normal anymore. 
The risk we took has paid off and allowed us to see parts of the US that we otherwise would've never been able to see…at least until we were old and not able to do the things we can do.
Please tell us your detailed story of how you got into your line of work and how you turned it into a remote career.
I went to college for what they'd now call Digital Marketing and somehow ended up in sales as a profession. 
I went from selling cell phones, managing that cell phone store, to being a mortgage loan officer, to selling overpriced advertising at a publicly-traded company. 
While doing those things, though, I almost always had a side hustle as a marketer. 
In fact, I made my first money as a freelancer by selling a Twitter account I built from 0 followers to 76,000 followers in just a few months. True story. 
That side hustle as a marketer is what I took a big chance at when I sent my wife the "What if I quit my job…" text. 
At the time, I only had two clients. And I was way undercharging them (I still have them as clients and have never raised their rates).
From there, I started asking people who owned a business if they'd be okay with me putting together a free marketing plan for them. 
Every one of them said, "Yes," to the free plan. 
I spent a lot of time putting together customized plans for each one. Some of them decided to run with the plan themselves, some hired someone internally to follow through, some did nothing, and a few chose to hire me to execute that plan. 
From there, it's grown from word of mouth after providing explosive results for them. 
I stopped taking on new clients because I noticed something interesting. 
Working for clients felt like a job, which didn't give me the freedom I wanted and made me miss out on some hikes while we started traveling. I decided I was going to start building my own dream, which led me to affiliate marketing. 
Now, I run a few of my own affiliate sites and still keep the clients I have happy (but I had to send a referral out to the bigger client that needed more time than I wanted to spend on it). 
I'm now able to write about things I enjoy on my own time and get paid to do it. It's truly a dream come true. 
What are the 2-3 favorite places where you've lived/traveled to and why?
Our favorite place, so far, was in Michigan. We loved being near Lake Michigan; it felt like home away from home. The people in South Haven were so welcoming. The kids loved the beach, and you couldn't tell them it wasn't the ocean! 
We also loved staying in Cooper's Rock State Park in Morgantown, WV. We have friends near Morgantown who recommended it. The views on their lookouts were priceless and very easy to get to for kids!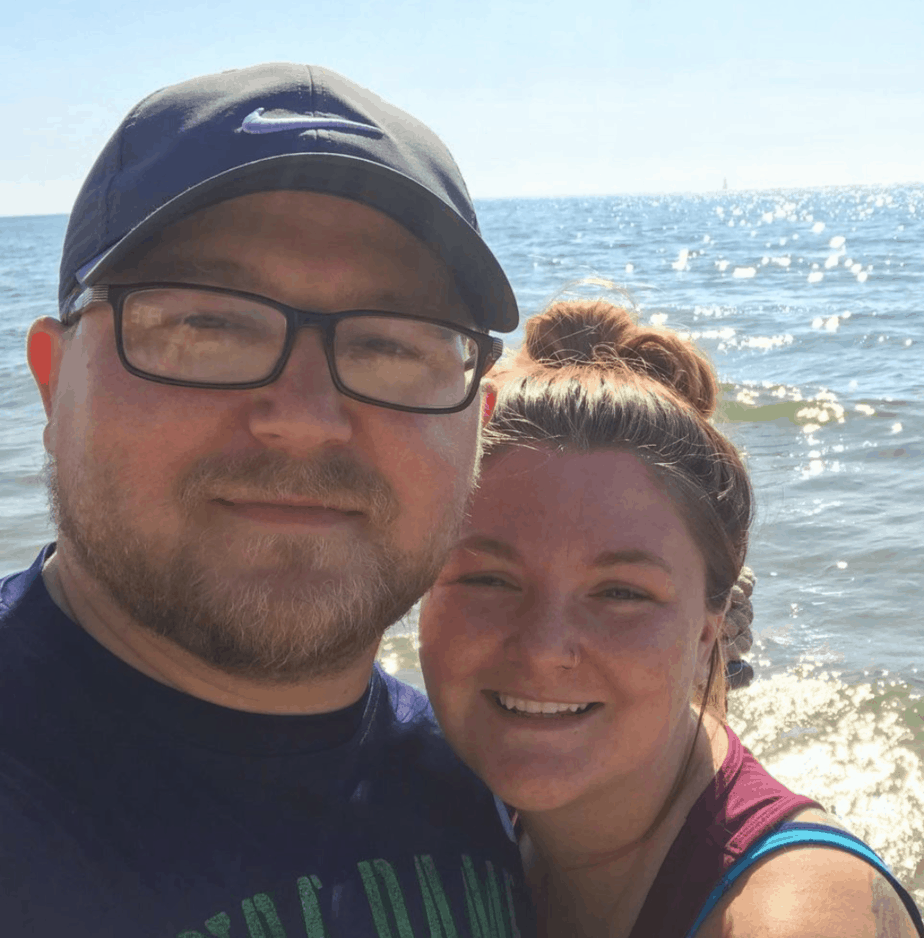 What advice would you give to someone who's thinking about nomading?
Make a decision and then go. 
One of the biggest things we've learned during this nomadic journey is this – when you take a chance, it usually finds a way to work itself out. 
Our kids were worried they'd miss friends or not make new friends. We thought about this a lot. And then we started, and the kids have made friends in every place we've been!
For us, we've also met some amazing people.
Had we not made this decision, we would've never met Dan. Dan was a recently widowed man who bought an RV because it was his wife's dream. She never got to live it out, so he's doing it in her memory now. He made the kids feel like they had another grandpa! Such a kind soul. 
We've also been able to see friends we otherwise would only see during some holidays. That's a nice perk when you can see friends and moochdock a bit 😉 
Another tip is to plan ahead, but not too far ahead. My wife is the planner. She knows when and where we'll be next. One thing we learned, though, was that planning too far ahead makes it feel like you're on a schedule and "rushed" at times. Doing 1-2 months at a time really works for us. 
What does a day in your work life look like? Paint a picture for us :).
As a freelancer, I decided to keep things simple. 
I work when the kids are homeschooling and when they're in bed. It gives me time to spend with them during the fun hours. 
When it's work time, it's just me and a laptop. To keep things from feeling overwhelming in a small space while traveling, I'm not even using a second monitor…crazy, I know!
I spend most of the working time writing "how-to" guides and reviewing products (usually sent for free from companies wanting reviews and exposure). 
To better understand that, here is a how-to guide on my newest affiliate site: How To Use A Charcoal Smoker.
And an example of a review article: Top 5 Best Smokers For Beginners
What is unique about the way you travel, and what advice do you have for someone who wants to travel with a similar style?
Because we travel with two adults and eight children, we have to get creative with space. We've done some renovations with our travel trailer to ensure everyone has their own private space to sleep, read, and/or relax. 
Additionally, we like to pick places that have a little bit of something for everyone! We don't want to just do adult stuff all the time because the kids would be bored, but we also don't want to spend every day at a theme park. 
There's a balance to being a digital nomad, and you usually find it on the road. 
For someone interested in getting into your field of work, what's the best advice you would give? And what books, podcasts, thought leaders, or other learning resources do you recommend?
For someone wanting to get started in affiliate marketing, I'd recommend learning as much about the basics as possible. 
Ahrefs has amazing blogs and videos about SEO. Understanding how to get traffic to your site is the most important key to making money online. You can write the best articles, but you won't get paid if nobody visits the site.
Shane Dutka is a great learning resource as well. He's a coach in the affiliate space, and his Blogging Boot Camp is truly impressive…even for complete newbs. 
If you had debt/student loans when you started nomading, how did you handle or think about this, and what advice would you give to other people with a similar situation?
We had some debt but worked diligently to be debt-free even before we started to travel. Fortunately, when we sold the house, that took care of almost all of it. 
We still try to live and travel as frugally as possible while still enjoying our time at places. We do this by enjoying local parks, free museums, and being in nature as much as possible. 
We still set aside a certain amount each month to make sure that when the inevitable happens, we can cash flow it instead of having to rely on credit cards.
What digital tools do you use for your work?
Because I'm trying to keep things all-digital, all of my tools are digital as well. 
I use Slack to communicate with a few writers I outsource to, Ahrefs for competitive analysis and tracking progress of my sites, and many of Google's free tools. 
If you only had a few minutes to live, what are the most important life lessons you would share with the world?
Your boss at your 9-5 won't remember if you took a day off to be at your kid's ball game, but your kid will remember that moment for the rest of their life. 
Be there. Set your priorities and never let anyone interfere with those. 
You only have so much time on Earth. You can always make more money. You can always get another job. But you can never get your time back. Use it for things you love doing!
What do you travel with that you couldn't imagine traveling without?
I love our solar-powered generator that allows us to live green while still charging all of our tech. With a family of 10, there's a lot of charging. 
We started using a French press for coffee to save on space and not use any power when we're boondocking. I couldn't live without it now!
As a BBQ blogger, of course, I can't travel without our two great portable options – the Traeger Ranger and our Blackstone. I use both of them several times per week, and they're non-negotiables for me. 
How can people learn more about you and your work?
If people want to learn more about me, they can contact me using the contact form on TheGrillingDad's website or Facebook page.
We plan to start blogging and creating videos on YouTube of our travels as well. For now, you can check those out on our Instagram page. 
Our family blog is at
learningrv.com
where we also post guides, info, and tips about how to RV.