Note: This post may contain affiliate links which means if you click on a link and purchase an item, we will receive an affiliate commission at no extra cost to you.
If you're interested in building digital passive income, then learning how to build a website is a critically important skill.
This comprehensive guide will walk you through what type of website builder to use and how to actually build a site from scratch!
I value being able to build websites because it enables me to launch new businesses very quickly and inexpensively.
Even if you don't have a business idea now, learning to build a site will make it much less intimidating for you to launch a business in the future (this is how I got started!).
If you want a quick overview of everything that I'll be covering, you can watch this short video that I made.
Things To Know Before Building A Website
If you ever get stuck:
Search for the answer on Google (you'll be shocked how much great content there is about very specific website building issues)
Ask for help in a website building community on Facebook, on StackOverflow, or anywhere else where developers on your platform are hanging out
Hire someone cheaply on Upwork (or another platform) to answer your questions or to help you build!
Critical thoughts on hiring people:
I've built 25+ sites over the last few years and one of my biggest mistakes was not hiring a contractor to help me with issues and the finer details sooner.
If your goal is to build passive income (not to build a business building websites), then outsource work to contractors who can help improve your site!
I now build about 80% of new sites and then I outsource the final 20% of work to people who are much better than I am at building beautiful websites.
When picking a domain name:
Read this guide because it will help you think through your options! The only thing that I want to mention in addition to the guide is that .co domains are great and are becoming increasingly popular. .so and .io are also becoming more popular and should be considered.
Keep it short (this site is an exception to that rule!), memorable, easy to spell, and ideally a name that doesn't have a ton of Google search competition for the name.
When buying a domain:
I recommend using Namecheap. I'm a former GoDaddy customer who didn't realize that I was paying an excessive amount of money for a generic service until I switched over.
The Best Website Builder For E-Commerce Websites (Selling Things Online)
Shopify is your best bet. It's the most popular option, the easiest to use, it has the most integrations and it's the best designed.
Having built on Shopify and other platforms like WordPress's WooCommerce, the only reason I advise people to build on something other than Shopify is they have a sophisticated and strategic reason. If you're starting out, definitely start with Shopify.
For a detailed overview of how to build on Shopify, here's a great guide to get you started!
The Best Website Builder For Blogs or Content Websites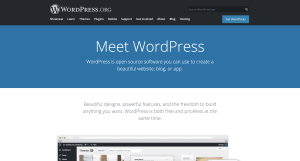 Use WordPress.org! Not to be confused with WordPress.com which is a much more limited website builder.
Building on WordPress.org is slightly more complicated than some other website builders but as a content entrepreneur, this gets my strongest recommendation. It's what this site and all of my content sites are built on.
Some newer and less popular alternatives include Ghost and Webflow but I believe the features and options of WordPress.org are unbeatable right now (Ghost and Webflow are both much more limited).
You can read my detailed guide on building WordPress sites here.
PS: If you do want to use Webflow, check out Nat Eliason's guide to building a blog with Webflow.
The Best Website Builder For General Business or Personal Websites
If you're building a basic business website (i.e. barber, auto body shop, consultant, etc.) or a personal website then I recommend using Squarespace or Wix.
They're both very simple website builders made for this exact use case but there are a couple of key differences between the two.
Squarespace is easier to build with and tends to produce more beautiful looking sites but it's much more limited with its customization options. For this reason, I recommend trying Squarespace and then switching over to Wix if Squarespace doesn't fit your needs.
Wix is more open-ended and allows far more customizations than Squarespace but it's more difficult to build with and because it's more open-ended, you're less likely to end up with a great design.
Here are guides for both of them!
The Best Website Builder For Complex Web Apps Without Code
If you're looking to build a social media platform or something else that's robust and dynamic, use Bubble.
It has quickly become the leading no-code platform and there are some highly successful companies that have built on its platform.
Here's a good starting guide!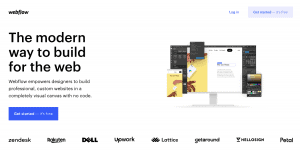 The Best Website Builder For HTML/CSS/Design Experts
Webflow is a phenomenal website builder that's more complicated to build with than WordPress or Squarespace but the sites look much more beautiful.
People are building all types of different sites on Webflow but there's a steep learning curve if you aren't already a design expert.
Here's an in-depth guide:
The Best Platform For Building Digital Communities
Circle recently launched publicly and many of my favorite content creators have quickly switched over to using this community platform.
There are a lot of different digital community platforms but when a lot of the smartest people building communities are all switching over, it seems that Circle is doing something extremely right.
For more info on building with Circle, check out this guide:
The Best Website Builder For Selling Courses
I admittedly have limited knowledge and experience when it comes to selling courses but the most popular platforms seem to be Thinkific, Teachable, and Kajabi.
The Best Website Builder For Podcasts
Many podcast distribution platforms offer simple website options but if you don't already have a website, check out Podpage. It's a simple and beautiful website builder to give your podcast its own site!
Here's a guide:
Have Other Questions Or Did I Miss Anything?
Reach out to me on Instagram or Twitter (@CamWoodsum).
I hope this is helpful to you on your business journey! Join the weekly newsletter below to get passive income and digital nomading tips in your inbox each week.