Note: This post may contain affiliate links which means if you click on a link and purchase an item, we will receive an affiliate commission at no extra cost to you.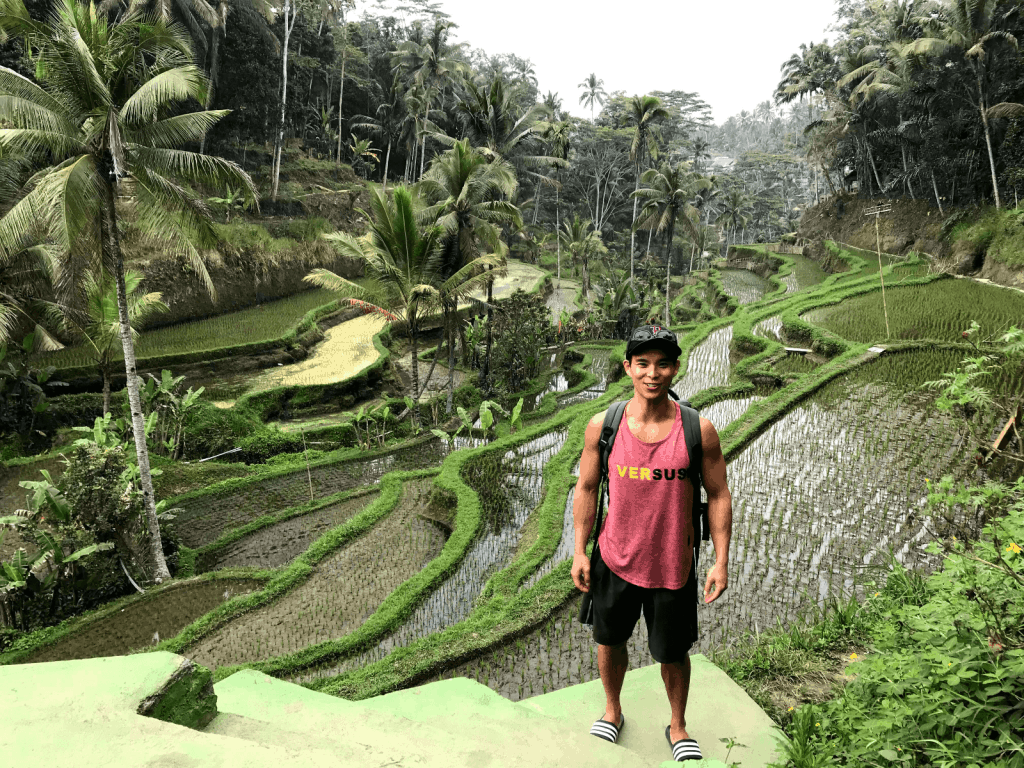 This is the second interview in a series of interviews with digital nomads about their lives and lessons. The goal is to help demystify the process of making money online, wandering the world, and living an unconventional life.
Andrew and I worked together and spent 2018 traveling the world together so this is a special interview for me! He's a remote worker who has been living all over the world for the last few years.
How has traveling the world changed your life?
This is going to sound cheesy or cliche, but here goes. Travel hasn't just changed my life, it has become a way of life. There have been so many personal benefits from travel, from gaining more cultural perspective to becoming more self-sufficient and independent, to truly understanding the difference between luxuries and necessities. I find myself being much more frugal now, not because I'm cheap, but because I understand the value of a dollar much more. I'm also much more compassionate to those who truly need help, while at the same time being more irritated by people who complain about minor inconveniences. I think they classify these as "first world problems." 
What advice would you give to someone who's thinking about digital nomading or who's about to digital nomad?
Just go for it. Obviously, you need to take some time to prepare yourself and have a practical attitude, but what's the worst that can really happen? If it doesn't work out or you get homesick, just come back home. That's the mentality I had when I initially moved to California. I haven't looked back since.

I would recommend either having a job lined up, having a job that allows you to work remotely anywhere, or have a skill that can easily generate money. Once you have the ability to generate income everything else is easy. Most countries I've lived in have cost me less than $1000/month all in. That's rent, food, transportation, etc.
Any tips for other nomads on how to best meet people while traveling?
The easiest place to meet people is by staying at a hostel. You are constantly surrounded by people from all over the world so it's almost impossible to not meet people unless you are actively trying to do so. It's also super cheap if you're on a budget. I'm talking $2-$5 per night in many places in Latin America/South East Asia. Europe and other developed countries will be higher but you can always find good deals if you do your research.

If you prefer to live alone, away from a place that has a built-in social aspect, most major cities have Facebook groups for digital nomads that advertise events/meetups/etc. Some people prefer those as it's already set up for you. You just show up. Another easy way to meet nomads is at tourist attractions. 
Where are you originally from, when did you start nomading, and what inspired you to start traveling the world?
I'm originally from the Boston area. After spending almost 30 years living, studying, and working in Massachusetts, I thought it was time for a real change. Now or never, right? So I quit my job and moved to San Francisco by way of a cross country road trip with my college friends. That road trip exposed me to different people, landscapes, and perspectives.
In hindsight, that experience ended up planting the seed for my nomadic lifestyle later on. I really enjoyed seeing how people lived in different parts of the United States. Naturally, that curiosity extended to the rest of the world, so when I had an opportunity to work remotely and travel the world, I jumped on it. I started nomading at the beginning of 2018.
What is your background, and what do you do for work?
I went to a private business school in the greater Boston area and graduated with a marketing degree. I wasn't really sure what I wanted to do for work, so I spent my first summer, post-graduation, hanging out with friends and watching the Red Sox chase and ultimately win the World Series. That was awesome. My first job soon after was working at a call center handling child support enforcement calls. That was brutal. Picture yourself getting screamed at for 8 hours a day. That was me. The good news is that you can only go up from there.

Over the years, I've worked in so many industries and in so many capacities that it's hard to keep track of at this point. I've never really had one specific career focus that has captivated me enough to make it my lifelong commitment. I guess that's a direct parallel to how I travel. If it's interesting, I stay. If it isn't, I leave and find something that gets me excited again. I simply don't want to waste people's time, especially my own.

Right now, I'm working a full-time job at a Bay Area tech company while also doing freelance projects for a couple of clients. All remote, all adaptable for world travel.
How did you land your most recent remote job and any tips for other people on landing remote gigs?
I was able to land my current full-time remote job by chance. A previous boss of mine contacted me out of the blue and asked two questions:
Where in the world are you? He's very familiar with my passion for travel.
I need help backfilling a position that you already know how to do. Any interest?
Being that covid has significantly impeded my ability to move around and explore, I thought about it for a couple of days and decided I would consider the position under the following conditions:
It needed to be entirely remote. Not just now, but post covid as well.
It needed to be extremely flexible work hours. No set schedule, just get the work done accurately and on time.
The reason these conditions are so important is because it translates directly to my nomadic lifestyle. I need the freedom to be able to move around again once the world safely reopens. Anyway, we agreed on the terms and now I have a full-time job to go along with some freelance side projects for long term clients.
As far as tips for landing remote gigs, I recommend using 
Upwork
since it is a massive marketplace for finding freelance work with both part-time and full-time options. You can also try
Fiverr
for more talent-based gigs which are typically paid upon completion of a project or milestone. I'm sure that there are other (possibly better) platforms for remote job postings but admittedly I haven't been keeping up with that lately.
One silver lining from this pandemic is that many companies are now embracing remote work so there are likely many remote opportunities if you are pursuing a job the traditional way as well.
What is one of your favorite travel stories/experiences?
Having visited almost 20 countries in the last 3 years, there's definitely a whole host of experiences I can draw on here, but I'm going to go with Croatia 2018. For those who are unfamiliar (or familiar), that was the year they advanced to the World Cup final. I happened to be there to witness the passion, celebration, and pride of the Croatian people during that 2 week period and it was something I'll never forget. Partying in the streets, shooting flares during the game, chanting in support of the team, it was all so enjoyable. That was one of the high points.

A week later, when I got pickpocketed the first 10 minutes after arriving in Serbia, was probably the low point! To be clear, I really enjoyed Serbia, but that one situation was not optimal. I tend to be optimistic, though, and use everything as a learning experience. I now travel with a backup wallet, backup cell phone, and copies of my personal identification so I can be instantly ready to roll should something go awry again. So for any new nomads reading this, bring backups!
What are your 2-3 favorite places where you've lived/traveled to and why?
Bali still reigns supreme for me, even if it is considered too popular and overcrowded at this point. There's nowhere else in the world that offers everything Bali has to offer. It really has the perfect blend of culture, entertainment, business opportunities, and great weather.

Aside from Bali, I really enjoyed Vietnam as a whole. I spent a month in Vietnam traveling from Saigon (South) to Hanoi (North) by plane, train, motorbike, etc. This was at the beginning of 2020 right before Covid shut down the world. Amazing food, beautiful landscapes, lots of interesting history there. You can't go wrong with pho and banh mi all day, every day.

Colombia will always hold a special place in my heart as it was the first country where I lived abroad. I've spent a good amount of time in Medellin, but highly recommend Cali if you want a more local feel or if you want to learn how to salsa dance.
What were your biggest concerns right before you started traveling? And how were those concerns appeased or not appeased when you started traveling?
As I mentioned, Colombia was the first place I traveled to when deciding to nomad. Of course, the language barrier and safety in Colombia were top of mind prior to arriving. I did, however, have a few things going for me, which kept me mostly at ease. I took Spanish for a few years in high school and college so I had a decent foundation of the language. It was interesting trying to draw on my memory and revisit the vocabulary that I hadn't used in over 10 years. Before heading to Colombia, I spent a month in Miami, which has a large Spanish speaking population, so it was a good place to get my feet wet practicing the language while being in the comfort of the United States.

I will say that it's still jarring when you land in a country where English is clearly not the primary language. Arriving at the airport and hopping into a taxi where the driver only speaks extremely fast Spanish can be somewhat intimidating, but also exhilarating because your survival skills need to kick in. I'd recommend having Google Translate ready to get you through some tough conversations. Like with everything though, you sort of just learn to get by. Body language and hand signals are universal so you can try those as well. I highly recommend learning some basic Spanish if you'll be traveling to Latin America. People in Colombia (and pretty much every other country around the world) really appreciate it if you can speak, or try to speak, their language. You don't need to be fluent. Even basic greetings and numbers are mostly sufficient. I think it's a big sign of respect. I always remind myself that I am a guest in their country.

Quickly touching upon my safety concerns, I spent 4 total months in Colombia and did not have a single experience where I felt unsafe or threatened. There is a large police presence in all major cities and the people are warm and friendly. If you think it's like the Netflix show Narcos, it's actually the complete opposite. 
What is your nomadic traveling style and how/why has it evolved since you started traveling? (i.e. you change places every 6-8 weeks, you have a home base where you spend most of your time, etc.)
When I first started nomading, it was 4-6 weeks in every city/country and then on to the next one. I think that's a good strategy if you're new to travel because it's enough time to get a decent grasp on the day-to-day life and evaluate whether or not you'd like to consider a longer or permanent stay in the future. Currently, I've sort of adopted a new longer-term strategy where I like to spend 2-3 months in a country (barring Visa restrictions of course). The first month is about getting settled in and developing a routine and months 2, 3+ are about building relationships and focusing on a project, whatever that may be. 
What's the best purchase you've made under $100 in the last 12 months?
I bought a portable monitor a few months back. I just looked at the receipt and it was $99.99, just under the threshold! It definitely makes life a lot easier when you have a lightweight portable monitor that you can take with you. Whether it's a secondary screen for work, to stream movies/sports, or for whatever reason, it's worth the investment. Mine weighs 1.5 pounds and comes with a case that converts to a stand. When you travel, make sure to pack light or you're going to have to pay for baggage fees and that can add up. 
What's your philosophy about finding meaning and purpose in life?
I don't believe that life is predetermined. Life is a big canvas and you're the one holding the paintbrush. Don't worry about what other people do or any pre-existing social expectations. Just be responsible for the actions you take, accountable for the decisions you make, and follow your heart. I still don't know what lasting impact I want to have but I have a few ideas that I'm hashing out.
If you only had a few minutes to live, what are the most important life lessons that you would share with the world?
Be kind. Realize that time is your most valuable resource. Don't take life too seriously. Get rid of excuses.
How can people learn more about you and your work?
Hit me up on Instagram: @chanzanita

I just started experimenting with video editing. I'd appreciate it if you checked out my videos on YouTube: https://www.youtube.com/andrewchanemail