Note: This post may contain affiliate links which means if you click on a link and purchase an item, we will receive an affiliate commission at no extra cost to you.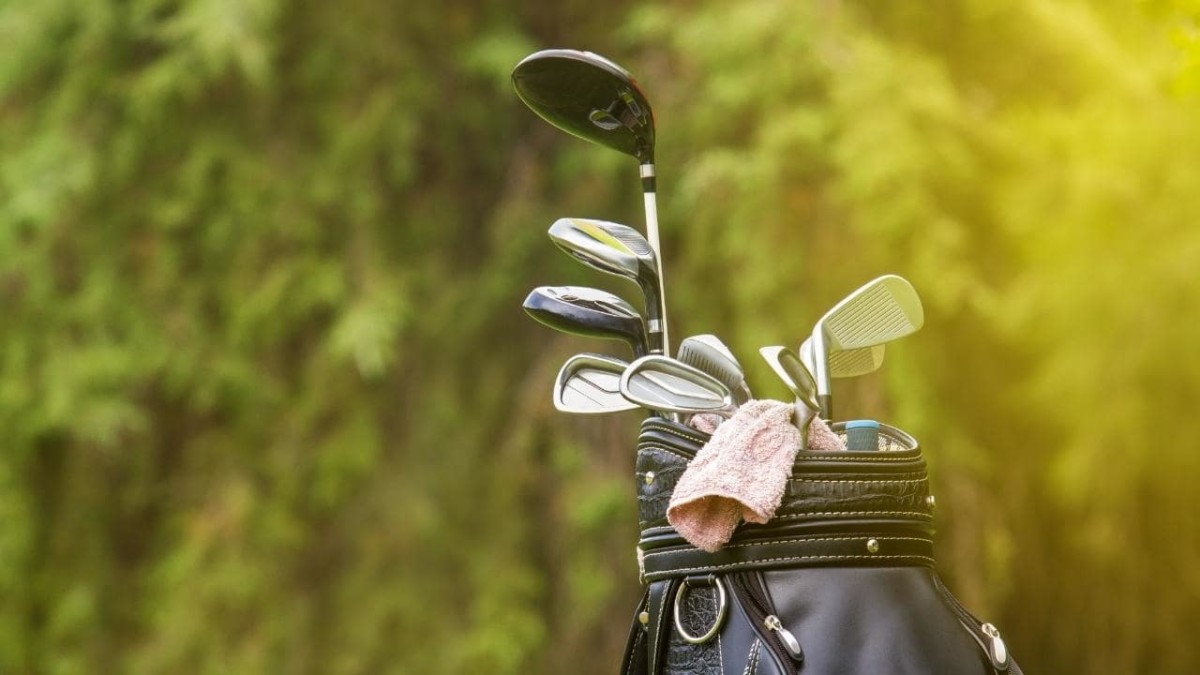 If you're a golfer, then you know that traveling with your clubs can be a hassle. Not only do you have to worry about keeping them safe and secure, but you also have to ensure that they're in good condition when you reach your destination. That's why investing in a quality golf travel bag is essential.
Not all golf travel bags are created equal, however. So we've compiled a list of the 20 best golf travel bags this year. We've included hard-shell and soft-shell bags and bags designed for different types of travelers.
So whether you're looking for a bag that will protect your clubs from damage or one that's easy to carry around, we have something for you.
The 20 Best Golf Travel Bags
1. OGIO Woode 8 Hybrid Bag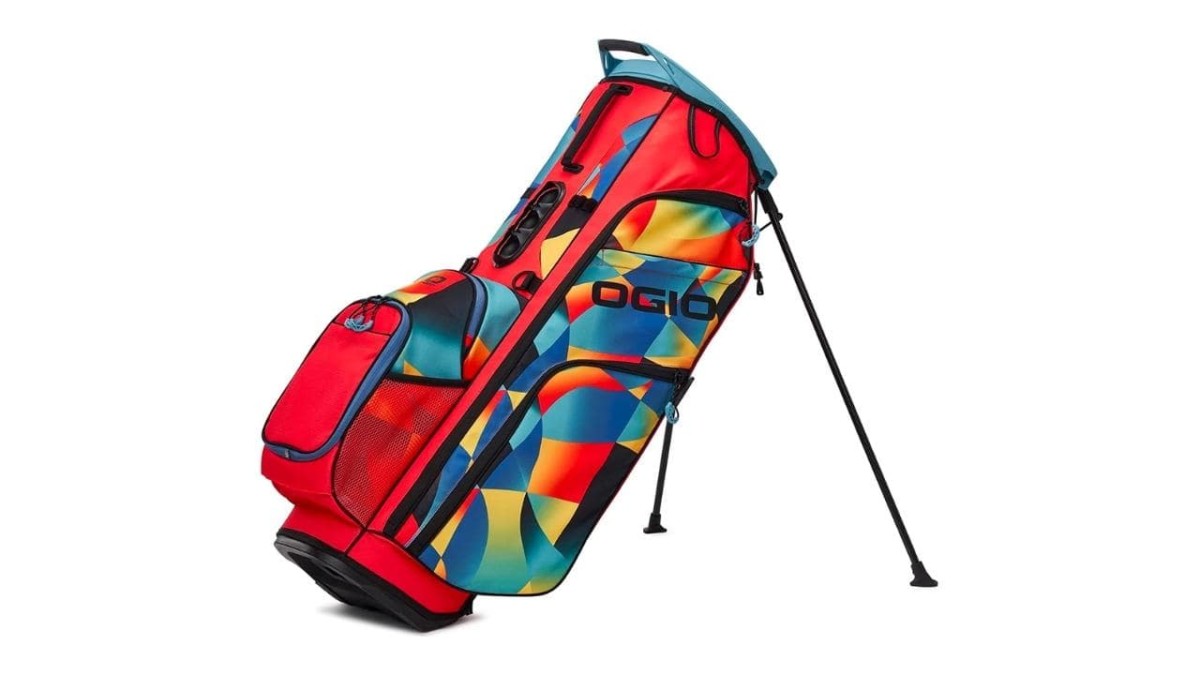 The OGIO Woode 8 is a top-of-the-line travel bag for serious golfers. It's made from 300D mini ripstop polyester and features an 8-way top divider designed to separate your woods from irons, protecting your clubs from bumps and scrapes.
In addition to its sturdy build, it also comes with several features that make it ideal for travel. For instance, it has 9 front-facing pockets, including rapid-access snap pockets, for quickly grabbing your golf balls and other essentials.
It also has a self-balancing strap system for evenly distributing the bag's weight and an umbrella holder to keep you dry on those rainy days (or hot days when you need a little extra shade).
2. SKB Cases ATA Deluxe Standard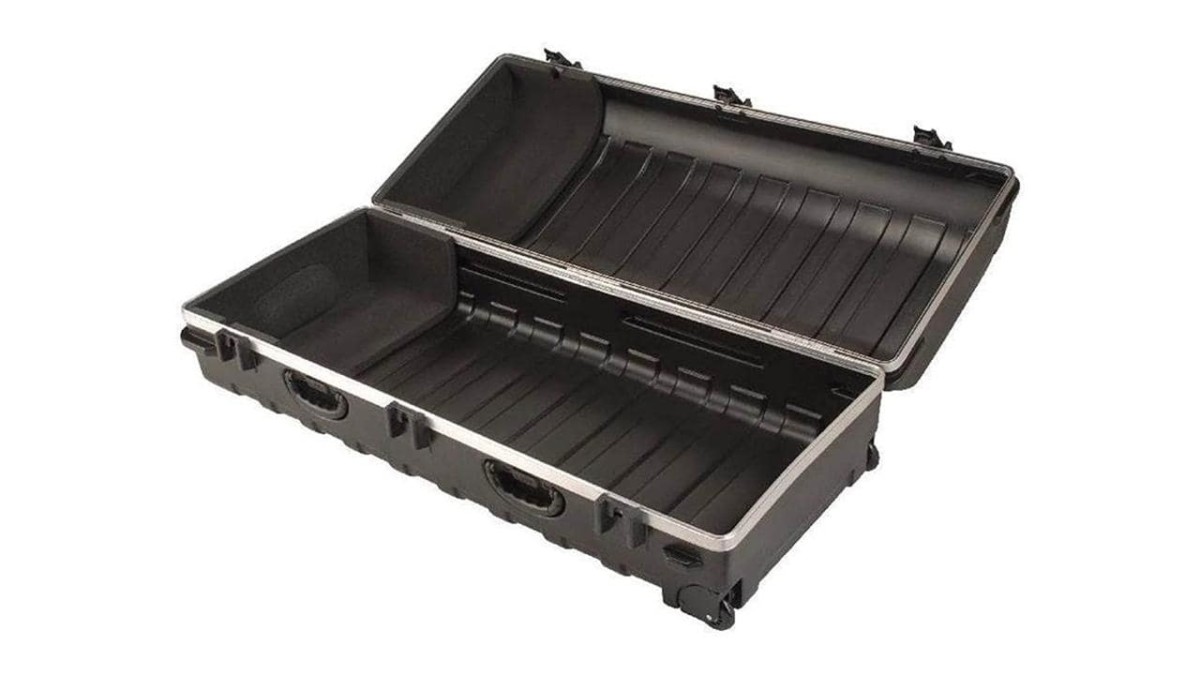 If you're overprotective of your golf equipment, you can't get any more secure than with the ATA Deluxe Standard. This hard-shell travel case is molded from the same material the US military uses for their containers. So it'll definitely protect your clubs even at the hands of careless baggage handlers.
The best part is that it's large enough to accommodate cart bags and drivers up to 48 inches. So you can travel with peace of mind, knowing that your golf equipment is in good hands.
3. Sun Mountain Kube Travel Cover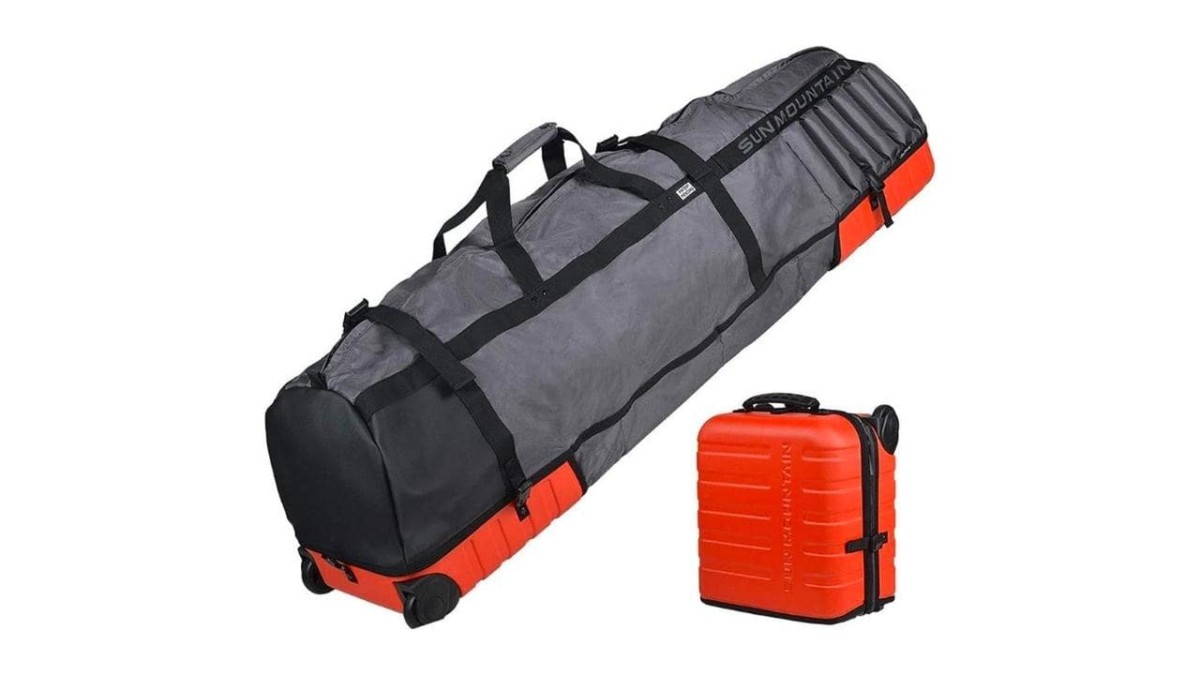 The Kube Travel Cover offers excellent protection for your clubs with its rigid, ballistic-style fabric combined with plastic half-shells. It's lightweight yet durable, and when not in use, the bag folds down to a compact size for easy storage.
It also has heavy-duty zippers running the entire length of the bag, making it easy to load up your clubs. And the fabric is reinforced in wear areas to make it more long-lasting.
4. CaddyDaddy Enforcer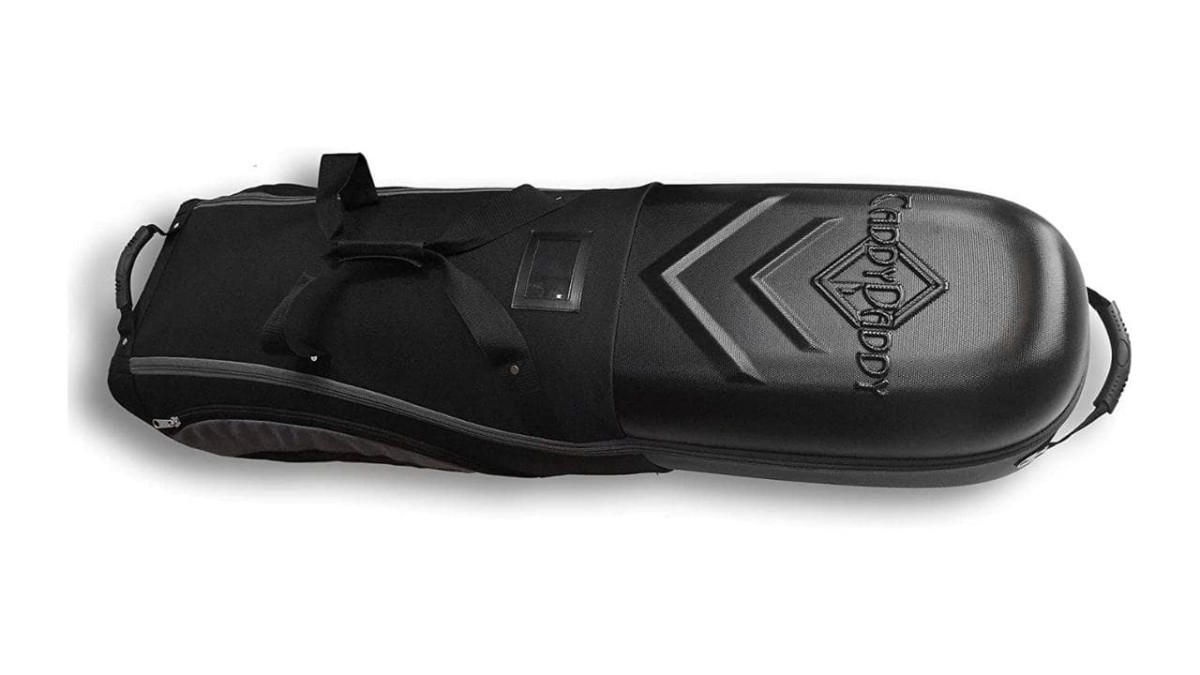 The CaddyDaddy Enforcer is a reliable and durable option for any type of golfer, from beginners to pros on tour. Made with robust fabric, heavy padding, and a hard top to protect club heads, this heavy-duty golf bag is designed for travel.
It also has cinch straps outside and inside to keep everything in place, as well as lockable zippers for added security. Additionally, it's equipped with 2 external pockets for extra storage and inline skate wheels for easy transport.
If you're particularly worried about airline damage, the Enforcer is a definite must-have.
5. Himal Outdoors Soft-Sided Golf Travel Bag with Wheels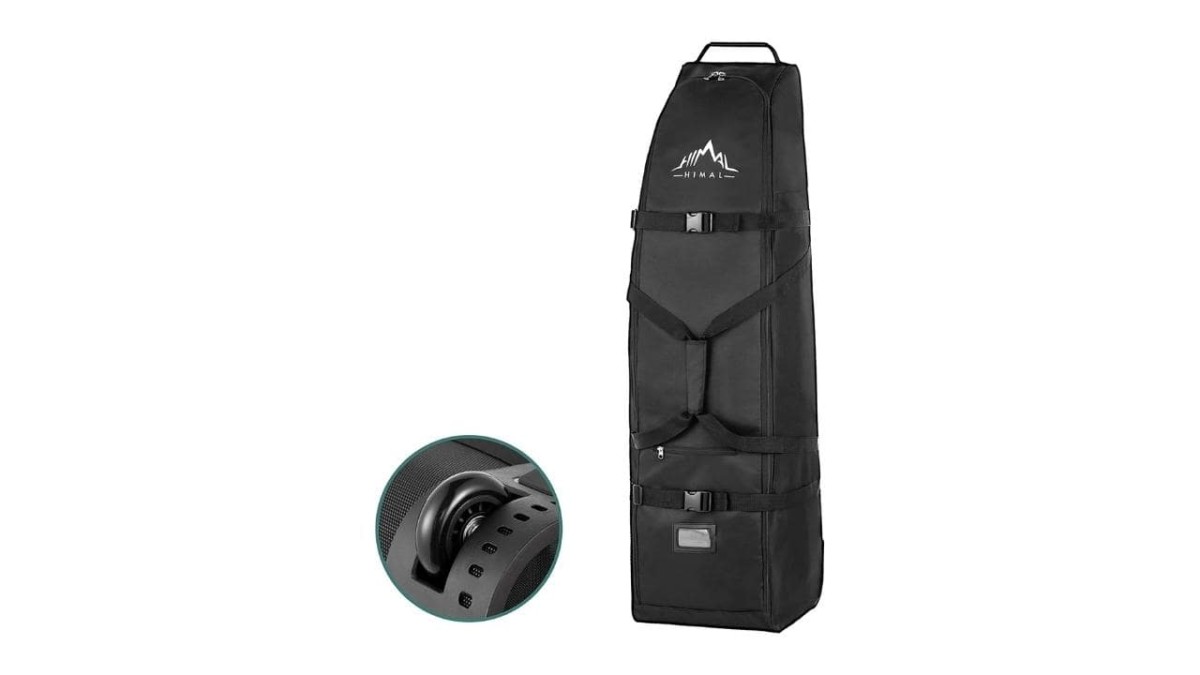 For an easy and convenient way to transport your golf clubs, the Himal Outdoors Soft-Sided Travel Bag is a great option.
Made from tough, wear-resistant polyester, this bag is designed to protect your clubs during travel. It has an advanced smooth zipper design that can be used multiple times and sturdy rubber supports that help keep your clubs safe.
The bag also features two exterior compression buckle straps to help secure your items and smooth-rolling wheels that make it easy to move from one location to another. Plus, the bag can be easily folded and stored away when not in use.
This golf travel case also has other convenient features, including an extra-thick padded top for superior club protection, a business card holder, a waterproof coating, and a solid top handle.
Its versatile design makes traveling with your golf clubs super easy.
6. Athletico Padded Golf Travel Bag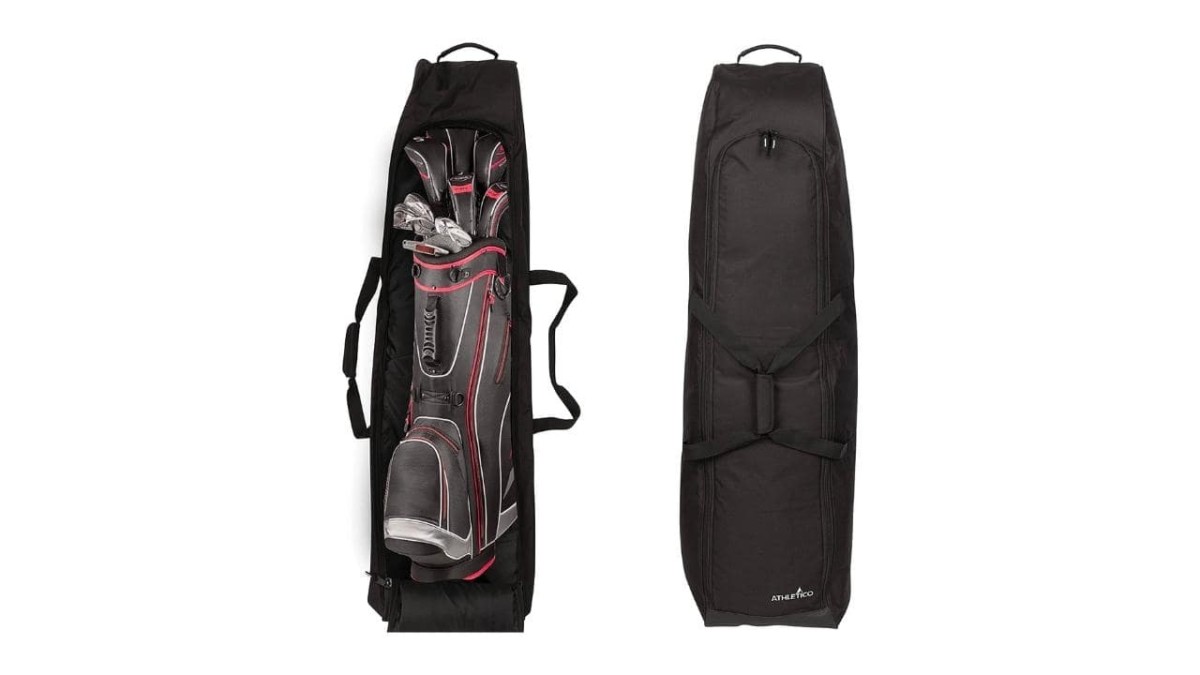 The Athletico Padded Golf Travel Bag is another excellent option for protecting your golf clubs during transit. This bag features 5mm of padding throughout, which helps protect your clubs against scratches, scuffs, and other damage.
The construction is also very durable, with 600D polyester and a vinyl base. This combination makes the bag resistant to wear and tear.
Additionally, the bag features padded velcro handles and a padded shoulder strap, making it easy to carry through crowded airports.
The 1-year warranty is also a nice touch.
7. MacGregor VIPII Premium Wheeled Travel Cover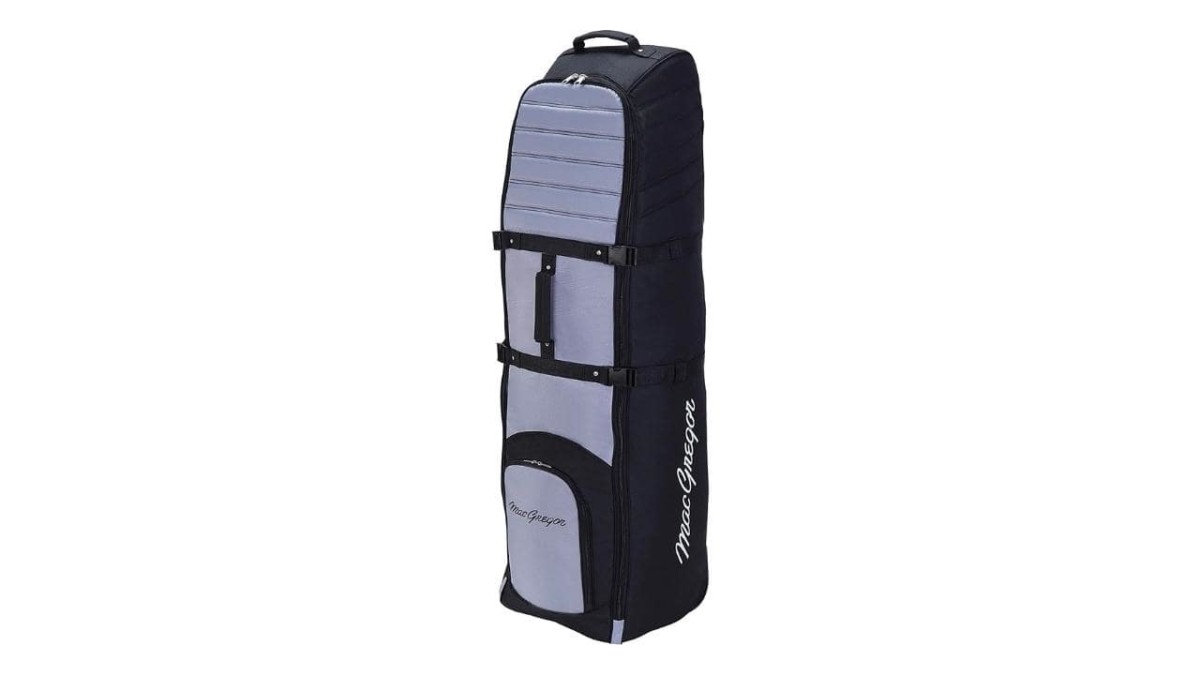 You'll get what you pay for with the MacGregor VIPII. It's a lightweight, high-quality product with outstanding protection and maneuverability.
Featuring a robust construction from durable nylon fabric and additional padding around the top, this cover will keep your gear safe from the elements and any potential damage that could occur during transport. There's also an internal support strap and 3 heavy-duty external straps to keep everything in place.
It has ample pockets for accessories, plus durable inline skate wheels and sturdy handles. And the dual-side zip with lockable zippers provides extra security.
Overall, this is an excellent wheeled travel cover for golfers of all levels.
8. Founders Club Golf Travel Bag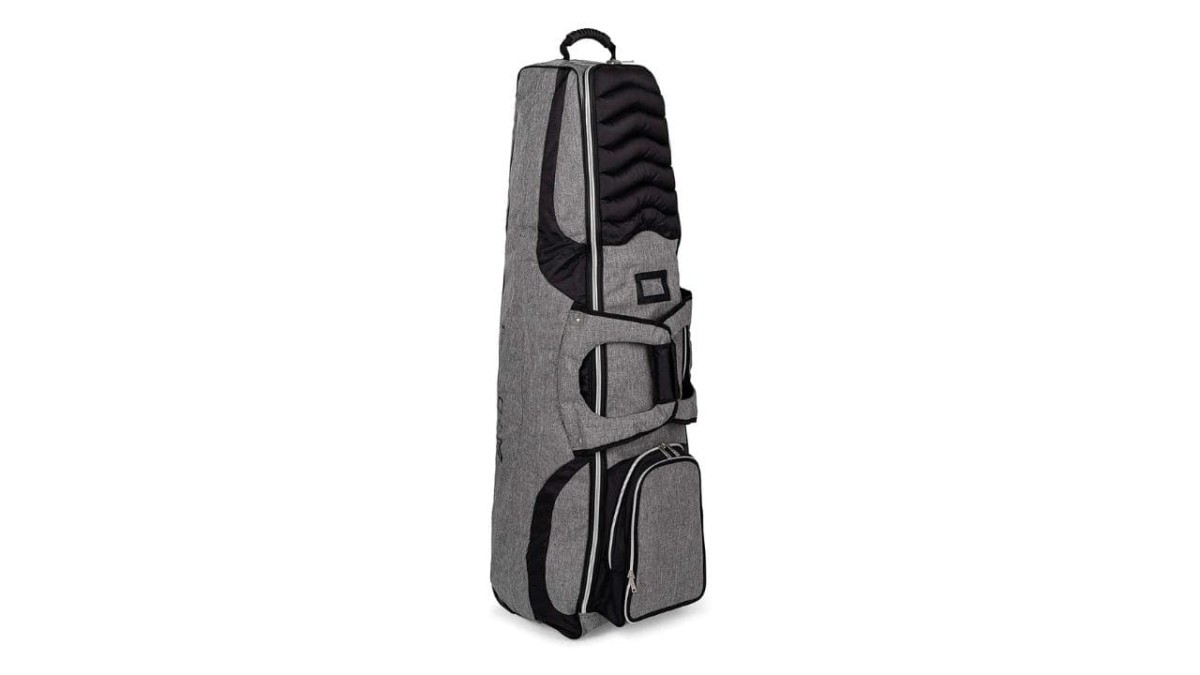 For something trendy and functional, take a look at the Founder's Club golf travel bag. This bag is perfect for showing your style on and off the golf course.
It fits cart bags up to 10 inches in diameter and golf clubs up to 50 inches long. It also has an external shoe pocket, 2 interior mesh pockets with lockable zippers, and an internal compression strap to keep your clubs secure. And it features padding protection and ultra-durable nylon construction, along with a lockable, full wrap-around main zipper for easy access and packing.
The bag comes with a deluxe skid-resistant base and is easy to transport with smooth-rolling inline-skate wheels and 2 sets of padded handles. It also has a 360-degree removable zipper panel that allows you to customize the bag with your name, golf course, or company logo.
Finally, the Founder's Club golf travel bag is backed by a 1-year full replacement warranty.
9. CaddyDaddy Constrictor 2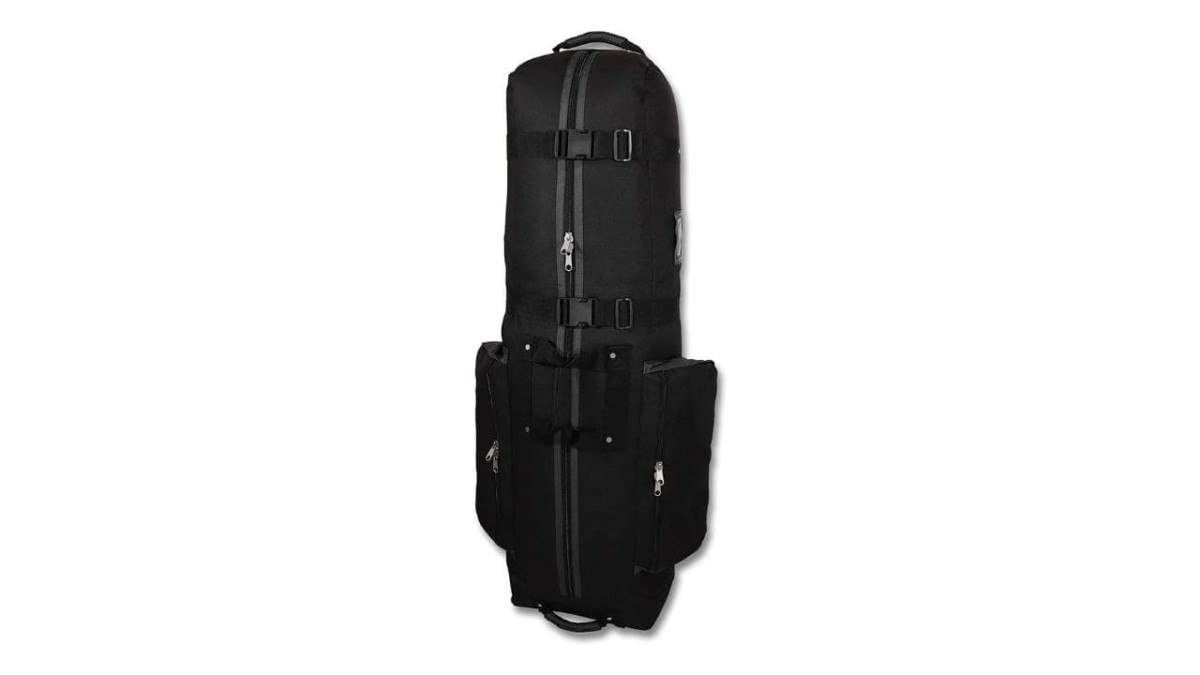 If you want something heavily padded, even more than the usual golf travel bags, then the CaddyDaddy Constrictor 2 is a must-have.
It's made with heavy-duty 1800D fabric construction, with padding at the top to protect club heads. The golf travel cover bag also comes equipped with inline skate wheels for easy transport, as well as lockable zippers and large, oversized pockets for additional gear.
It measures 51 x 13 x 15 inches and weighs just under 9 pounds.
10. Bag Boy Golf Bag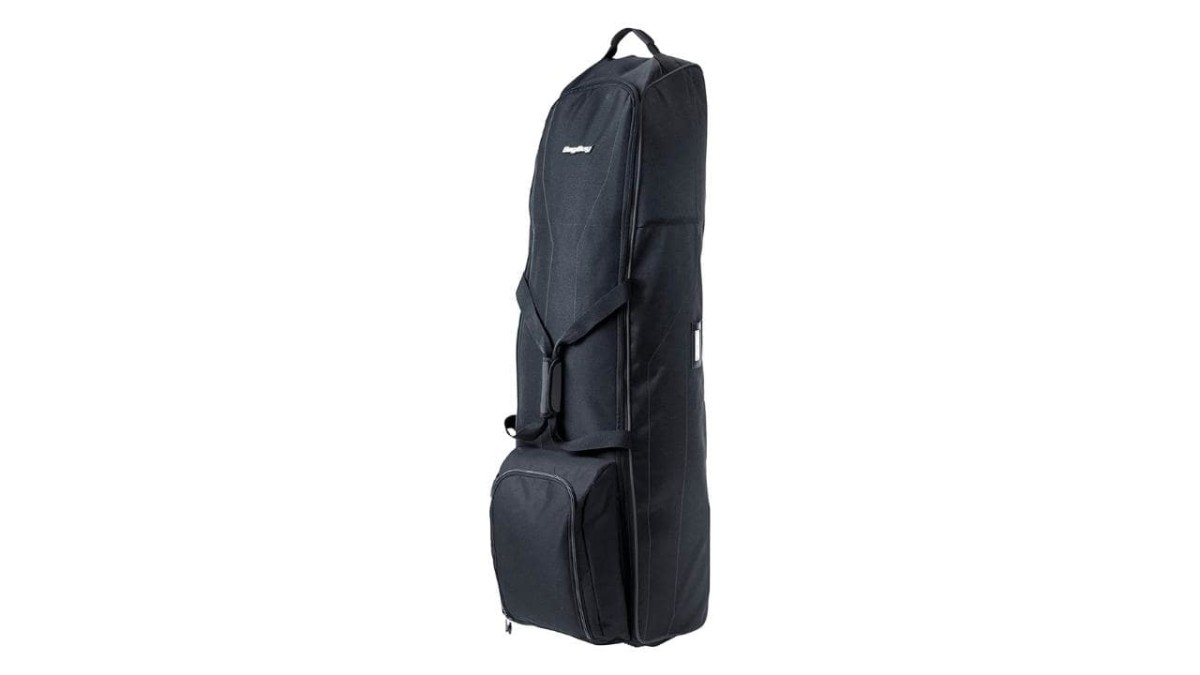 Here's another wheeled option: The Bag Boy Golf Bag is perfect for the avid golfer. It features smooth-rolling wheels, a nylon carrying strap with a Velcro locking handle for easy transport, and reinforced corners for durability.
Its lockable, wrap-around zipper allows easy access and packing, while its internal compression strap stabilizes the bag during travel. It also has an oversized, dual-zippered pocket that provides storage for all your gear.
This travel cover fits up to 48″ drivers and a 10″ cart bag. It's also weather and tear-resistant, ensuring your gear stays safe and looks good season after season.
11. OutdoorMaster Padded Golf Club Travel Bag with Wheels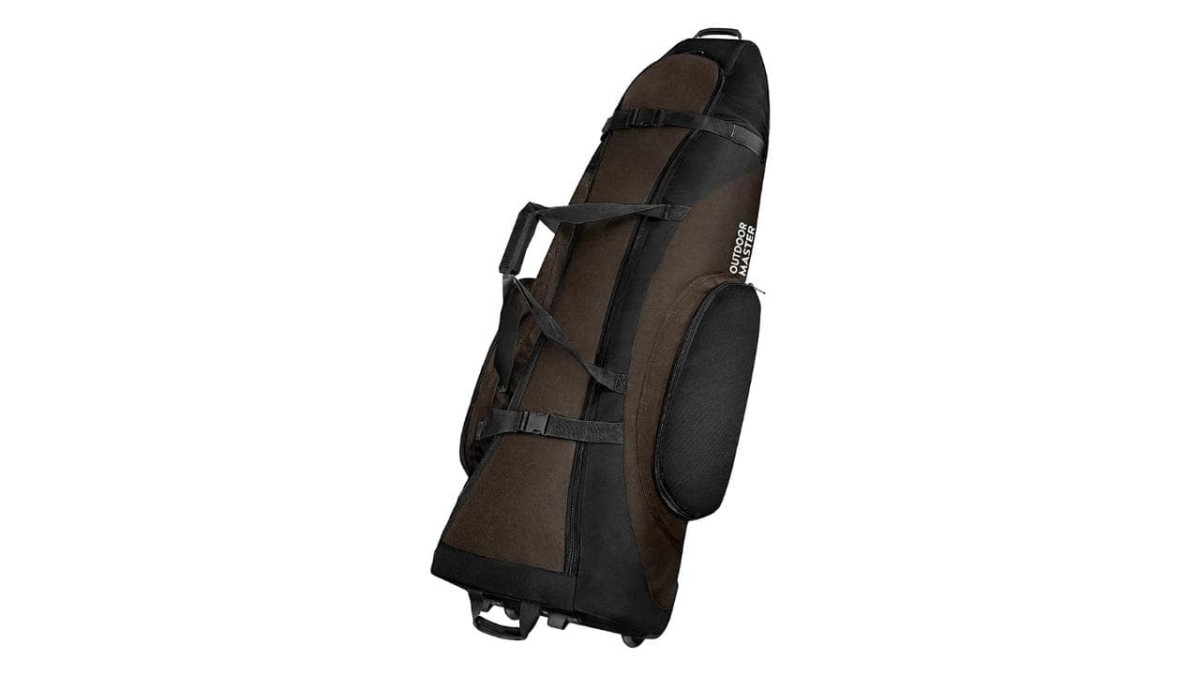 The OutdoorMaster golf travel bag is designed with a unique OTS system that covers the entire travel case with a 2x-thickened cushion layer and 900D oxford wear-resistant and waterproof material. This provides extra protection for your golf clubs during transportation.
In addition, this travel bag features smooth-rolling wheels and a premium rubber base for an unobstructed carrying experience. It also has a shoulder strap, multiple handles, and additional pockets for golf shoes and other accessories — making it easy to carry to the shuttle or bus station.
Moreover, this golf travel bag is foldable and equipped with a U-shaped wide-open zipper system for easy storage and access.
12. Samsonite Hard Side Golf Travel Bag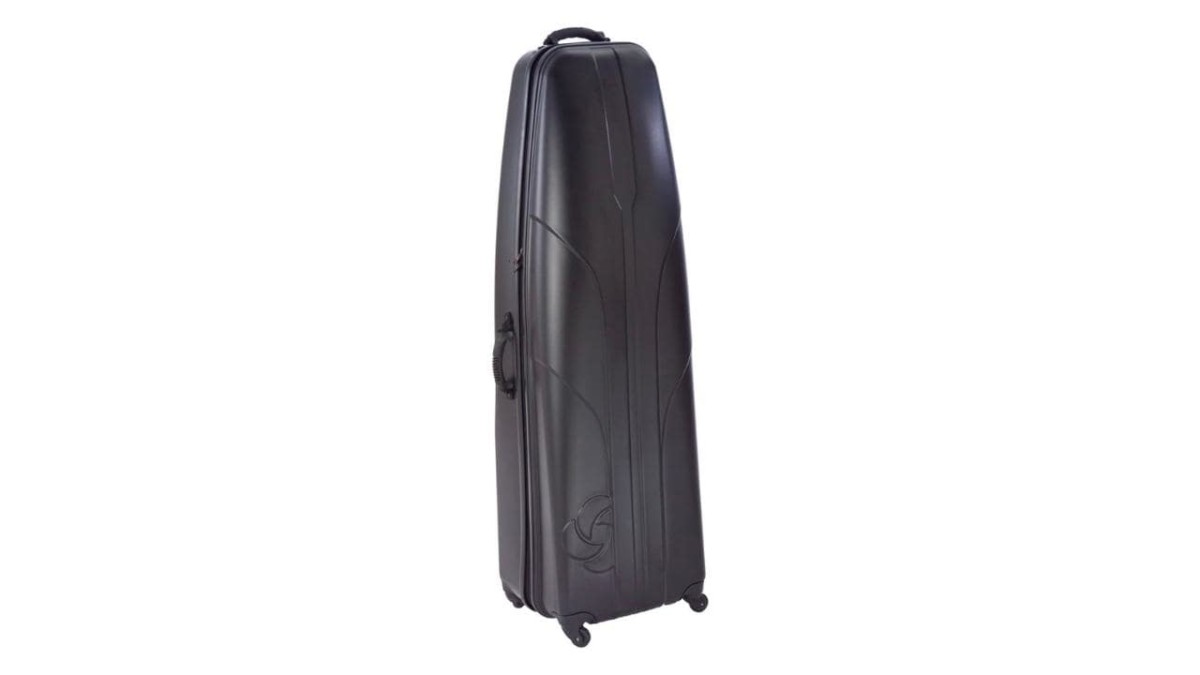 The Samsonite Hard Side Golf Travel Bag is another lightweight and durable option for protecting your golf bag and clubs while traveling. It's made with a solid ABS Shell to shield your equipment from the wear and tear of travel, while its padded quilted interior with extra foam cushioning on top protects your club heads.
This case also features 4 multi-directional spinner wheels and 2 in-line skate wheels, which allow the case to be pushed or pulled, as well as internal compression straps to secure your golf bag inside.
It accommodates larger 10.5″ golf bags and longer 48″ clubs — perfect for traveling with your golf gear.
13. Caddymatic Hard Top Shell Padded Travel Cover with Wheels
The Caddymatic travel cover's top shell helps absorb impact, while the lightweight polyester lower half saves weight and folds up inside the hard top for easy storage. Its ample size can accommodate drivers up to 49″, making it compatible with nearly all sizes of golf bags.
14. Amazon Basics Soft-Sided Golf Travel Bag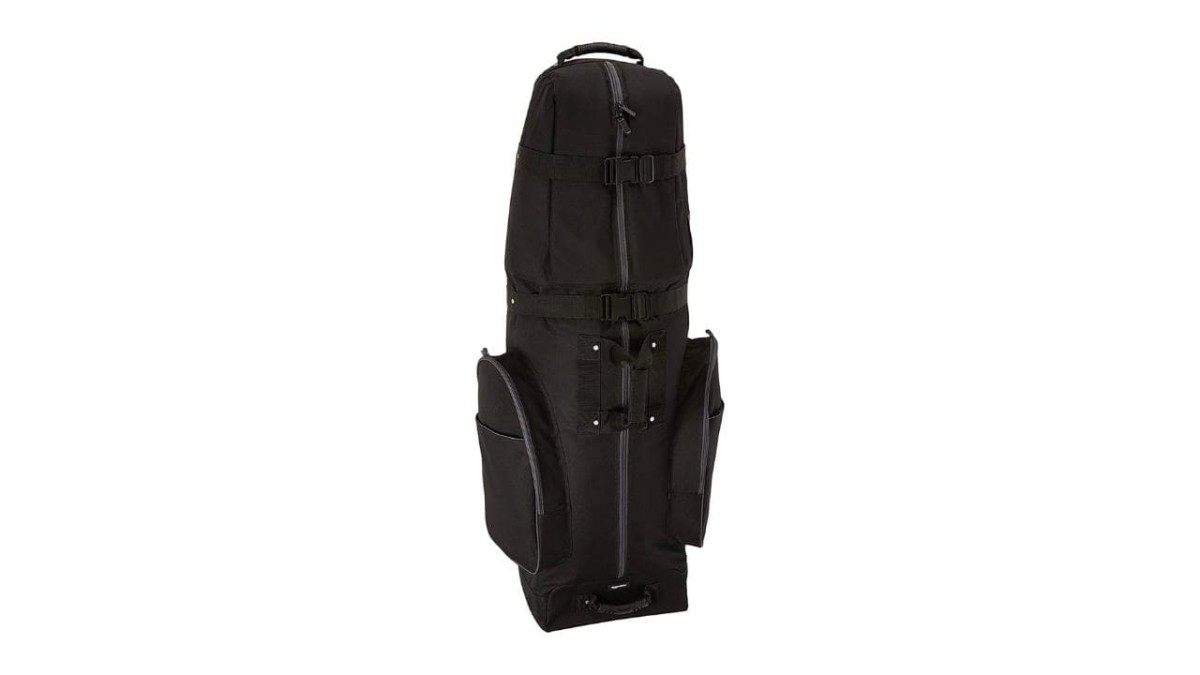 Sporting a simple black design, the Amazon Basics Soft-Sided Golf Travel Bag protects and conveniently transports your clubs. It's made of durable nylon fabric with reinforced stress points and features well-placed riveted handles for easy carrying.
Measuring 50 x 13 x 15 inches, this bag has a spacious main compartment with internal compression straps that cradle your golf clubs and multiple zippered compartments for storing your extra gear. Its top section is also heavily padded to help safeguard club heads during travel.
Additionally, smooth-rolling inline-skate wheels are included for comfortable transport. This bag also stands up on its own when holding a set of clubs.
15. CaddyDaddy First Class Premium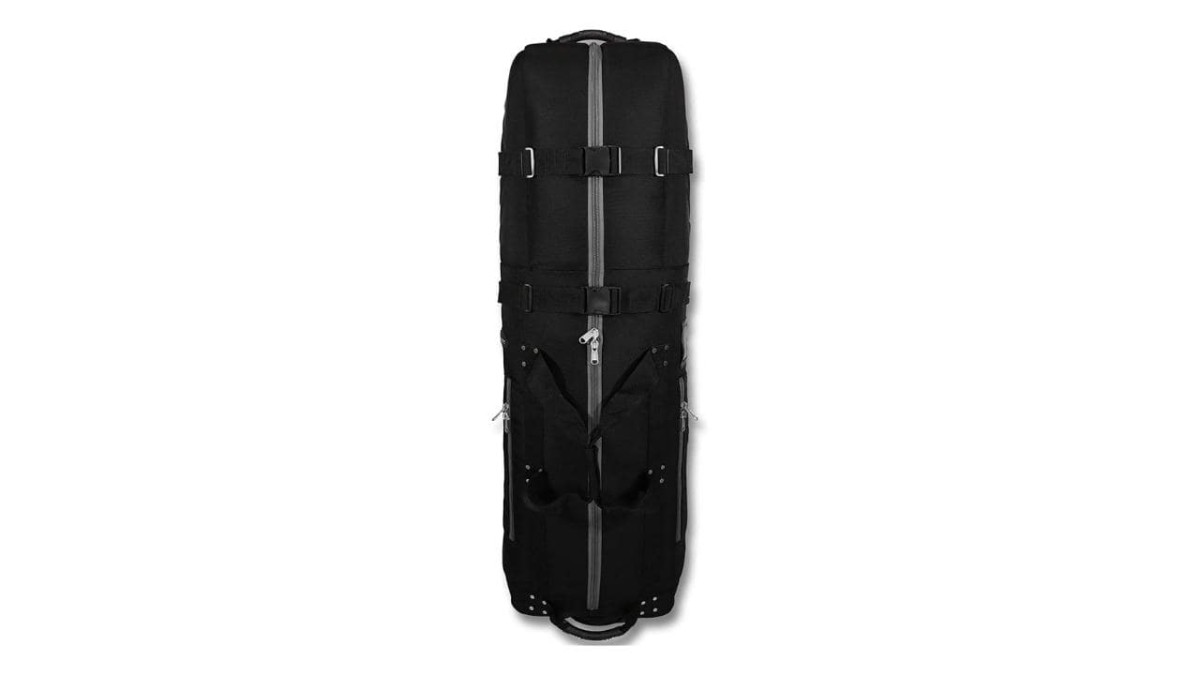 The First Class Premium is made of ultra-durable 1000D ballistic nylon with military-grade hardware and rivet reinforcements.
Aside from its accommodating main compartment, this travel bag also has 2 large external pockets, providing ample storage for extra golf accessories.
This bag's interior is double layered with foam/EVA padding to protect your equipment from external damage, while its lockable zippers and built-in compression straps make everything more secure.
This case also features all-season wheels and multiple handles for more accessible transport.
16. Titleist Players Travel Cover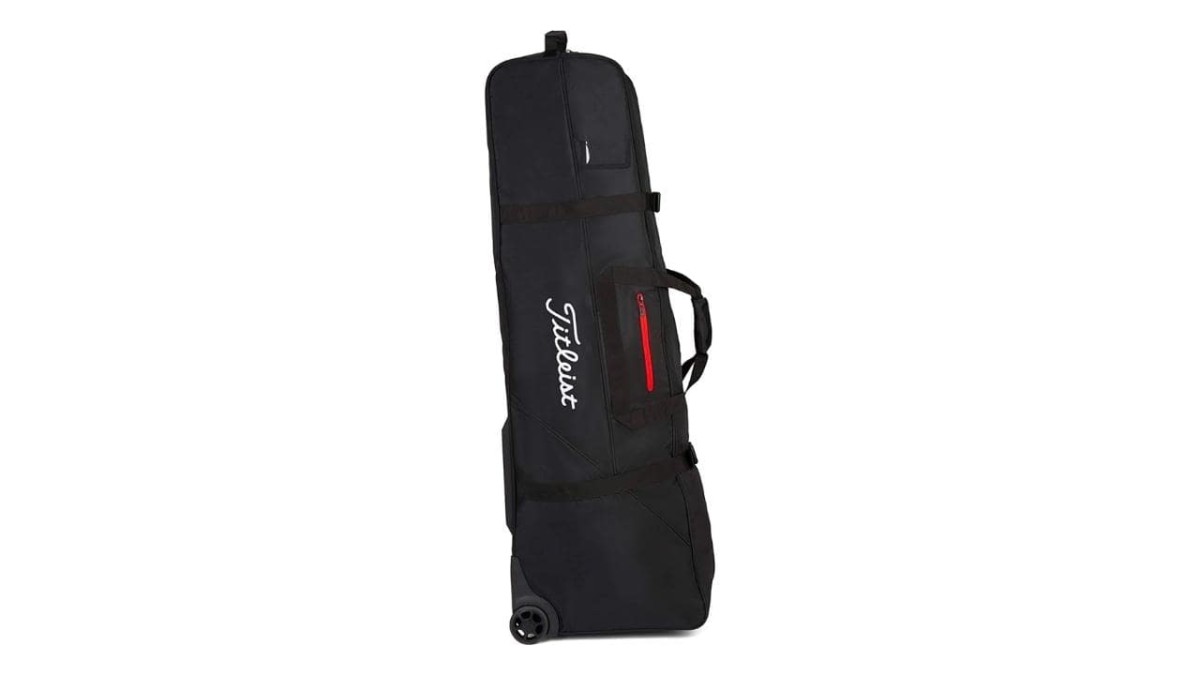 Tough and durable, the Players travel cover is made of high-quality nylon with premium skate wheels and a stylish rubber patch logo.
It features 2 internal zippered pouches for storing your valuables and an external pocket for additional gear.
Titleist has been around for over 85 years and is one of the most trusted names in golf. The company is known for making superior and long-lasting products, and the Players travel cover is no exception.
17. Sun Mountain ClubGlider Meridian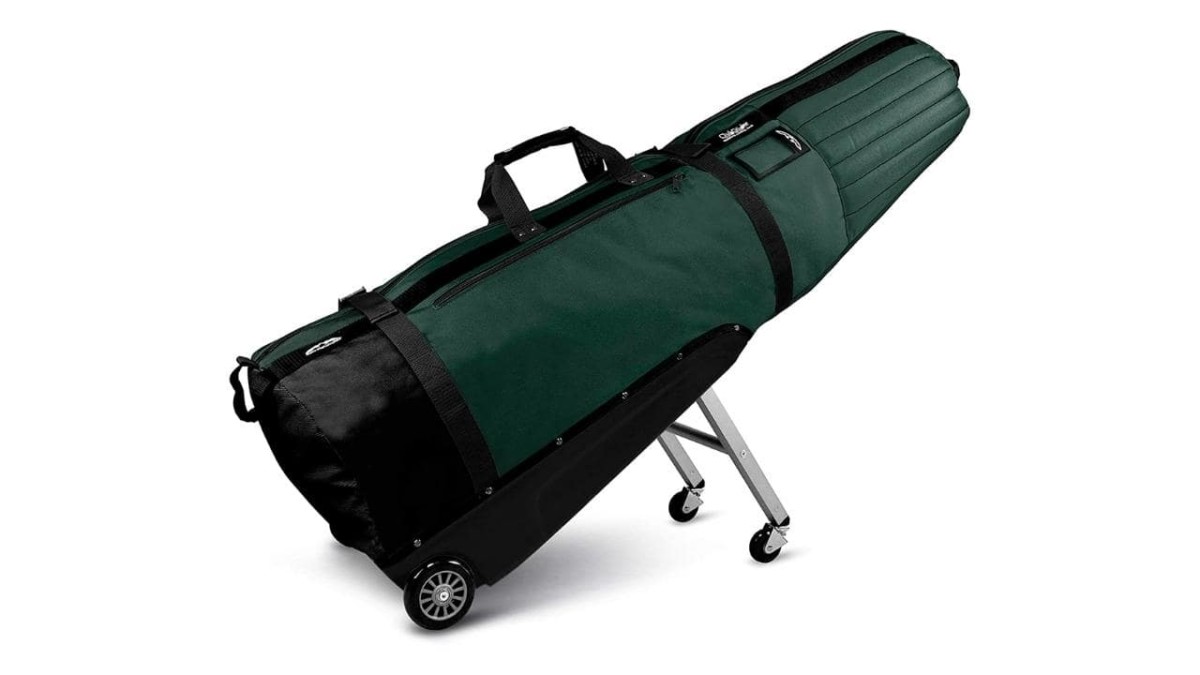 No more kneeling on the ground to load or unload your golf equipment because the ClubGlider Meridian makes traveling with your clubs a breeze.
This bag has a sturdy frame and wheels for easy maneuverability, as well as an extendable leg mechanism that helps stabilize the bag when you're taking items in and out.
After use, you can retract the legs into the molded tray to travel better.
Additionally, the ClubGlider Meridian is made of ballistic-style nylon fabric that's reinforced in wear areas. It also has heavy-duty two-way zippers running the full length of the bag.
18. Samsonite Golf Deluxe 3-Piece Travel Set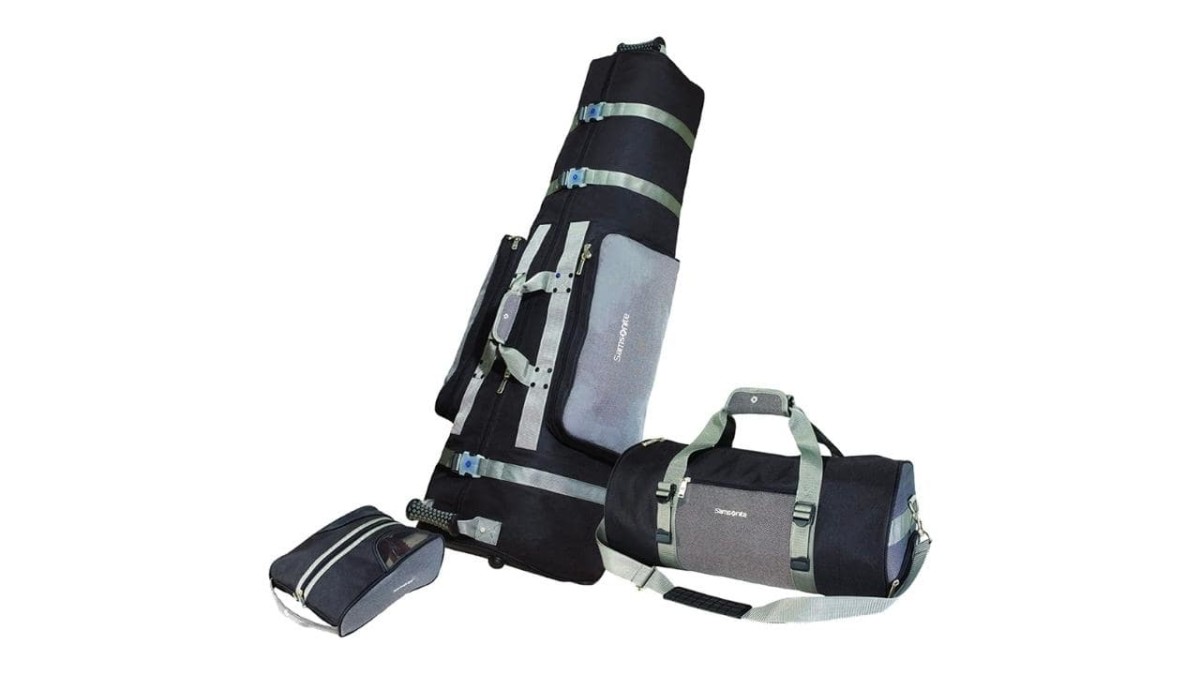 Practical and stylish, the Deluxe 3-Piece Travel Set is a fantastic choice for serious golfers. It includes a wheeled travel cover, a duffel bag, and a shoe bag, all made of durable 600D polyester fabric.
The travel cover has rubber grip handles and a non-slip shoulder strap for easy transport, as well as a padded quilted interior with extra foam cushioning on top to keep your club heads safe.
The duffel bag has a spacious main compartment and a zippered wet pocket to hold dirty laundry or damp items, while the shoe bag (which accommodates 2 pairs of shoes, each up to size 13) has mesh ventilation windows to prevent moisture buildup.
Whether you're taking a quick weekend or a more extended vacation, this Samsonite golf travel set will help you keep your clubs and gear organized and protected.
19. TourTrek TC PRO Travel Cover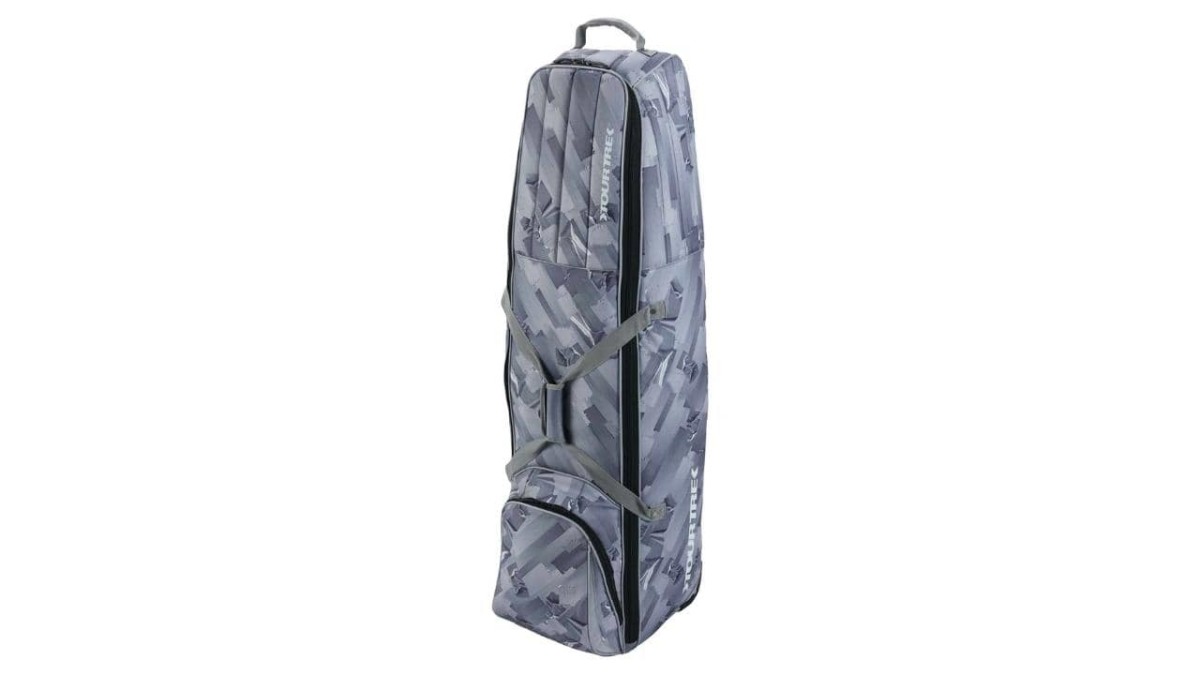 Durable and functional, the TourTrek TC Pro is designed to fit various stand and cart golf bags. It has full-length horseshoe zippers and top handle straps to make getting your clubs in and out of the bag more effortless and 360° padding for extra protection.
The bottom of the bag has built-in wheels for easy transport and stability, and there are also several pockets and an integrated ID card holder for storing smaller items.
20. Club Glove Last Bag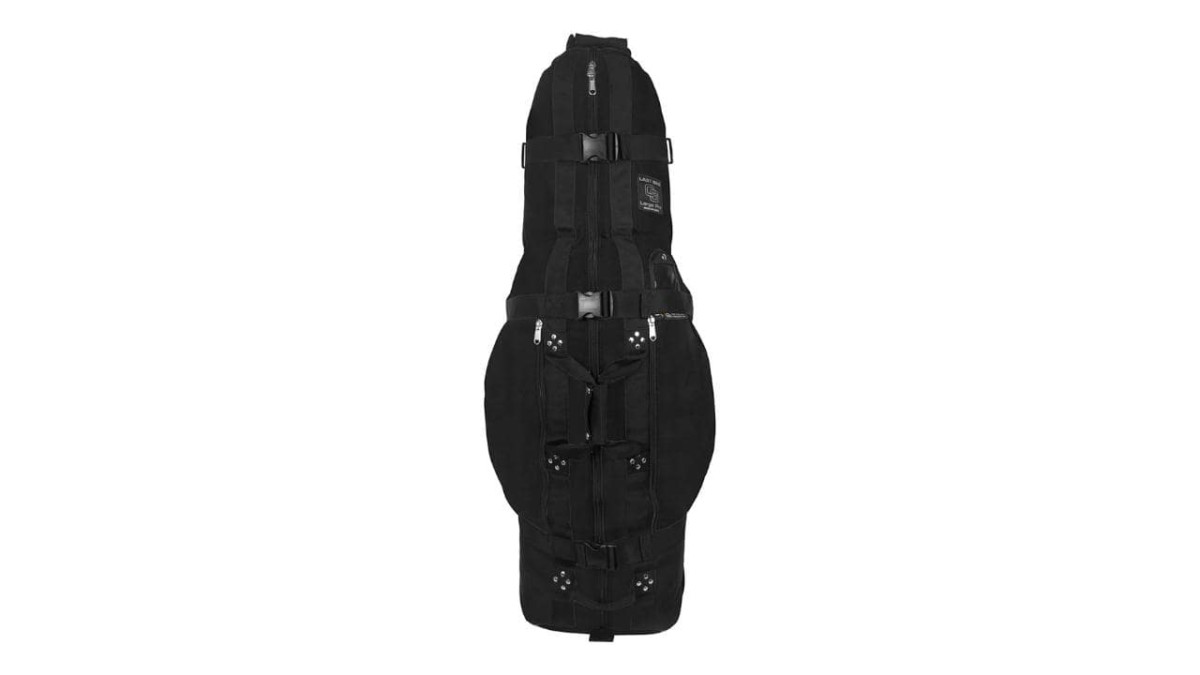 Another favorite among professional golfers is the Club Glove Last Bag, which is built to last with 1000D water-resistant nylon that's 3x stronger and lasts 5x longer than standard polyester.
It has a spacious main compartment that can accommodate golf clubs up to 47″ in length and zippered side pockets for smaller items.
What to Look for in a Golf Travel Bag
1. Durability & Padding
When looking for a golf travel bag, durability is key. Make sure the fabric is tough and resistant to wear and tear and that the bag has plenty of padding to protect your clubs.
2. Wheel System
Although not required, wheels are an excellent feature on a golf travel bag, as they make it much easier to get your clubs from the car to the course.
Look for a bag with smooth-rolling wheels and an extendable handle for easy maneuverability.
3. Storage Pockets
Golf travel bags usually have several pockets for storing small items such as tees, balls, and gloves. However, if you typically travel with a lot of gear, look for a bag with multiple, as well as adequately-sized, pockets and compartments to keep everything organized.
4. Weight
Golf travel bags can be pretty heavy, so choose one that's not too bulky or difficult to carry. If you plan on checking your bag, avoid choosing one that's too heavy, as airlines typically have weight restrictions.
If you can carry heavier bags, look for one with more features and padding, as they offer better protection for your clubs.
5. Price
As with most things in life, you get what you pay for when it comes to golf travel bags. That being said, plenty of high-quality bags are available at reasonable prices.
It's crucial to find a bag that fits your budget and meets your needs.
6. Main Compartment
The main compartment is where your clubs will go, so make sure it's large enough to accommodate all of your clubs (driver, irons, putter, etc.). If you have a lot of clubs, look for a bag with an additional compartment or two for storing extra gear.
7. Rain Cover
If you plan on traveling during inclement weather, a rain cover is a valuable feature to have. However, some golf bags don't come with this, so you may need to purchase one separately.
8. Straps
In addition to a handle, most golf travel bags have one or two straps for easy carrying. If your bag is on the heavier side, look for adjustable and padded straps for comfort.
9. Style
While not the most critical factor, you'll likely want a golf bag that looks good and reflects your personal style. With so many different colors, patterns, and designs available, it's easy to find a bag that's perfect for you.
10. Warranty
When spending a good amount of money on a golf travel bag, find one with a warranty. This will protect you in case of any defects or damage.
Best Golf Travel Bag FAQs
1. How Much Should I Spend on My Golf Travel Bag?
This depends on your budget and needs.
For a high-quality golf travel bag that will last for years, you can expect to spend around $100. But if you're on a tight budget, plenty of good quality bags are available for under $100.
2. What's the Difference Between a Golf Travel Bag and a Regular Golf Bag?
A golf travel bag protects your clubs while traveling, whereas a regular golf bag is not.
Golf travel bags are usually made of tougher materials and have more padding to safeguard your clubs during transport. They also tend to be larger in size to accommodate all of your clubs and any other gear you may be bringing with you.
3. Do I Need a Golf Travel Bag If I Check My Clubs?
It's always a good idea to own a golf travel bag to protect your clubs, as airlines are not responsible for any damage that may occur during transit.
If you're only going to be traveling a short distance and don't want to deal with lugging a bag around, you can check your clubs without a golf travel bag. However, we recommend using a golf travel bag whenever possible.
4. What's the Best Way to Pack My Golf Clubs for Travel?
If you're using a golf travel bag, the best way to pack your clubs is to put them in the bag diagonally. This will help minimize the space they take up and prevent them from moving around too much.
You can also use towels or other soft materials to help pad your clubs and keep them from shifting during transport.
5. Are There Any Other Items I Should Pack in My Golf Travel Bag?
In addition to your clubs, you may want to pack a few extra items in your golf travel bag, such as a rain jacket, sunscreen, snacks, and water. It's also a good idea to bring your golf shoes and any other gear you may need while on the course.
6. How Much Should My Golf Travel Bag Weigh?
This depends on the bag itself and how much gear you're packing. Golf travel bags can weigh between 6 and 20 pounds when empty.
7. Do Golf Travel Bags Come in Different Sizes?
Yes, golf travel bags come in different sizes to accommodate various clubs. If you have a lot of clubs or plan on bringing along extra gear, you'll want to find a bag that's large enough to accommodate everything.
8. Where Should I Buy My Travel Bag?
You can purchase golf travel bags from most sporting goods stores and online retailers.
When shopping online, read the product descriptions carefully to ensure that the bag you're considering is the right size and has all the features you need.
Packing Your Golf Clubs for Travel Doesn't Have to Be So Daunting
No matter which of these golf travel bags you choose, you can be sure that your clubs will be well-protected on your next trip.
All the featured bags are made of high-quality materials and thoughtful design details that make traveling with your golf gear easier.
So don't wait any longer – order one of these excellent golf travel covers today and get ready to hit the green!