Note: This post may contain affiliate links which means if you click on a link and purchase an item, we will receive an affiliate commission at no extra cost to you.
This post is brought to you by a few of Angela's travel essentials when she's nomading with a car: a collapsible cooler, a French press, and a good book. (She currently recommends The Good Hand by Michael Patrick F. Smith)
This is the latest interview in a series featuring digital nomads talking about their lives and lessons (click here if you want to be interviewed). The goal is to help demystify the process of making money online, wandering the world, and living an unconventional life!
Angela worked hard to get her dream job, and she loved everything about it, except that the company wouldn't let her work remotely. She quit, changed her career into consulting, and took off to explore the world. Since then, she's diversified her income and is living life on her own terms. She has an incredible story of finding what feels best for her own life in terms of travel and freedom.
Thank you for hanging out with Freedom Is Everything, Angela!
Key takeaways from Angela's interview:
"Honestly, the best advice I can give is to just do your thing and don't compare yourself to other nomads. It sounds silly, but nomads often have so much pressure to prove just how nomadic or worldly they are. Finding your right groove, style of travel, and tempo of travel is key to not burning out in the lifestyle."
"Growing older is not unique, but being a digital nomad as a single woman in her mid-40s is definitely not common either! The vast majority of digital nomads that I meet are typically a bit younger, but that doesn't bother me! Age has never really been something I've given active thought to, so it's really only something I consider when someone brings up the topic of age. As far as I'm concerned, I'm still 26, just with more wrinkles and an earlier bedtime."
"I've never been married, never had kids, and never found my 'forever place.' This fact alone blows so many people away, especially in cultures outside of the US. But even in some places in the US, too, I still encounter folks who have a hard time wrapping their heads around the idea of a woman who never wanted to settle down. But in the end, I feel like opening the door for conversations about the lifestyle allows me to get a better perspective on other people's life choices. I hope it allows them to see that there are many different ways to live and happily!"
Introduce yourself! 🙂 Who are you? What do you do for work? And what is your nomadic story?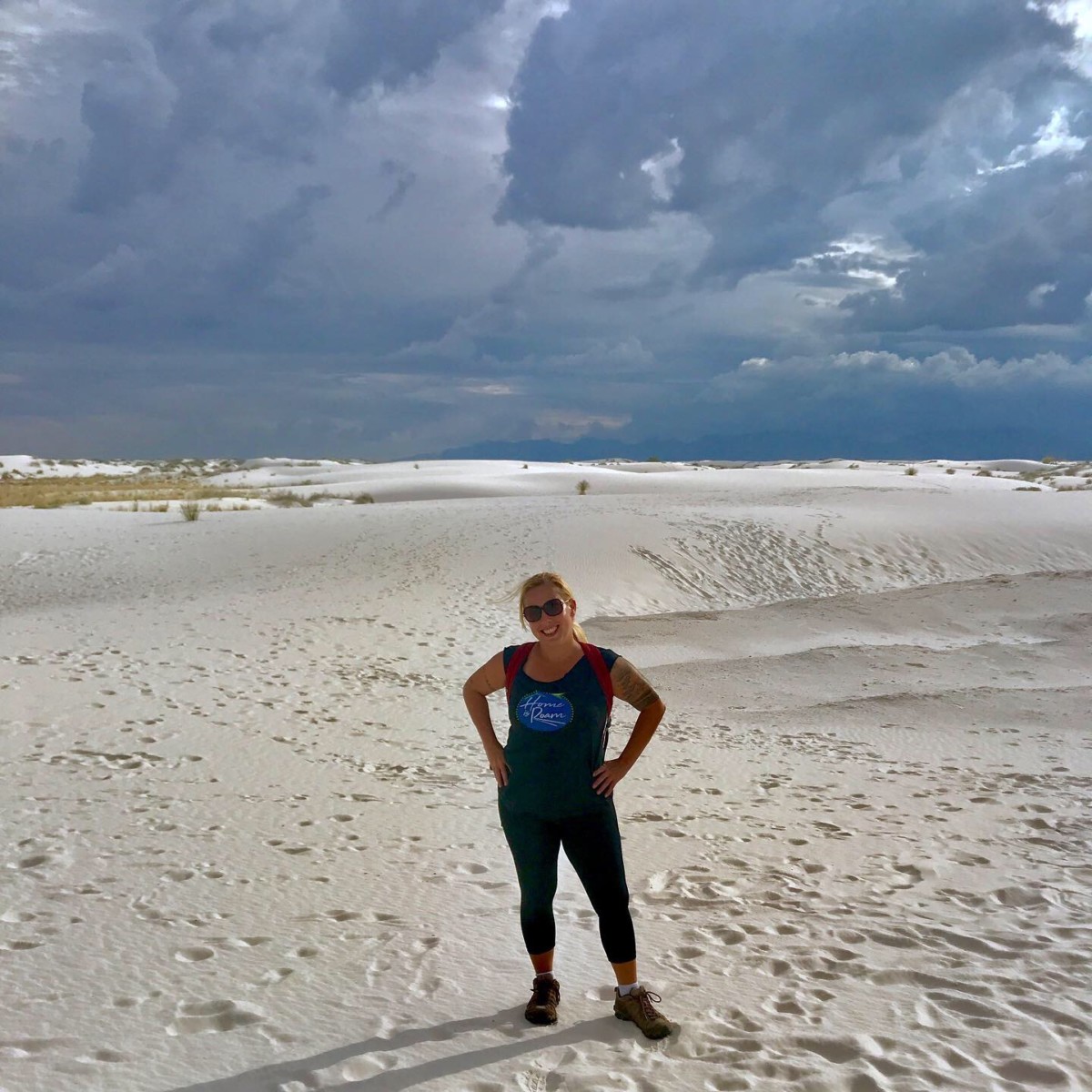 Hi fellow and aspiring nomads! I'm Angela, and I've been a full-time nomad since 2017. Before that, I was living in DC and trying out the part-time nomad thing for a couple of years, where I had kept my place and rented it out while I was away. But I found it too stressful for me to worry about my place and find the right people to rent it (or anyone at all). And as much as I loved living in DC, I felt somewhat restricted by having a place where I had some responsibility to regularly tend to. So I sold everything and haven't looked back! 
I'm "from" St. Petersburg, Florida. But I also spent my early childhood and many years as an adult in Boston. I'm part Masshole, part #floridawoman, haha! But all nomad! I run the Home is Roam lifestyle brand. I am a project management and market research consultant. And I am also a housesitter.
After 25 years away from St. Pete, I went back for part of the winter/spring for a few months. The vibe has really changed over these years since I was a kid, and wow! It's really evolved into this beautiful city with so much to do and see. It was also nice to be able to catch up with friends and family after so long. But at the beginning of May, I started a 6-month cat sit just outside of Austin!
So far, I've really only been traveling the western hemisphere because I need to be available to my clients, who are all based in the States. I'm not one who can work overnight and sleep during the day, and I haven't yet found any lack of options for traveling and living on this side of the world!
What inspired you to start nomading? And how has nomading changed your perspective on life?
I was never content in one place. I've lived in tons of places that I've loved while living there, but my mind was always wandering to another place. I realized I could solve that problem by giving up "home."
We were pretty broke growing up, so my family never really took vacations, and "traveling" for fun was never really a thing. My mom's family was from Tampa Bay, and my dad's family was from Boston, so my sister and I were shuffled back and forth between the two as kids. But we never really saw much beyond those two places other than I-95 with no A/C in the dead of summer that we endured getting between said places.
My Boston grandparents had a massive collection of National Geographic magazines going all the way back to the 60s. I would spend any time I was there curled up on the couch devouring every issue with such awe over all these amazing and different places and people. It was at this pretty early age that I knew that I would likely not be settling down with a family in one place.
Halfway through college, I decided to take some time off from my studies. I worked a series of shitty retail jobs, saved up some money, and bought an Amtrak pass to hop trains around the country for a couple of months. When that expired, and with the very little money I had left, I hopped Greyhound buses just to see where I'd end up. I should add that this was the mid-90s, where there was barely this thing called the internet, so I'm just winging it here with no real plan. And I fucking loved it! I needed more!
In fact, I found my journal from that 1996 train trip when I was cleaning out my last real home before I started full-time nomading. It's so incredible to look back and see with visual proof how nomading has changed my life – even if I was just "traveling" for a few months and not quite nomading yet.
In one entry, I wrote about how I wish I could be the kind of person who could just strike up a conversation with any random person. Looking back on that now is utterly insane because I AM that person now, and I can't even remember back to when I wasn't! That trip, and every trip or change of location I have done since then, big or small, adds another layer of excitement, openness, and self-confidence, but it's also so humbling. You know that saying, "the more you know, the less you know"? Yep, totally applies!
Please tell us the detailed story of how you started your business.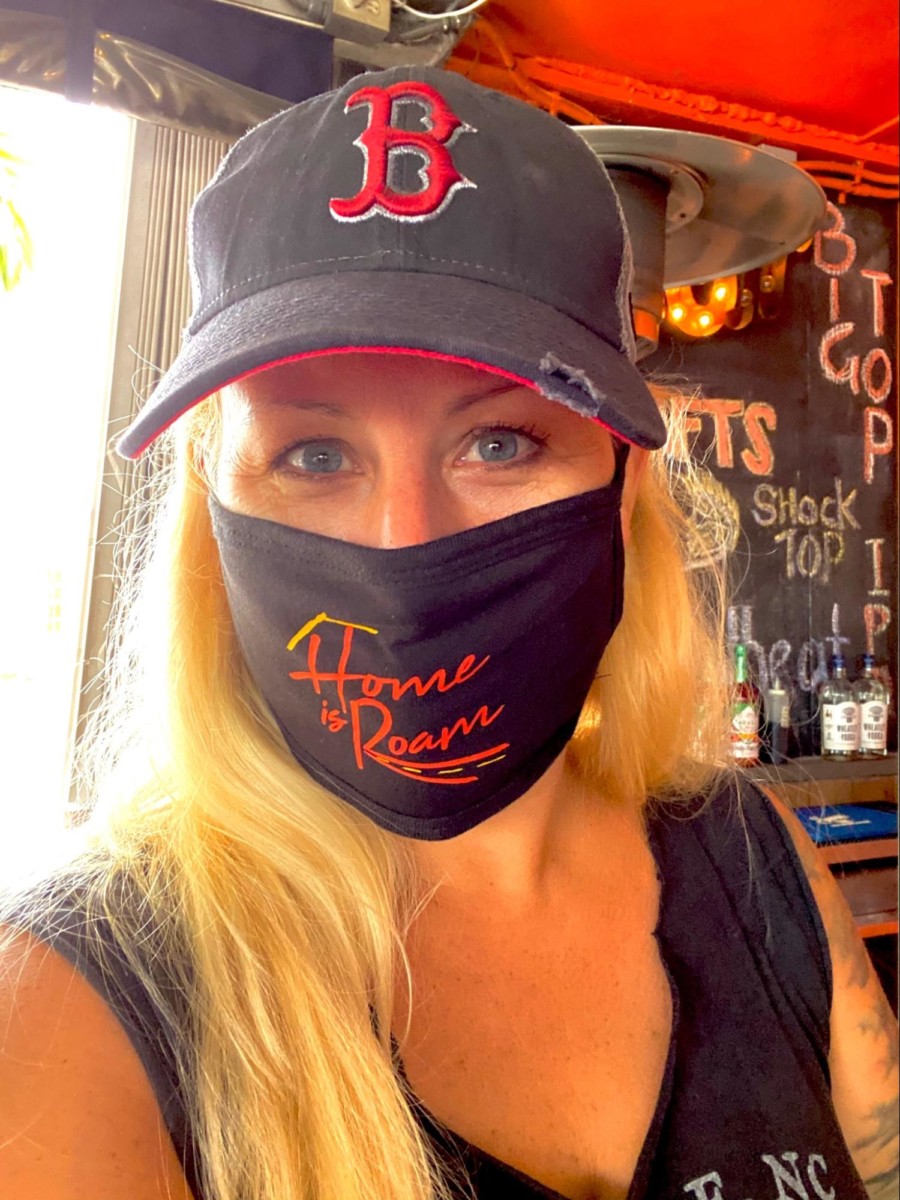 The Home is Roam product line started out as t-shirts through a Cotton Bureau challenge. I made (exceeded!) the challenge goals and was able to expand it out into a full-blown product line with the small amount of funds I got from that. Home is Roam was something I had been thinking about actively even before I went nomad. As a market researcher by trade, I always thought of the Home is Roam brand as a "Life is Good" for nomads (but edgier!). Who doesn't want to show off their super fun lifestyle? I've since moved my product line over to Threadless because they offer more product options than just tees.
The key to selling merchandise as a nomad is to not have to physically have the product to lug around! I love Threadless because they make it easy for me to sell my designs at fair prices, they print on demand and ship the product, and the quality is excellent!
Unfortunately, I didn't have the means to just quit my job and life and go all out with the product line. So that's where my consulting business comes in. The last non-remote job I had was actually my dream job, sans the remote part. I was the market researcher for a very large alcohol retailer in the States. I got to travel for them all the time, running focus groups and interviews, but they were one of those companies that had that attitude of "if you're not at your desk, you're not working."
The kicker is that I traveled for them at least 50%, so half the time, I wasn't at my desk and yet magically getting all my daily work done, in addition to whatever project I was on travel for! I had asked the company multiple times if I could work remotely, and they could never bring themselves around to yes. So when a friend of mine who owned a fully remote company came to me for project management consulting services, it was a no-brainer.
It wasn't exactly my choice of industry to work in, but it was certainly a start for the lifestyle! I've been doing mostly project management consulting since then, but I'm starting to make my way back to market research, which is where my real professional interests are.
The most difficult part, really, was transitioning from having always been in a full-time employee role to an independent contractor role. Now I have to get an accountant and pay all my own taxes and form an LLC and actually be an adult, while in reality, I'm trying to be less of an adult! 
Ok, that was the second most difficult part of going out in the world with my own business remotely. The actual most difficult part is being able to deal with income uncertainty and how you can handle being in periods where you're just straight up not earning any inflow. That shit suuuuuuuuucks! But if you can handle that, whether that's through savings, business relationships, or just general toughing it out, then do NOT let that stop you from owning your own business or simply working as an independent contractor!
It takes time, but proving yourself and forming those solid business relationships has been key for me.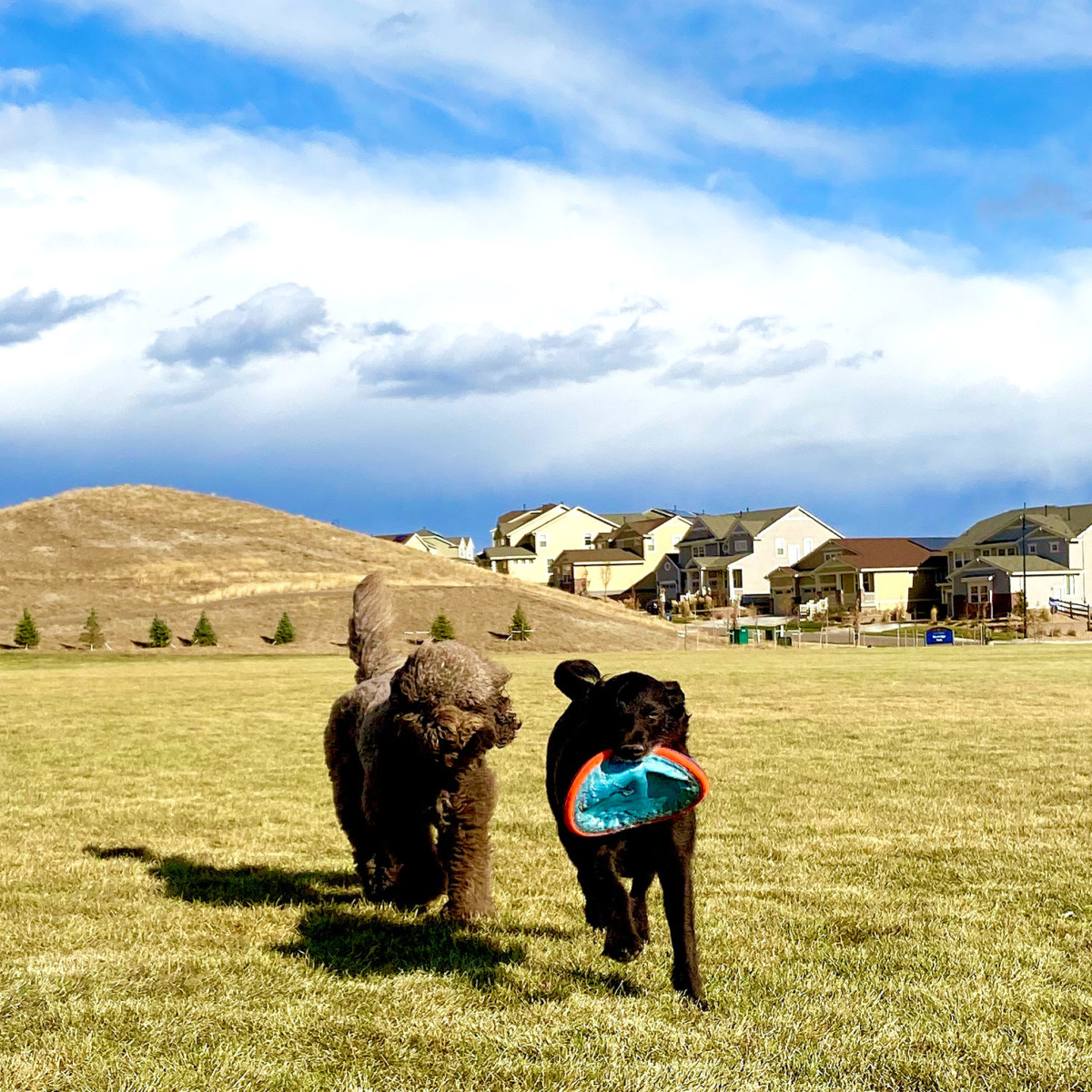 A really positive outcome to some of the more challenging early freelancing times is that I fell into my other "career": housesitting! I had a period where not one but two contracts I was banking on fell through, and I was basically looking at a period of no foreseeable income ahead. Needless to say, I was scared shitless! But in reality, it forced me to become creative. Rather than trying to figure out how to bring in MORE income – because honestly, I really hate marketing myself and doing the hustle – I decided to look at this period from a perspective of how could I spend LESS money without giving up the things I love.
From there, I assessed where I spend the most money, and that was housing! I found out about the idea of house and pet sitting in exchange for housing in the past but never really gave it another thought until I reached this point. I'm SO thankful that I did. It's really added such a rich layer to my life! I absolutely love pets – I'm a cat and dog lover equally – but never felt like I could responsibly have my own pet with this lifestyle.
With housesitting, I get to have pets to take care of as if they're my own, and I get to live rent-free, often in a new-to-me place to explore! How amazing is that! I am now at the point where I am doing repeat sits for my clients, which is great to know that the owner trusts you and that you get to hang with the animals you've already once bonded with!
What are the 2-3 favorite places where you've lived/traveled to and why?
I knew I'd fit right in with Bequia the moment I saw some dude kayaking around the bay with a bottle of beer balanced on his head. Bequia (pronounced Beck-way) is one of the Grenadine islands, just a quick ferry ride away from St. Vincent. It's a tiny island with one of the most laid-back vibes I've ever experienced. Everyone was so friendly. In fact, my snorkeling guide invited me out to karaoke that night, where I also learned how to play dominoes. And I got to live out my lifelong dream of bartending on a floating tiki bar because everyone was so chill and just let me take over! I also loved it because it seems anyone traveling through the Grenadines is on a similar itinerary as you. I met a couple in St Vincent and ended up running into them at a bar in Bequia. We continue to keep in touch, and we plan to meet up again sometime in the future.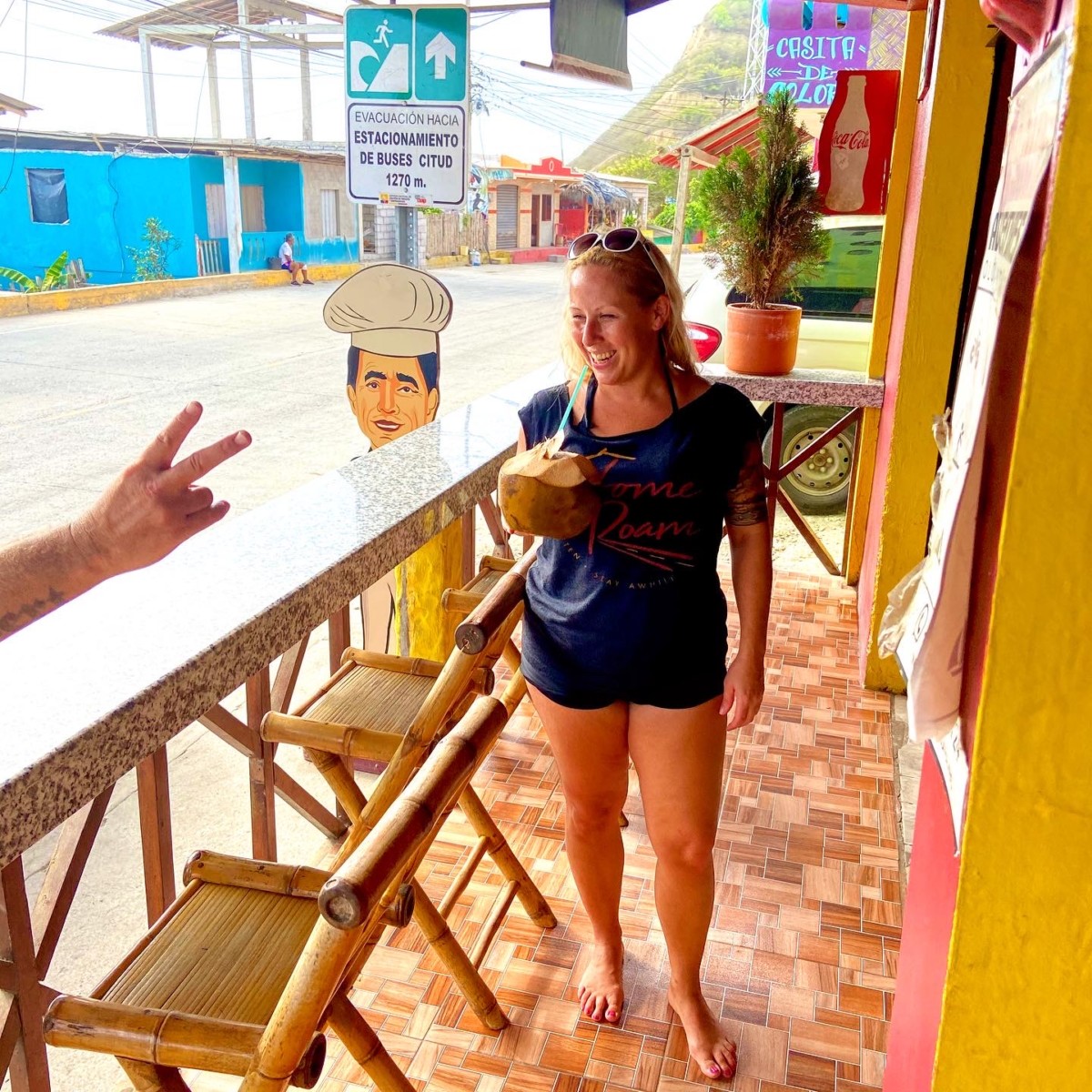 After I sold everything and went full nomad, my first destination was a little surf village in Ecuador called Ayampe. It's a bit of a pain in the ass to get to, but that's what makes it so special and not totally overrun yet. Sometimes I feel bad talking about it and letting the cat out of the bag! I can't believe my first true nomad experience was in a place I would fall so hard for!
It has now become my official January spot because there is simply nowhere more perfect during that time of year. It's a tiny surf village with just a handful of restaurants and a shit ton of yoga and surfing. I stay at La Casa, which is a long-term, non-party hostel, so everyone you end up living with effectively becomes your family. In fact, I met one of my regular traveling companions, who is from Germany, there! It's oceanfront with killer sunset (and all-day) views, and I'm pretty sure I don't wear shoes for an entire month while I'm there. Why would I, if I can literally step outside and be on the beach?
Many people are shocked when I tell them that Albuquerque is one of my favorite destinations. But it's really well-suited for my preferred style of travel – which is, live in a city with all the conveniences of "home" but be centrally located to tons of amazing places for weekend trips. I love that it's still quite affordable for the US and has an incredible beer scene, a quirky, artsy vibe, and tons of local hiking spots.
he Sandia Mountains form the city's eastern boundary, and there's nothing like ending a long workday with a quick hike right in my own backyard, followed by a never-ending choice of breweries to try out. The landscape of New Mexico is so diverse! Drive 2-3 hours in any direction from Albuquerque, and you'll find anything from 13,000-foot mountains for challenging hikes, to canyons so vividly colored you'll wonder if someone painted them, to white gypsum sands so soft you'll sleep so well, to ghost towns with wild dive bars!
I especially love road trips across the US and would consider that my expertise and my travel passion.
What advice would you give to someone who's thinking about nomading?
Honestly, the best advice I can give is to just do your thing and don't compare yourself to other nomads. It sounds silly, but nomads often have so much pressure to prove just how nomadic or worldly they are. Finding your right groove, style of travel, and tempo of travel is key to not burning out in the lifestyle.
My preferred style of travel is to spend 3-6 months in one place to get a feel for real-life there and become a small part of the community. But I did try out the fast-paced lifestyle briefly as well. Last year for the two months before covid hit, I did a Caribbean island-hop, where I was spending an average of two weeks (or planned to, haha!) on each island along my route. Sure, two weeks is plenty of time to see the highlights of a small island while working. But damn, it was exhausting! Just when I finally felt like I was settling in, it was time to move on. Even when I met locals or expats that I wanted to hang out with more, it was time to go.
On the other hand, if that pace is your thing, go for it! Just go at the pace that feels right for you and your own sanity.
Another big thing is that it can be easy to become a victim of indecision. There are definitely worse problems to have in life, but I know so many people who have become paralyzed over making the "right choice" of where to go when all of it is an option, myself included!
In the island hopping trip I just mentioned, I fell into this trap while doing the initial planning. There are SO MANY ISLANDS! How do I choose which ones to go to and when? So I decided to break out of my super-planner comfort zone and implement a rule that would make it exciting.
I knew that my first island would be Barbados because I was meeting some friends there on specific dates. And in order to enter the country, I had to have proof of onward travel. So a couple of days before I entered a country, I would go online and buy the cheapest direct flight/ferry from any given place. Just before I entered Barbados, I went online and found that St Vincent was the cheapest direct travel and, therefore, would be my next stop. And before flying to St Vincent (and the Grenadines!), I went online and found that St Lucia would be my next stop. And then… well, it was supposed to be a ferry to Dominica, but then stupid Covid screwed that plan up!
If you tend to be indecisive, find a really fun way to form some boundaries. A really great resource that I swore by in this whole process was flightsfrom.com. You type in an airport, and it shows all the airports that airlines fly direct from that airport. It also has Skyscanner built into it, so you can easily check prices for any dates.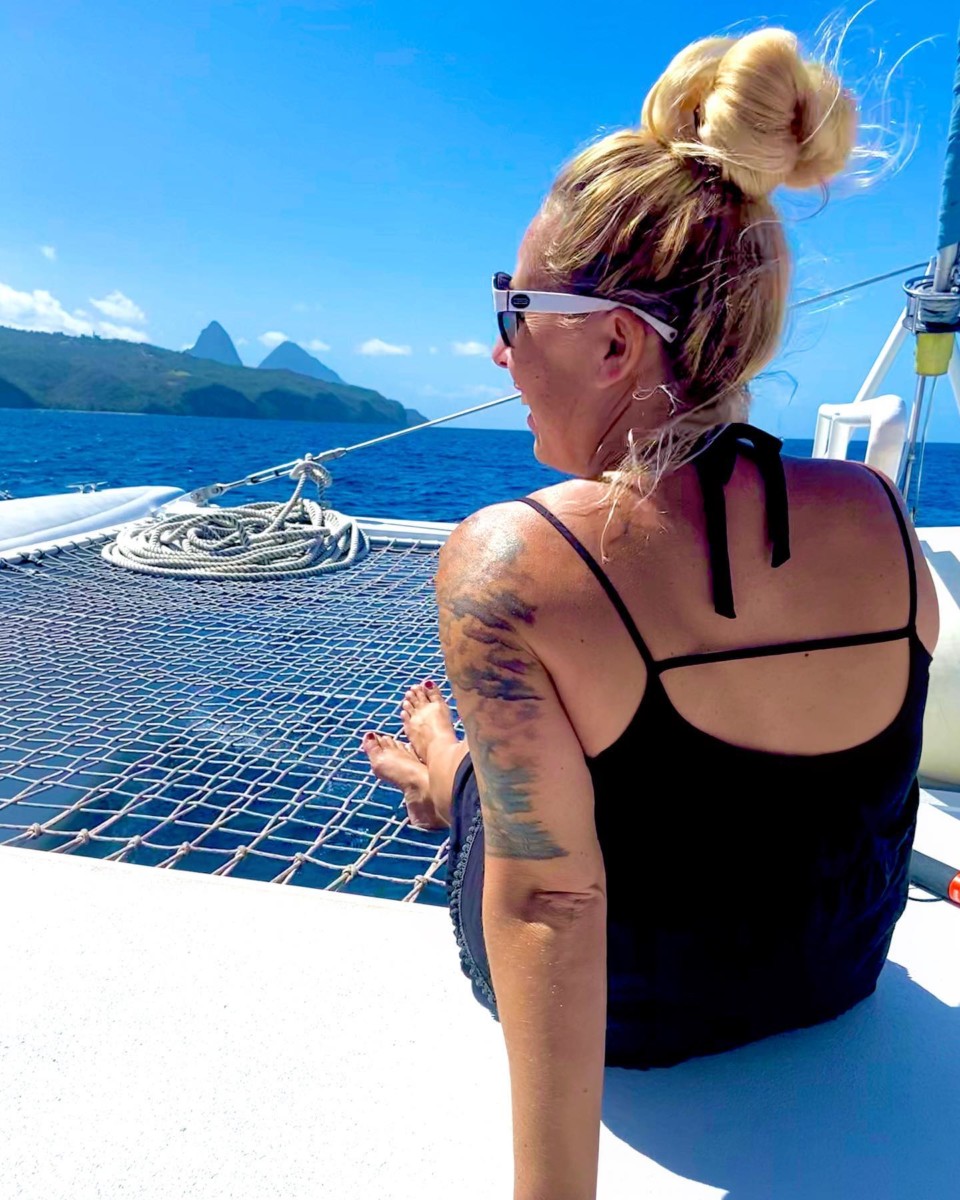 I've lurked on enough digital nomad and solo travel subreddits to know that meeting people is a big anxiety for many. It shouldn't be, and here's why: most other travelers really want to meet others too, and most locals usually like a friendly face wherever they are. I'm not gonna lie; I spend a lot of time in bars and love meeting people that way. It's so organic! Maybe not everyone sitting at the bar wants to chat with you, but I find most folks who sit at the bar are open to a bit of conversation.
I can't even begin to count how many times I've rolled into a bar for just a beer and to finish some work, and 8 hours later, with my new best friends, we were closing the place down!
Finally, my least favorite topic for advice – taxes! If you're from the US and giving up a home altogether but continuing to be paid by US entities, consider becoming a resident of a state with no state income taxes if you're not already. Alaska, Florida, Nevada, New Hampshire, South Dakota, Tennessee, Texas, Washington, and Wyoming are the nine states without it, so if you have ties in any way, such as family or friends, whose address you can use, that's an option.
If not, a few services in these states like Earth Class Mail or Escapees will provide you with a residential address to claim domicile and even scan your mail to you, if needed! Now I'm no lawyer, so I'm not gonna consult beyond that, but it's just a tip to save some money while you're living the location-independent dream.
What is unique about the way you travel, and what advice do you have for someone that wants to travel with a similar style?
Growing older is not unique, but being a digital nomad as a single woman in her mid-40s is definitely not common either! The vast majority of digital nomads that I meet are typically a bit younger, but that doesn't bother me! Age has never really been something I've given active thought to, so it's really only something I consider when someone brings up the topic of age.
As far as I'm concerned, I'm still 26, just with more wrinkles and an earlier bedtime, haha! But the fact of the matter is that at this age, I find you have to be really comfortable with yourself and the life you're pursuing. It's not a typical lifestyle for many folks – single or partnered – in their mid-life, and people are curious!
I've never been married, never had kids, and never found my "forever place." This fact alone blows so many people away, especially in cultures outside of the US. But even in some places in the US, too, I still encounter folks who have a hard time wrapping their heads around the idea of a woman who never wanted to settle down.
It definitely takes some patience when you're asked about it all the time, especially when they assume you must certainly be lonely all the time. It also definitely takes some fortitude when dudes just assume that you're up for grabs. But in the end, I feel like opening the door for conversations about the lifestyle allows me to get a better perspective on other people's life choices. I hope it allows them to see that there are many different ways to live and happily!
As a woman, what should other people who identify similarly (and who haven't traveled much) know about traveling/nomading?
Get in touch with your inner bitch. Don't be afraid to say no and to be rude if someone isn't respecting your space or voice. Of course, personal space is very different in places, but no matter where you go, there are people who don't respect boundaries and cultures who don't respect women. Always trust your gut. There is no reason to prove to yourself that someone is or isn't ok. If you have a bad feeling about them but no evidence proving so, you are not bound to spend anymore time with them. 
The typical awareness rules apply: Find a spot where ever you are that you can see as much of the space around you and be aware of your surroundings. Make eye contact with people – this lets them know you see them and are aware of their presence. Identify and mentally take note of the exits in any place you are. These rules should apply to any aspect of life, not just traveling. The more you put this into daily practice, the more it becomes second nature.
I've been practicing a variety of martial arts (Muay Thai, Krav Maga, and the occasional very white-belt Jiu-Jitsu) long before I was nomading, and I feel like that experience has given me even just the tiniest peace of mind during my travels. I've never had to find out if it's useful in real life, thankfully, and I hope I never have to find out.
I'm not purporting myself as some expert, but practicing as regularly as possible is both an excellent way to exercise as well as gain some sense of mastery over yourself, your movement, and your mindset. And you get to meet lots of great people as a bonus! Especially as a nomad, because you'll be dropping into gyms anywhere you go!
Honestly, I think all of this advice really applies to all genders, but speaking from a solo traveling woman's perspective, I think it's especially pertinent to other women traveling alone based on my own experiences and weird shit I've encountered.
Since launching, what has been most effective to acquire/retain customers and scale your business?
With respect to consulting, I have always been a huge believer in your work being your real marketing. For all my clients that I enjoy working with, I make sure to go above and beyond and figure out what creates the most value so that we can continue the relationship together. For instance, I have one client who I honestly think keeps me around because I can play "bad cop." I say no to their clients and set the stage for the owner to come in, play "good cop," and save the day, and it works like a charm every time! It's also super fun, haha!
I have another client I know from a previous work relationship that has brought me on because they know that I give a shit and will put in the effort for the outcome. 100% show people you care, and that is ultimately the key!
With respect to the Home is Roam brand, it's still relatively young, and it's my goal to really grow it over these next few years. So far, I've had a pretty good response through word of mouth and Instagram campaigns, but that's certainly not enough if I want world domination!
My next stop is diving into the world of digital marketing and SEO. If there are any SEO gurus / digital marketing masterminds out there, please reach out to me! I could really use your help! 
And if you're a budding housesitter, craft a profile that really highlights your trustworthiness, responsible side, and love for animals. And know what your threshold is for the length of stay. Many sites I see on the site are for weekends or a week. That's personally too stressful for me to be bouncing from place to place, so I set my thresholds for a month minimum – and occasionally do three-week ones if they're in the direction I'm headed and/or the owners and pets seem like we'd connect.
I prefer the site Trusted Housesitters for the quality and quantity of sits available, but I use MindMyHouse from time to time. There are a few more sites out there, so do some research and see what seems to fit your style best. (If you go through Trusted Housesitters, be sure to let them know I sent you – we both get a few months free for the referral!)
What scale is your business at today, and what are your future goals?
My ultimate goal is to be able to dedicate 100% of my working time to the Home is Roam brand. I love consulting with great clients with whom I have a good relationship, but my real passion is bringing a brand to life. As a market researcher by trade, I've done this for so many of my clients, and now it's really exciting to have the freedom and fun to make it happen for my own brand!
I would say I average about 10 sales per month right now just based on word of mouth, Instagram, and Google ads, and a handful more whenever I aggressively run Instagram campaigns, but there is so much room to really step it up!
My consulting business has been pretty steady for the past couple of years, and I generally bring in the low six figures, working about 30 hours per week. This past year was a little nuts because everyone went remote and needed extra guidance with their projects, but it seems to be slowing down a little now that the world is getting back to normal-ish. So I'm hoping to redirect much of that energy to focusing more on Home is Roam.
On the housesitting side, I probably spend about half a year sitting currently. But I come with very big goals of becoming the most sought-after housesitter! Since I can't quantitatively measure that through income or clicks, I'll start using repeat sits and cold calls as my early measure in this. By cold calls, what I mean is that a sitter can set their availability on the sites, but anyone looking for a sitter can still reach out to you and ask if you are interested or invite you to their posted sit.
For someone interested in becoming an entrepreneur in your field, what's the best advice you would give? And what books, podcasts, thought leaders, or other learning resources do you recommend?
Speaking from the perspective of an independent consultant, the very first thing you should do is to reach out to all your previous colleagues and let them know you are available. So many companies hire on contract now because it's cheaper for them to do so. If you already have a relationship established with these companies or colleagues who maybe have moved over to other companies, that trust is already built-in. Trust is key when it comes to being hired on for contract work.
Besides already established relationships, Upwork and Angel are great places for folks to start their freelance careers. What I like about Upwork is that they have protections put in place for the freelancer. You set your rate and get paid through Upwork; there is no negotiation other than getting the work. I once had a guy reach out to me for a market research project centered around launching his new product. On a call, we had to explore the work required, and he then tried to talk me into signing a contract directly with him, not through Upwork, and at half my rate! That was a giant nope!
It's a great feeling when you have multiple clients who want to hire you, but it can be overwhelming with the amount of work. Finding boundaries are key, and translating those into a very specific scope of work you develop for a client is what will keep you sane. With retainer contracts, for instance, I first discuss with the client their expectations and what I can provide time-wise. When I write these proposals for work out, I clearly state the actual hours I am being retained for in a month and the hourly rate. If for any reason, I'm asked to go above the hours agreed upon, I provide an "overtime rate." This is great because it generally prevents the client from over-reaching and gives me more money in lieu of the time I was trying to take for myself (or another client).
And with that in mind, time management is so important! It's a skill that has always come naturally to me that I still continue to be shocked by those who don't know how to manage their time. Even after you've nailed down your calendar, your client work, your proposals, and your daily to-dos don't forget to take time out for yourself! What's the point of nomading if you can't take time out to explore?
If time management doesn't come to you easily, check out some productivity tools out there. There are tons of free ones like Trello, ClickUp, Monday.com, Todoist, and of course, the old pen and paper for your to-do list. I'm also happy to help guide you through these and maybe even get you set up, come over to my site and shoot me a message, and we'll see what we can make happen.
What digital tools do you use for your work/business?
All the usuals! For my consulting work, I use whatever the client uses – which generally means Slack, Google Suite, Zoom. 
I use Squarespace to build the Home is Roam site, which is great for a non-technical person. It's very user-friendly, with beautiful designs. I'm starting to play around with some apps for Instagram, like Canva and Unfold, that provide a more professional and polished vibe for stories. 
In reality, my notebook and pen is my most useful tool. I'm pretty old-school like that, but I have a great memory for things when I actually write them down. I create daily to-do lists that make me feel so productive when I can cross tasks off with my pen. I also feel like I can think more creatively when I'm writing out things rather than staring at a screen. It's nice, too, because I can ditch the screen for a while and still get work done!
If you only had a few minutes to live, what are the most important life lessons you would share with the world?
Rejection is temporary, not trying is forever. Want to try something out? Give it a whirl! Who cares how dumb you feel or how someone responds. The worst thing that will happen is someone won't like your idea. Maybe they give you shit for it. Not your problem. A corollary to this is something an artist friend once told me: "I make art that I love because if no one else loves it, at least someone does."
Also, have fun and be kind. 🙂
What small change has made a big difference in your life?
Ok, this is going to sound so nutty, but really it's just smiling more. For so many years of my life, I walked around with a big wall up, not wanting to make eye contact with strangers on the street because that's just weird! But over time, I began a habit of starting every day off with a morning walk. And on it, I smile and say good morning to the people I pass, and it really sets the tone for the day. People are usually quite receptive to it, and getting a smile back helps elevate your mood.
I also find that having the smiling attitude also yields great benefits, like getting better service in a restaurant, or a free drink at a bar, or an unexpected compliment from someone that makes you feel good. 
I remember many years ago, when I was living on a tight budget, I called up the cable company to cancel my cable because I didn't really use it anyway. The guy on the other end of the line asked me why I wanted to cancel. I told him I was feeling broke and didn't want to spend my money on something I didn't use. I'll never forget his response: "You know what I do when I'm feeling broke? I put on my best suit and go strut down the street like I own the place!" Now while that certainly didn't change my decision on canceling the cable, it sure gave us both a good laugh.
I loved his attitude and realized I needed a bit more of that perspective in my life. 
Tell us about a deep passion of yours! What has your journey been like, and what advice/resources would you recommend for someone interested in learning more about this topic?
I am a total craft beer nerd. You name the style of beer, and I love it, though I tend to go through phases of what style I drink the most of. Right now, it tends to be really low ABV lagers and session IPAs that are refreshing and easy to drink.
The vast majority of my road trip and weekend trip adventures are centered around finding a great hike and a brewery to treat myself post-hike. What I love about beer tourism is that it's really easy to connect with like-minded folks. There are plenty of meetup groups, beer tasting groups, and bike and brewery rides out there.
It's also super fun finding a really far-out-of-the-way brewery and taking in the local culture through beer. I used to be a pretty serious runner back in the day, and I would specifically choose cities to run marathons based on their beer scene!
There is a program similar to the wine sommelier certifications for beer called Cicerone. When I worked for the alcohol retailer mentioned earlier, one of the benefits was they would pay for this kind of training. I made it to the first level – Certified Beer Server – before I left the company. I still have it in my plans to move through the program and up the ranks when I have a little more time on my hands. Those exams are no joke! And it wouldn't really be for much other reason than for my general improved knowledge. 
But there is so much out there! I think it can be a little intimidating for folks who don't know anything about it, and my advice for that, just ask questions and start tasting!
What do you travel with that you couldn't imagine traveling without?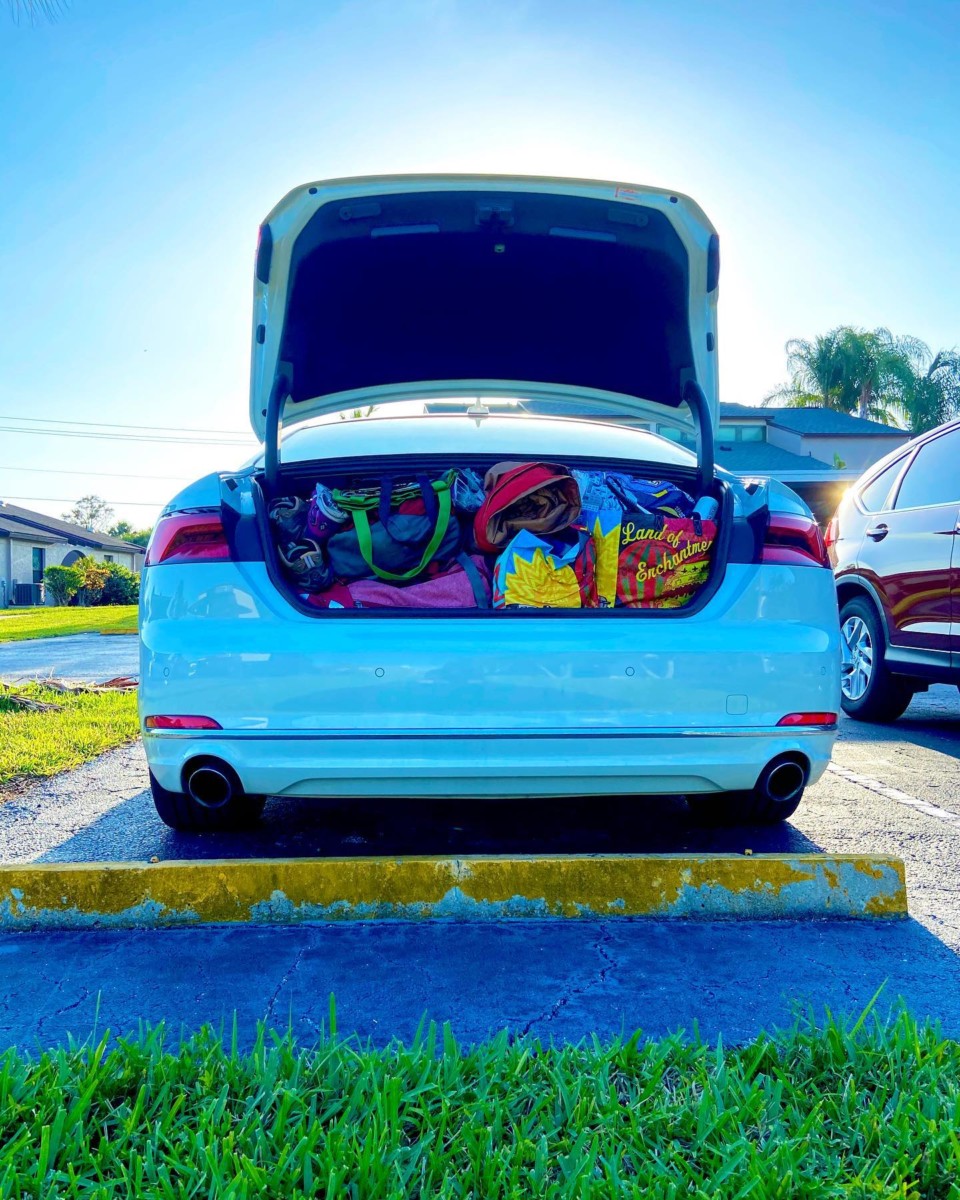 Obviously, my computer is the number one item on the list! But I'm pretty sure anyone reading this – it goes without saying! Don't forget a universal power adapter!
I'm a bit of a minimalist and don't like having a lot of stuff. Everything I own fits in the trunk of my car, so I have to choose wisely what I travel with. And whenever I travel overseas, I'm sans car obviously, I limit what I have to two carry-ons. So I really have to choose wisely!
When I travel by car, I have a great collapsible cooler that I carry a few kitchen items in. One of those items is a French press. Believe it or not, I've ended up in some places where they didn't have a coffeemaker! Who does that??
Martial arts gear can really take up a lot of space, so I don't want to lug it around with me when I travel overseas. But I never travel without a pair of hand wraps. This way, I can still train and protect my hands and wrists. While I won't spar like this, I can still drop into gyms where I can at least hit some pads and bags and feel somewhat more protected.
What's your favorite book and why?
I think everything I read is my favorite book at the time; I get sucked in so easily! I just finished reading The Good Hand by Michael Patrick F. Smith, and I could so easily see myself as him! Leaving his cushy white-collar job and life in NYC to go work the oil fields in North Dakota is not just a personal adventure, but all the wild personalities he met along the way added so much depth. The way he allowed himself to integrate into the culture and genuinely become a part of it but still retain his own beliefs and truths is not something people can do very easily.
I've always had this dream of working odd jobs that are unique to an area, just for the experiences I would have! He took it to the next level with an incredibly compelling story to tell about a life that most people would find mundane.
How can people learn more about you and your work?
Check out homeisroam.com! I update my whereabouts weekly in my blog, highlighting the best parts of where I'm exploring and what I'm doing. I have a section devoted to tips for new and seasoned digital nomads alike. And, of course, it's where I sell great merch for nomads!
Follow me on home.is.roam on Instagram. I started a #photoaday project back in 2013 before I even started nomading! I started it with the intention of becoming more observant and mindful of my surroundings, big and small. After eight years of daily photos, it's become a really cool documentary of my crazy life! Warning: there might be too many sunrise and sunset photos because I'm a total sky geek!
If you've made it this far and would like a free sticker or mask, come on over to my website and shoot me a message with your mailing address!