Note: This post may contain affiliate links which means if you click on a link and purchase an item, we will receive an affiliate commission at no extra cost to you.
Remote work is currently undergoing a massive boom, with lots of people deciding to freelance, go solo, and work remotely in various sectors.
To understand and analyze the trends surrounding the change, freelancing community Contra recently published the results of their first (but probably not last!) State of Independence.
Unless you want to read a 67-page report for fun, we've made things simple by bringing you the stuff that matters.
Key Points, Before We Dig Deep:
Contra interviewed 10,000 so-called independents ("people who work for themselves while they carve their own career path"). Interviewees were made up of people who work in design, engineering, writing (

like me

), content marketing, social media, and products.

Each interviewee earns at least $70,000 annually.

Contra focused on interviewing people who freelance largely because of the freedom it provides, not because of the money it offers. And as you've probably worked out from the name of this site, freedom is what we're all about.
Here's what they found…
How Much Work Do Remote Workers Really Do?
Probably a lot less than people who are employed in the traditional sense.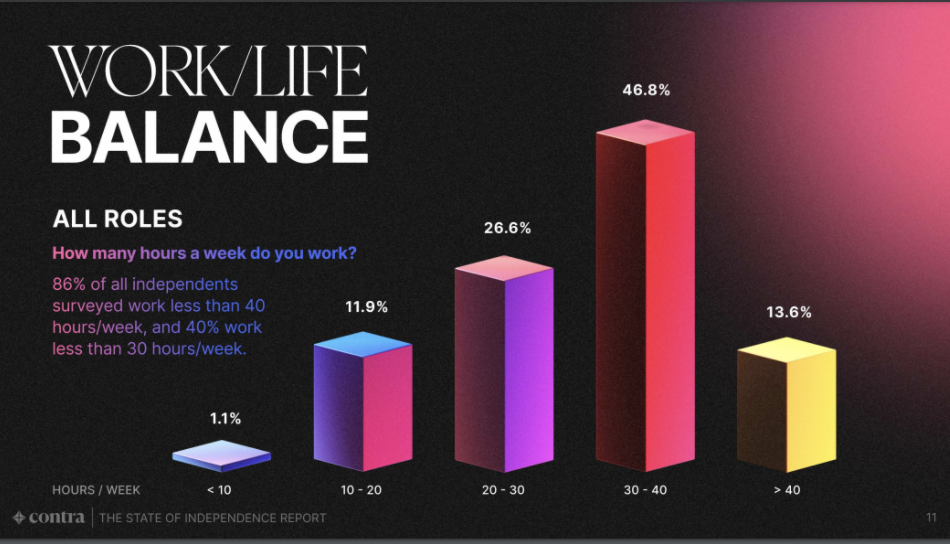 86% of all independents work less than 40 hours a week (the dream!), while 40% of all independents work less than 30 hours a week (the real dream).
The independents who do the least work are writers. A whopping 52% of writers work less than 30 hours a week, while 90% of them work less than 40 hours a week. 
The hardest-working freelancers are those making their money in content marketing. 80% of them work less than 40 hours a week, but a surprising 20% work more than 40 hours a week. Give it a rest, guys.
When Do Remote Workers Work? And How Many Projects Do They Work On?
Remote workers have tapped into something intelligent: no more obligatory 9-5, no more hours set by a manager you've never even spoken to, and no more unnecessary or unwanted overtime.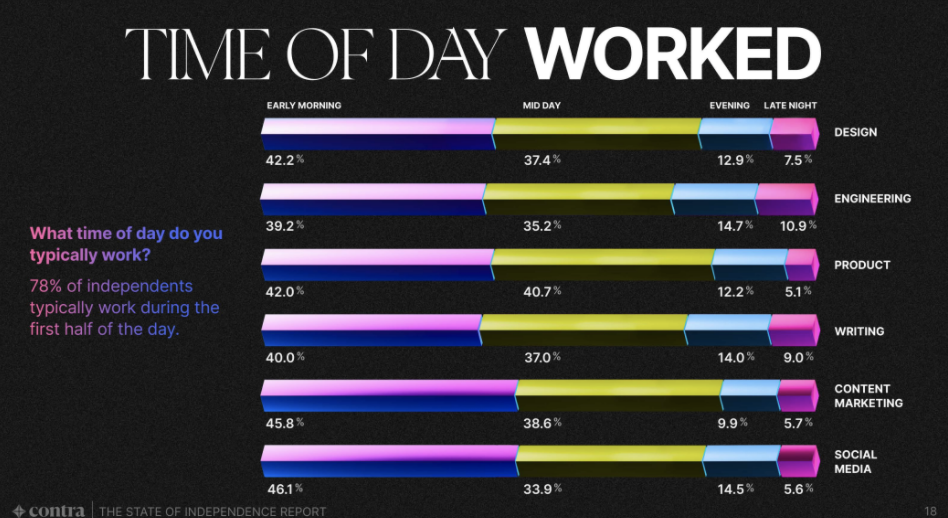 Most remote workers use this freedom and flexibility to work early—78% of all independents work in the first half of the day, leaving the afternoon free to do something productive, or sit around watching Netflix in their underwear.
Independents can also decide how many projects they take on. Engineers typically work on 2 projects at a time, while those working in content marketing and social media typically work on 4 projects at a time. The rest typically all choose 3.
How Do Remote Workers Charge?
Engineers are most likely to charge per hour (74.7% of the time), while writers are more likely to charge flat fees per project (60.6% of the time).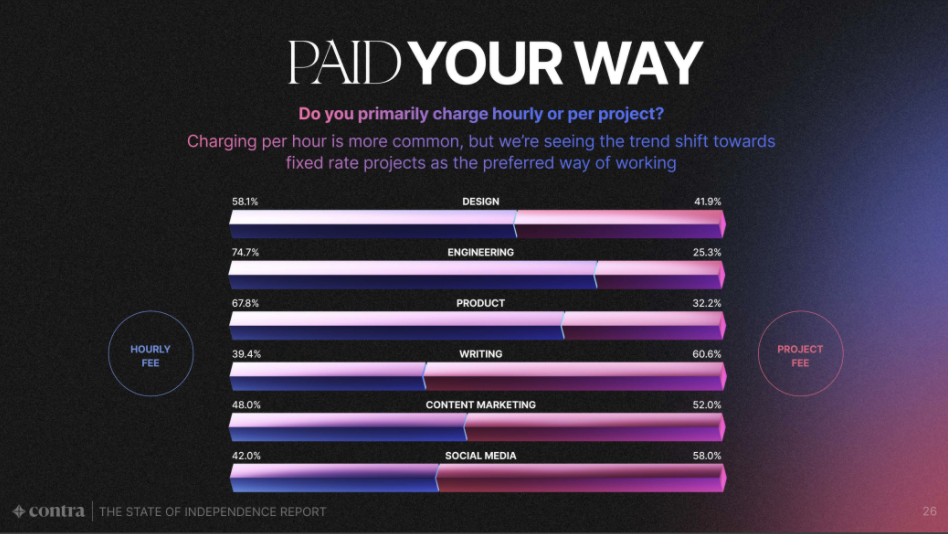 Overall, charging per hour is more common, but the trend is beginning to shift towards flat-rate fees. 
Alright, I Want to Be a Remote Worker, What Do I Need to Learn?
Here's the stuff you really care about:
Designers are largely making their money by making things easier. 9.5% are using their skills in user experience, while 9.1% are working on user interfaces.
Engineers are making most of their money by using tools I'll probably never understand, such as React (14%), Javascript (10.5%) and Node (9.1%). 
People working in product are also making most of their money by using flash, fancy tools. Top tools include Agile (24.9%), Scrum (20.6%) and Kanban (12.9%). 15.7% are working on mobile tech.
Writers are usually making their money by blogging (12.6%), copywriting (7.9%) and working on social media (5.7%). 
People working in content marketing are currently making most of their money through outreach. The two big winners here are social media (9%) and growth (8.8%). 
Social media players are largely making their money by working with Instagram (14.4%), Facebook (9.9%) and Twitter (9.6%).
The Most Useful Platforms
Independents listed the most helpful platforms for enabling their lifestyle as remote workers.
First, there are the "legacy" platforms that are well-known and have been around for awhile.
Secondly, there are also the new and upcoming platforms that independents are using:
Final Thoughts
Interesting and inspiring stuff! 
If you want even more juicy motivation, check out the full report here. It includes plenty more information and statistics, including stuff about tools, helpful platforms and future projections. It even has some inspiring quotes, if you're into that sort of thing. 
Thanks for reading!