Note: This post may contain affiliate links which means if you click on a link and purchase an item, we will receive an affiliate commission at no extra cost to you.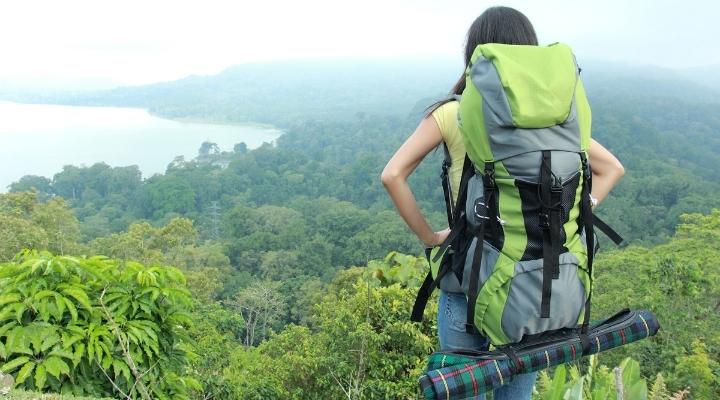 It's time to hunt for the perfect travel bag! Something that's durable, large enough to hold your essentials but not too bulky, looks great, and gets you compliments whenever you wear it.
The right travel backpack should be compatible with any mode of transportation you use including planes, trains, or buses. You may even want to take it hiking!
Lucky for you we've researched extensively so you don't have to. Here are our favorite women's travel backpacks for all types of adventures!
Buying Guide: How to Choose the Best Travel Backpack for Women
When it comes to choosing the right backpack for travel, there are a few things to consider. Size and weight are important factors, but so is functionality. A good backpack should be able to hold all of your essentials while also being comfortable to wear.
There are a number of different travel backpacks on the market that fit these descriptions, so it's important to do your research before making a purchase.
1. Type
Picking the best type of backpack for your next trip depends on the length and type of trip. Before you travel, it's crucial to identify your goals during your trip and the purpose of your chosen pack to make travel easier for you. There are many choices, from big travel backpacks for long trips to day packs for your digital equipment to carry-on bags for international trips.
2. Size
Most travelers pay more attention to this factor because they consider it essential. Aside from considering how big or small it is or how many liters the travel pack has, you must also consider a size that fits your back comfortably and looks flattering.
3. Straps
This feature might be insignificant for some but a game-changer for most travelers. Picking a travel bag with great straps allows you to have the most comfortable trip. It'll help you prevent back strain no matter how big your travel pack is.
Picking a bag with padded straps can make your travel pack feel weightless. Plus, you can prevent shoulder bruises. You can also opt for a travel pack with a chest strap. It helps in distributing the weight of your travel pack across your body.
4. Padded Hip Belt
The weight of the travel backpack you're carrying is no joke. So, it's vital to consider getting a travel pack with padded hip belts to ensure equal weight distribution throughout your body. The beauty of your backpack wouldn't matter if it causes pain to your back, so consider getting one with a hip belt to ensure comfort throughout your trip.
5. Carry Strap
Who doesn't love a flexible travel backpack? With carrying straps, you can transform your pack into a shoulder bag, saving you from the hassle during plane trips. 
6. Frame
Avoid big travel backpacks with outer frames since they add to the bag's weight and are useless. In addition, these backpacks often have big poles sticking out. Instead, pick backpacks with internal, lightweight frames. If you opt for a small backpack or day pack, you may not need frames at all.
7. Compartments
Having a travel backpack with lots of compartments is very useful. Don't choose travel backpacks with a single compartment since it'll be hard to organize your things. With multiple compartments, you'll access essential items such as your cell phone or wallet. Your things won't be squashed at the bottom of your bag.
The ideal number of compartments is one big compartment, which is lockable, and an average of three smaller compartments. If you're traveling with a laptop, we advise you to get a travel backpack with a laptop compartment for extra protection.
8. Material
Most travel backpacks are made of water-resistant fabric. Consider getting a water-resistant travel backpack to protect your things from harsh weather conditions. It's ideal to pick a bag that uses lightweight and quick-dry fabric.
9. Weight
Less weight means more luggage allowance, especially for carry-on backpacks. So, it's ideal to pick a lightweight travel backpack. And considering that you'll be carrying it for a long time, a lightweight travel backpack will guarantee comfort on long trips.
10. Usability
Traveling has stressful moments, but clamshell designs make situations easier for travelers. It gives you easy and quick access to the main compartment of your travel backpack, so you don't have to rummage around violently anymore. Choose a travel bag with small pockets, lockable zippers, and compression straps to ensure convenience and protection.
11. Durability
Pick adventure-themed travel bags with separate rain covers for additional protection. Durable travel backpacks use waterproof fabric to stand the test of time and withstand abrupt weather changes.
35 Best Travel Backpacks for Women – Stylish, Versatile, & Flight-Approved
Go to work or travel without worries with this functional carry-on backpack. It can quickly transform into a duffel bag so you can carry it however you want.
You can also tuck away the contoured well-padded backpack straps. Plus it's made with air mesh so you can travel comfortably.
If traveling with a partially packed bag, use the compression straps to provide maximum compression and prevent the contents from moving around.
No matter how long your journey will be, you don't have to stress over boarding passes again. With its front organizer pockets, you can easily access your travel essentials such as your passport, wallet, and cellphone.
Pros:
Versatile carrying options

Spacious main compartment

Accessible compartments for smaller items

Adjustable sternum strap

Flight-approved size
Cons:
No water bottle side carrier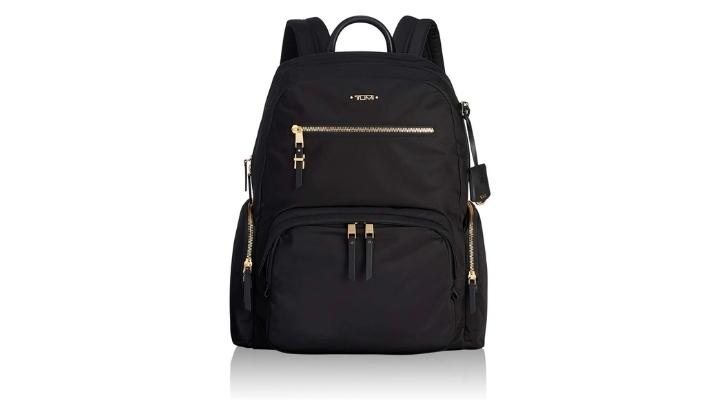 The Voyageur Carson Backpack is the ideal combination of functionality and fashionable style. It's incredibly versatile, so you can simply roll up the bag and store it in your suitcase when you're not using it.
And when you are, it'll unfold as if it was brand new. Your daily essentials, as well as your laptop and a change of clothes, will fit comfortably in this bag.
It's compact and lightweight, and it includes a water-resistant water bottle pocket, as well as a phone pocket with easy access, making it the perfect choice for when you're on the go. Design with a clear purpose and functionality, but without sacrificing style in the process.
Pros:
Versatile backpack

Easy to clean

Lightweight

Padded laptop pockets

Foldable 
Cons:
Even though many attractive options are on this list, we believe that the Matein Backpack is the best option for women traveling with their laptops. Its competitive price makes it easy for customers to find a backpack that they enjoy carrying without leaving a hole in their pockets.
You can work from anywhere with its spacious laptop compartment that can hold your 17-inch laptop. Go through airport security without the hassle since you can unfold the laptop compartment quickly.
Pack all the travel accessories and school supplies you need without worrying about the lack of compartments. Plus, you can even charge your phone while walking with its built-in charging cable.
It features a comfy back design with thick but soft multi-panel ventilated padding, giving you maximum back support. In addition, the breathable and adjustable shoulder straps relieve the stress from your shoulders and prevent back strain. Also, you wouldn't have a problem carrying it with its padded top handle for a long time.
Made of water-resistant and durable polyester fabric with metal zippers, you'll expect to use this travel backpack for a long time.
Pros:
Lightweight 

Large capacity

Front organizer pocket with removable key clip

TSA friendly 

USB charging port access

Water repellent polyester fabric
Cons: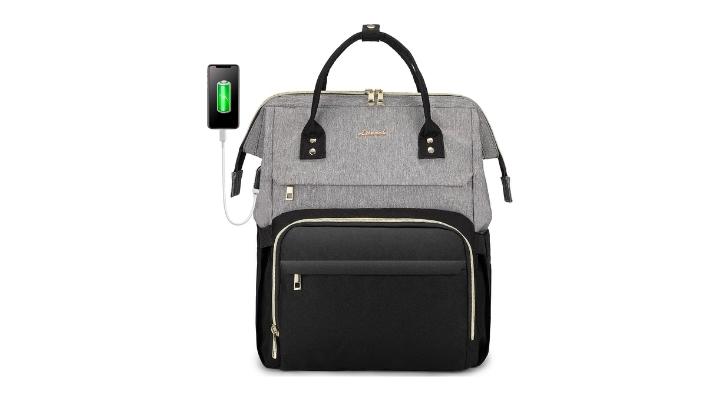 This is the go-to travel backpack for people who want to go on business trips with style. With a dedicated compartment for your 17-inch laptop and other gadgets, this travel pack will allow you to work from anywhere.
Its 28-liter capacity would give you enough room for all your essential needs. Plus, it has a built-in USB connector that'll enable you to charge your phone on the go. You won't worry about losing your valuables with its anti-theft pockets located at the back of the bag.
If you have an extra suitcase, you can use the backpack's front strap to attach it to your suitcase for added convenience while boarding. You'll have fun traveling with the LOVEVOOK Business Travel Bag because you'll forget that you're carrying a hefty laptop.
Its padded and breathable shoulder straps lift the burden from your shoulders and ensure maximum comfort. Plus, its adjustable straps will make the bag have a tailored fit on you.
Pros:
Features a USB charger

Multiple pockets and compartments for packing

Anti-theft pocket for valuables

Comfortable shoulder straps

Suitable for strapping on traveling case
Cons:
Not ideal for stashing traveling cloth change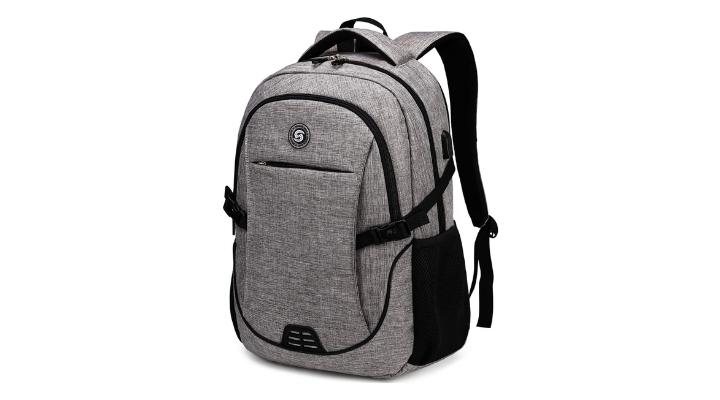 Since you'll be spending a lot of money on your trip, you don't have to worry about spending too much on a high-quality backpack. With the SHRRADOO Anti-Theft Laptop Backpack, you get anti-theft properties, a dedicated laptop compartment, and a protective design. At best, it can fit a 15-inch laptop, including your gadgets and chargers.
Its padded shoulder straps and padded back for lumbar support come with a comfortable and breathable mesh design to let you forget that you've brought your massive laptop with you. Additionally, you don't have to wait to get to your hotel to charge your phone. With its built-in USB charger, you can set up your smartphone or tablet while still on the plane.
Pros:
Great size 

It comes with a lock for the zippers

Straps are very comfortable

Side pockets can fit a water bottle

Luggage attachment panel
Cons: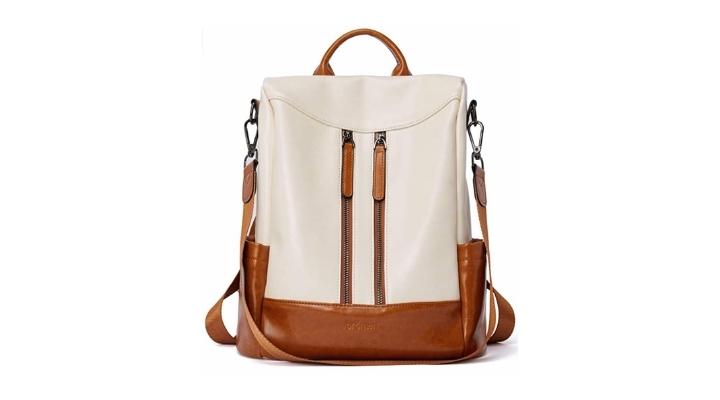 You'll love how flexible the Bromen Leather Backpack Purse is. The removable strap allows it to transform into a backpack purse, a top handle bag, or a shoulder bag. It's perfect to pair with different outfits you'll wear throughout your trip.
Made with high-quality vegan leather, metal buckles, and a heavy-duty U-zip opening design, you'll be using this backpack purse for a long time. Plus, it guarantees to protect your valuables with its anti-theft plan.
This lightweight backpack may be used as a trip daypack or shopping bag to carry your daily or short trip supplies and keep your daily items well organized. It's the perfect backpack purse for travel, work, and everyday life.
Pros:
Water-resistant backpack  

High corrosion resistance

Effective anti-theft design 

Lightweight
Cons:
The color of the inner fabric makes it hard to see things inside the bag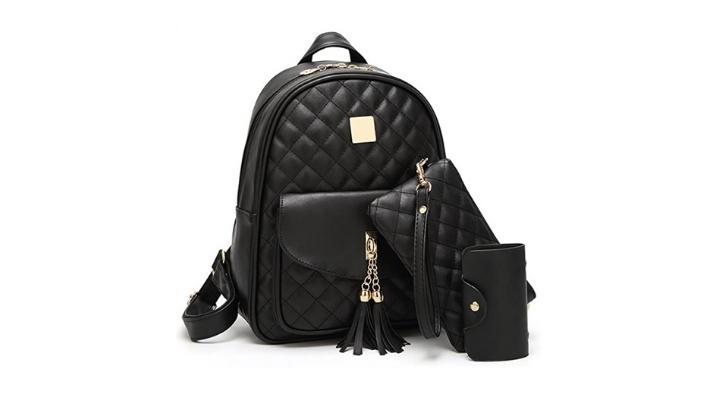 Own a trendy backpack that turns heads around!
With the I IHAYNER Backpack's grained design and tassel decor, you'll leave an impression that you're fashionable and up-to-date. This bag will make you the most attractive among the crowd.
It has a spacious main compartment, internal main pocket, internal backside zipper pocket, internal mobile phone pocket, and external front open pocket that can hold your iPad, phones, umbrellas, wallets, and other daily necessities.
Also, this versatile backpack is perfect for many occasions like schooling, traveling, shopping, gathering, and hiking. Its size is ideal for your daily use. You won't feel burdened as it's lightweight and adjustable. In addition, its high-quality hardware will last you years of service.
Pros:
Comfortable

More stylish than most mini fashion backpacks 

Soft leather that doesn't look cheap

Water bottle pocket 
Cons 
The Osprey Renn 65 will make your backpacking experience more meaningful. It'll carry all your needs and keep them safe while you enjoy the wonders of the world. You don't have to worry about sweating too much because this backpack is lightweight and well ventilated.
An integrated rain cover also protects you from the rain and it can be stowed in a pocket when the sun shines again.
Thoughtfully designed to fit a woman's anatomy, it features shaped and contoured shoulder straps. Plus, the adjustable back panel suspension lets you tailor your pack to your torso length. 
In addition, the LightWire frame transfers loads to the hip belt, taking the pressure off your shoulders and delivering a stable, comfortable carry.
Pros:
Has a rescue whistle

Side hip pockets

Best for 5-day backpacking trips

Easy to load

Adjustable back panel suspension

Integrated rain cover

Zippered sleeping bag compartment
Cons 
Top flap items fall out if you forget to zip it
We love the minimalist style of the Away Day Pack! It keeps your mind away from the unnecessary and shifts your focus on packing like a pro.
This sleek and hands-free pack features a front side-access pocket with interior zippered compartments for your essentials. You can also fit your 13" laptop inside its padded laptop sleeve for added protection.
Thoughtfully designed, its main compartment has multiple slip pockets and a secure key clip to keep you organized. Its comfortable straps let you travel without stress, while its handles allow you to hold it like a suitcase for a safe ride. Made from water-resistant nylon and leather trim, you'll surely use it for years to come.
Pros:
Water-resistant nylon

Easy front side-access zippered pocket

Easy to clean

Comfortable 

Lightweight
Cons:
Relatively small

It fits up to 13-inch laptops only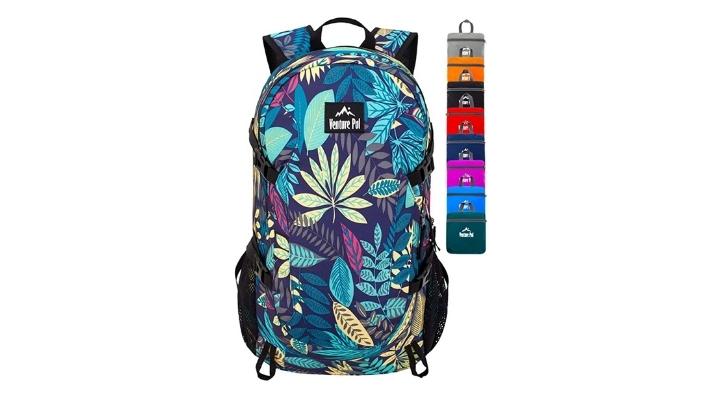 Whichever trail you follow, you'll stand out with the Venture Pal Lightweight Hiking Backpack. This lightweight backpack has helped hikers feel comfortable and light whenever they hike. This 0.7-pound bag is also foldable and can be packed in its pocket for storage.
With its durable, water-resistant fabric, you won't worry about it getting damaged throughout your wild adventures. Plus, you won't have a hard time packing your things because of the bag's large capacity.
Pros:
Fair price point

Double-layer bottom

Great for light packing

Breathable mesh shoulder straps

Waterproof pocket

Padded shoulder straps
Cons:
Relatively more minor than most hiking backpacks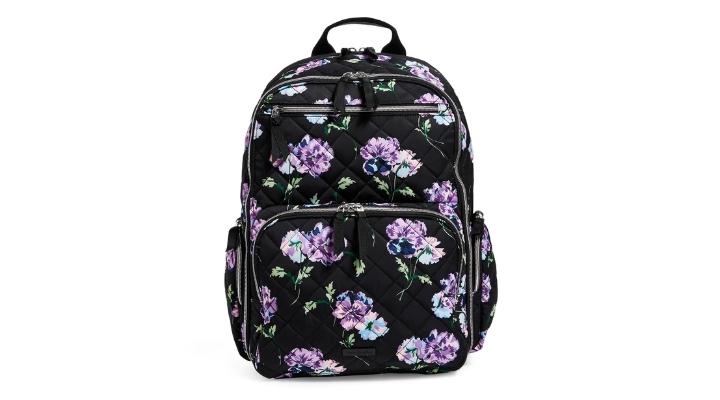 This is your perfect companion during long commutes. Made from water-repellent polyester, your belongings are protected from the dangers of the great outdoors. Whether you bring your 15-inch laptop to school or work, this commuter backpack keeps it safe inside a padded laptop compartment.
You'll never complain about back strain ever again because the Vera Bradley Commuter Backpack has padded shoulder straps for maximum comfort. You'll be surprised with how fresh you feel even after long walks because of the back panel and trolley sleeve that's made from mesh.
Its main compartment has a large gusseted pocket, two mesh slip pockets, one zip pocket, and one water bottle pocket. Pack like a pro with its hidden cellphone pocket and curved zip pocket containing two pen slips, one slip pocket, one mesh slip pocket, and one zip pocket.
Pros:
Padded shoulder straps

Document slip pocket

Back panel and trolley sleeve
Cons: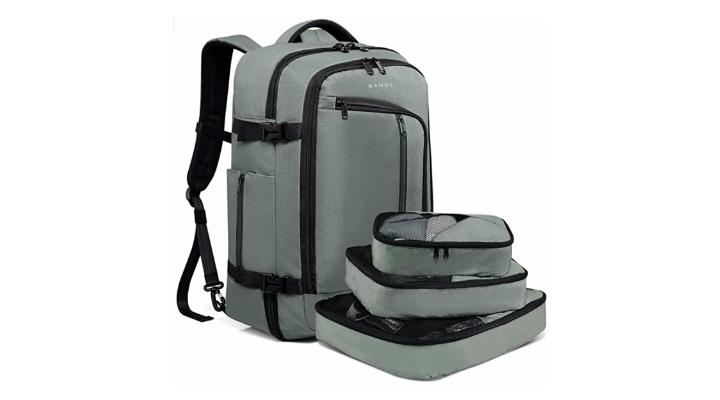 The BANGE Overnight Backpack is blissfully adaptable to your short vacation needs and packed with features you'll love. Whether on a business, overnight, or weekend trip, it'll keep your items, especially your 17-inch laptop, safe and dry with its long-lasting, ultra-durable water-resistant fabric.
This all-purpose backpack has a whole zip opening for easy packing. Plus, it has a special pocket for your water bottle to keep you organized and hydrated. With its padded shoulder straps, you'll experience ultimate comfort while carrying it.
Pros:
Large capacity

Lightweight and breathable

Convenient traveling tote

Multiple zippered quick-access stash pockets

TSA friendly 
Cons:
The side hand strap isn't durable
The Dinictis Large Travel Backpack's spacious interior is lined with water-resistant polyester fabric and can be filled with clothes and daily necessities.
In addition, it has separate compartments for laptops, notebooks, and tablets, all protected by a sponge pad, as well as a flat compartment lined with fleece to protect the screen. Plus, it has a wide opening that enables smooth access to these items.
The versatile front pocket accommodates small mobile phones, keys, pens, documents, glasses, and more. The inner mesh compartment is accessible for small items such as make-up and toiletries.
It also has an adjustable side pocket for water bottles and umbrellas. This backpack complies with flight regulations and can be stored under your seat or in the overhead compartment.
Pros:
Large capacity

Versatile front pocket

Scratch-resistant 

Water-repellent polyester
Cons:
Discover freedom from stressful trips with the JanSport Field Pack. The size, the looks, the price – everything about this backpack just seems right for your next trip.
Whether you're touring the world or camping in your backyard, you need to get this backpack for ample storage and built-in organization.
With a traveler's proper hydration kept in mind, the Field Pack was designed to carry water bottles. With a pair of fully enclosed water bottle pockets, it'll take good care of your water supply throughout your trip.
Pros:
Dedicated zippered laptop compartment

Organizer compartment

Water bottle pocket

Padded back panel

Comfortable

Roomy
Cons:
Made from cheap materials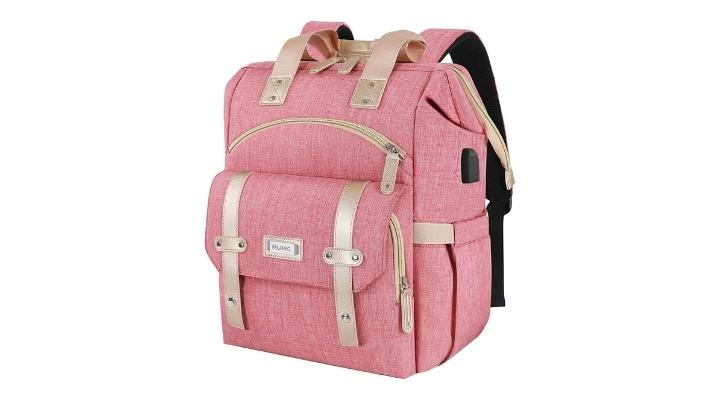 The FALANKO Work Backpack is your best companion. If you want to go out to play or go to the gym during the holidays, you can take umbrellas, glasses, clothes, towels and water bottles with you.
With its 20L capacity and anti-theft zipper, you can also bring your mobile devices, 15-inch laptops, telegrams, office documents, pens, and cosmetics without worrying about them getting lost.
Made of durable, water-resistant, and environmentally friendly materials, this lightweight backpack lifts the weight off your shoulders as you go to work in the morning. And as if that wasn't enough, its padded back panel and adjustable shoulder strap provide ultimate comfort.
Pros:
Sturdy metal zipper

Wide-open design for easy access

Convenient USB port design

Anti-theft back pocket

Made from environmentally friendly materials

Built-in keychain
Cons:
Uncomfortable shoulder straps
If you're looking for a fashionable bag, this is it. This bag is a must-have in your collection. The Herschel Nova Backpack Mini will help streamline your packing process to include only the essentials. Featuring slim shoulder straps and practical dual top carrying handles, this backpack makes a fun and modern staple for your day-to-day adventure.
With a front zippered pocket, you can get your keys, phone, and other things. The Nova Mini also comes with an internal storage sleeve to keep your daily necessities in order. The Nova Mini Backpack is made of polyester, which is very strong and durable. It's made to last through every trip you take it on, no matter how long. This style was made to be a wardrobe must-have with a classic look and modern touches.
Pros:
Easy access

Slim shoulder straps

Made with durable polyester fabric

Comfortable to carry
Cons:
The Tropicfeel Shell Backpack can be used as a daypack, weekender, or full-blown travel backpack. You can keep it small for everyday use, but you can also attach extra modules to make it bigger.
It's an ultra-versatile, multi-size backpack with a lightweight, weatherproof, and minimalist design that's easy to carry.
It has a clever clamshell opening that makes it easy to pack and open like a suitcase. It doesn't take up a lot of space because it doesn't have a lot of extra parts. You can use this backpack for a long time, from your daily commute to work to long-distance travels across the globe.
Pros:
All-in-one design

Transforms from a daypack to a full travel backpack

Kangaroo pouch for shoes

Weatherproof
Cons:
Tech pouch is awkwardly placed
Ladies, if you want to spice up your travel experience, here's a backpack that can do the magic for you.
The Osprey Porter 30 has the comfort of a pack with the simplicity and storage space of a duffel bag. Made with recyclable fabrics, it comes in an attractive, durable package. Having padded sidewalls protects your precious valuables. It also includes a laptop compartment for added protection.
Whether you're tossing it in the trunk, shouldering it on a train, or taking it on a plane, your things are kept in place by compression straps. And when you don't need it, you can easily put it away.
Pros:
Carry-on friendly

Locking zippers

Front full panel zip

Spacious

Top pocket for easy access
Cons:
You won't run out of space with the Fuel Top Load Backpack. With a sizable main storage compartment, it offers enough room for your laptop, clothes, sporting equipment, and plenty more.
You'll enjoy traveling because the extra padded back and straps will prevent you from getting bruises and back strains.
What's unique about this is the tech smartphone pocket on the top allows for easy access to your gadgets, and the interior organizational pockets make sure nothing is misplaced inside the bag.
Pros:
Spacious main zip compartment

Ergonomic padded mesh breathable back

Adjustable padded shoulder straps

Fits most 15" laptops

Easy-glide zippers
Cons:
Limited lifetime guarantee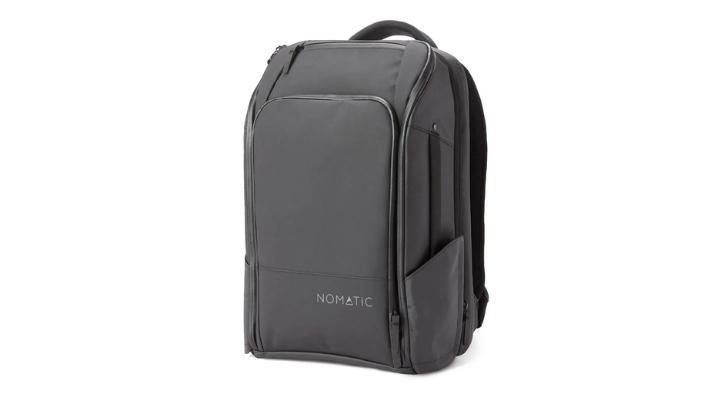 The Nomatic Travel Pack will change the way you travel. With the best clamshell opening out there, you can be confident that everything's well-organized.
Get easy access to your travel essentials without worrying about messing up your stuff ever again. It can be used for daily carry and expands from 20L to 30L to add the things you need for your weekend trip.
This backpack was designed for everyday use and shorter 1-3 day trips. Made with durable, water-resistant materials and YKK zippers, long-lasting protection for your travel gear is ensured even for years to come.
In addition, travelers love how feature-rich this pack is. With its full perimeter zipper, magnetic water bottle pockets, RFID safe storage, and hidden pockets, they consider it the most functional travel pack ever!
Pros:
Magnetic water bottle pocket

Retractable key leash

Roller bag sleeve

Top access pocket

Mesh divider

RFID safe pocket
Cons: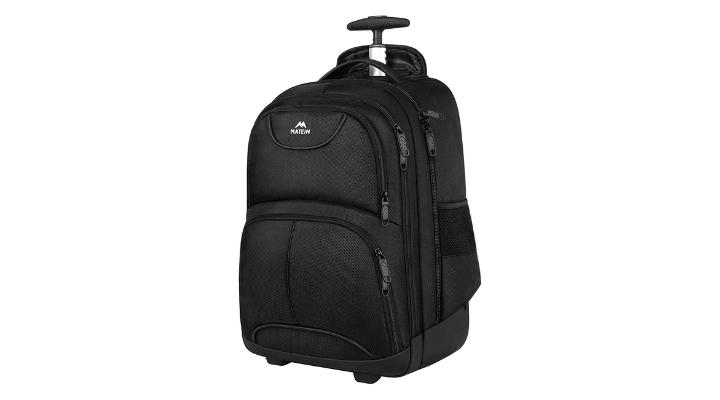 Tired of carrying a backpack? Give your shoulders a break with this waterproof wheeled laptop backpack. This rolling bag allows you to arrive in style with everything you need in daily use. It provides all the convenience and security you need with a backpack.
Your clothes and travel essentials can be stored in different parts of the main compartment. The multi-pocket organizers are great for keeping all of your small items safe and where they belong, so you can quickly find what you want
A fully-padded laptop sleeve can hold laptops up to 15.6 inches long. And when you're tired of rolling it, you can still carry it as a backpack with its adjustable straps.
Pros:
Large main compartment

Organizer compartment

Quick access compartment

Durable telescoping handle

Lockable metal zippers

Swivel metal hooks

Waterproof bottom panel
Cons:
Not recommended to use during heavy rain pour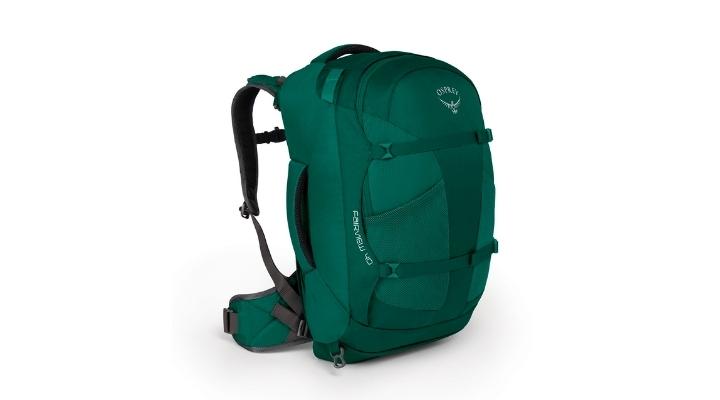 Whether traveling near or far, a comfortable pack means one less headache. From decades of experience ensuring a comfortable, gender-specific fit for every adventure, the Osprey Fairview Travel Pack Carry-On 40 found the sweet spot for travelers. This is a fantastic carry-on travel backpack for women that can do a little bit of everything.
It has adjustable straps, superb padding, and just the right amount of compartments to keep all your stuff organized and safe.
Durable fabric combined with thoughtful design create a lightweight and rugged travel pack that'll last a lifetime. But be careful in loading it with your travel gear since some reviews mentioned an uncomfortable fit when you load it up too heavy.
Pros:
Comfortable fit

Easy to load

Good suspension

Lightweight

Best for travel
Cons
Not ideal for long hiking trips

Difficult to load

Heavy
The BAGSMART Laptop Backpack aims for work-life balance. Whether you're a college student, digital nomad, or professional businesswoman, you'll love how practical, stylish, and lightweight this backpack is for everyday use.
Made of elegant quality stitch pattern and water-resistant polyester, this bag will be with you for a long time.
The appearance of this laptop backpack is clean and stylish, allowing you to use it for all occasions, like work, school, college, travel, or exercise. The spacious main compartment is room for daily supplies, textbooks, magazines, power bank, and clothes.
It can fit up to a 15.6-inch laptop. Plus, it has a tablet slot that fits up to a 12.9" iPad.
Pros:
Anti-theft pocket 

Side pockets for water bottle or umbrella

Wide-open top for easy access

Durable top handles and luggage strap for easy transport

Soft and comfortable padded shoulder straps

Water-resistant nylon fabric
Cons:
The interior pocket doesn't have a zipper
The Just In Case Backpack folds flat to be completely packable. Use it for shopping or day trips once you reach your destination or as an extra bag to carry home your new treasures.
It's a purposeful and practical design that doesn't compromise on style. This versatile and lightweight nylon backpack will surely aid in making your next trip comfortable and fun.
This backpack also features a double-zip entry to the main compartment, zippered front pocket, and top grab handle for maximum accessibility, flexibility, and durability.
Pros:
Compact

Attractive and functional

Lightweight

Double zip entry

Zippered front pocket
Cons:
Uneasy access to some pockets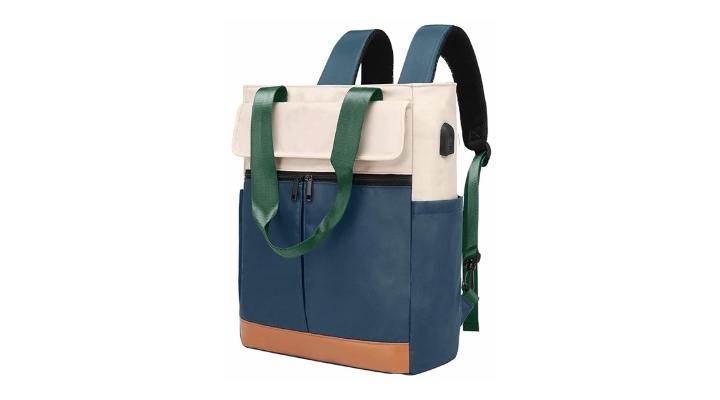 The CYUREAY Convertible Daypack isn't just a durable travel bag; that's just one of its many disguises. Whether you're a commuter, business person, grocery shopper, or urban explorer, the best convertible backpacks can change into what you need most for your job, even if you're a global traveler!
This bag has a 15.6″ laptop lining and a wide-open design that makes it easy to get to the things at the bottom. It's made of water-resistant, durable, and breathable nylon fabric that'll last for years, if not decades, of travel.
You can use it as a bookbag, business travel backpack, laptop backpack purse, carry-on bag, or diaper bag.
Pros:
Convertible tote bag material

Dual padded

Strong and breathable

Waterproof 

Zip closure

Built-in USB port
Cons:
Tote bag straps aren't padded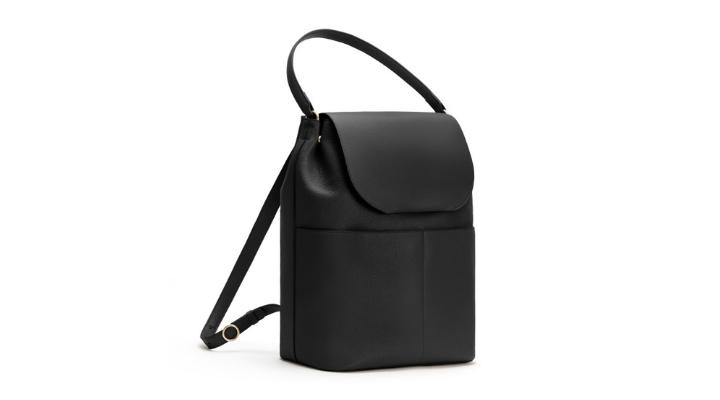 If you're looking for an ideal leather backpack, you'll have to choose the Cuyana Leather Backpack. With easy access to front pockets and a main compartment that can hold a 13″ laptop, this bag is one of the best.
Cuyana is high-quality leather in a family-owned factory near Pisa, Italy. As a backpack, you can carry this bag or take it as a shoulder bag. Because the brand's committed to being environmentally friendly, this backpack is made of leather that's been responsibly tanned. It also meets the LWG Gold standard, which means it's safe for people to use.
Pros:
Spacious

Has a laptop compartment

Made of high-quality leather

Meets the LWG Gold standard

Sustainable and well-made
Cons:
Elevate your everyday commute or travel with this polished and practical backpack.
It has golden hardware and leather that's very smooth. Its multiple pockets and compartments keep your laptop, water bottles, and small things like your phone safe and easy to find. The straps are padded for your comfort, and a back pocket turns into an Add-a-Bag sleeve so you can slide the whole bag onto your luggage as you zip around the airport.
It has a lot of space inside, a laptop compartment, a water bottle pocket that can be used both inside and outside the bag, and a lot of pockets to keep your things organized. There's a special place for everything you need to get what you need for business or pleasure.
Pros:
Two-way zip-around closure

Zip-access to laptop

Add-a-Bag luggage sleeve

Water-resistant

Water bottle pocket
Cons:
The Gootium Backpack collection is known for its unique design and practical features, making it easy to travel in comfort and style while still having a lot of space.
It's a rugged rucksack with pockets for organizing things and 23/30 liters of space to help you pack up your overnight gear or carry-on items.
Everything you need for commuting is in the main compartment. The inside has a zippered pocket to keep your valuables safe, and there's also a stash pocket in the front for more space.
It's got side pockets that are great for smaller things. It also has padded shoulder straps that can be changed to make it easier and more comfortable to carry the bag.
Pros:
Spacious compartments

Wide-padded shoulder straps

Comfortable

Quick access

Side and front pockets
Cons:
Drawstring closure

Expensive

Not waterproof
This isn't just your typical high-quality and affordable backpack because it's versatile and stylish. It's a bag that you can easily carry as a purse, shoulder bag, or backpack.
The UTO Nylon Backpack Purse comfortably holds up to a 14″ laptop and its exterior pockets can keep your cell phone, notebooks, snacks, makeup, umbrella, glasses, water bottle, or keys. It features a double zipper design and is convenient for opening in two directions.
Pros:
Affordable

Spacious

Stylish 

Versatile

Water-resistant
Cons: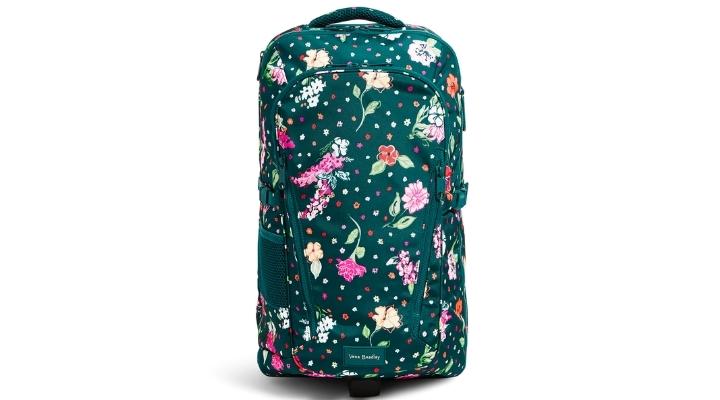 Road trip regulars and frequent fliers, meet your new favorite backpack! This versatile carry-all unzips on three sides and opens flat for easy access and ultra-organized packing. But, of course, you wouldn't notice that it's made from recycled water bottles.
The Lay Flat Travel Backpack is lightweight, durable, and water-repellent. So you won't be stressed out during your trip on finding the things you need. Its exterior features three compartments, two front zip pockets, and a side mesh pocket. There's just so much room for your gadgets, travel gear, and daily essentials.
Pros:
Spacious main compartment

Two front zip pockets 

Accommodates up to a 15″ laptop

38.0″ adjustable strap

2.5″ handle drop
Cons: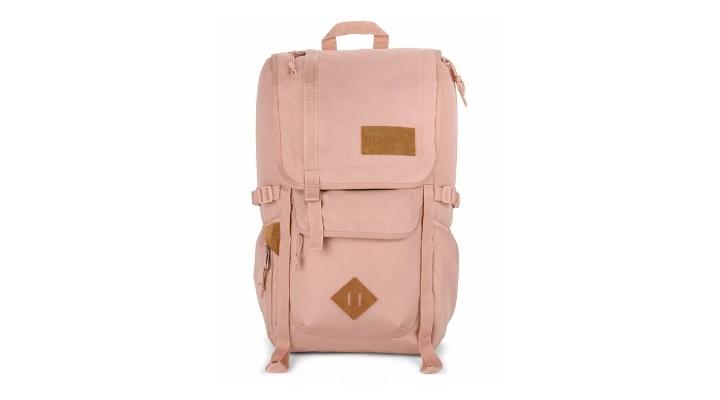 A casual trip has never been this fun and exciting with JanSport's Pink Hatchet Backpack. Bringing together outdoor influence with modern functionality, it features a versatile sleeve designed to fit a 15-inch laptop, deluxe organizer panel, tablet pocket, and water bottle pockets.
Dual water bottle pockets are available to keep you hydrated throughout your trip. Also, it showcases padded shoulder straps and a back panel for added comfort while you transfer from one vehicle to another.
Pros:
Laptop and tablet sleeves for added protection

Lots of random pockets for optimum organization

The main pocket opens ideally

The organizer panel is designed for accessibility

Slot for hydration hose
Cons: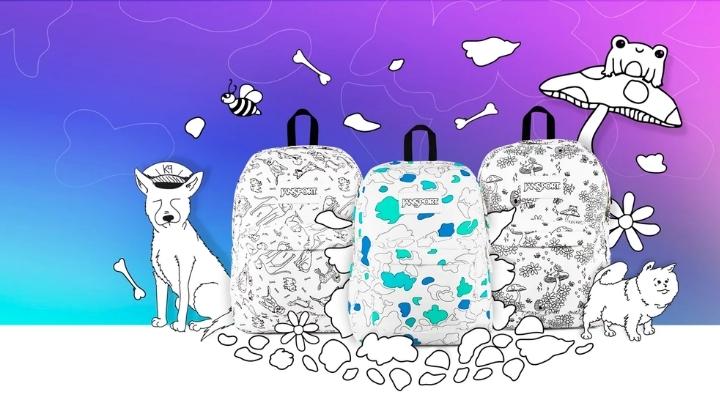 Add color to your trips and customize it to your liking with JanSport's Color It Yourself Collection.
With an internal laptop sleeve and side water bottle pocket, it makes this pack as functional and practical as you go on an adventure. It reminds you to always to stay hydrated! Its padded shoulder straps also offer extra cushioning for comfort all day long.
Pros:
Water bottle holder

Padded shoulder straps

Spacious and organized compartments

Relatively cheap
Cons:
Has lower quality compared to most travel backpacks
For those who want to live their lives colorfully, this backpack might be perfect for you. The Ultralight Macaroon is made from the supremely durable Korea Heavy Twill Crinkle with genuine leather trimming.
You can fit up to a 14-inch laptop in its padded compartment. And you'll experience a worry-free trip with its padded adjustable shoulder straps.
Finished with water-repellent fabric, you don't have to worry about traveling on a rainy day. It also has a water bottle compartment that helps you stay hydrated. Perfectly sized with a variety of colors and dual-color combinations, you'll be able to expand your horizons with this adorable backpack.
Pros :
Water-resistant

Spacious

Water-repellent fabric

Adjustable straps

Easy access
Cons:
If you're a fan of simple bags, then consider the Herschel Settlement Backpack. It's undoubtedly one of the best minimalist backpacks you can get.
This backpack features a decent capacity that can fit a 15-inch laptop.
Crafted from durable polyester, you can keep this backpack for a long time. Its contoured shoulder straps and breathable air mesh back padding were designed to let you experience a supportive and comfortable commute to work or school.
The settlement makes for the perfect airplane carry-on. The pocket is for easy-to-access items and has a key clip. Also, it has a small hole at its exterior that doubles as a charging or headphone port.
Pros:
Feels sturdy

Has quality fabric lining

Spacious compartment

Comfortable carrying

Easy to organize
Cons:
Shoulder straps don't sit comfortably
Final Thoughts
So there you have it, ladies! Always think about what makes a travel bag one of the best backpacks for traveling in comfort. The most important thing is that it has a lot of space for the items you need.
A bag that rubs your shoulders or hips while you walk isn't what you want at all. Follow these tips, try on some bags before you buy, and you'll end up with a bag that'll last you a long time.
You're now armed with all of the best travel backpack options. We hope you find the backpack of your dreams and have many safe and exciting adventures with your loved ones.