Note: This post may contain affiliate links which means if you click on a link and purchase an item, we will receive an affiliate commission at no extra cost to you.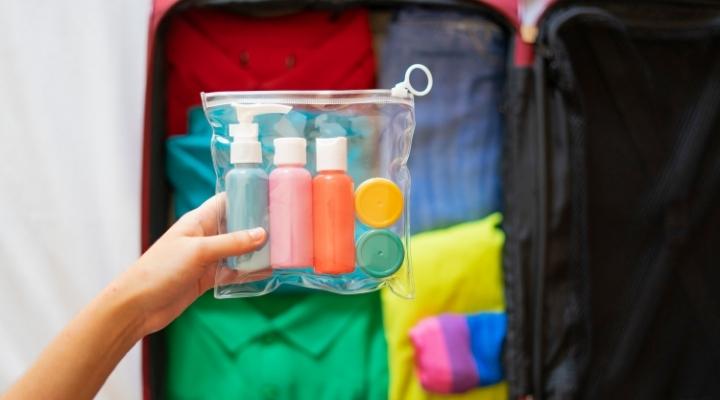 If you're a regular traveler, you'd know how important it is for your things to be organized. When you're constantly on the move, the last thing you want is a chaotic bag that makes it impossible to find what you need.
Imagine having to pull out all your clothes just to get your deodorant at the very bottom of the bag. Or getting your last pair of underwear only to find toothpaste spilled all over it. Nope. No one wants that.
Enter: A functional yet aesthetically pleasing toiletry bag!
There are plenty of them out there, so it can be difficult finding the right one. But whatever your personality, fashion sense, or travel style, this article will help you find the toiletry bag that's tailored to your needs.
What Should You Look For in a Travel Toiletry Bag?
Toiletry bags and Dopp kits aren't just for travelers; they're also great for people at home to organize their bathroom essentials.
But in choosing the right one, you have to consider a couple of different factors:
1. Look For the Right Size
The size of your toiletry bag should solely depend on your needs. You don't want to get something that won't be able to hold all your toiletries or a bag so big that you won't know what to do with all the extra space.
So, ask yourself how long your trip will be. Will you be away just for the weekend? Are you going on a two-week trip abroad? Or are you a full-time traveler?
Are you traveling solo or with a partner? Or is the toiletry bag for the entire family? Do you bring a lot with you? Or do you tend to buy bathroom essentials from local stores?
These questions will help you determine the right size of the toiletry bag you need.
2. Consider the Weight of the Bag
If you travel often, you wouldn't want your toiletry bag to be heavy on its own. Although leather bags look luxurious, they tend to be on the heavy side and would just add unnecessary weight to your luggage.
3. Cross-Check Essential Features
Some important features for toiletry bags include durability, water resistance, organizational compartments, and other particular properties you need. When buying one, make sure to verify these features because it's not every day that you invest in a toiletry bag.
A Quick Note on TSA-Approved Toiletry Bags
Aside from helping you organize your things, having a toiletry bag also helps a ton during airport screening.
If you're packing your toiletries in your carry-on bag, note that TSA limits the number of liquids, aerosols, gels, creams, and pastes that you can bring to one quart-sized resealable bag.
Make sure to read TSA's Liquids Rule before you pack to prevent any inconveniences during the screening process.
The 21 Best Travel Toiletry Bags & Dopp Kits for Men & Women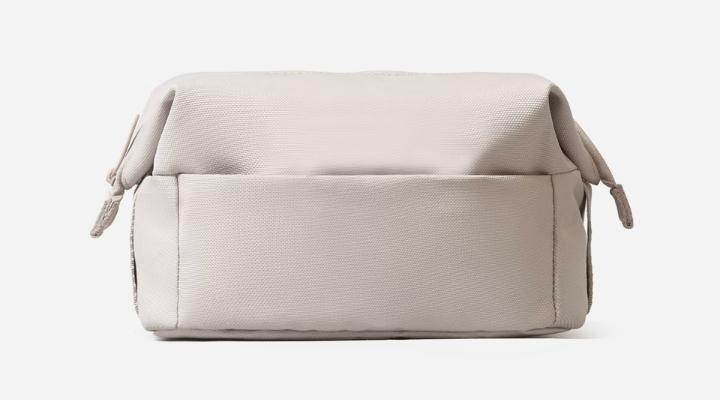 The ReNew Catch-All Case by Everlane is perfect for organizing your essentials. With 5 interior drop-in pockets and 1 exterior zip pocket, it's the best compact travel bag for minimalists.
Made from over 7.3 renewed plastic bottles, this recycled polyester Dopp kit is great for you and the environment. It's also water-resistant and very easy to clean.

Dimensions
Folded: 9" length, 4.75" height, 4.75" diagonal

Unfolded: 11" top, 9" bottom, 6.5" height, 4.75" diagonal
Pros
Environmentally friendly

Compact but organized

Small but has numerous compartments

Exterior zipper for easy access

Chic and classy
Cons
The Beis Travel in Black Dopp Kit is spill-proof and perfect for travel. It's on the small side, but it has enough organizational compartments for all your essential bottles, tubes, and sprays. Plus, it has a loop on the side that you can use for hanging.
The exterior zip pocket that opens up the bottom may not look like much, but it can accommodate a few more bottles. This Dopp kit is also water-resistant and even has a separate pocket for your toothbrush. It's easy to clean and durable, too!

Dimensions
6.5" height, 11" width, 6" diagonal, 0.88 lb weight
Pros
Has a hanging loop

Compartmentalized

Compact yet spacious

Easy to clean
Cons
Made of recycled polyester, but the plastic zipper isn't made of recycled material (yet)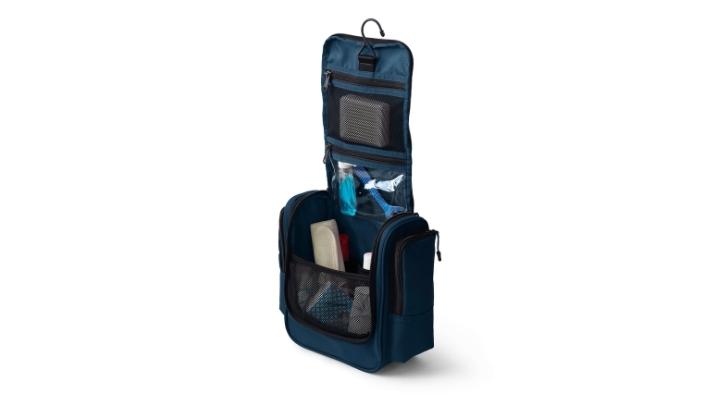 The Travel Large Hanging Toiletry Organizer Bag by Lands' End is made of 600-denier polyester, making it a durable toiletry bag that promises years of use.
It has multiple pockets, so you can access your bathroom essentials easily. When closed, it can be carried like a briefcase. When opened, it has a hook that you can hang it from and helps display all your toiletries so you can get what you need fast.
This large toiletry bag is also easy to clean. It's a must-have on the road!

Dimensions
Large: 10" by 9" by 4"

Extra Large: 13" by 10" by 5"
Pros
Has a hook for hanging

Multiple pockets

Available in L and XL
Cons
The main compartment has no zipper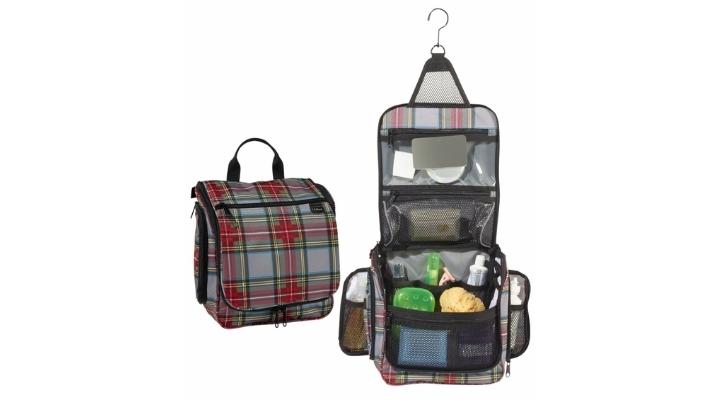 The LL Bean Personal Organizer Toiletry Bag has been a classic favorite among travelers for a long time.
With its water-resistant fabric, there's no need to worry about any spills and mishaps. All its compartments are made of different sizes, so you can easily organize your toiletries in this bag's various pockets.
The built-in hook enables you to hang it in the bathroom without a problem, and when you do, you can easily access your things including those inside the external zip pockets.
There's also a removable mesh insert that you can use as a shower caddy!
Dimensions
10" by 12" by 8", 16L capacity, 11 lb weight
Pros
Hook for hanging

Abrasion-resistant fabric

Very durable
Cons
Not easy to clean and could smell if not maintained properly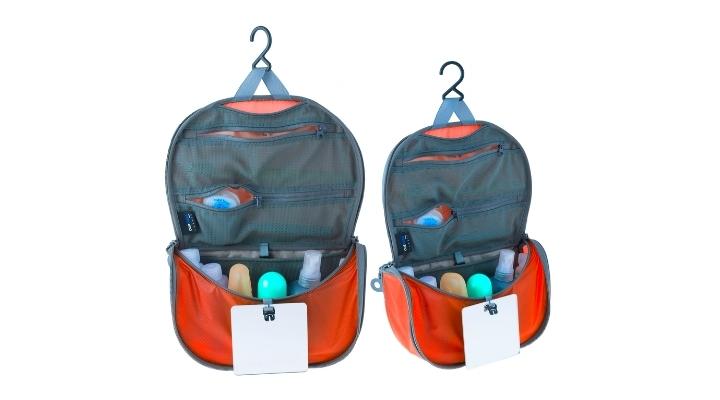 If you're a solo traveler who tends to hang your toiletry bags, then the Sea to Summit TravellingLight Hanging Toiletry Bag is perfect for you.
Open it to easily access your toiletries in its mesh compartments, and use the loop on top to hang it in your bathroom. It's very portable – you can use it as a shower caddy or bring it to outdoor activities.
With its main compartment divider and internal zip pockets, you have all the storage you need for your bathroom essentials.
This bag is also very durable, water-resistant, and lightweight!

Dimensions
10" by 9" by 4", 4 oz weight
Pros
Multiple compartments

Lightweight and durable

Water-resistant
Cons
If you want a slightly bigger hanging toiletry bag, then try the Away Travel Toiletry Bag. It's made with water-resistant nylon for practicality, and it can be hung on walls or doorknobs with its built-in hook.
It has simple mesh compartments for easy organization, plus a detachable leak-proof pouch to put your liquids in.
Dimensions
25cm by 10cm by 16cm, 3L capacity, 369 grams weight
Pros
Lightweight

Water-resistant

Detachable leak-proof pouch

Grab handle for carrying

Compact and durable
Cons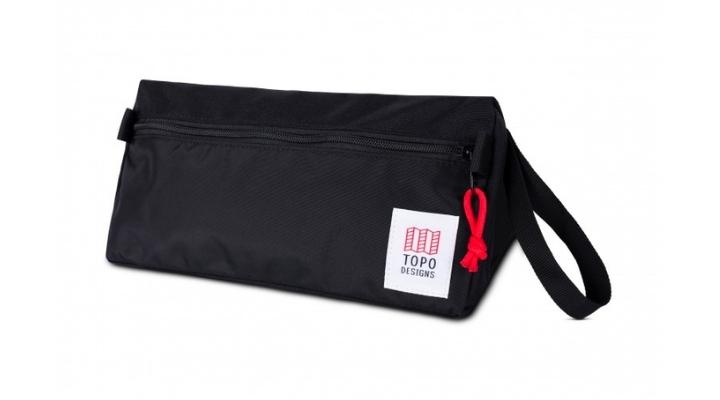 The Topo Designs Dopp Kit is uniquely designed with its triangular shape, thoughtfully made that way so it can sit upright on vanity tables or bathroom counters. That way, you can easily access the contents without it rolling or falling over.
Built with nylon, this Dopp kit is also water-resistant, durable, and easy to clean. It might look small on the outside, but it's big enough for you to pack the things you need on the go.

Dimensions
4" by 4" by 2", 2 ounces weight
Pros
Compact

Uniquely designed for ease of use

Easy to clean
Cons
It may be too small for some
The Pack-It Reveal Hanging Toiletry Kit by Eagle Creek, available in 4 bright shades, is just what you need for the road. Its foldable style that's filled with multiple pockets makes it very easy for you to organize your toiletries. You can also hang it or lay it flat on the counter.
This bag's zip pockets are elastic to make room for all your bottles and sprays. Plus it's also washable and water-resistant.

Dimensions
10" by 8" by 3", 7L capacity, 180g weight
Pros
Flexible design

Breathable fabric

Water-resistant
Cons
Its elasticity can make it bulky if you fill it up with too much stuff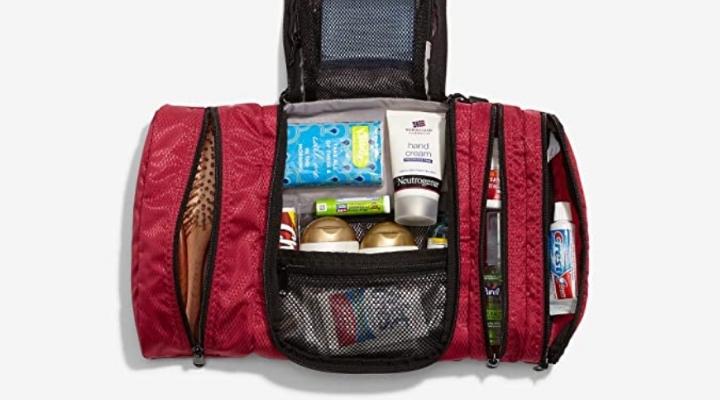 Made of nylon fabric, the Classic Pack-It-Flat Toiletry Kit by eBags looks very chic. Its flat design makes it very easy to put in your check-in luggage or carry-on backpack. It also has a handle so you can carry it like a tote bag if you prefer that.
With 4 separate compartments, you can easily pack and organize your bathroom essentials. Plus, it has a built-in hook and mirror so you can hang it on the wall.

Dimensions
14" by 10" by 3", 11.4 ounces weight
Pros
Chic and sleek

Built-in hook for hanging

Separate compartment for leaky items
Cons
Difficult to pack bottles with big widths or diameters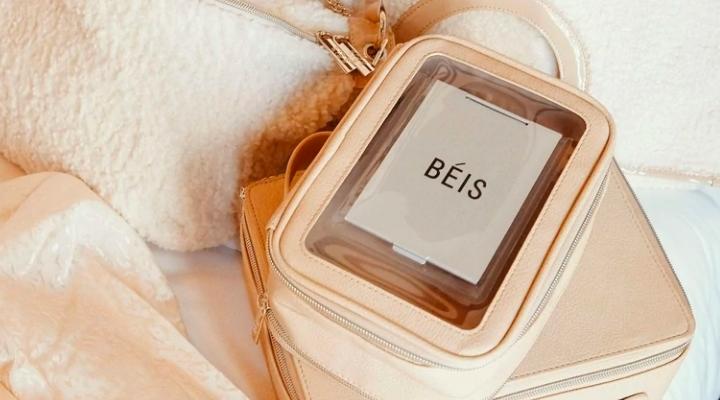 If you're looking for a clear toiletry bag so you can see the contents, then the Beis On the Go Essential Case is exactly what you're looking for.
Featuring two opposite compartments, an easy-to-carry handle, and 3 different color variations, this travel toiletry bag is a stylish way to store all your bathroom and grooming essentials.
Dimensions
8" by 4" 5.25", 0.56 lb weight
Pros
Cons
The Boacay Toiletry Bag is designed like a suitcase with multiple inner compartments to store all your toiletries. This bag is perfect for those who love to organize.
Made with high-quality material, breathable fabric, and a water-resistant finish, this travel toiletry bag is for the premium traveler.
Dimensions
Pros
Cons
The Peak Design Wash Pouch is great for camping. It's simple and compact, offering just enough compartments for your most essential toiletries.
When you're spending the night outdoors, you don't need much. Just a small bag to keep your hygiene kit with a few pockets to separate your toothbrush, comb, and razor – making sure everything's organized and clean while being portable enough to pack in a camping bag.

Pros
Compact

Can be hanged or placed on top of a counter
Cons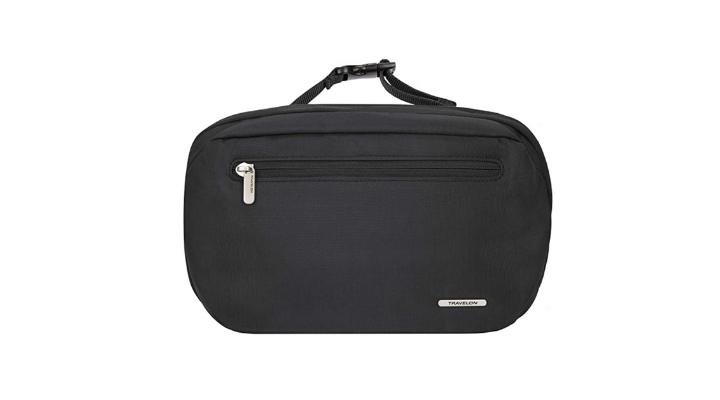 Going away for the weekend?
The Travelon Travel Toiletry Bag is the compact kit you need to separate your toiletries from your clothes, so you can easily pack your shampoo, toothbrush, comb, and deodorant without worrying about them making a mess inside your bag.
It's leak-proof, water-resistant, and very durable, too.
Pros
Compact and minimalist

Can be hanged
Cons
Only for small items or short trips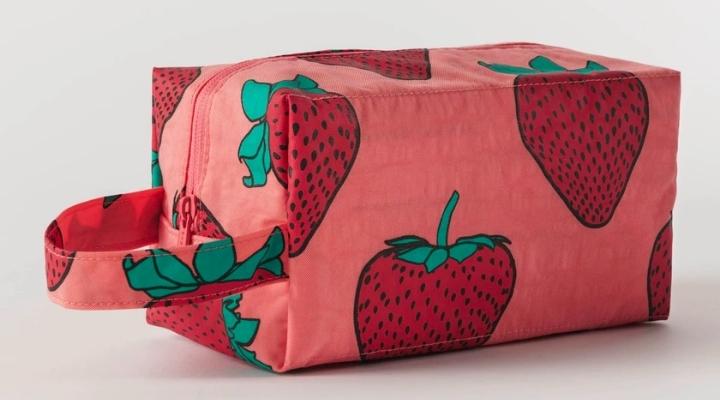 If you want to travel in style, then the Baggu Dopp Kit is a great option for you! Choose among three cute patterns – Strawberry, Orange Tree, or Malachite.
It's made with recycled nylon, so it's environmentally friendly. And although it only has three interior pockets, this bag is good enough for the light traveler. Plus, it has a loop that you can use for hanging.

Pros
Environmentally friendly

Zip-top closure for easy access
Cons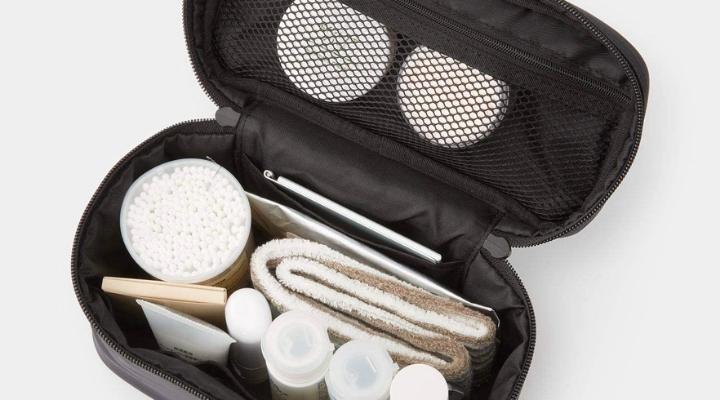 Forget the cute patterns. How about something plain and black?
If a black toiletry bag is what you want, then you don't have to go farther than the Muji Pouch. It has a handle, too, so you can easily carry it with you.
This toiletry travel bag is perfect for small objects such as daily bathroom necessities, makeup, and even a small towel.

Dimensions
Pros
Compact

Easy to carry

Rectangular shape for stability
Cons
Can't be hanged

Not enough compartments
Here's a bag for all you girly travelers: The Pink Bagsmart Toiletry Bag looks taken right out of Barbie's closet. It's like a super cute designer bag!
Inside, it has all the pockets and compartments you need for your perfumes, lotions, skincare products, hair essentials, and makeup. There's a separate leak-proof pocket for wet items, too, which is extremely useful.
And it's designed in a way that can be laid flat on a counter or hung using its built-in hook. This bag is also waterproof and very convenient.

Dimensions
12.32" x 9.72" x 2.28", 1.52 lb weight
Pros
Very organized with multiple compartments

Can hold bigger products

Can be placed on the bathroom counter or hung on the wall
Cons
Not for short trips as it can be quite bulky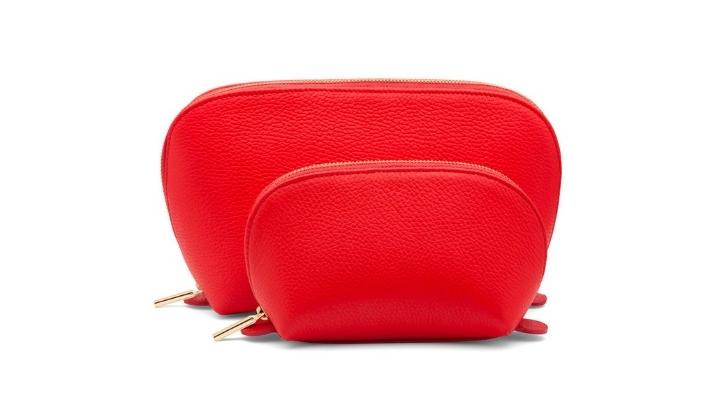 If you want your bag monogrammed, then you can get Cuyana's Leather Travel Case Set customized with your initials for an extra fee.
This iconic toiletry case is made of leather from Argentina, it's compact, and perfect for short trips or light travelers. You can choose between multiple colors, too.

Dimensions
Pros
Small and compact

Easy to carry
Cons
Little compartments

Only for smaller items

Can't be hanged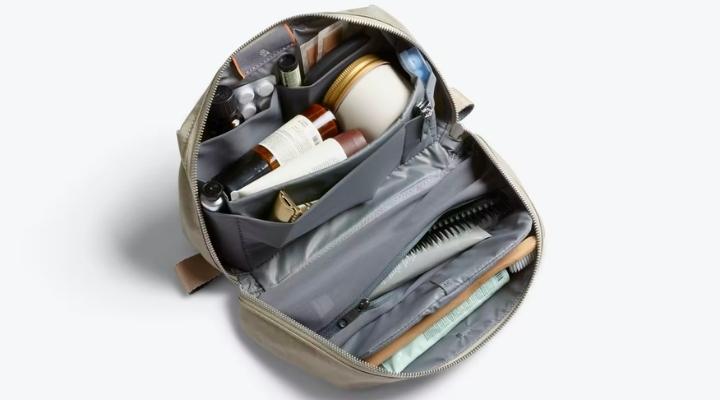 If you insist on using leather, then the Bellroy Dopp Kit Plus is another great option aside from the Cuyana Case Set mentioned above. Made with durable premium eco-tanned leather, this toiletry bag's interior and exterior are both water-resistant and easy to clean just by wiping.
It has sturdy pockets to keep your bottles from rolling, a magnetic closure to keep your toothbrush separate, and flexible mesh compartments for your smaller items.
Dimensions
Pros
Large storage space

Easy to carry

Easy to access the items
Cons
Difficult to hang without your items spilling
The Gravel Travel Explorer Plus Toiletry Bag is perfect for super-organized travelers. If you have tons of items, and you want each product to be in its dedicated compartment, then this bag is exactly what you need.
With 8 pockets to store all your toiletries, this bag makes it easy for you to pack a ton while still being compact. There's even a removable clear bag for you to put your liquids on, and it's TSA-compliant too, making it super convenient during scans.

Dimensions
Pros
Compact and easy to carry

Multiple compartments

Leak-proof

Built-in hook
Cons
Some pockets may not allow for bigger items
If you're a fan of canvas bags, then this Timberland Toiletry Bag is perfect for storing your bathroom products and accessories, be it for a short weekend trip or a long vacation.
Not only is this bag very stylish, but it's also tear- and abrasion-resistant. Plus, it includes a TSA-approved refillable plastic bottle inside.
Dimensions
Pros
Water-resistant and abrasion-resistant

Multiple compartments

Stylish
Cons
Mostly for small products only
If you're looking for a travel toiletry bag for your kid, then Stephen Joseph Kids' Toiletry Bag is a great option for both little girls and boys. You can choose among different fun patterns, whichever your child likes best.
Made with polyester fabric, this bag is water- and abrasion-resistant, with a wide strap that can be used for hanging or attaching to your luggage.
Dimensions
Pros
Multiple zippers

Easy to clean
Cons
Some essentials may not fit