Note: This post may contain affiliate links which means if you click on a link and purchase an item, we will receive an affiliate commission at no extra cost to you.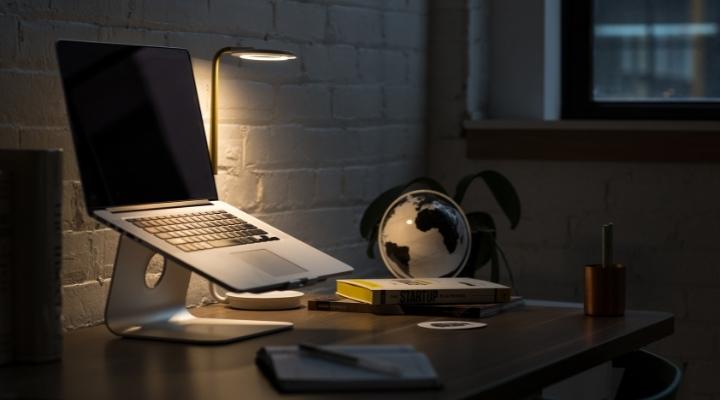 Laptops have become an integral part of our lives. We use them for work, entertainment, and just about everything in between. But with prolonged use, they can start to cause some health problems.
This is especially true if you work on your desk all the time, constantly straining your posture. Or if you're using your laptop in a way that's not recommended, like on your lap.
That's why a laptop stand is a great investment for anyone who spends a lot of time working from their computer. It'll help keep your body in an upright position which helps with posture and reduces the risk of injury from using a computer for long periods of time.
In this article, I'll show you the 16 best laptop stands for remote work including their pros and cons. Also, check out this article about the best laptops for working from home, remote work, and digital nomads!
Laptop Stand Buying Guide: What to Look For in a Laptop Stand
When you're looking for a new laptop stand, there are a few things that you should consider when making your purchase.
I'll go over the most important points to keep in mind when choosing a stand.
Note: In this list, I'm going to be focusing on stands only and not laptops with built-in stands.
1. Size
The best laptop stand is one that best fits your needs. There are small laptop stands designed to hold a 13-inch laptop while there are larger ones made specifically for 17-inch laptops. Having the best size for your particular computer will maximize its usability and keep you from experiencing any difficulties with it.
2. Durability
A laptop stand is an investment. You don't want one that's going to break down after just a few weeks. Look for one that's durable and made of high-quality materials. That way, you can be sure it'll last you through many more years of use than most stands.
3. Price
Everyone has a budget in mind when they're shopping. It's best to set yourself within your price range and then look for one that best matches it. You can find high-quality laptop stands for lower prices but if you want the best, expect to pay more.
4. Height Adjustable
Some laptop stands are adjustable, allowing you to change the height depending on your desired position or for best ergonomics. If you can find a height-adjustable stand, it'll be best suited to your needs.
5. Compatibility
What make and model is your laptop? Some laptop stands come with attachments that best fit laptops from specific companies. It's best to check which makes and models best fit each stand before purchasing so you don't end up with a product that's not compatible with your computer.
6. Portability
The best laptop stands are those that provide portability options as well as stability. They're lightweight and small, so you can store them when not in use.
When searching for the best laptop stand, several points need to be kept in mind. 
The best stand that best fits your needs should be durable, portable, budget-friendly, and compatible with your computer make and model.
16 Best Laptop Stands – Ergonomic, Adjustable, and Portable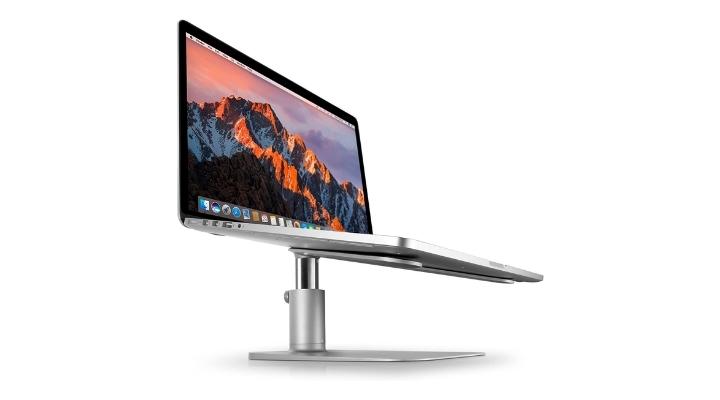 The Twelve South HiRise Stand is an adjustable stand best for laptops with the Apple logo – it's compatible with MacBooks both old and new.
The best part about this particular model is its adjustability. Using the rear piston, you can set the height up to 6 inches off the table for comfortable positioning while you're working on your laptop.
The rear support also adjusts to fit different angles for the most comfortable, ergonomic position.
With the HiRise laptop stand, you can easily switch between dual-screen and single-screen setups. You'll be able to work faster and more comfortably than ever before. And with its sleek aluminum design, HiRise will look great on any desk.
Pros
Adjustable to fit your needs and position

Compatible with both old and new MacBooks

Easily switch between dual and single screens
Cons
A bit pricey

Not as versatile as other laptop stands
Looking for a laptop stand that's both budget-friendly and minimalist? The Rain Design mStand 360 is perfect for you!
It's made of a single piece of aluminum, providing stability and acting as a heat sink to cool your laptop. The back cable management hole also helps to keep your wires neatly organized.
With its sleek sand-blasted and silver anodized finish, the Rain Design mStand 360 will match any Apple notebook.

Pros
Minimalist design

Stable and has heat-dispersing properties

Back cable management hole to keep wires organized
Cons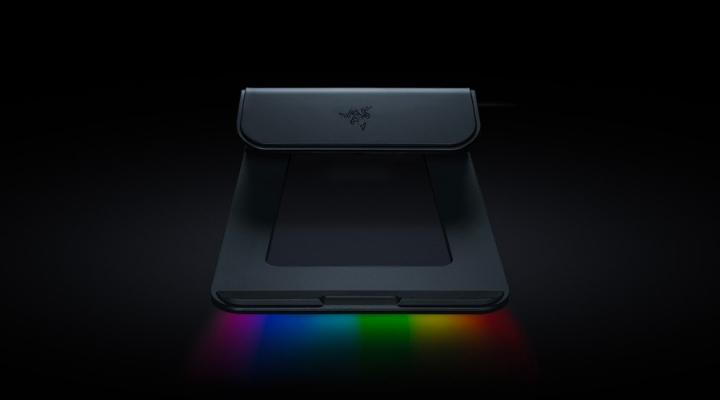 The Razer Chroma V2 Laptop Stand will improve your gaming experience. It's one of the most advanced laptop stands available in the market today.
It was designed with gamers in mind to provide the best gaming experience possible.
The Chroma V2 not only looks great but also offers a ton of features that'll make your life easier. It has an adjustable height, an ergonomic design, and a built-in fan to keep your laptop cool. Plus, it's made from durable aluminum so it can withstand even the heaviest laptops.
This laptop stand is also fully customizable, with 16.8 million color options available for the backlight. You can choose from one of the many preset lighting effects or create your unique look. You can also sync your stand's lighting with other Razer devices for a truly immersive gaming experience.

Pros
Customizable LED lighting with 16 million color options

Built-in cooling fan to keep your laptop cool

Durable aluminum design
Cons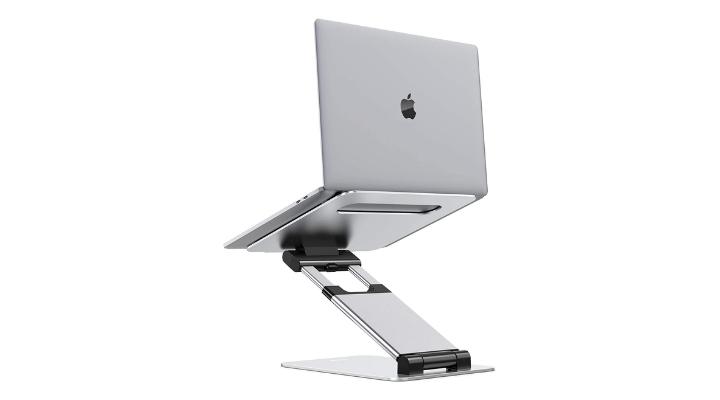 The C5 Foldable Nulaxy Laptop Stand is lightweight, portable, and has a sleek design. You can also adjust its height from 10 to 17 inches depending on where you want to work. And because it folds flat, it won't take up any room when not in use!
This laptop stand will help keep your neck and back healthy while working at home or on the go. It provides ergonomic support with an adjustable angle, so you can find the right position for you every time.
Plus, it's also great for watching movies or playing games, as it provides maximum airflow underneath your computer. No more hot laptops that make your legs sweat.

Pros
Foldable design that makes it portable and easy to store

Adjustable height according to your preference
Cons
Shakes at higher heights

Doesn't have cable management slots
The Moft Laptop Stand is lightweight, portable, and virtually invisible so you can take it anywhere with you. Plus, it has two elevation angles to help improve your posture while using your laptop.
You won't have to worry about back pain or neck strain ever again thanks to this amazing product. And because it's made from vegan leather and strong fiberglass, it'll last for years without any wear and tear.

Pros
Great for reducing neck and back pain

Made from vegan leather and fiberglass to prevent wear and tear

Very portable
Cons
While the Moft Laptop Stand is ultra-thin and ultra-lightweight, it's not as adjustable as other laptop stands on the list. If you're looking for something portable that's also adjustable, then the V3 Roost Laptop Stand is a great option for you.
This laptop stand is perfect for modern travelers. It's very compact, adjustable, and easy to use on the go. Plus with the Roost V3, you'll be able to work in total comfort – without having to worry about your posture or straining your neck.
Pros
Versatile

Easy to set up and take off

Adjustable design
Cons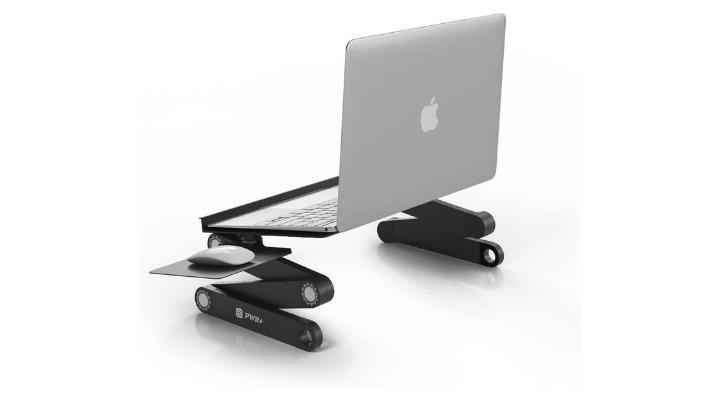 The PWR+ Adjustable Laptop Table Stand is perfect for anyone who wants to work in bed or on their couch. Its adjustable height and angle make it perfect for any body type, and its compact design means it can be taken anywhere with you.
This laptop stand also has a built-in cooling fan to keep your laptop cool while you work.
If you're looking for a versatile and affordable laptop stand, then this product is the perfect choice for you.

Pros
Adjustable height and angle

Compact design

Built-in cooling fan

Affordable price tag
Cons
What if your laptop stand could also protect your Macbook or PC from overheating? This is what you get with the OMOTON Vertical Laptop Stand Holder. It's not only a good laptop stand, but it can also double as a heat sink for your laptop.
If you're tired of your laptop taking up all the space on your desk, this laptop holder is a great way to keep your workspace organized and clean. It cradles your laptop vertically so it doesn't take up any room on your desk, but still keeps it within reach when you need it. Plus, its adjustable width makes sure that this holder will fit almost every brand of laptop or notebook out there – even with their protective cases on.

Pros
Organizes your desk

Helps prevent your laptop from overheating
Cons
Some users found this laptop holder to be a bit wobbly when it's extended

A few people mentioned that they couldn't fit their MacBook in the holder, but only certain models
If you're looking for a stylish lap desk, then the Yogibo Traybo Lap Desk is perfect for you. It has a wooden groove to hold your phone or tablet securely in place while also providing extra surface area for writing on paper.
Trayboo is a perfect fit for your lap as well as for your couch or bed, and it allows you to work as if you're sitting at a desk without having to be in pain from being hunched over. It's a cozy lap desk that'll keep you working in comfort.
Pros
Stylish

Comfortable

Can be used as a standard lap desk or as a bed tray
Cons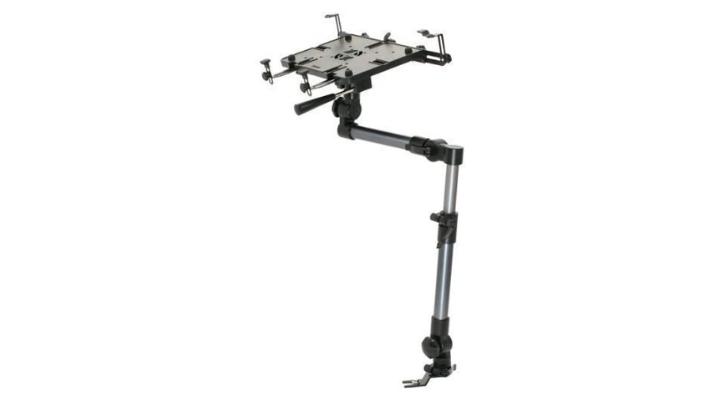 Do you often find yourself having to park somewhere to catch a meeting? The Mobotron Heavy-Duty Laptop Mount is a good laptop stand for remote work in a car.
As its name suggests, this stand features a stabilizing screen to protect your computer from bumps and jolts – which can be crucial if you work on the road for a living.
It's functional, compact, and easy to install and use. This laptop mount will help you work from your car as safely as you would from a stationary desk. Customers have also said that they appreciated its durability.
Pros
Easy to install and use

Durable
Cons
Some buyers have felt that the mount wasn't sturdy enough to keep their laptop in place during bumpier rides
The Executive Office Solutions Vented Adjustable Stand is made of lightweight aluminum and can be used in multiple ways. Its fully adjustable legs rotate 360 degrees and lock into place at various angles, making it easy to use on any desk or table.
The fans are powered by USB cords that connect directly to your laptop or desktop, and they're completely silent.
Pros
Cools down your laptop while you work

Fans are powered by USB cords, no batteries necessary
Cons
USB fans run on the same power as the laptop or desktop, so this could drain your battery if it's not plugged in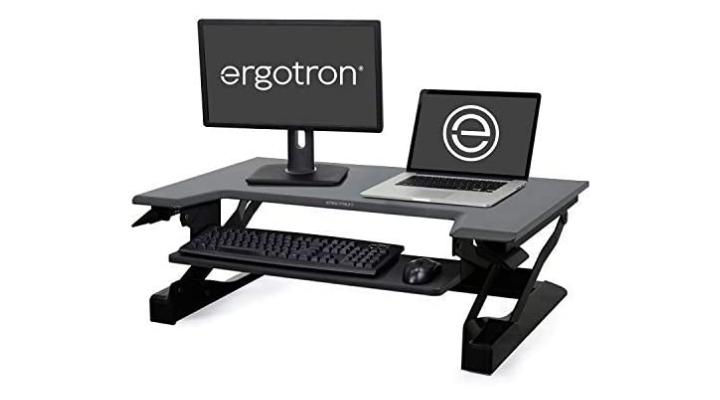 Desk jobs are the new smoking.
But there's good news – you can easily fight the health risks of a sedentary lifestyle by using an Ergotron WorkFit-T Standing Desk Converter. This device will turn your regular desk into a sit-stand desk, giving you the freedom to move around and be more productive.
With the Ergotron WorkFit-T, you'll get a comfortable, ergonomic fit that helps boost your productivity and focus. You'll also have more room to spread out with 125 additional square inches (317.5 square centimeters) of surface area on your tabletop converter. And if that's not enough, you can move up to 40 pounds straight up and down.
Plus, it comes with a built-in keyboard tray, so you don't have to worry about finding extra space on your desk.
Pros
Can easily turn a regular desk into a sit-stand desk

Includes a built-in keyboard tray and mouse platform
Cons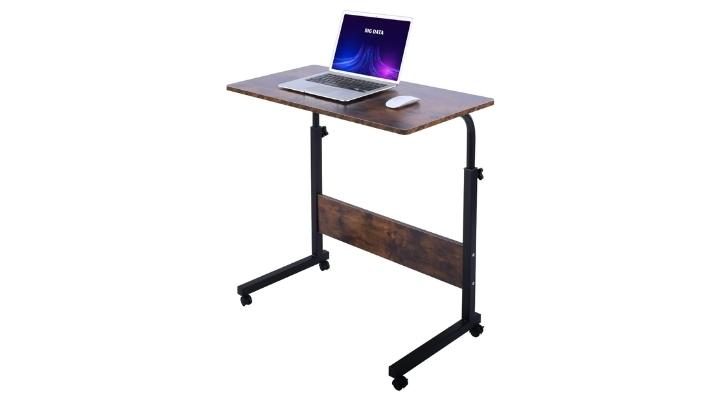 The AIZ Portable Computer Cart is perfect for anyone who wants to use their laptop in bed or on the couch. It's easy to roll around and won't scratch your floor, so it can be used anywhere.
The adjustable height makes sure that you have a comfortable workspace no matter where you are. Plus, it has wheels so moving around is super simple.
And when not in use, you can just slide it under your sofa or bed to save space.
You'll never have to worry about back pain again with this laptop desk. It'll keep you very comfortable while you work from home. It's also heavy-duty and stable enough that even if someone bumps into it, it won't tip over easily compared to other rolling laptop floor stands.
Pros
Heavy-duty material

Adjustable height and multiple positions

Portable, and no damage to floors or walls
Cons
Can't detach the laptop tray (unlike other similar standing desks)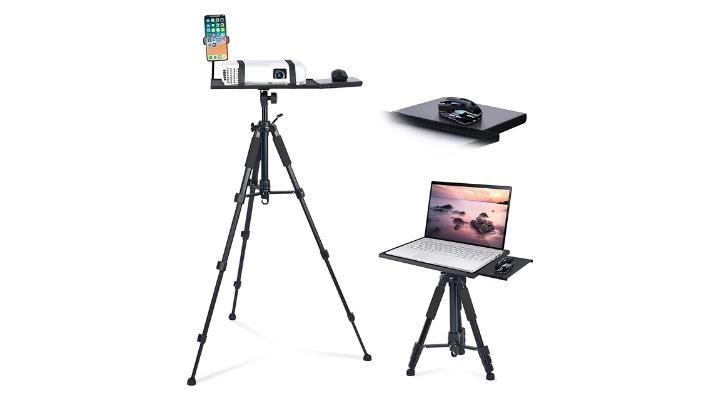 The Klvied Laptop Tripod Stand is an adjustable height projector tray that has everything you need in one place – from a phone holder and mouse tray to a non-slip mat that keeps your laptop secure while in use.
This tripod stand's swing head design allows for users who are both lefties or righties, too. With its 360-rotation capability and 11-pound max load capacity, this tripod stand is perfect for speakers, musicians, DJs, performers, engineers, teachers, or students.
It's lightweight, collapsible, great for travel, and easy to transport, making it the perfect choice for any event or presentation. This tripod stand is made of high-quality materials and is built to last.
Pros
Plenty of room for other items, such as a phone holder or mouse pad

An anti-slip mat keeps your laptop secure while in use
Cons
Having too many items can make it unbalanced
The Stylezone Acrylic Laptop Stand elevates your laptop by 2 inches and provides enough space for air to circulate underneath it. It also prevents hunching over the screen which reduces neck and shoulder pain. Plus, its sleek design makes it easy to install or carry around with you.
It's made of strong acrylic that won't break or bend under pressure. You can use this stylish accessory at home, work, or on the go.

Pros
Easy to configure, transport, and store

Protects laptop from overheating

Lightweight but sturdy
Cons
Not that adjustable

The front legs jutting out can get in the way of typing
The MTWhirldy Universal Desktop Stand is made with a simple design that'll help your neck and back feel better. This wooden stand has been carefully crafted to ensure stability and durability. You won't have to worry about it falling over or breaking down on you when you need it most. Plus, installation is easy – just place the rod in the holes of the stand for stability and you're all set.

Pros
Simple and sleek

Easy to install
Cons
Frequently Asked Questions About Laptop Stands
1. Will a laptop stand help with back pain?
A laptop stand with the right height might reduce aches and pains. However, if you have lower back problems or chronic back pain, it's best to consult your doctor before using a laptop stand.
2. Do I need a laptop riser or a lap desk?
If you plan on working at your desk, you'll probably want a laptop riser. A lap desk is more appropriate for use in bed or on the couch.
3. What type of surfaces work best with a laptop stand?
Any smooth surface will do. Some laptop stands are designed specifically to be used on your lap, so be sure to check the product description before you purchase one.
4. How tall should my laptop stand be?
Most users find that an adjustable height provides optimum comfort and ergonomics. If it's very low, you may have trouble seeing the screen properly; if it's too tall, typing will feel awkward.
5. How much does a good lap desk cost?
Laptop stands range in price from about $20-$100, though you can spend up to $500 if you so choose.
Final Thoughts
A laptop stand is a great way to improve your posture and comfort when using your computer. They come in a variety of shapes and sizes, so it's important to find the one that best suits your needs.
We've provided you with 16 of the best laptop stands on the market today. Be sure to read each one's short review before making your purchase!