Note: This post may contain affiliate links which means if you click on a link and purchase an item, we will receive an affiliate commission at no extra cost to you.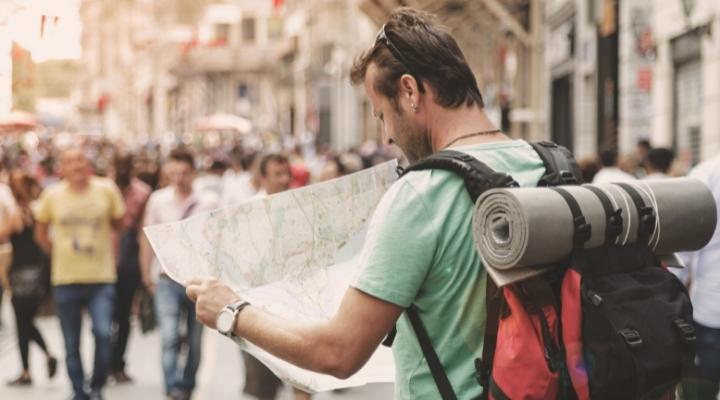 Don't you just feel so free when you're wearing a well-organized backpack that could fit everything you need?
Having the right travel backpack for men can make a trip a lot more fun. So, it's important to purchase the perfect backpack because you might live out of it for a week, month, or year.
But how can you choose when there are so many brands and models out there? Some say a good one should be easy to put together, durable, feature-rich, and comfortable. It should be strong and have a little bit of masculine roughness to it.
The thing is… you can't find the perfect bag for every traveler in every situation. There's no single "best" bag. Yet, everyone can find a pack that fits their needs. There's a travel bag out there for every man.
In this guide, we'll show you the 16 best travel backpacks for men this year.
What To Look for in a Travel Backpack
1. Weight
The contents of your bag are already heavy so you'll want to choose a light travel backpack to save your body from fatigue. The primary factor of its weight would be the fabric used. Though super light-weight fabrics can increase the price.
2. Size and Capacity
Backpack sizes are often expressed in liters of volume that they can hold. Generally, 15-30 liters is considered a daypack. Bags from 30-40 liters are big enough for weekend trips or carry-on travel. Finally, 50-65 liters is for those who need extra clothing or gear for their trip.
3. Front-Loading
Travel-friendly backpacks are the ones that are front-loading to locate your gear easily. Front-loading bags act like suitcases. Unlike top-loading backpacks, you don't have to go through the hassle of digging through all your stuff.
4. Strap Types
Get a bag that has a padded waist strap to avoid sore shoulders and back pain during long periods of walking or hiking. It distributes the weight of your travel backpack. Some backpacks also have grab-handles or duffel-bag straps.
5. Gear Pockets
Everyone has their preferred number of pockets and it depends on what you need. Some important ones include a quick-access pocket, a laptop pocket, and a water bottle and umbrella pocket.
6. Zippers
Large, easy-to-use zippers make it easier to open and close the backpack. You can also look for travel backpacks with lockable zippers for increased security.
7. Proper Fit
Before buying a travel backpack, make sure that you know your torso length so you'll know which travel backpack fits you perfectly. A properly fitted backpack will ensure comfort during your travels.
8. Looks 
Pick a bag that fits your style.
9. Weather Resistance
Weather can sometimes be unpredictable, so you'll want to prevent your gear from getting wet.  Choose a travel bag that has a special rain cover or is water-resistant.
10. Carry-On Friendly
Be careful when traveling since airlines get stricter by the day when it comes to the size of your carry-on bag. We recommend not bringing a travel backpack larger than 45L to be safe.
16 Best Travel Backpacks for Men (Trendy, Durable, & Useful)
The Anti-Theft Urban Travelon bag is the safest backpack we've encountered. Its five-point anti-theft security system prevents the most common types of pedestrian theft.
Not only that, but it also has keen organization and style. The main compartment allows you to organize your tech with its 2 padded sleeves for your 15.6" laptop. Storage pockets both inside and out spare you the burden of carrying the extra weight of a wallet.
You don't have to worry about long walks since its padded air mesh back and straps give utmost comfort. This bag is also durable since it's constructed from strong polyester fabric with a gunmetal finish.
Pros
The internal area provides a key ring

Has slots for credit cards

Has 2 zippered pockets
Cons
Zippers don't accommodate a luggage padlock

The chest strap is too short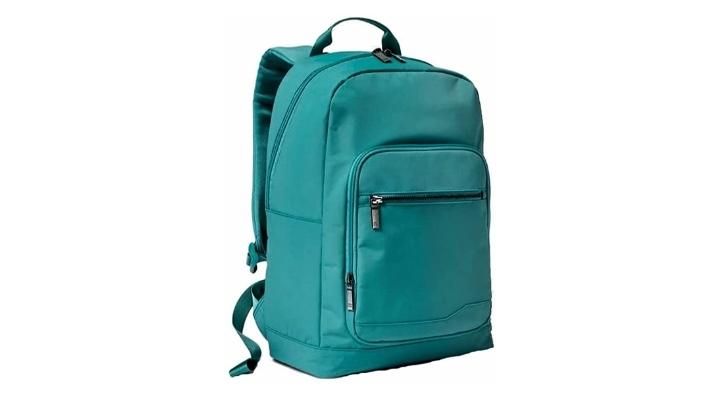 The Open Story Backpack is perfect for shoppers, commuters, digital nomads, and travelers. Its spacious main compartment allows you to store your travel gear, tech, toiletries, clothes, and other belongings in one place. An integrated laptop pocket also adds extra protection and organization.
You'll love how easy it is to use. Its two zippered sections at the front are great for stashing your keys, phone, sanitizer, glasses, and pen. You also won't forget to stay hydrated or worry about spills because of its water holder at the side.
You may want to take advantage of its trolley sleeve to attach your bag to your suitcase. Whether you're commuting to work or flying to another country, this versatile bag provides comfort, convenience, and style for daily use.

Pros
Zipper closure

Front zip pocket

Padded shoulder straps

Trolley sleeve

Water bottle pocket

Top carrying handle
Cons
Fits laptops up to 13 inches only

16-liter capacity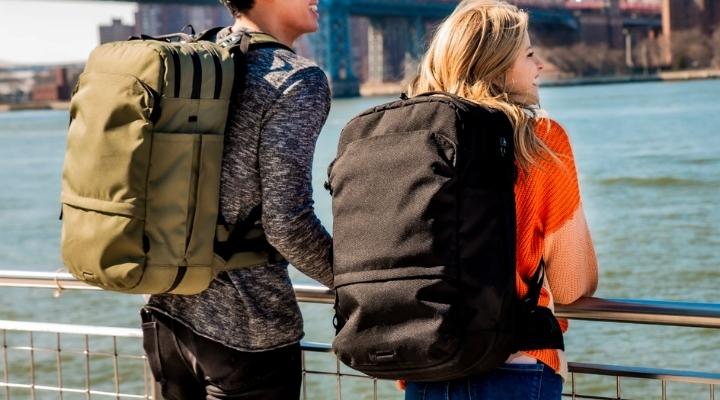 With the Pakt Travel Backpack's dual-compartment zip-around structure, you won't stress out over a messy backpack ever again. Plus, its external pockets make it easy to reach your on-the-go essentials.
The top zippers allow quick access to your laptop, too. And this bag will protect you from leaks with its top-loading waterproof section.
It's thoughtfully made from durable recycled material. Whatever your shape or size might be, you'll experience the greatest comfort and breathability for everyday travel.
Pros
Water-resistant 

Low-waste materials
Cons
Nothing remarkable about its exterior design
The Swissgear Travel Backpack highlights the needs of digital nomads, especially those who have big laptops. It has a zippered compartment and a safe tablet pocket that adds to security.
You won't have a hard time going through airport security because this bag allows laptop-in-case scanning. You won't lose important documents and keys again with its accordion file holder and RFID-protected organizer compartment.
Despite its large size, you'll find it comfortable to carry. It has padded shoulder straps that help reduce back and shoulder pain and ensure breathability.

Pros
Adjustable compression straps

Airflow back padding

Quick-access side pocket
Cons
Osprey is the star when it comes to compact daypacks. It doesn't matter who you are and where you want to go because Osprey will ensure that your belongings fit perfectly and securely inside this travel backpack.
You'll be surprised how much you can fit inside the Ultralight Stuff Pack. Plus, you can still organize your stuff well given that it has separate compartments for your folded clothes and dirty shoes.
Also, it gives added protection for your personal info with the use of RFID protection.
You don't have to worry about accessibility because it has an external water bottle pocket. Wear it comfortably with its mesh straps and air mesh harness.

Pros
Made from durable ripstop nylon

Air mesh harness

Portable
Cons
No chest strap

Can get bulky and uncomfortable
Spend your most secure weekend yet with the Pacsafe Venturesafe Backpack. You don't have to worry about security and safety because of its 5-point anti-theft features.
Some features include a strong wire mesh that protects you from slash-and-run theft, TouchZip technology that prevents break-ins, and a 3mm stainless steel locking cable that turns your bag into a portable safe.
Its spacious compartments allow you to put all your gear, toiletries, and clothes all in one bag for your weekend trip. And its compression straps pack gear tightly to help in maximizing the space inside. Plus, you can easily access them since it opens book-style like luggage.
This simple but stylish backpack also has padded shoulder straps and waist straps for the greatest comfort and breathability. And they can be tucked away if not in use.

Pros
Front zippered compartment 

Can hold a 15-inch laptop

Internal mesh pockets for water bottles and toiletries
Cons
Small capacity

For light travel only
The greatest comfort that the Osprey Atmos gives to a backpacker is its lightness.
Its innovative AntiGravity suspension technology makes your things feel lighter. As it wraps around your body, you'll feel less body pain as you travel for a week or more.
You'll appreciate its compression straps as it helps stabilize your load. What's even more admirable is its durability. It stays strong even in high-wear areas.
You'll also love its internal hydration reservoir sleeve as you'll need it during long walks and hikes.

Pros
Zippered hip belt pockets

Removable sleeping pad straps

Sternum strap with safety whistle

Dual access mesh side pockets
Cons
Difficult to reach the side water bottle mesh pockets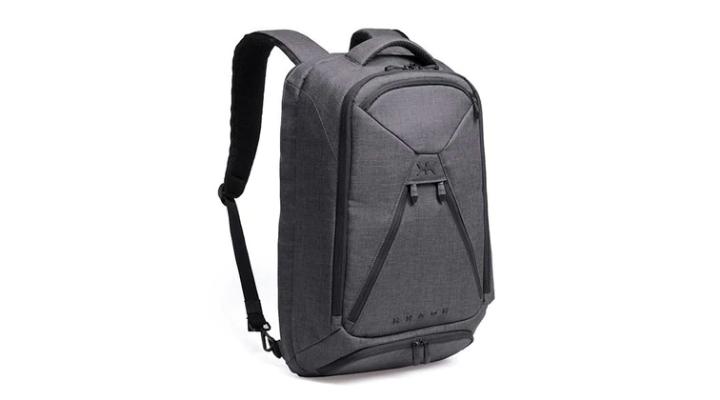 Whether you commute to work or go on business trips abroad, the Medium Expandable Knack Pack will suit your needs.
Its professional and modern design brings out the confidence and simplicity of commuters and travelers alike. Its designers thought it through by adding a hidden water bottle holder to keep you from looking like a hiker.
It's also very flexible. From 27 liters, it can be expanded up to 39 liters. It can even fit up to 15-inch laptops.
It has a spacious main compartment with different small pockets dedicated to other gadgets, important documents, and toiletries. You can easily access the contents of the bag because of its side opening.
You'll love the bottom pocket of the bag where you can store your cords and chargers for maximum organization. It even has slots for your business cards so you can get rid of your bulky wallets. 
If you love wearing shades or specs, you'll love the specialized pocket dedicated for them. It also has a secret pocket where you can put things that you need to access easily. If you need to access your keys at a minute's notice, you can hang them on the key leash inside the bag.

Pros
Removable key leash

Padded computer pocket for 15″ laptops

Water-resistant body fabric 

Zipped water bottle pocket

Fleece-lined sunglasses pocket
Cons
Relatively small capacity compared to other travel backpacks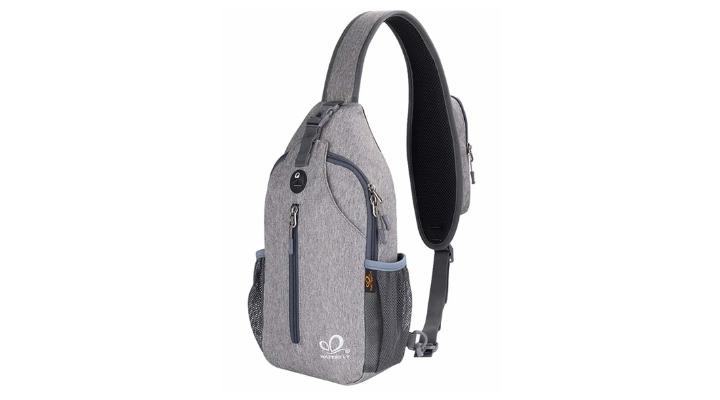 Keep your essentials safe and close to you with the Waterfly Crossbody Backpack. Despite its size, it still has side mesh pockets perfect for your phone, keys, tissue, sanitizer, and wallet.
Made with nylon and polyester lining, you'll feel comfortable wearing it during hikes and long walks. This bag can be used on the go if you're going on a side tour.
If you love listening to music while traveling, you'll love its hidden earphone hole. It provides easy access to your earphones so you can listen to music anytime, anywhere. You won't have problems figuring out how to wear it since its adjustable reversible shoulder strap allows you to wear it on your left or right shoulder conveniently.

Pros
Hidden Earphone Hole

Adjustable & reversible shoulder Strap

Breathable material

Water repellent

Lockable zipper (main compartment)
Cons
Front pocket isn't secure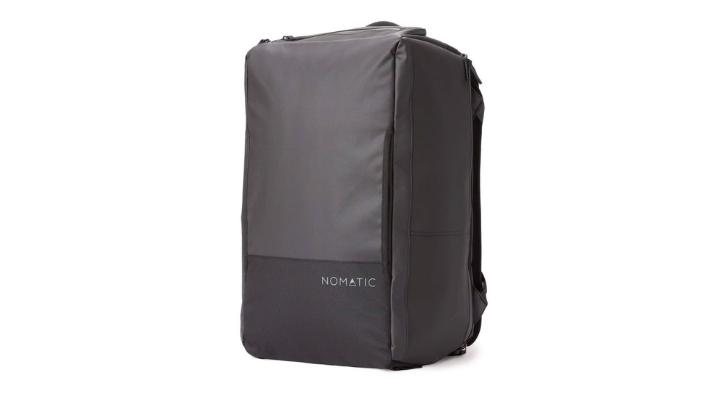 Traveling for work? You'll never go wrong with the Nomatic. Its sleek design gives off a modern and professional look when you go on trips. You'll be surprised with its durability and ability to convert from a backpack to a duffel in under a minute.
With its incredible organization system, you'll be able to pack more in less space.
You'll notice that everything has its place inside the deep main compartment. It has a small electronics organizer for your small gadgets, earphones and chargers, and a laptop sleeve. You can even store your shoes inside a special compartment and put your small essentials inside its waterproof pocket.

Pros
Convertible straps

Water-resistant

Ample padding

Easy-access pockets
Cons
A little too big

The backside isn't breathable
Whether you're a student, digital nomad, or seasoned traveler, you'll appreciate the large storage that the SHRRADOO Laptop Backpack offers.
Three spacious main compartments accommodate your college supplies, travel gear, clothes, gadgets, accessories, and other travel essentials. It even has hidden pockets that help with organization.
Its laptop compartment can store a 17-inch laptop. You'll also appreciate its deep zipper pockets for your on-the-go essentials. A specialized pocket is also designed to hold water bottles and umbrellas.
What makes this travel backpack unique is its external USB port for convenient cell phone charging. It even has a specialized hole for your earphones so you can listen to your favorite songs while you're traveling.
Made from high-quality polyester fabric with nylon lining, you'll never worry about your stuff getting wet. Its generous shoulder pad will keep you from getting shoulder and back strain as you travel.
Pros
Durable

External USB port

Well-ventilated

Breathable mesh shoulder straps
Cons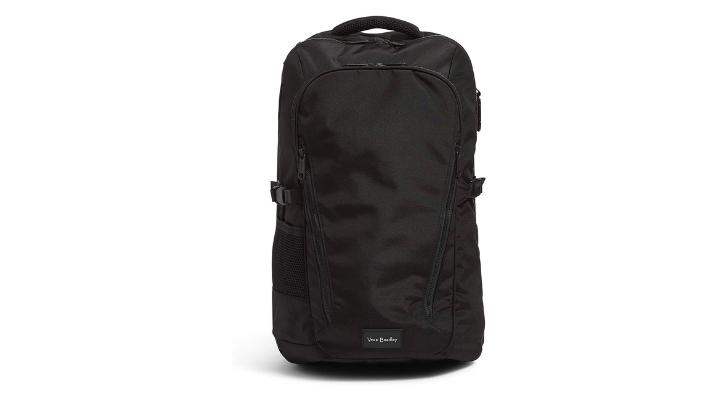 The Vera Bradley Flat Travel Backpack isn't only water-resistant, lightweight, and durable, it's also sourced from recycled material. You'll enjoy how it's comfortably soft to the touch.
Packing and getting stuff from this bag will never be a hassle since it unzips on three sides. Also, it fits perfectly inside a plane's overhead compartment.
Aside from comfort and sustainability, it also features spacious compartments where you can maximize organization. There's a compartment for your 15-inch laptop and special mesh zip pockets, tech pockets, pen slips, and slip pockets for your other essentials.
You'll never forget where you put your phone, pen, and credit cards despite having a huge bag.
Pros
Sustainable fabric

Tech pocket

Fits up to 15-inch laptops

Adjustable shoulder strap
Cons
This awesome travel backpack can expand from 26L to 34L. Three to five days' worth of clothes, toiletries, and travel essentials fit just right inside.
The best part is you can still fit in some souvenirs for your loved ones back at home. Plus, you don't have to worry about the size of this bag for air travel because it's perfectly carry-on-sized.
Travelers love the Tortuga Travel Backpack because it packs like a suitcase. You don't have to go through the hassle of going through your bag and messing it up. It opens flat to make packing and organization easy.
A laptop sleeve is also available to protect your 15-inch laptop. Additionally, accessory packs are positioned strategically so they can be readily available to you.
It's also very comfortable to wear. You'll feel that the bag's weight is balanced between your shoulders and your waist. It's also amazing how the bag adjusts and gives you a custom fit.
Pros
Dual-foam shoulder straps 

Removable hip belt

Durable
Cons
This simple and modern travel backpack is the ultimate backpack for travelers, everyday commuters, and digital nomads.
The Able Carry Max Backpack was built with strong materials and fabrics that introduce next-level strength and security. It even has lockable zippers for added security.
Its spacious compartments and specialized pockets help in maintaining organization and flexibility. It also has a dedicated laptop compartment and tech pockets for your cords, chargers, adapters, and earphones.
Find comfort while traveling with its ventilated fabric and padded shoulder supports.
Pros
Comfortable harness system

Big interior water bottle pocket

Durable fabric
Cons
The tablet sleeve is shallow

The rear pocket is hard to access
Travelers love the eBags Pro Slim Weekender for its lightness and spaciousness. The bag also ensures that your laptop is safe inside a TSA-friendly pocket.
The flexibility of this travel backpack is amazing. It can be converted into a briefcase or cross-body bag.
Also, there's a big compartment for your clothes and other essential toiletries for your travel. Plus, zip pockets are installed for better organization.
You don't need to worry about where to put your headphones and chargers since a specialized quick-grab top pocket is provided. You can conveniently get your in-flight essentials even if it's below or above your seat.

Pros
Water bottle pocket

Convertible
Cons
The Volher Anti-Theft Business Travel Backpack prioritizes security with its luggage strap and anti-theft properties.
You'll find this bag's multiple pockets super helpful. It has a padded laptop compartment to secure your 15-inch laptop. It also has additional tech pockets for your tablet, mouse, chargers, power bank, and phone to keep them organized and protected. And a hidden back pocket is incorporated for you to keep your valuables, such as money or cards, safe. It's perfect for digital nomads and business travelers.
You don't have to worry about your cell phone battery since it has a built-in USB charger.
Made from durable polyester, it has water-resistant features that'll protect your valuables from unpredictable weather changes. You'll appreciate the comfort it brings since its design relieves the pressure on your shoulders.
Pros
Hidden anti-theft pocket 

Luggage sleeve

Ventilated back panel

Adjustable shoulder straps
Cons
Final Thoughts
A great travel backpack is a must-have when you're a digital nomad, going out of town, planning a trip to the wilderness, or traveling for business.
Your bag will be your companion for days, weeks, or months, so you need to pick the right one that suits your needs. If you choose wisely, your backpack will save you from a lot of hassle, worry, effort, and even money.
Ultimately, you'll have a smooth and secure trip when you find the right one for you so take this process seriously!
If you're having a hard time picking a travel backpack for your next adventure, consider the important points we presented and the suggestions we made in this article.