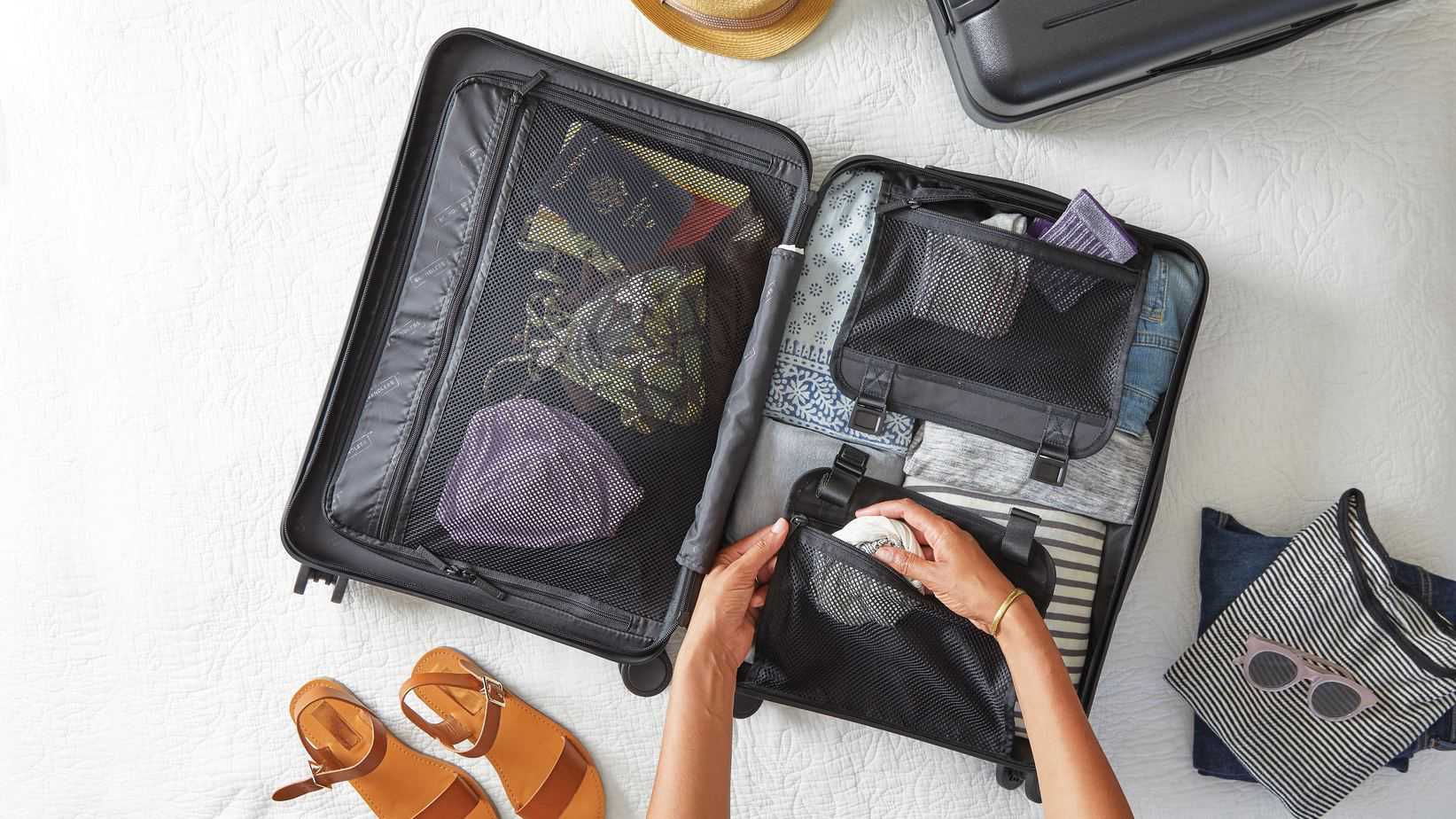 This is chapter 9 of an 18-part series about digital nomading and location independence. To see all of the other chapters, click here!
Nomading forces you to be minimalistic because you have limited bag space. As a former maximalist, this lifestyle has taught me that I really don't need things to be happy.
The more I've traveled, the less that I've realized I need. As a result, I've culled more and more over the years.
Quick Packing Tips:
Pack less than you think you need. Most nomad hotspots across Asia and Latin America have cheap laundry services that cost ~$1-2 USD per kilo.
Pick colors that work together: I can wear almost any shirt in my wardrobe with any shorts, pants, or bathing suit.
Toiletries are easy to buy wherever you live, so there's no need to overdo it. I used to pack for "all scenarios," but now I only bring basic items and specialty U.S. products.
There are two common digital nomad packing strategies:
Backpacker: one carry-on backpack (50L maximum) and one other small backpack
Checked Bag Traveler: 1-2 checked bags and one small backpack
I used to be in the backpack category but for the last year, I've started traveling a bit heavier and I now bring a checked bag and a couple of surfboards.
Your strategy should depend on how fast you're looking to travel and what you require to be happy. Most budget airlines across Europe and Asia allow a maximum carry-on weight of 7kg (10kg in much of Europe) – so travel lightly if you're moving quickly!
What to know about clothing as a minimalist:
I own 8 shirts, 6 pairs of underwear, 2 shorts, 2 shoes, and 1 pair of pants. The biggest key to making a minimalist fashion style work is to make sure that your tops, bottoms, and shoes will work together a very high percentage of the time.
I've kept this simple by only buying black shorts and shoes and only buying non-black shirts. This way 100% of my tops work with 100% of my bottoms which work with 100% of my shoes. And thus I never have to worry about making outfits work.
It eliminates a lot of the decision-making and makes it very easy to live with limited amounts of clothing.
You obviously don't have to be this extreme but definitely keep combinations in mind as you pick out your clothing.
My Packing List (Mostly For Men and Tailored to Warm Destinations)
I'm a thorough researcher, which means you can trust that I've deeply thought through all of my recommendations. The short-list is here at the top, and a more thorough explanation of each item is below.
Looking for a female-focused packing guide? Check out this post.
Bags
From 2017-2019, I traveled with only a backpack and daypack. But since slowing down my travel speed to 3-6 months in each place, I've added some more comforts in my life and I now travel with a checked bag + 2 surfboards.
1 Checked Bag
For maximum versatility, I chose a checked bag that both rolls and can be used as a backpack. But I know plenty of nomads who have roller-only bags. I have this one and love it.
1 45-50L Backpack
I recently switched from a "backpacking backpack" to more of a carry-on backpack because I need the extra space. This bag is the maximum allowed size for a carry-on bag and it's awesome.
<strong
1 20-35L Foldable Daypack
I've been traveling with this bag since the beginning of my nomading journey in 2017. When you aren't using it, it folds up into a small, 3″x 2″ x 1″ size which makes it easy to stuff into your luggage whenever you don't need it.
<strong
Clothing
4-7 Pairs of Underwear
Ex-Officio is the only underwear that I travel with because it dries faster and smells less than any type of other underwear. When I started digital nomading, I had a few other types of underwear but over time I replaced everything with these. They're amazing.
<strong
<strong20women%27s%20underwear&i=sporting&crid=2L5QWQ5I9MUV0&sprefix=exofficio%20wome%2Csporting%2C218&ref=nb_sb_ss_i_1_14&tag=buyamonline-20
3-5 Pairs of Socks
If you're going to warm places, pick something breathable and comfortable. I find that depending on the destination I either use socks all the time or hardly at all – but you never know when you'll need shoes and socks.
<strong
2 Pairs of Shorts
These are my favorite shorts by far and they're the only ones in my bag. I highly recommend them, especially for warm destinations.
<strong
1 Pair of Jeans or Pants
The Aviator jeans are fantastic. They're breathable in warm climates and are so much more comfortable than traditional jeans.
When I started traveling, I traveled with breathable golf pants before switching over to these a couple of years back. Love them.
1-2 Bathing Suits with Pockets
Bathing suits are versatile, comfortable, and easy to clean. It can be difficult to find men's bathing suits with pockets so I've linked to three of the best companies. I personally only buy black trunks to keep things simple so that they work with all of my shirts.
6-10 Shirts
I used to travel with the merino wool Icebreaker T's (linked below) but I've since switched to the Bylt Basics T-shirts and these are pretty much the only shirts that I have now. If you have an athletic build these will be the best fitting t-shirts you've ever owned.
Regardless of what you buy, make sure they're breathable and that they don't show stains too easily (i.e. avoid white shirts).
1 Belt
Any belt will do the trick! This is a plain and simple belt that is similar to what I'm currently traveling with.
1 Rain Jacket
Lately, I haven't been keeping my rain jacket in my bag but I also haven't been visiting places with a lot of rain. If you're headed to a rainy place like Bali, this is a must.
Shoes
1 Pair of Shoes
Allbirds are the only shoes in my bag because they work for essentially all occasions: working out, semi-formal dinners, clubbing, etc. They're comfortable, breathable, aesthetically pleasing, and they come with my strongest possible recommendation.
1 Pair of Flip-Flops
I live in flip-flops so having a pair with arch support is a must for me. These are the best ones that I've found.
Electronics
Laptop
I travel with a Macbook Pro but no need to buy a new computer just to become a nomad! You can read more about some other nomad computer options here.
Travel Speaker
This is one of the most important travel accessories in my bag. I couldn't imagine not having a speaker with me – if you like music then make sure to pack one of these.
Headphones
I've found the Bose QuietComfort earbuds to be invaluable for silencing airplane noise and helping me sleep on flights. I also have a pair of Apple Airpods Pro which are great!
Laptop Stand, Keyboard, Mouse, and Second Monitor
I travel with a laptop stand, keyboard, mouse, and second monitor that I attach to my laptop. I've found that the laptop stand helps my neck since it keeps me from hunching over. And the second monitor is a simple way to boost productivity.
Travel Adapter
You're definitely going to need one of these. Getting one with USB ports in the side is highly recommended!
Portable Charger
This has saved me in specific situations and having some sort of a portable charger is very handy.
Dry Bags to Protect Electronics
I use these a lot more than I would've originally predicted and I couldn't imagine traveling without them. Whether I'm worried it might rain or I'm headed to the beach, I bring one of these with me just about everywhere I bring my laptop.
Toiletries
Electric Toothbrush
Worth the investment! $50 is a small price to pay for healthier teeth.
Toothpaste
Floss
Face Wash
Deodorant
Nail Clippers
Other
Travel Towel
This is most necessary for Southeast Asia or living in hostels and less necessary for other places.
Packing Cubes
I couldn't imagine living without these. They keep my bag organized and help compress my clothes to maximize space. Make sure to buy light packing cubes (like the ones I've linked to) because some of them can be much heavier than you'd expect.
1-2 Locks & A Cable
No matter what type of traveling you're doing, you're going to want locks. It will help with your peace of mind when you're traveling with all of your life's possessions.
1 Lacrosse Massage Ball
This is low-key one of the most important accessories that I travel with. I use this every morning to get the knots out of my shoulders and hips. It's small, light, and transformational for your body.
Ear Plugs
I don't use these often but holy shit am I happy to have them when I need them. You're going to end up in some loud sleeping situations and these will save you.
Eye Mask
Similar to ear plugs, an eye mask will save you in unexpected moments and I highly recommend stuffing this in your bag.
Looking for someone's opinion other than my own? Read this great guide.
Bonus: International Driver's License
Not everyone travels with this but I recommend it. This license can help you avoid uncomfortable situations with foreign police. For Americans, you can get an international driver's license in five minutes for $20 from any AAA location.
Also, if you have a motorcycle license in your home country, this will ensure you're covered by insurance abroad.
Keep Reading: Click here to read Chapter 9: The Three Most Popular Digital Nomad Travel Styles & Pros/Cons