Note: This post may contain affiliate links which means if you click on a link and purchase an item, we will receive an affiliate commission at no extra cost to you.
Traveling with kids can be a challenge for parents, but it can also be a lot of fun. If you're looking for some tips to make your next family trip a success, you've come to the right place.
In this blog post, we'll discuss some important things to keep in mind when traveling with children. We'll cover everything from safety and security to keeping your kids entertained on the road.
So whether you're planning your first family vacation or just looking for some new ideas, read on for our top family travel tips!
Top 60 Family Travel Tips for Parents to Keep Your Children Safe & Entertained
1. Keep your kids safe with booster seats and car seat rentals
When traveling by air, it's important to keep your children safe during the flight. Car seat rental companies offer different types of restraints including lap belts, harnesses, toddler seats, booster seats, and full-size car seats – all of which are approved for use on aircrafts.
If you're traveling out of town with young kids, you might want to consider renting a car seat at the airport instead of lugging around one that's bulky and heavy. You can even rent strollers or wheelchairs for older children who need to be pushed through the airport terminal.
2. Take care of your needs, too
When you have to look after your kids, it can be easy to forget about your needs. However, you can't expect to take good care of your kids if you're lacking sleep and proper nutrition.
To prevent exhaustion, book a place with two full beds so you can get some rest without feeling guilty about leaving your children alone. It's also important to eat well – pack snacks such as granola bars and crackers to avoid buying unhealthy treats at the airport or gas station.
3. Take advantage of airport playgrounds
Airport playgrounds help children burn off some energy before boarding the plane, but they can also be useful places for parents to relax too. At larger airports, some playgrounds are quite amazing, featuring interactive segways, climbing walls, and even zip lines.
Unfortunately, not all airports have playgrounds available because of space restrictions. If you're lucky enough to have a playground at your airport though, you'll find that they're open for extended hours during busy travel seasons or holidays when travelers need them the most.
4. Follow TSA guidelines for safe air travel with kids
Packing can be stressful in general, but it's especially difficult if you're traveling with children in tow. To make things easier on yourself when flying out of town with kids, follow these tips from the Transportation Security Administration (TSA). Keep in mind that rules change often based on global events, so always check their website for updated information.
Make sure all sharp objects are in checked baggage. This includes pocket knives, scissors, and make-up cutters.
Pack only small amounts of liquids in each container. A maximum of 3 oz per bottle is allowed – even if you can't squeeze that much into the bottle.
Remember to put all electronics larger than a cell phone into your carry-on bag for safety reasons. This includes tablets, e-readers, gaming devices, laptops, and cameras.
Items must also be TSA-approved because many airports require security screening before boarding any flight. All approved electronic items have special stickers attached to them saying 'Checked'.
On the day of travel, place each child's shoes in a clear plastic bag and label it with their name. Shoes must remain on the traveler during security screening (no exceptions) and will be returned once you and your children have passed through the metal detectors.
5. Have special travel 'ammo' for toddlers and young kids
If you happen to get stuck next to someone who's coughing or sneezing, consider packing some hand sanitizer or wipes before leaving home. That way, you can quickly wipe down any surfaces your child may touch while sitting next to sick people – plus your own hands too!
6. Travel with special dietary needs
If, for some reason, you're unable to pack snacks or bring along your child's favorite juice box or sippy cup, be sure to let the airline know about any specific dietary needs before checking in at the airport. This way, travel crew members will have plenty of time to accommodate your needs during flights and layovers.
7. Pack a 'clean up' bag for kids
An extra change of clothes is never a bad idea when traveling with young children because spills happen more frequently than not! Always carry wet wipes in addition to extra clothing so that you can wipe down any dirty surfaces immediately should they occur – particularly on airplanes where tray tables are hard to clean under and reach from the seat.
8. Download free entertainment apps for kids
Many airlines offer entertainment apps you can download on your tablet ahead of time so that you don't have to worry about finding WiFi during layovers. You can also check out each terminal's concourse map on airport websites and locate the nearest playgrounds (if available) for toddlers who need a short break before boarding flights.
9. Pack non-messy food items for young kids
Some foods are messier than others when traveling with children, especially those who've just started eating solid foods. For that reason, pack snacks that can be eaten without the use of any utensils to avoid potential messes during flights and layovers.
Applesauce packets are a great idea because they come pre-packaged in individual servings and don't require any preparation or heating before consumption.
10. Keep youngsters busy on board
Children tend to become restless and active after sitting still for an extended period (45 mins+), which makes them perfect candidates for motion sickness if you're cruising at 30,000 feet.
To combat this problem, pack plenty of crayons and small toys like action figures or cars to keep kids busy while traveling on planes – preferably something they've never seen before to avoid any meltdowns!
11. Travel with a small pillow for kids
If your child has been begging you for an in-flight pillow, pack one along on your next flight and make a game out of how long it'll stay inflated. To prevent any possible choking hazard, we recommend placing a thin piece of fabric over the pillow before allowing children to play with them during travel.
12. Use carry-on suitcases with wheels for little legs
When packing suitcases for short family trips or vacations, always opt for bags that include durable plastic or rubber wheels so that everyone including young children can pull their luggage without too much fuss. This will come in handy for older relatives who may have trouble lifting heavy bags as well!
13. Reward your kids with incentives if they're well-behaved
You don't have to bribe your children into behaving on planes, but you should always reward them with something like stickers and temporary tattoos or Kindle gift cards (children under 3 can choke on them so be careful!) after they've shown responsible behavior by following all of the rules.
This could include buckling seatbelts when told to do so or not kicking seats in front of you.
14. Pack small bags for garbage.
If you're traveling with young children, it's important to always have small bags on hand for trash. This will help minimize the number of germs they may come into contact with after eating snacks (even if you pack your own) and could prevent any 'tummy aches' that commonly occur when flying.
15. Use the buddy system for young kids
It's never a bad idea to put your children in charge of another child who's around their age and size. Most parents would rather let their kids sit next to someone they know than a stranger, which can help them feel more comfortable on flights – especially if you're sitting near the back of the plane.
16. Pack items to entertain yourself
Most parents already know how difficult it can be to sit next to fussy children during long flights or layovers, especially if you're traveling alone! This is why it's smart to pack plenty of snacks and entertainment like board games (Scrabble is always a classic) for yourself to play with during the trip.
17. Pack activities that can be done without attracting attention
Packing coloring books and crayons for your kids is always a smart idea, but so is packing some light reading material or laptop games to keep yourself and your kids occupied on your flight. Not only will it help you pass the time more quickly, but it'll also help reduce the amount of unwanted attention you might receive from people sitting around you.
18. Visit zoos and museums before traveling to a new destination
If you're taking a family vacation but don't want to spend too much time in the sun, visiting local zoos or science museums is always a great idea! Plus, planning your trip around these activities will require minimal research on your end, allowing you to explore the city more quickly.
19. Always leave plenty of time
Family vacations can be stressful, but that stress is compounded if you're rushing about because you've cut it too close. The more time you can give yourself to get to your destination, the better.
Of course, there are emergencies like traffic jams or ticket cancellations that may make you miss your flight or train (that's where those extra days of travel time in the beginning come in handy).
But no one likes to be rushed. So leave with plenty of wiggle room to make sure you get there when you want to with no stress.
20. Invest in good travel gear.
You can never have enough packing cubes, travel pillows, and neck support systems. Even if you're traveling with an infant, it never hurts to have something like a baby carrier that'll help the little one fall asleep more easily or reduce your trips up and down the aisle.
Having a great travel backpack is also a good idea. This way, you can carry all of your clothes and essentials in one place.
A Dopp kit or toiletry bag can help a lot, too. There's nothing worse than having to rummage through your luggage every time you want something new to wear, and if you forget to pack deodorant, shampoo, or conditioner, you'll have a hard time finding it on the ground.
21. Don't forget about sleep during your vacation
If your kids are still young, you'll need to take the first shift for their bedtime. But once they're fast asleep, it's important for you not to stay up too late on your vacation.
Try your very best to get a full night's sleep so that you can enjoy your trip more fully during the day and learn everything there is to know about the city.
22. Plan your family mealtimes beforehand
When you're traveling with little ones, it's important to plan when you'll be eating. If your kids are young, they might not be able to sit still for long periods without snacks in between.
Planning out your meals ahead of time will help make your trip more relaxed and enjoyable – especially if you're not too familiar with the city's restaurants.
23. Make a vacation itinerary and keep it close
If you've planned your trip well, creating an itinerary should be easy. But even if you have one, don't leave it in your suitcase – stick it in your pocket or purse so that you can check in on what activities are coming up next on the list.
You can give a copy to your kids as well. Put it in a checklist format so that they can keep track of your adventures. It'll make things a lot more fun for them.
24. Expect the unexpected
That might mean packing more than you need so that you can return home with some extra souvenirs or it might mean bringing an extra outfit if your child decides they no longer want to wear what they've packed for the day.
What matters is just staying positive and flexible, even if something goes wrong. Then you can overcome whatever obstacle comes your way.
25. Ask for child discounts
It's not like you're asking for a free ride, but if you ask politely, most establishments will give your kids discounts on things like food and entertainment.
That way you can keep to your budget while still letting everyone relax and enjoy themselves. Asking for child discounts is also great for families that are traveling on a tight budget.
26. Always bring a first-aid kit and medicine
To avoid an excessive amount of potential stress, just bring along a first-aid kit with you that has the essentials – bandages, disinfectant wipes, pain reliever, fever reducer, etc.
You might also want to pack some medicine for your kids in case they get sick or have allergies. It's better to be safe than sorry.
27. Don't over plan or overspend
It's better to have a short trip that you can enjoy fully than a long one where everyone gets burned out after day two. Do your best to plan ahead, but leave room for spontaneity, and don't overspend on fancy meals or souvenirs.
28. Plan for bathroom emergencies
If you're going anywhere with limited access to bathrooms, you'll want to bring your own toilet paper and wet wipes so that everyone can stay fresh.
And if there's any chance someone might have diarrhea or an upset stomach, bring the medication along with you. It could save you a lot of stress later on.
29. Pre-book everything you can, from accommodation to activities
It's pretty much impossible to find an Airbnb for the same price as a last-minute hotel room or to find tickets for that new exhibit you want to go see without paying more than $100.
You can still do your best to save money, but try pre-booking everything so that you at least know what costs will be coming up and when.
This is especially important if you're traveling with a large group of people, too. You'll have to book rooms together or find transportation that can accommodate everyone.
30. Prepare your kids for the trip by involving them with planning the activities
As much as you can, let your kids plan what to do throughout the trip. They'll have a lot more fun if they're involved and understand why going here or doing that is going to be so much fun.
31. Go somewhere you've been to before
If a previous vacation has gone smoothly before, and your kids had a ton of fun there, then just go back next time. Planning will be easier and you'll better anticipate what problems can occur because you already know what to expect.
32. Book an entire place instead of hotel rooms
If you can, book a villa, apartment, condo, or house. That way, your kids will get to have their own space. It's also so much better than booking separate hotel rooms.
33. If your kids are old enough, travel during their spring breaks
Not only will the trip be less expensive, but you'll have a built-in playmate for your next adventure. Plus, they won't get as much homework done so that's another plus.
34. Sort out your vaccinations and COVID passes
Some countries require specific vaccinations, like yellow fever or cholera, or proof that you've received a COVID pass. Check their website ahead of time if you're traveling outside the US, to make sure you don't get turned away at the border.
35. Create a packing checklist and pack strategically
Pack light but necessary things first. For example, pack your socks and undergarments first, then your pants and tops next, then finally your outerwear last.
You'll also want to be strategic about what you bring. Bring a swimsuit even if you don't plan on swimming so that you have the option for when the mood strikes.
36. Pack a travel adapter and power bank
If your family's traveling abroad, you'll want to make sure you have all the necessary chargers on hand for when it comes time to charge up all of your important devices.
The power bank will be especially useful after kids have drained their devices playing games or watching shows.
37. Get a place with easily accessible laundry
A place with a washer and dryer is so much better than having to wash things in the sink. This is very important if your kids get rather messy and have to change clothes often. If you get a place where you can do the laundry easily, you won't even have to pack as many clothes.
38. Show your kids how you can make travel a DIY project
Make a scavenger hunt to help them learn about the place where you're going and collect things as souvenirs, or try to make something from scratch using ingredients from the grocery store nearby. This will also teach them a thing or two along the way!
39. Get a place with VR
Even if you don't have VR at home, having the option to use it for your next trip is great because it can keep kids entertained whether they're homesick or not.
40. Get a place with a kitchen
Don't plan on eating out all the time. You'll save so much money if you do most of your cooking at home. Make sure you get a place with a fridge and a stove to make things easier.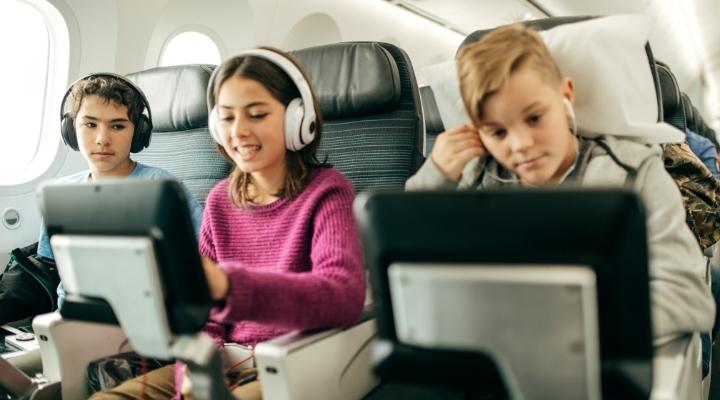 41. Get a place with a bathtub
Showering your little ones is so much easier when you have a bathtub. Plus, you get to use it too if you just want to relax.
42. Opt for an all-inclusive trip or tour
You'll have to pay in advance, but it's so much cheaper this way. You won't have to worry about anything once you're already there. You can just enjoy your time with your kids and take them out for everything they want, like ice cream or something else that costs extra.
43. Check the weather at your destination and pack appropriately
Make sure you know what the weather will be like to make your trip much better. You don't want it to be freezing if you're somewhere warm, do you? Check the weather and get everything ready!
44. Have a barf survival kit
You don't want to forget this one, especially if you're going on a long trip. Bring a plastic bag, hand sanitizer, some napkins, and wet wipes to make sure you're prepared for anything.
45. Pack less by ordering and shipping items to your location
If you're going on a long vacation and need a ton of diapers or other items, you might as well save money and the space in your luggage by ordering them before you leave. It's best to do it beforehand so they arrive on time.
46. If you can, avoid traveling during peak season
You'll have to pay more for everything if you decide to travel during peak season, so make sure you avoid it. Just pick another time instead.
47. Stock up on sun-protective clothing, like long-sleeve rashguards
Getting sunburned is never fun, especially not for your kids. Make sure you pick some good swimsuits with extra sleeves and legs so they won't be as exposed to the sun and can enjoy swimming instead of worrying about their skin.
48. Always make sure you know where your children are
If your kids are young, they might wander off and explore the place you're staying in. You can get a GPS tracker for your kids, so you can better track them down if needed and know where they're going at all times.
If you need to do something like go shopping, make sure your kids are with an adult they can trust. This way, if they get lost or separated for whatever reason, they won't be left alone.
49. Give kids your contact information
One thing you can do is give them a bag or wallet of their own, and put a copy of your contact details there in case they get lost. Teach them to give these details to adults, so in case they get lost they can ask for help.
If they're old enough to memorize your name, phone number, email address, and local address, help them remember those for their safety.
50. Learn how to communicate your kids' basic needs in the local language
If you're going to a foreign place and your kids have special needs for their diet, allergies, and physical and mental health, make sure you know how to communicate these needs in the local language. That way you'll be able to get what you need easier and faster when there's an emergency.
51. Download local taxi apps
Make sure your kids know how to call for a taxi in case they get lost and need to go somewhere. They should also know the number of their hotel or you, just in case.
You might also want to consider downloading local taxi apps so you can get a ride whenever and wherever you need it faster. This will help you not get lost or have to walk for a long time to the nearest bus stop.
52. Make sure your kids know how to contact you in case of an emergency
If you're going somewhere and your kids don't know the area very well, make sure they know how to contact you in case of an emergency. They should be able to get in touch with you very easily, through phone or online, so you can get them help.
If they have a smartphone, make sure it's on them at all times. Don't leave them somewhere without it because they might not have the means to contact anyone if anything happens to them.
53. Keep your hands free when you travel
Parents with small children should consider keeping their hands free at all times, so they can help their kids better if needed. You can do this by investing in a carry-on backpack that could carry all your travel essentials.
54. Help children equalize the pressure in their ears when you're flying
Kids can have trouble equalizing the pressure in their ears when they're on an airplane, which makes it harder for them to adjust. Some tips you can teach them are:
Yawning and swallowing when they feel the pressure building up
The Valsalva maneuver, where they gently blow their nose while pinching their nostrils and keeping their mouth closed
You can also buy earplugs for flying for your kids.
55. Schedule some downtime when you get to your destination
After all the traveling you've done, your kids might be tired and need to recharge. Make sure they get enough rest so they can enjoy their time in the new place better.
You should also schedule some downtime for yourself, so family bonding and exploration can happen at a more leisurely pace instead of feeling rushed and exhausted.
56. Don't buy souvenirs.
You can make personalized ones instead
You don't want to buy souvenirs, but you also don't want to disappoint your kids. If you do bring them with you, take time before or after the trip to make something that's uniquely theirs and special only to them.
If they insist on buying one, make a deal with them that they can only buy one thing on the very last day of the trip. That way, you'll free yourself from all the whining because they'll start thinking about what one thing they should choose to bring home with them.
57. Teach your kids road safety rules when traveling by car
If you're taking a road trip and your kids are old enough, don't forget to teach them some basic rules of the road. This way they'll stay more alert and enjoy the trip better.
Make sure they wear seat belts at all times and always get in through the proper door. Teach them about staying out of the way of fast-moving traffic, how to change lanes safely, and when it's okay to go straight or make a turn.
58. Teach your kids about money when traveling abroad
If you're taking your kids with you on holiday abroad, make sure they know the value of the local currency before you get there. You should also teach them not to take money out of ATMs that aren't your bank if you're not around.
Demonstrate how to tell if a bill is real or not, so they know when someone's trying to pass off a fake one on them just to get some of their money.
59. Download travel apps that are kid-friendly
The best way for kids to learn about new places is by traveling there, but if you can't be with them all the time to teach them everything they need to know about the cities they visit, you could download kid-friendly educational apps.
These apps will help kids learn more about the history of the new place you're visiting, so they'll get a better appreciation of it when you get back home.
60. Get your kids involved in packing for the trip
You don't want to leave out any details when you pack for a road trip or vacation, so make sure they bring everything they need as well. Let your kids choose which clothes and toys they should take along with them on their own so it'll be easier for them to adjust when they get there.
You can even teach them how to fold their clothes so they'll learn valuable skills that'll help them later in life too.
Final Thoughts
The final words of wisdom we have for parents before they go on a family vacation is to enjoy the time with your kids. Make sure you're well-rested and don't push them too hard in their downtime, so everyone can relax and bond without feeling exhausted or rushed.
The most important thing about this article isn't just how much it'll help you plan an amazing trip but also what it teaches you about parenting. Making memories with your children while not spending every waking moment taking care of them will be something both you and they cherish forever!
If you have any tips or tricks of your own to share, be sure to leave a comment below!