Note: This post may contain affiliate links which means if you click on a link and purchase an item, we will receive an affiliate commission at no extra cost to you.
I recently stumbled upon a few YouTube channels that have become massively successful in a short period of time. All three of these channels are in the movie summary niche.
Here are some of my key takeaways from analyzing their success:
The Channels
Detective Recapped, Started June 9th, 277k Subscribers, 39,964,635 views, Estimated Monthly Earnings of $7.3K – $116.2K (SocialBlade)
Movie Recaps, Started June 10th, 325k Subscribers, 62,511,824 views, Estimated Monthly Earnings of $9.8K – $156.8K (SocialBlade)
Story Recapped, Started March 18th, 569k Subscribers, 167,135,309 views, Estimated Monthly Earnings of $18.2K – $292K (SocialBlade)
1. They're building upon the success of some existing, massive channels in the same niche
I recently read a tip that the simplest way to do a YouTube market size analysis is to look at the largest channels in the niche. There are multiple channels with 1M+ subscribers in the movie summary category, which shows that this type of content is very in-demand.
Dead Meat's a YouTube channel that does horror movie summaries/kill counts and has 5.12M subscribers.
Cinema Summary is another movie summary channel that has 1.26M subscribers.
Both Dead Meat and Cinema Summary are narrated by humans, and they have complex and thoughtful analyses of the movies they're covering. This production style means Dead Meat puts out ~2 videos per month, and Cinema Summary puts out ~5-6 videos per month.
All of this brings me to my next point.
2. The three new YouTube channels are using AI voices: an extremely scalable and unorthodox production method
The three channels all use AI voices instead of human narrators – something I personally haven't seen from a YouTube channel at this scale. Despite this unorthodox style, they're still able to make highly engaging, visually stimulating, and informative videos.
And the result is that two of the channels are able to produce 30 videos per month, and the other channel is putting out 60 videos per month. That's 6-30x more monthly videos than the original category leaders!
The higher level takeaway is that you don't need to follow norms to succeed. These channels are using some best practices and are capitalizing on a large niche, but they're doing it in their own style.
P.S. If you want to learn about the leading AI voice companies, check out Synthesia, Lovo, Play.ht, Replica, and Murf.
3. They've nailed the fundamentals of killer titles and thumbnails
I've learned the hard way that these are major keys to success on YouTube. These channels CRUSH it with their thumbnails and curiosity-inducing titles.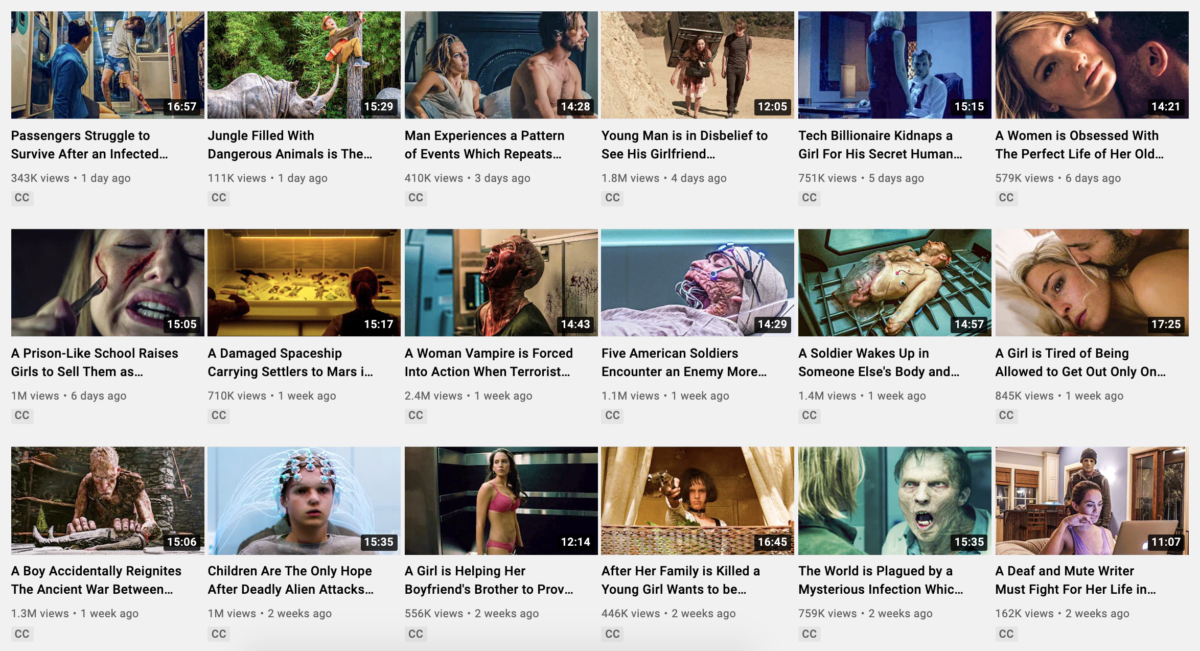 Final Thoughts
If you're early on your YouTube journey, I highly recommend checking out the NewTubers Sub-Reddit and this YouTube Creator Facebook Group.
And if you enjoyed this post, make sure to subscribe to my weekly newsletter and read my post about how to find business ideas.
Best of luck on your journey! 🤙