Note: This post may contain affiliate links which means if you click on a link and purchase an item, we will receive an affiliate commission at no extra cost to you.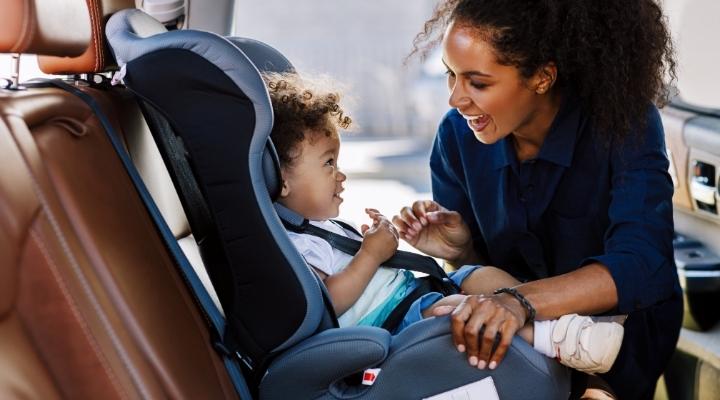 Your family bonding experience wouldn't be complete without your little ones. Nothing beats the joy of being with them and watching them explore the most beautiful places in the world.
But sometimes, keeping your children safe is a challenge. You need to keep them secure and ensure that they're sitting still, which leads you to find a dedicated car seat for them, even during air travel.
That's why a car seat travel bag is a must-have for any parent who wants to fly with their child in a car seat.
In this article, we'll help you find the perfect car seat travel bag that'll give you the peace of mind of keeping your child safe in an unfamiliar place. With a car seat bag, you'll worry less about how to transfer your car seat, plus you'll also have extra storage for your toddler's stuff!
We'll also walk you through the special features and advantages of the best car seat travel bags in the market today. If this is your first time traveling with a child, make sure to read these 60 family travel tips for parents.
Buying Guide: What You Should Look For in a Car Seat Travel Bag
1. Size & Weight
You'd want to buy one that's not too big nor too small. If it doesn't fit, the car seat may move too much or be left unprotected. So, pick a car seat travel bag that has a nice fit and isn't cumbersome to carry.
You should also consider whether the bag is foldable and lightweight and if it can fit inside your luggage when not in use.
2. Carrying Style
There are many styles to choose from. You can opt for a car seat travel bag with or without wheels or one with shoulder straps. To find out what suits you best, ask yourself a few questions:
How many bags will I bring during my trip?

How long will I carry the car seat?
If your luggage is heavy, choose a car seat travel bag that has wheels.
Some parents say that traveling with wheels is more convenient because you'll also bring the car seat bag with you outside the airport. Carrying the bag by its handles can also hurt your hands or shoulders after a long period.
If you opt for a car seat travel bag that has shoulder straps, make sure that the handles or straps are long and padded to be comfortable for you while you're carrying it.
You can also find a car seat travel bag with a luggage strap so you can attach it to your wheeled luggage. That way, you'll give your shoulder a rest.
3. Durability
Ask yourself about how often and how long you'll use your car seat travel bag. If you'll be using it often and for a while, invest in one with high-quality features that stand up against the test of time. You should also choose one with a reinforced base to protect it, especially during gate checks.
4. Price
Padded car seat travel bags are often recommended but are expensive. If you're looking for budget-friendly options, you can try nylon bags without internal padding. Aside from being more affordable, it's also lighter compared to its more expensive counterparts.
5. Airline Requirements
Airline requirements vary from place to place, so do your research before your trip. Generally, airlines want car seats and travel bags that don't block the row or bother other passengers. This is why they recommend putting car seats by the window.
To be safe, buy a car seat that has an FAA sticker attached to it. This ensures that the car seat is certified for motor vehicles and aircraft use.
6. Age and Weight of Your Child
Different car seats are designed for different ages, so check the capacity of the car seat travel bag before buying it.
A bucket-style infant car seat is recommended for airplane use since it fits the age and weight of an infant. It's harder to find the perfect car seat for toddlers, but you can consult with your airlines for recommendations.
Checking a Car Seat for Flights: How to Pack a Car Seat for Checked Baggage
Almost all major airlines consider child safety as one of their top priorities. Hence, you can check your car seat for no additional fees.
Choose an Easy to Fold and Lightweight Car Seat
Some parents don't understand how to use car seats on airplanes. This would sometimes lead to fights between them and flight attendants, who sometimes try to stop even FAA-approved safety car seats from being used. This tends to happen in planes with smaller-than-average seats.
To avoid these circumstances, consider bringing a foldable and lightweight car seat that can fit perfectly inside a travel bag.
Put Your Car Seat in a Fit and Recognizable Bag
This is to avoid different kinds of damage, unwanted dirt, and loss. Some parents pack their car seats in large bags surrounded by diapers on all sides or other soft items such as clothes, socks, or towels to keep the seat safe and secure.
Some airlines give you plastic bags that are strong enough to use as a cover if you need to keep your things safe.
Also, make sure your car seat & travel bag are marked with your name and a phone number or email address that can be used to reach you if it ever gets lost.
8 Best Car Seat Travel Bags for Flying in Airplanes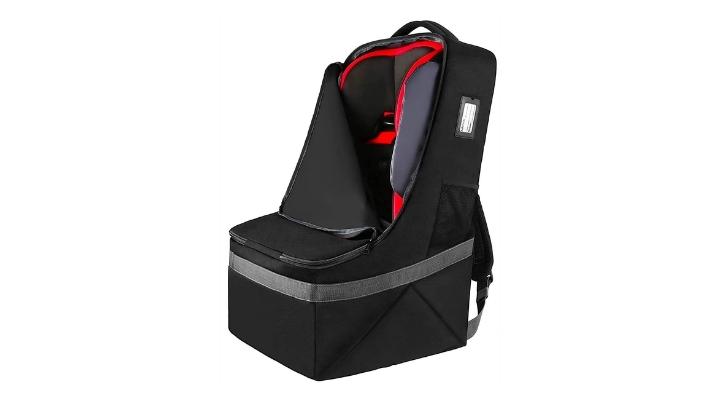 The Yorepek Car Seat Travel Bag is compatible with almost all major brands of car seats with its size (28x18x18 inches).
With its large capacity and elastic pockets, it can fit some small accessories such as diapers, baby toys, clothes, toiletries, and feeding bottles. You don't have to worry about extra costs like baggage fees and car seat rental fees, too, because this travel bag can carry the baby car seat conveniently.
Plus, it's foldable, so you can easily pack it when not in use. You can now show your ticket and pull your luggage at the same time without thinking about your baby's car seat.
This car seat travel bag also has an adjustable backpack strap to cater to different body types and achieve maximum comfort while carrying it. If you opt for hand carry, you can also use its padded top handle.
You won't doubt its durability because it's made from waterproof polyester fiber and has thick feet at the bottom to protect the car seat from dirt and unwanted bacteria. Also, its car seat cushion is easy to clean and uses innovative technology to provide comprehensive wear protection.
You'll ensure your child's safety when you use the Yorepek Car Seat Travel Bag. It has thick internal wings and straps that can fix the baby car seat in its position. Plus, with its double zip opening, you can secure this bag using a lock.

Pros
Adjustable backstraps

Large capacity

Easy to clean
Cons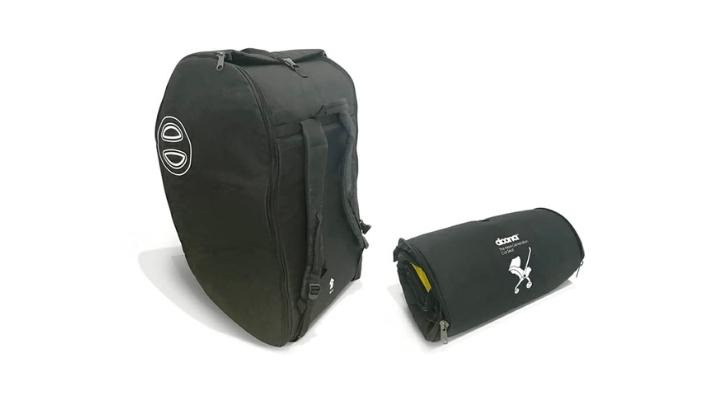 If you own a Doona car seat or stroller, you should consider buying the Doona Travel Bag. Not only is it compatible with your Doona car seat, but it's also designed to make traveling with an infant easier. The car base fits inside the bag as well.
You don't have to worry about harsh conditions outside or the mess your child makes because this travel bag is easy to clean and durable. It'll ensure that even if airline workers toss your stuff carelessly, your expensive items are secured inside.
You'll never run out of options in using this travel bag because of its easy-to-use backpack straps that provide hands-free comfort and convenience.
Another good news is you won't experience any hassle during onboarding because it'd only take you a minute to assemble and disassemble your Doona.

Pros
Water-repellent

Ripstop fabric

Easy to clean

Padded
Cons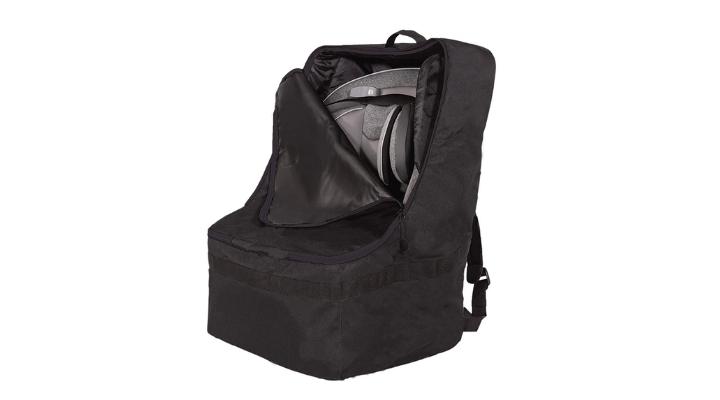 For almost 20 years now, JL Childress has been giving his all for the quality of his products. So, you'll never go wrong with this original brand.
Made with heavy-duty polyester fabric with thick protective padding on all sides, the JL Childress Car Seat Bag will protect your car seat from damages, scrapes, abrasions, and abusive luggage handling. Plus, it has padded interior wings dedicated to protecting the car seat's headrest.
After using this car seat bag, you'll never go back to inferior padding again.
And because of this bag's smooth exterior style, you won't have to stress over your bag's straps and pockets getting caught up in airplane machinery anymore either.
We're not calling this the best padded car seat travel bag for nothing. Aside from its thick protective padding, it also has padded, harness-style backpack straps to maximize comfort and convenience. You don't have to worry about the hassle of carrying it anywhere as you leave the airport.
Pros
High-quality padding

Convenient webbing handle

Dual zipper opening

ID card pocket

Easy to clean
Cons
This car seat travel bag is flexible because you can either carry it on your shoulders or roll the bag by your side.
Chicco's Car Seat Travel Bag has a four-wheel spinner construction and two padded handles for convenience and comfort. It also has adjustable padded backpack straps.
This travel bag ensures both the protection of the car seat and your child. With durable and water-resistant fabric, this car seat travel bag is protected from wear and tear caused by constant travel. It also has sturdy double zippers and a reinforced rubberized base for additional security.
It fits all Chicco car seats and it has a wide opening to make car seat insertion and removal easy.

Pros
Fits all Chicco car seats

360-degree maneuvering

Rolls easily with one hand

Ultra-durable, water-resistant PVB reinforced fabric

Built-in backpack strap storage pockets
Cons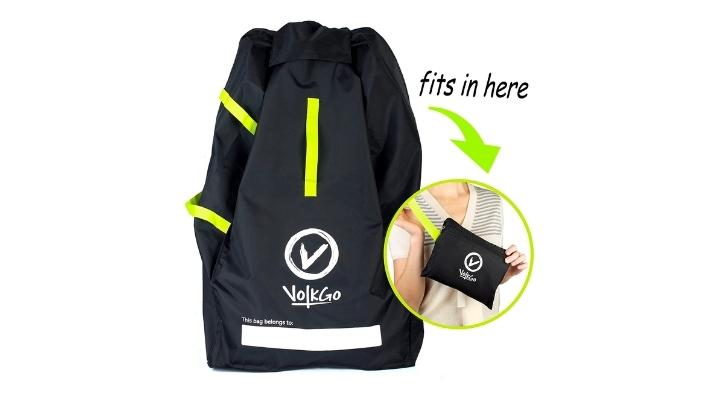 If you're looking for an affordable option without sacrificing the safety of your child, the V VOLKGO Car Seat Travel Bag is for you.
It helps protect your car seat from physical damages and unwanted dirt, and it's compatible with most major car seat brands with its size of 34x18x18 inches.
Experience hands-free convenience with its two padded backpack straps, so you can have an easier time onboarding. It also provides a front strap to let you carry it in a variety of ways.
You'll be amazed how it can transform from a bag to a compact pouch. It can be folded flat to transform into a carrying pouch, so it doubles as a storage bag for itself when not in use.
Despite its price, it's still water-resistant and adapts a unique technology to offer wear and tear protection. It has two drawstring closures and a velcro flap to help keep the car seat secure inside the bag.

Pros
Padded backpack straps

Compatible with almost all major brands of car seats

Affordable

2-In-1 Bag and Compact Pouch

Secure closure system
Cons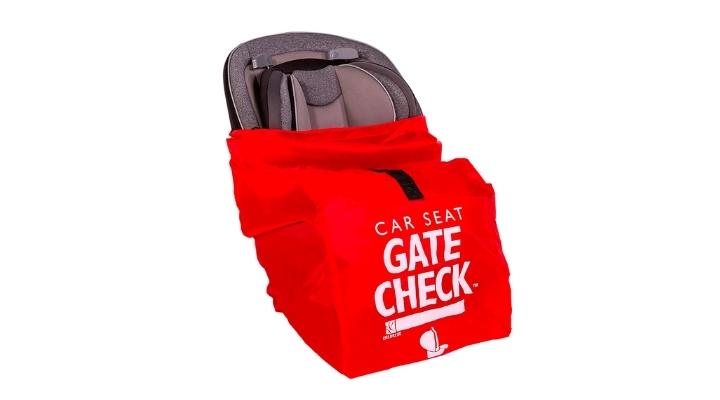 Parents love this bright red air travel bag for a reason. As you pull the bag out of its stretch pouch, you'll realize how spacious it is and how the car seat fits perfectly inside.
The drawstring and lock keep the car seat safe away from unwanted dirt and bacteria. During onboarding, you don't have to worry about anything because its durable fabric, bright red color, and big logo will ensure its safety and return.
As you leave the airport, you won't feel uncomfortable at all since this gate check bag is lightweight. You can also carry it easily using its webbing handle if necessary.
Tuck it away inside its spandex pouch once again and fit it easily inside your carry-on bag when not in use. You won't worry about it getting lost.

Pros
Water-resistant

Double-stitched seams

Personal identification box

Easy to identify

Fits most car seats

Easy to clean
Cons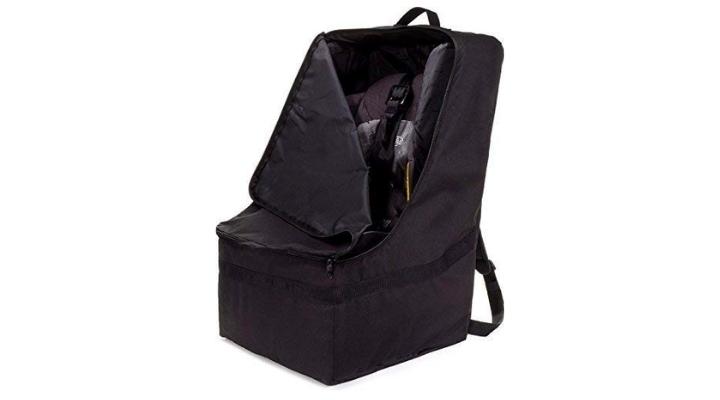 The weather is often unpredictable, and it's such a hassle if you plan a trip only for it to be rainy all day. It's especially worse if the trip includes your kid.
At least with the Zohzo Car Seat Travel Bag, you don't have to worry about your car seat because it has the best water-resistant features.
This bag is compatible with most car seats brands. Made with heavy-duty fabric and a double zipper opening, it can withstand the harsh conditions in a busy airport terminal.
This travel bag caters to the carrying needs of every mom and dad. If you need to rest your shoulders, you can carry it using its built-in handle. And if you need to free your hands to cater to your child's needs or to hand over your tickets, you can use its shoulder and waist straps.

Pros
1-year manufacturer's warranty

Refundable within 14 days after purchase

Adjustable carrying straps

Built-in handle

Padded interior 

Lockable double zipper

Water-resistant fabric

Includes luggage ID
Cons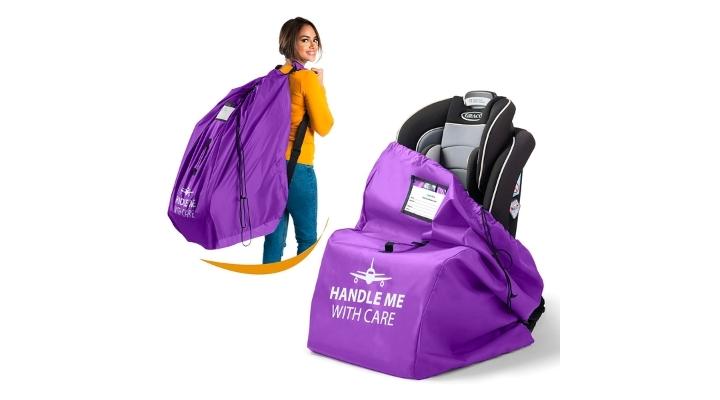 After long walks during your trip, you'll appreciate the weight this car seat travel bag removes from your shoulders.
Made with 600D nylon, you won't feel the weight of the Reperkid Car Seat Travel Backpack! Plus, you can keep your car seat safe for a long time since it's tear-resistant and 100% waterproof. You don't have to settle for impractical bags anymore.
With its size of 18x18x34 inches, it caters to the majority of car seats and boosters in the market today.
If you found it hard locating your bag during your last trip, you'll love how this bag's vibrant blue or purple color aids in easy identification. It even has a large graphic printed on it and a personalized name card slot so you'd save time finding your luggage on your next trip.
You can enjoy carrying this travel bag anywhere and prevent back strain as its ergonomic shoulder straps give the utmost comfort and convenience. If you need to give your back a rest, you can use its practical handle instead.
Whether you're traveling by plane, train, bus, or car, you'll have a safe and fun trip with your child.
Pros
Universal fit

Easy drawstring quick closure

Personalized name card slot

Adjustable shoulder pads

Large storage capacity
Cons
Car Seat Travel Bag Alternatives: Other Ways to Transport a Car Seat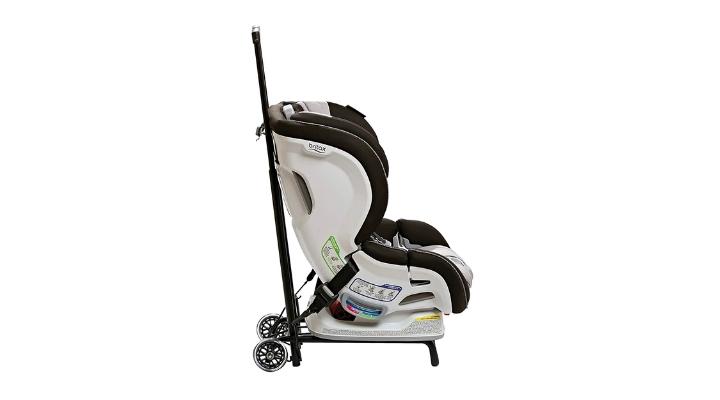 Are you looking for extra support to transport your child's car seat across short distances? The Britax Car Seat Travel Cart might just be the right one for you.
Made from durable steel, you can secure your car seat with its latch connectors and accommodate a wide variety of users.
With its size (24 x 13.5 x 5.5 inches), it can accommodate all Britax convertible car seats and harness booster seats, as well as most car seat brands.
You can bring this anywhere because it's compact enough to be stowed into small spaces including overhead bins without the hassle of assembling it or breaking it down.

Pros
One-hand telescoping handle

Strong steel frame

Secure latch connectors

Foldable

Limited one-year warranty
Cons
Some people might find it difficult to maneuver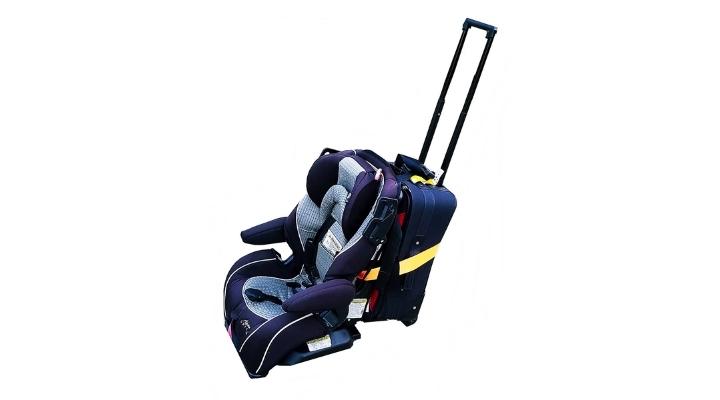 If you're hesitant in spending money on a car seat travel bag, what if you try getting a travel belt instead?
With the Alnoor Car Seat Travel Belt, you can transform your existing rolling bag into a portable travel solution that can accommodate different types of car seats. You'll get your money's worth because this reliable commercial-grade belt can last for years.
This belt is compatible with most 13"-56" roller bags. You can easily attach the car seat onto your bag and remove the belt after you board the plane within seconds. When not in use, you can store it conveniently as it takes up minimal space inside your luggage.
Pros
Easy assembly

Commercial grade

Takes up minimal space
Cons
To tighten, you need to stop
Parents love this alternative for its flexibility and portability. It even won many awards including the 2019 Creative Child Product of the Year Award.
Known as the world's most adjustable booster, the Fit-and-Fold High Back Booster Seat can be adjusted to 243 individual settings.
You don't have to worry about its weight and storage because it can be folded down to a compact size and fitted inside your bag or luggage. It even includes a carry strap for convenience.
This lightweight alternative will keep your child safe and secure because it ensures the best seat belt fit for your child.
Do take note that this car seat is designed for kids aged 4 and up, 40-100 lbs, and 40 to 59 inches tall.

Pros
Ensures optimal seat belt fit

Regulated for global use
Cons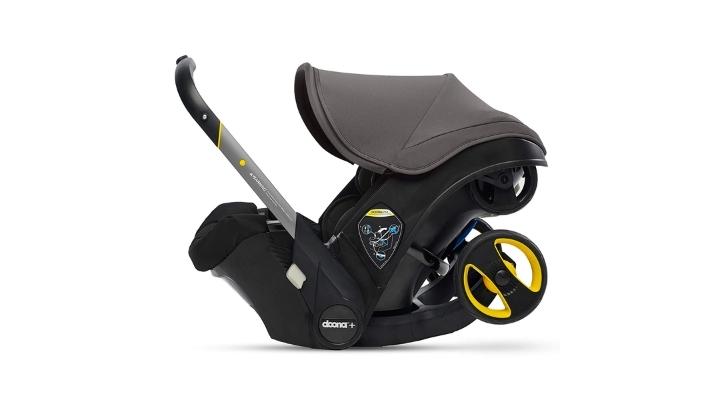 Do you find it hard picking the right car seat and stroller for your infant? Well, you don't have to stress any further because Doona has a single solution for your problems.
Introducing the Doona Car Seat and Latch Base!
You can convert this car seat to a stroller with a single click. It's designed to help you save time and enjoy your trip to the fullest.
It includes several features to get started on a safe and fun trip such as the Doona infant car seat, bamboo infant insert, bamboo head support, vehicle seat protector, and the base. Also, fashion-conscious families will enjoy the wide variety of colors to choose from.
You can also make sure this convertible car seat is safe and secure during your trip by getting a Doona travel bag.
Remember that this convertible car seat is suitable for babies between 4-35 lbs and a maximum of 32 inches in height. Plus, it's rear-facing only.

Pros
Adjustable handlebar

3 layer side impact protection

TUV and FAA aircraft approved

2-year manufacturer's warranty

Removable and washable stretch material canopy and shoulder pads
Cons
Expensive

Short handle extension
Frequently Asked Questions
1. Do you need a car seat travel bag to check a car seat?
It's not required but it's nice to have to secure your car seat. It's useful if you frequently transport your car seat.
Despite "fragile" or "handle with care" stickers, some baggage handlers can still be quite rough. It's better to secure your car seat to prevent unwanted costs of buying a new one if your car seat gets damaged.
2. Does a car seat count as a checked bag?
No, it's not considered a checked bag. It's considered a baby item or sometimes called a comfort item. This means it's not part of your checked bag allowance and the airlines have limited liability if your item is lost or damaged.
3. Can you gate-check a car seat? What does "gate check" mean anyway?
Gate checking is the process of checking your bag at the departure gate before they store it in the cargo hold of the aircraft. This is different from regular checks done at a check-in desk or ticket counter for pre-security.
Yes, you can gate-check a car seat. It's considered a better choice than checking with luggage since the car seat is frequently used. Also, when you go through gate checking you can expect fewer damages because fewer people will be handling it.
4. Can't I just take my car seat on the plane?
Before your flight, remember to always check with your airlines about restrictions since some of them may have implemented rules with regards to car seats. Normally, they must be FAA or TÜV-approved seats to allow the use of car seats in the aircraft. If your car seat is marked as "For Use In Aircraft," then it's an airline-approved car seat.
Final Thoughts
Once you enter the airport with your family, ready to go on one of your best trips yet, you'll realize how much effort you put into packing your suitcases, preparing your children, and making sure all safety precautions were followed.
All these responsibilities can be overwhelming at times but you can remove some of the stress by picking the right car seat travel bag.
We hope this article has helped you find the best car seat travel bag that'll work for your lifestyle. These are the 8 best this year, but there are many more options out there if these don't suit your needs.
Do some research online and see what other brands have to offer! We also recommend checking with airline personnel because they may be able to provide you with a discount on their brand of bags or something similar.